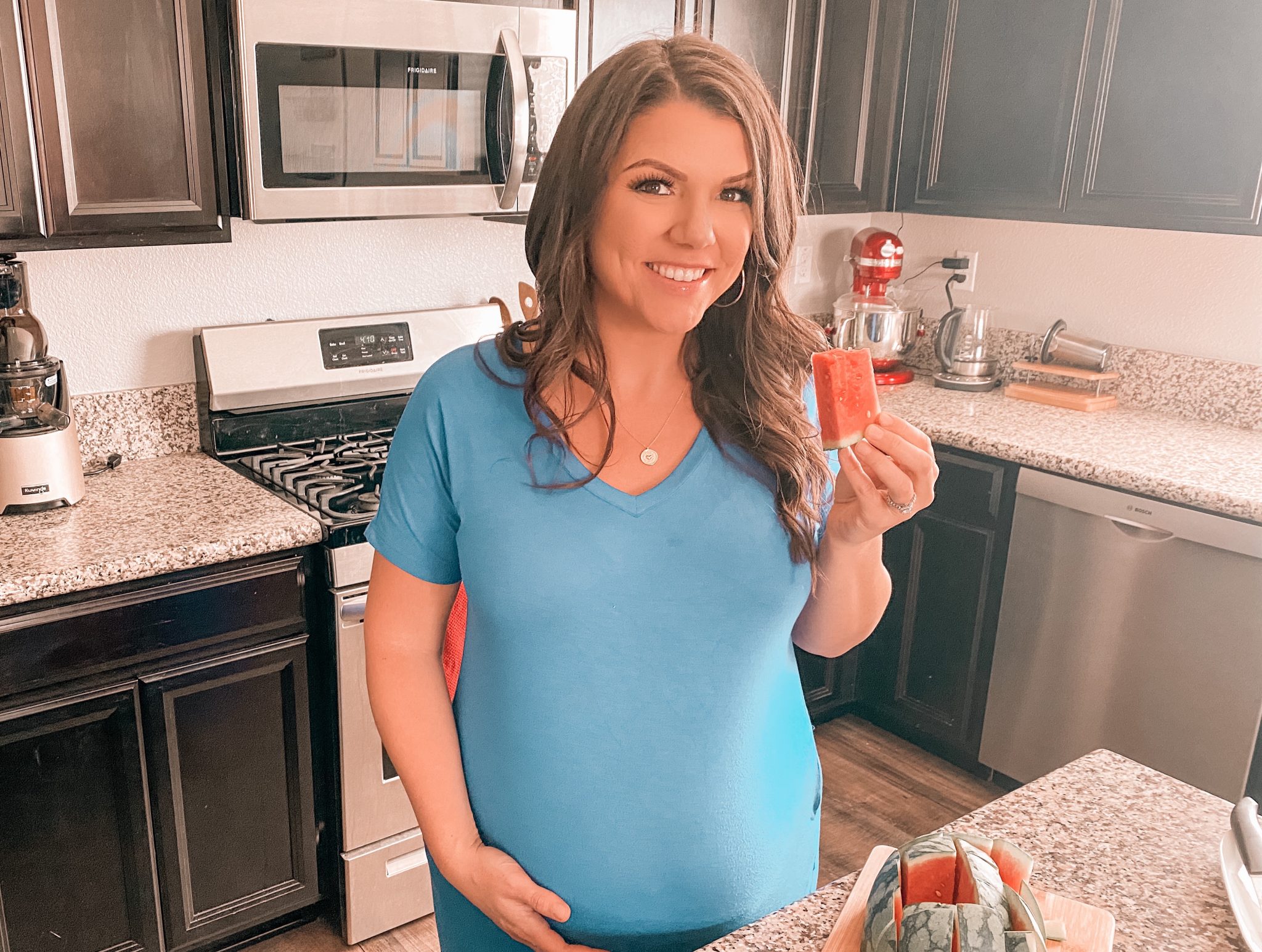 I'm an advocate of healthy eating and since I'm pregnant I'm even more conscious of it.
Not to say every single day is perfect, especially not during the first trimester 🤢 but I do my best to make sure I'm nourishing myself and my growing baby.
If I didn't get asked "do you get enough protein" before I was pregnant, I seem to get asked that even more now!
As I discussed in my first trimester update, it's completely safe to have a plant-based pregnancy, if not better, as I shared the research-based risk of eating a lot of meat during pregnancy.
No matter what type of diet you have, you must be mindful of what you're eating to get in a good nutrients. One thing that I try to make sure to have at all my meals is:
good carbs (usually things like fruits, veggies, whole grains)
healthy fats (avocado, nuts, seeds, etc)
plant-based protein (beans, nuts, seeds, tofu, tempeh, etc)
Here's a look at what I ate during the second trimester of my second plant-based pregnancy.
First thing after wake up 
I have one of two things after I first wake up and that's a celery juice or about 16 oz of warm water with lemon.
Both of these are a great way to hydrate and flush toxins that have been floating around in our bodies while we sleep.
Breakfast 
Steel Cut Oats with Wild Blueberries and Hemp Seeds 
Oats are a great source of iron, soluble fiber, and they're a prebiotic food, which makes them great for our gut health! They also contain protein, but I usually like to add things like hemp seeds or a nut butter to up protein even more. Certain oats are more nutritious than others, that's why I like to eat steel cut but I also eat thick cut rolled oats as well.
I also love adding fruits like wild blueberries because of their antioxidant content which benefits us in so many ways. It's important to pair foods high in iron with foods high in Vitamin C because it helps the body absorb the iron better.
Snack 1
Protein Smoothie 
I usually try to get my workouts done in the morning because I have the most energy then, so a protein smoothie is great for post workout.
Protein powders can be an easy way to get in more protein, but it's important that you're picking a healthy protein powder as the majority of them have shown to contain heavy metals and other contaminants that can harm our health, especially a growing baby.
I always add leafy greens like spinach in my smoothies as they're a great source of iron and other nutrients that are good for mama and baby.
Lunch 
Red Leaf Lettuce Salad with Air Fried Tofu 
Tofu is a great source of protein, iron, calcium and other vitamins and minerals that are beneficial. It is safe for pregnant women and has even shown to help women with gestational diabetes. It's one thing I've craved during pregnancy. This tofu recipe has been on my weekly rotation.
For the air fried tofu, I use this marinade and then air fry on 425 F for about 15-20 minutes flipping half way through. Then I add other veggies I like. I always add a Vitamin C food when I'm eating foods like tofu or beans that are high in iron. Red Peppers are very high in Vitamin C, so that's what I usually add.
Don't let the dressing ruin the salad you're eating. We don't always have time to make homemade dressings, but here's some recommendations for store-bought dressings that are made with better ingredients.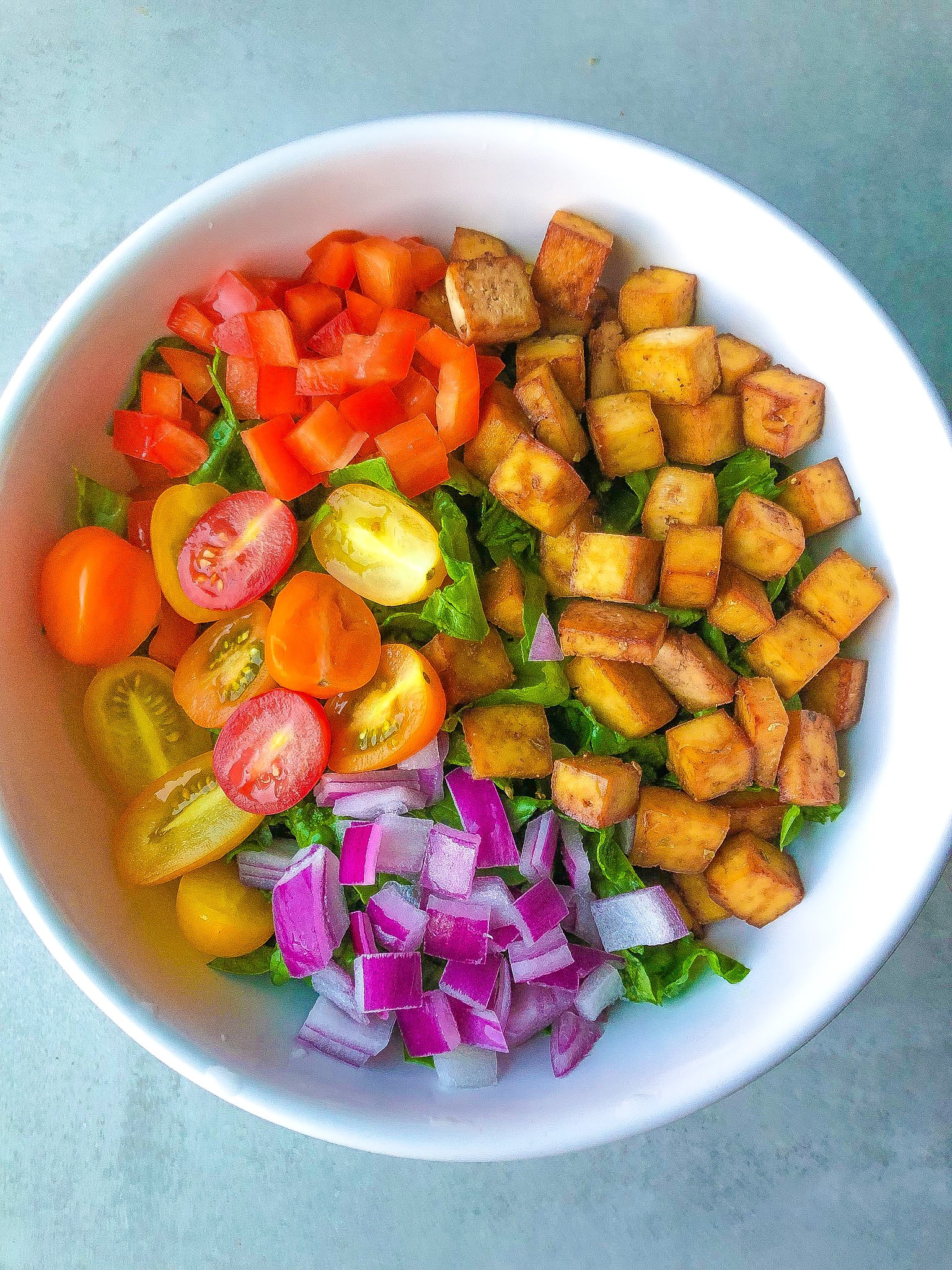 Snack 2
Apple and Peanut Butter 
Did you know apples can help you boost your energy just like a cup of coffee?! It's true! It's because of the natural sugars that are good for us that will give you a boost during that afternoon slump. Now I still do drink coffee because research has shown 200mg/day of caffeine, which is about two cups, is perfectly safe during pregnancy.
I always pair my apples with either peanut butter or almond butter. It makes it more filling, but it also helps the body absorb more nutrients because it's a good fat!
Dinner 
Chili with Cashew Sour Cream 
Beans are a great source of protein, iron and calcium. They're something I try to eat daily when I'm pregnant and even when I'm not. This 2 Bean Chili is a simple recipe that's packed with veggies like mushrooms and peppers. It's so flavorful and actually one of Ben's favorite meals.
I top it with cashew sour cream which makes it even better and, again, provides that good fat since the chili recipe is completely fat free.
Dessert 
Peanut Butter Chickpea Blondies 
I've always had a sweet tooth and even though I despised them in my first trimester, that craving came back full force in the second one.
I love these chickpea blondies because they're sweetened with date sugar, which is a healthier sugar and they're packed with protein from the chickpeas and peanut butter! It's a guilt-free sweet treat that's so yummy! I love having one with a red raspberry leaf tea latte.