Wife, Mother, Nutrition Expert
Wife, Mother, Nutrition Expert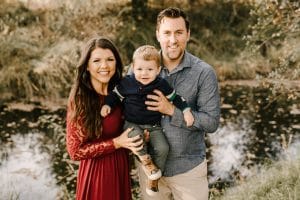 Welcome, my name is Megan! I'm a wife, mother and the healthy living and nutrition expert on ABC10 in Sacramento, California.
I received my holistic nutritionist certification through the AFPA in 2014. At the beginning of 2020 I completed the T. Collin Campbell Center for Nutrition Studies Plant-Based Nutrition program with Cornell University online.
I created this website and Instagram to show others you can eat plant-based and still eat good! I also share my clean living tips as food isn't the only thing that affects our health.
Here you'll find recipes (of course!), but also things like ways to help the environment, non-toxic cleaning products and holistic nutrition, like which foods help boost your mood!
My goal is to help you eat more plants and live a cleaner, healthier life.
Healing with food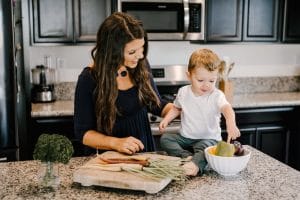 I was diagnosed with PCOS (polycystic ovarian syndrome) in 2016 and told by THREE doctors that I would never be able to get pregnant naturally. Instead of going on the medications the doctors prescribed, I decided to take things in my own hands and used holistic practices and food to heal myself. Six months after being diagnosed, I reversed my symptoms and got pregnant naturally with my son. See how I did it here.
When I met my husband, he was suffering from Hyperthyroid and taking medication every day for it. By adopting a plant-based diet and eating the recipes I created, he was able to stop taking his medication, and his numbers have never been so low!
The main reason I started this blog was to share my recipes and lifestyle tips that has helped heal our family and feel better than we ever have before.  I'm also passionate about feeding my son this way in hopes that he won't have to deal with health issues like we have. I love sharing kid-friendly dishes as well.
All of the recipes you'll find here are created to improve health, not hurt it. We're also big foodies so it must taste good, too!
I've also worked in TV for 14 years
I started my television career in local news and then went on to produce for Fox in NYC for almost six years. I took a leap of faith and moved to LA to produce the Emmy-nominated, daily lifestyle show, Home and Family on the Hallmark Channel.
I now have my own production company, UnProcessed Productions, where we produce an array of videos for lifestyle and recipe bloggers, YouTube personalities, health and wellness companies plus product marketing. I still do freelance work for different networks.
Healthy living is more than just a number on the scale
My health journey has generated this passion for me to share with others how much better you can feel when you treat your body right, and eat whole plant-based foods.
If you're new to this type of eating, I want you to know it's not as hard as you might think. You can take baby steps to improving your health. It doesn't have to be a jump in at once, unless you want to, of course.
This way of eating is delicious! It's not boring, and bland. You can make anything taste good if you know how to season it right!
Healthy living is more than just a number on the scale. It's about feeling good, mind, body and soul.