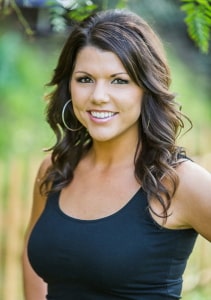 Welcome to MegUnprocessed. My name is Megan and I'm a wife, mother and TV producer that fell in love with the plant-based, organic lifestyle. The benefits from this are so great that I earned my certification in holistic nutrition to start helping others. I started this blog to share my easy recipes with you because I'm not a certified chef and you don't have to be either to eat this way.  All of my recipes will benefit your health, which you can read about underneath each recipe. Your tastebuds won't be let down either. 
I've worked in TV for almost 11 years. I started my television career in local news and then went on to produce for Fox in NYC for almost six years. I took a leap of faith and moved to LA to produce the Emmy-nominated, daily lifestyle show, Home and Family on the Hallmark Channel for another year before scaling back to focus on MegUnprocessed.com. I now have my own production company, UnProcessed Productions, where we produce an array of videos for lifestyle and recipe bloggers, YouTube personalities, Health and Wellness companies plus product marketing. I'm still a consulting producer with Home and Family as well.
How I got interested in the plant-based life: 
I first eliminated processed foods with the help of the Food Babe. After reading her investigations into the food industry and what they're putting in our food, I knew I needed to make a change. After doing so, I started to feel healthier on the inside and out! This peaked my interest in creating recipes with unprocessed, organic ingredients for people to enjoy. I then received my certification in Holistic Nutrition and learned what dairy and meat (animal protein) can do to our bodies.
Now I eat a completely plant-based diet and have never felt better. It didn't happen overnight for me. It was about 6 months from when I went from eating (what I thought was healthy) processed foods to eating a whole foods diet. I took baby-steps. I actually never thought I would be eating the way I do now, but I love it so much I could not ever stop.
I want everyone to experience how great they can feel just by eating delicious whole foods.
If you want to detox yourself from preservatives, chemicals and other processed ingredients and regain control of your health, then you've come to the right place. I was in the same place and didn't realize the main reason I was feeling tired, bloated and stressed was because of the foods I was putting in my body. I had no idea that changing my food choices would change my life so much!
Since switching to unprocessed foods, I feel like a completely different person. The first difference I noticed was that I had a lot more energy! Then my hair and nails started to grow and became stronger. I was also sleeping better at night without taking any sort of sleeping medication. Before I knew it, I was craving plant-based foods because my taste buds had changed!
 People ask me all the time if I crave any food I use to eat and I tell them NO. Honestly, not a thing! Here are the reasons why:
Your taste buds do change. It only takes a few weeks to change them and you literally will start to crave the foods that nourish your body.

You'll feel so good that not even your old foodie favorites will tempt you to want to eat them. Trust me! I didn't realize how I was going to feel after the first time I ate a heavily processed meal after not having one in so long. What surprised me most was that it didn't taste as good as I had remembered it and I felt like CRAP afterwards!

It's so easy to recreate your favorite recipes to make them less processed. You'll see I've done that with many of my favorite dishes in my recipes. I don't know about you, but I prefer to eat foods that are going to nourish my body and make me feel good! Plus these dishes taste so fresh and delicious because they're not made with processed ingredients!
My journey has now generated a new passion for me in sharing with others how much better it is when you just eat real whole foods. I want people to know it's not as hard as you might think. Plus you can still eat good food! It's not boring, it feels you up and will improve your health. Creating delicious plant-based recipes is a goal for me to help people want more of the foods we were meant to eat. Just because someone is skinny doesn't mean they're healthy.
********************************************************
One caution: I'm not a photographer, but learning each day how to take better pictures of the food I create! Who's food really turns out like the amazing photos anyway? My photos are what your food will look like and I promise the taste will be even better! 🙂
Photo credit (picture at the top): jeremy lee photography