The weather is warming up, which is my favorite time to eat a big yummy salad. Even though I could get them year-round, there's something better about salad in the summer!
When people tell me they easily get tired of eating salads, my advice is to switch it up more! Changing the toppings, dressing and even the type of greens used makes it so much more enjoyable and you won't get bored of them.
That's why I wanted to share 15 recipes that you can make to not only get in more nutrients, but a lot of flavor! Hope these recipes inspire you to eat more salads!
This salad is not only packed with flavor, but lots of health benefits! Arugula and Brussels sprouts are both part of the cruciferous vegetable family, which is the healthiest vegetables we can eat. They help prevent and treat cancer, improve blood circulation, reduce cholesterol and have anti-aging properties. Make this salad and it's 5 ingredient dressing in less than 5 minutes!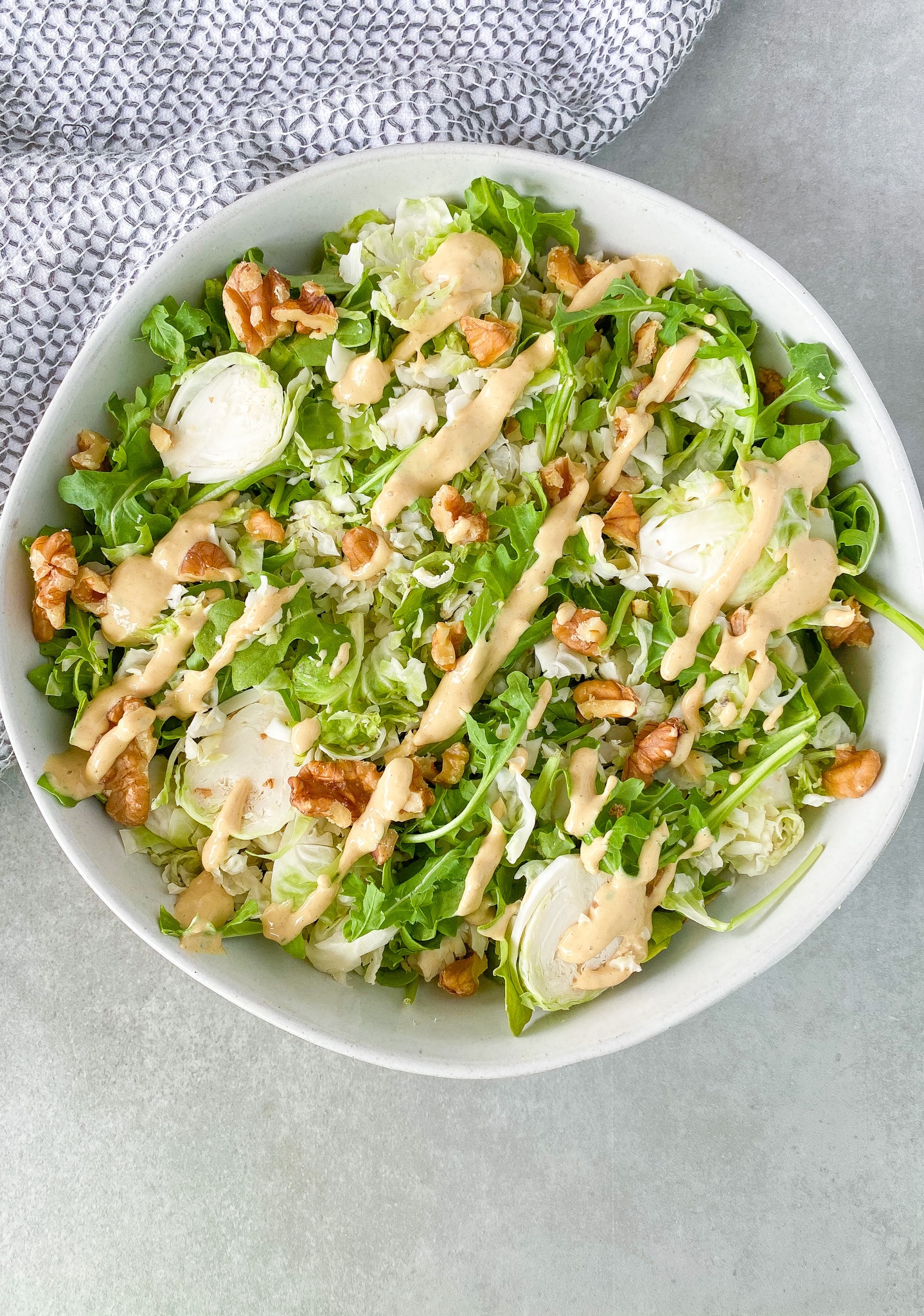 Summer means grilling season so this salad from The Plant Riot is perfect for any outdoor cooking you'll be doing. Grilling fruit gives it a delicious flavor and is a fun way to switch things up. This salad even has a crunch to it from snap peas and toasted almonds. Then its topped with a zesty ginger dressing that will leave you wanting more!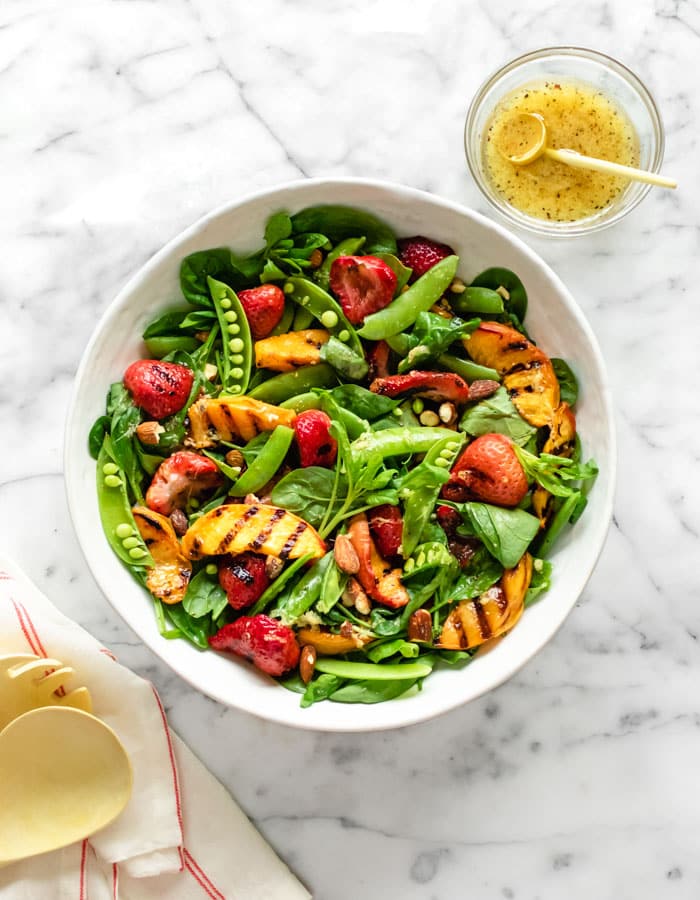 This is a healthy spin on the classic pasta salad dish. It's packed with flavorful vegetables, pasta and a light red wine vinegar herbed dressing. One thing I love about making this dish is it makes great leftovers! If you're meal prepping, make a big batch of this to eat on for a few days during the week.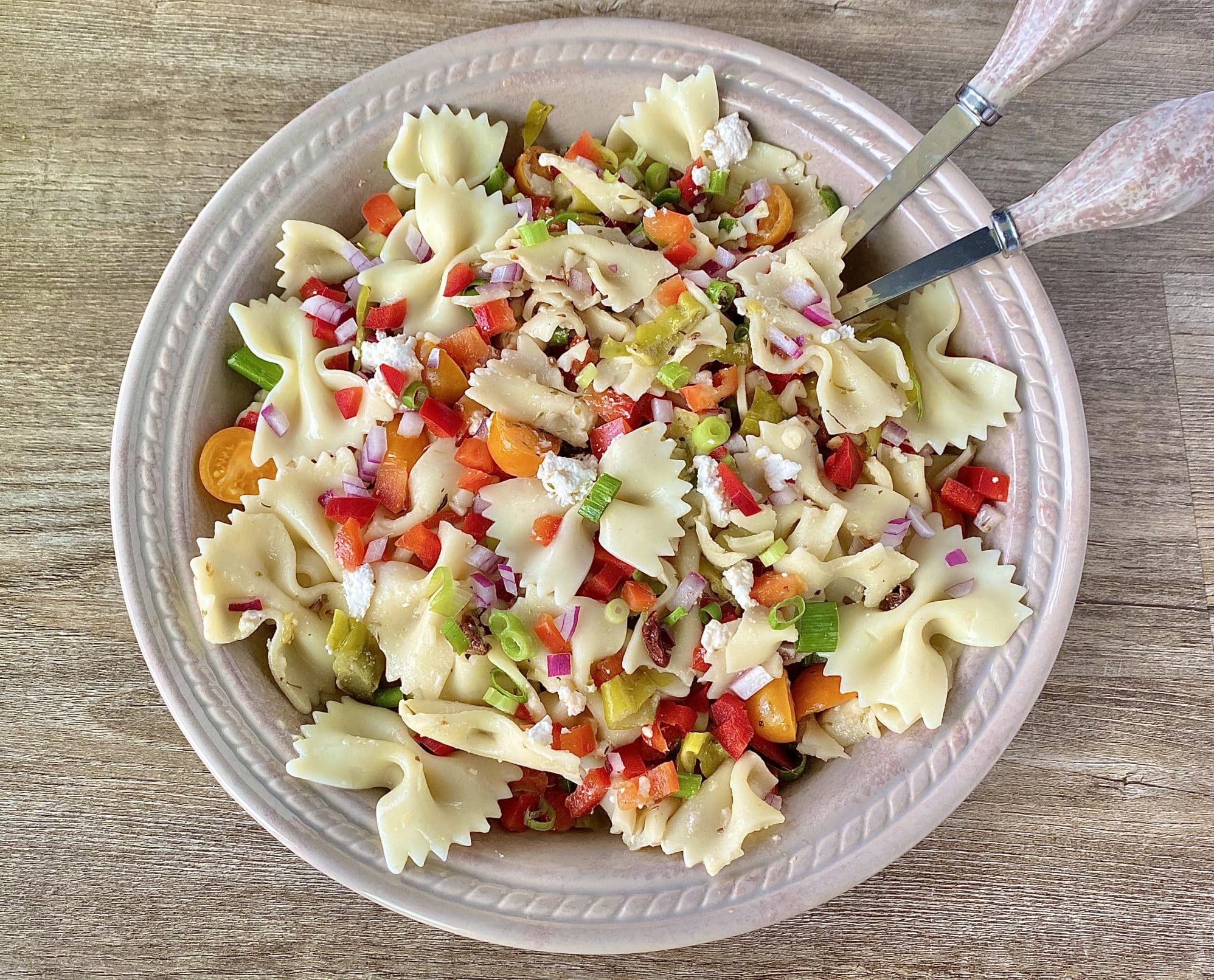 Just because you eat vegan doesn't mean you have to give up a delicious greek salad. This recipe from World of Vegan is full of flavor and plant protein with the Mediterranean Tofu feta.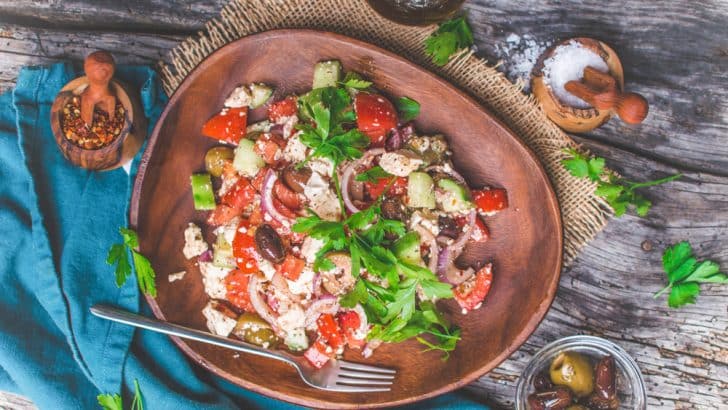 This beet salad is the simplest beet recipe I've ever made. It's quick, easy, not messy and tastes delicious! I was surprised by the lack of beet flavor in this salad. It tastes more like apples than anything else, which is a good thing for anyone who doesn't like beets. Beets are one of the best vegetables for our brains so this salad won't just satisfy your tastes buds, but it will also make you smarter! 😊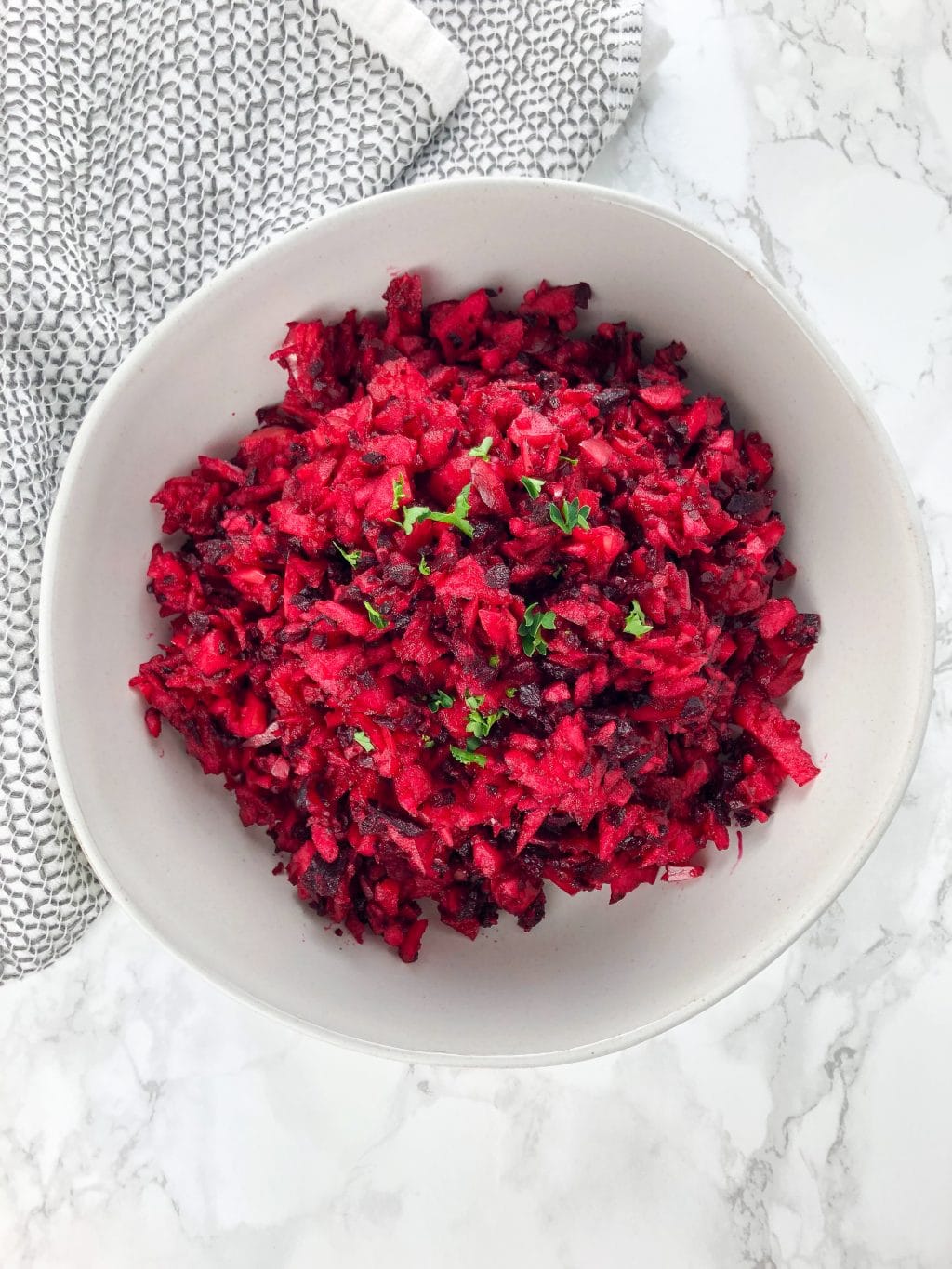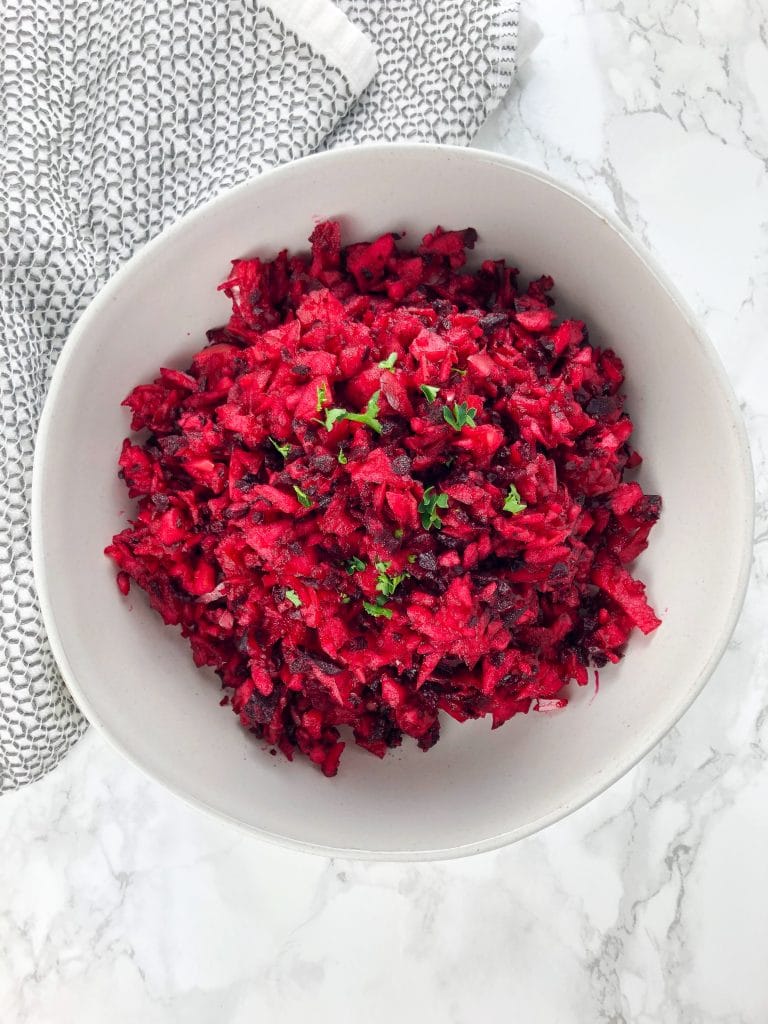 This Kale Caesar salad from Plantifully Based is a revamp from most Caesar salads you see. It's got crispy chickpeas and even buffalo cauliflower. A lot of caesar dressings are made with cashews, but this one is nut-free and you don't even need a blender. There's so much yum in this bowl even salad haters will give it a try!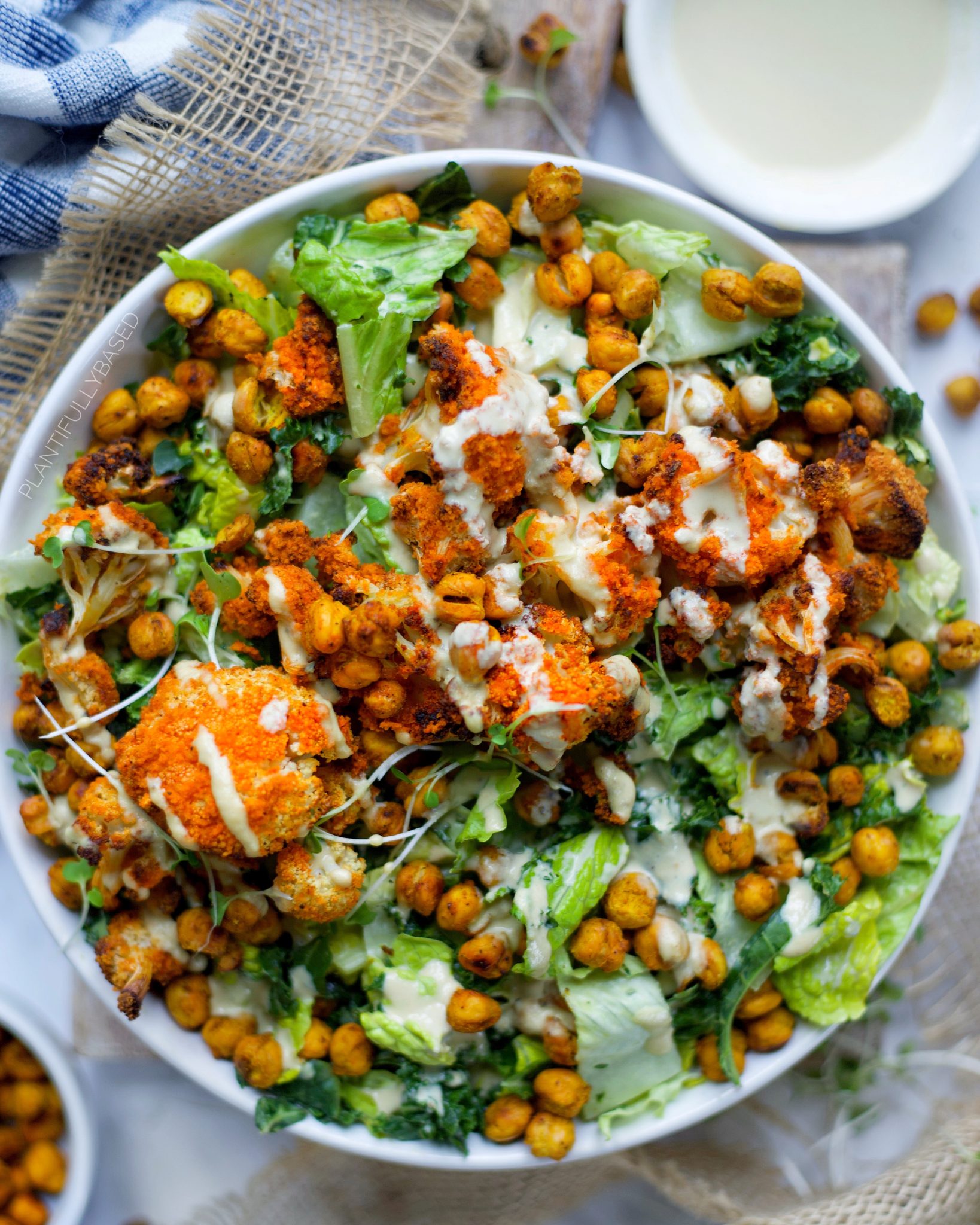 This protein packed slaw is not like your traditional coleslaw. It's completely dairy-free and it's packed with protein from the tahini dressing to the added hemp seeds. Serve this at your summer BBQ for a healthier side dish!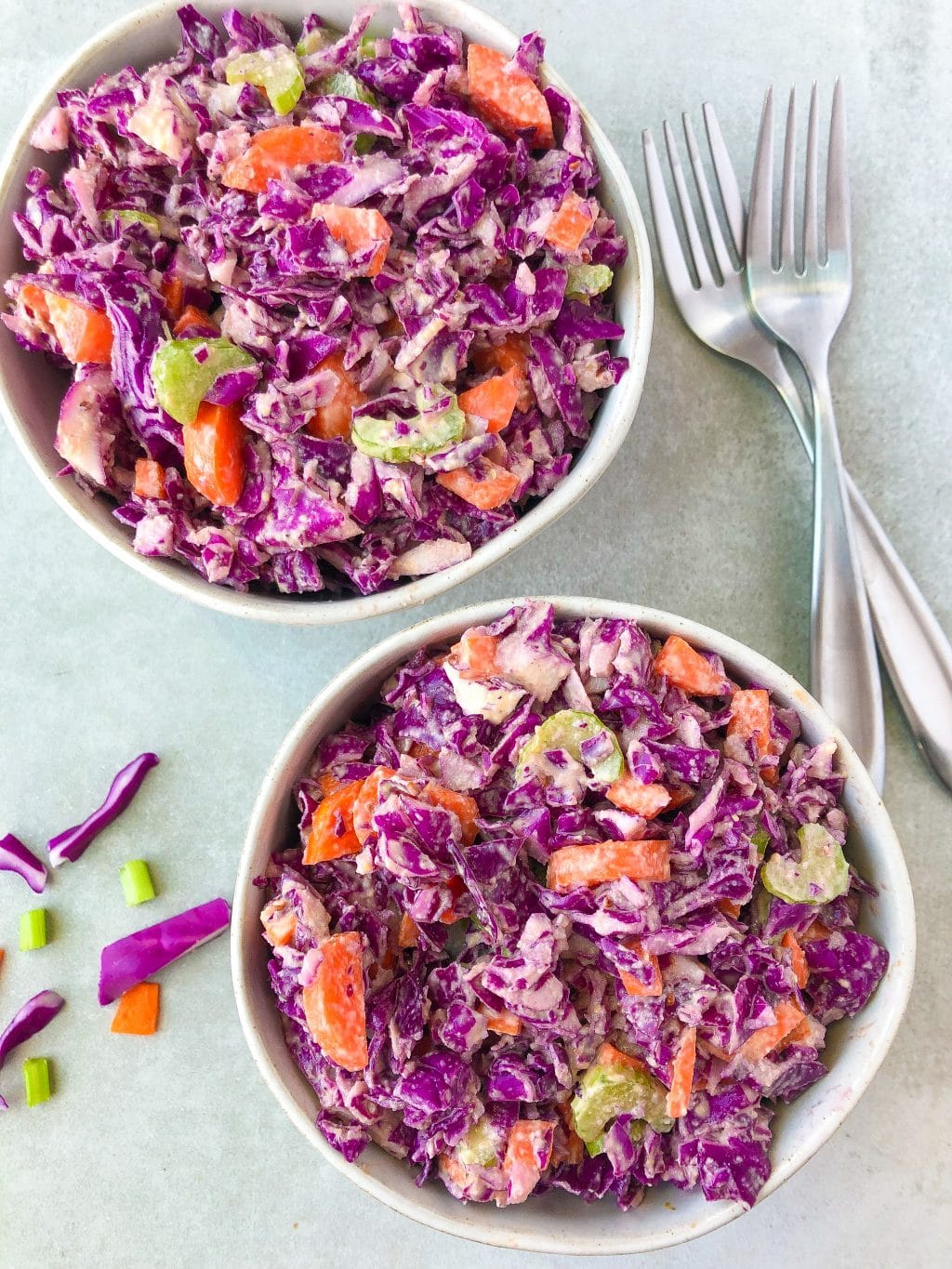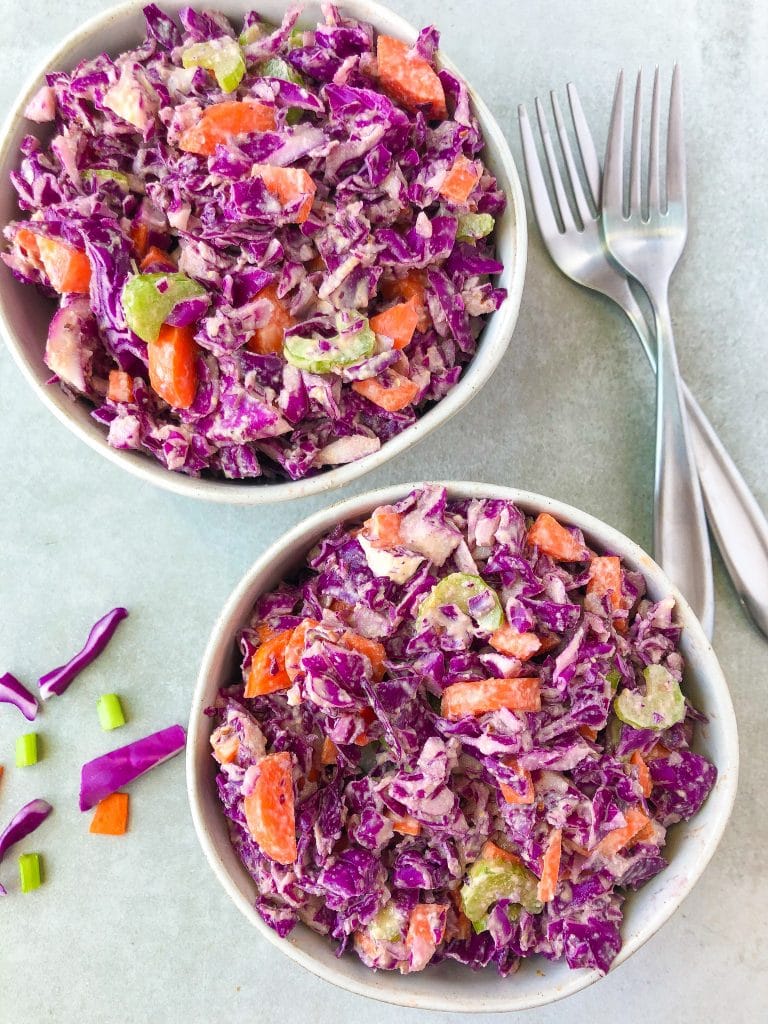 Save this recipe from Sweet Simple Vegan when you're going to be grilling out again! Grilled vegetables are a tasty way to switch things up. This salad does that plus it has plant protein and healthy fats. It makes a nutritious meal that can even be customized to the veggies you prefer.
Whether you're a fan of blacked-eye peas or not this quinoa salad is full of antioxidants, plant-protein in more! The black-eyed peas can be subbed for any other beans you like. This makes great leftovers so you can prep a big batch on the weekend to eat on throughout the week!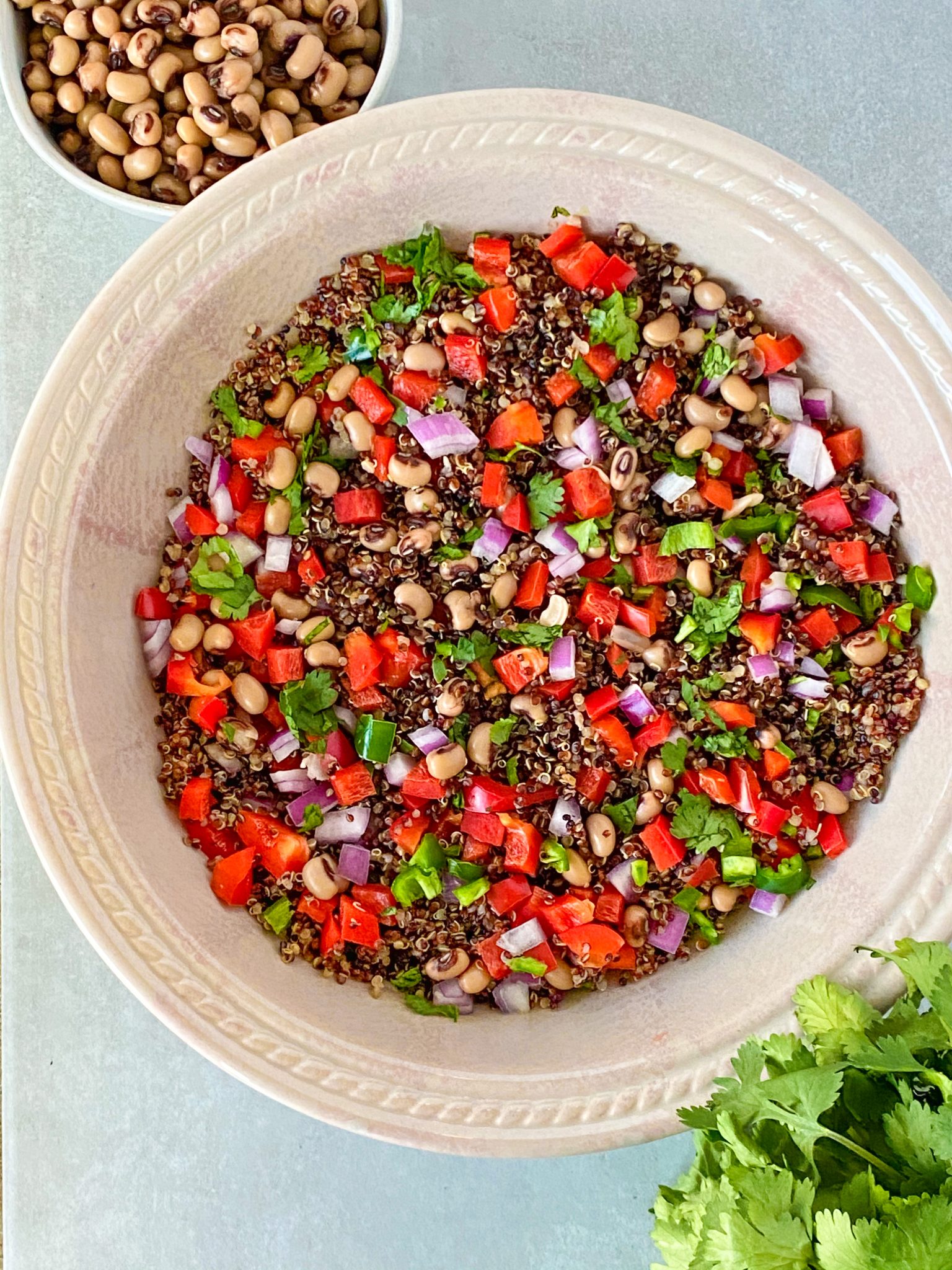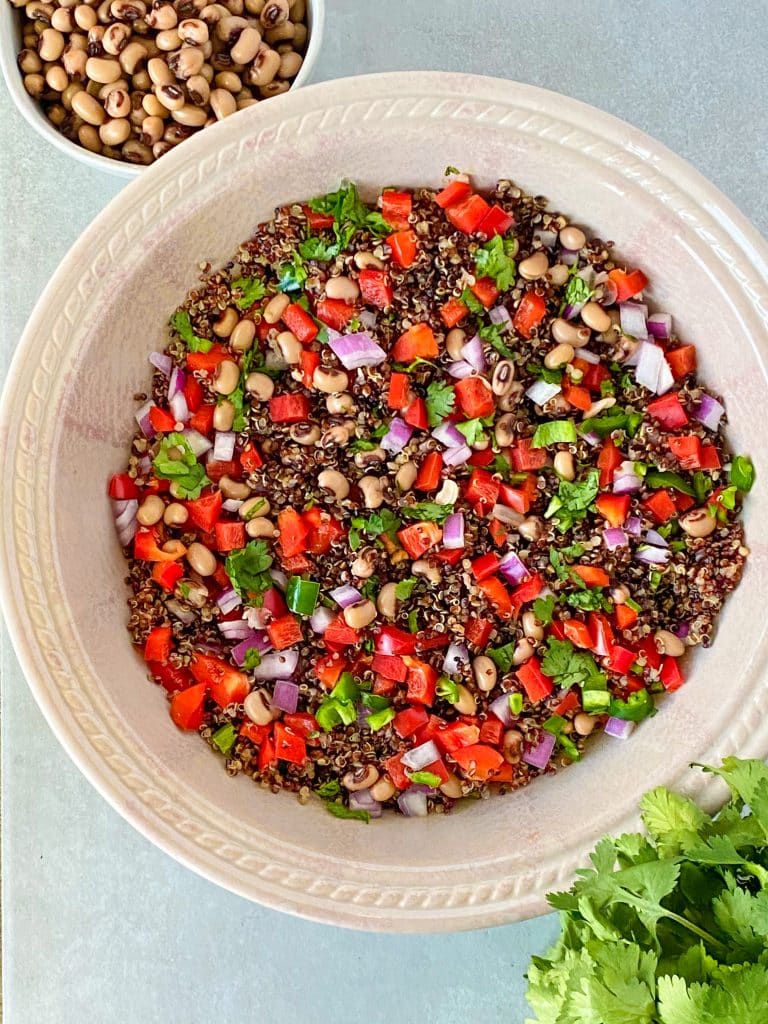 Strawberries are in season during the summer and this salad from Two Spoons is another delicious way to use them. Paired with spinach, its a great way to get more iron in your diet. Spinach is high in iron and the body needs vitamin C to absorb it better which strawberries are a great source of. 1 cup of strawberries gives you all the vitamin C you need for the day!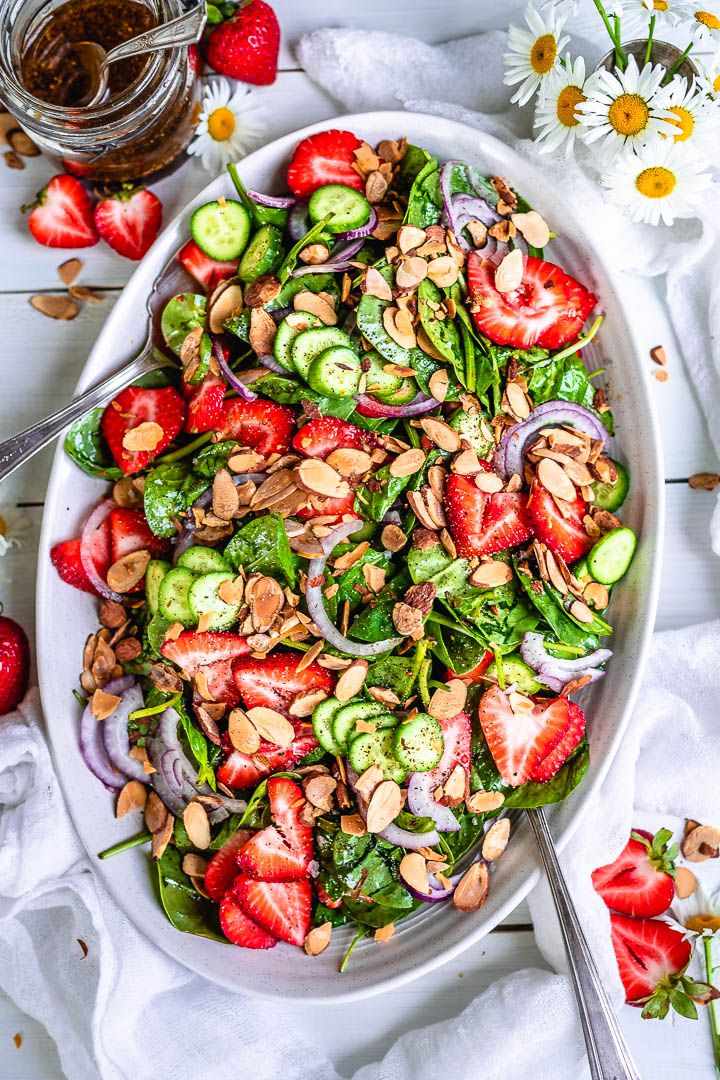 Growing up, tuna salad was one of my favorite things to eat. Now knowing that tuna should not be considered a healthy food as it's filled with mercury and it hurts our oceans to consume it, I now make this Cauliflower Tuna Salad. Now, I know it might seem strange, but don't knock it till you try it! It's full of the tuna salad flavors but with ingredients that are much healthier for you.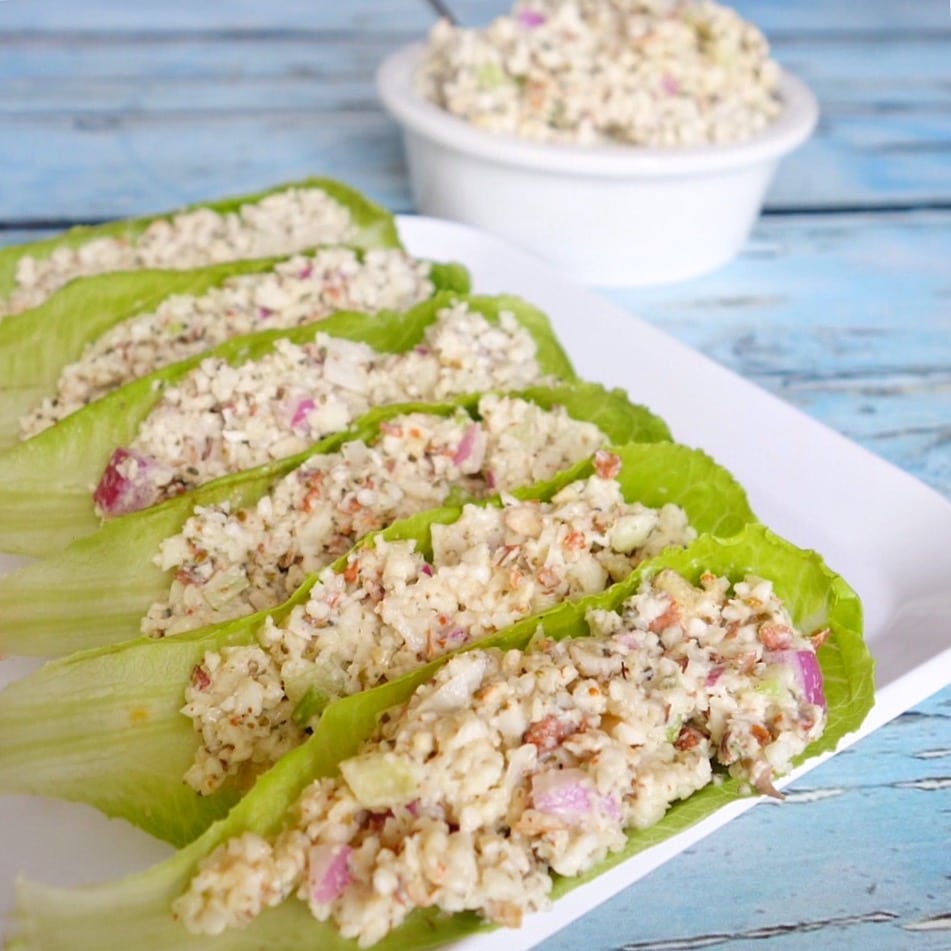 This chopped salad from VeggieKins is made with an oil-free dressing and can be customized to your liking. It's a yummy way to get in more vegetables from lunch or dinner!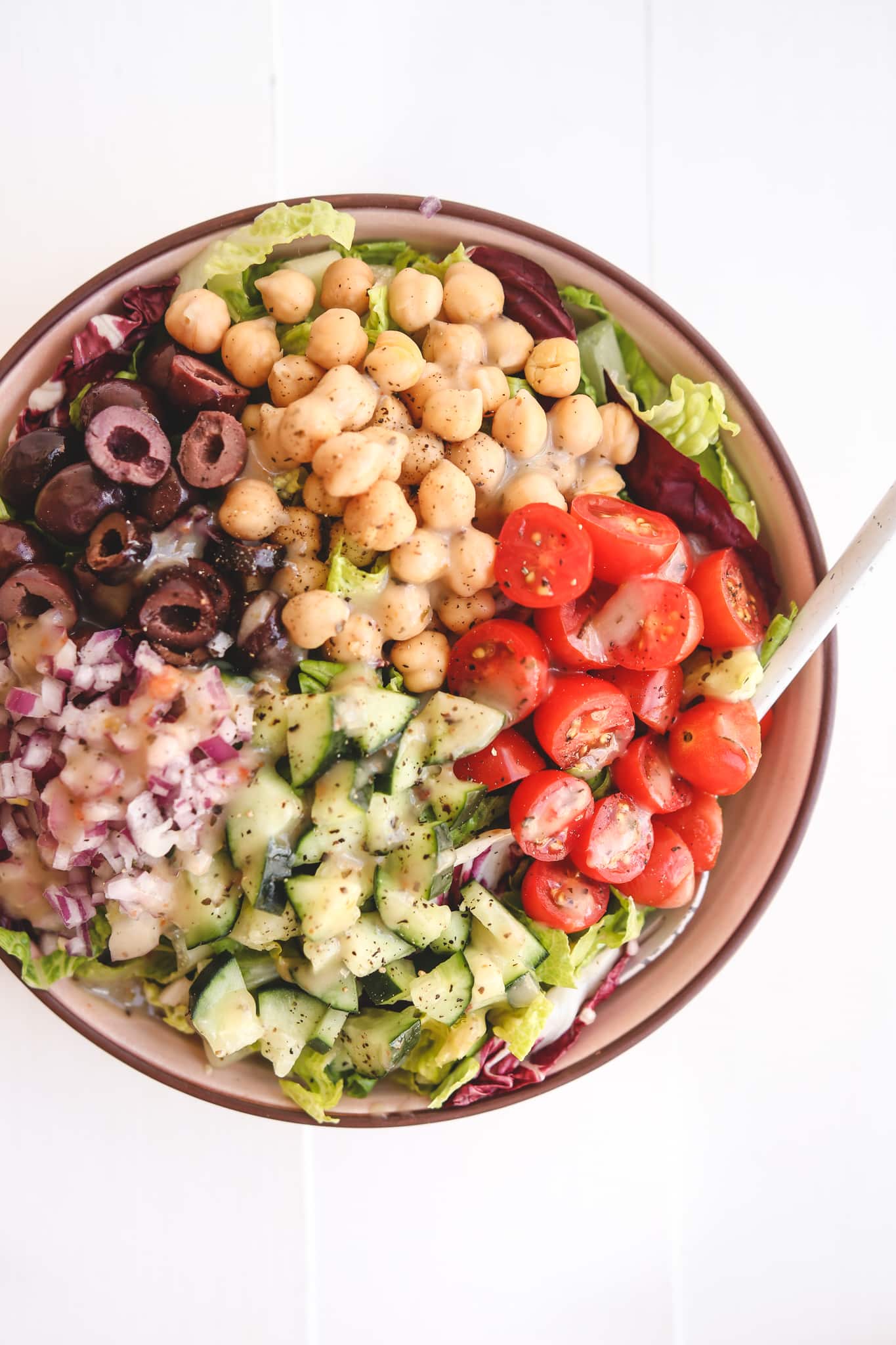 If you're a fan of edamame or peanut sauce you'll love this crunchy salad from Plant-Based On A Budget. Edamame is one of the best sources of plant protein. This salad shows how they don't have to be boring and can be so flavorful.
I'm not a huge fan of juice detoxes because it's important for our bodies to still get all the fiber and nutrients from real food. Certain vegetables are better detoxers for our bodies.  The ingredients in this salad play a big role in removing toxins from our bodies and rebuilding our immune systems. It's also one of the yummiest detox meals I've ever eaten!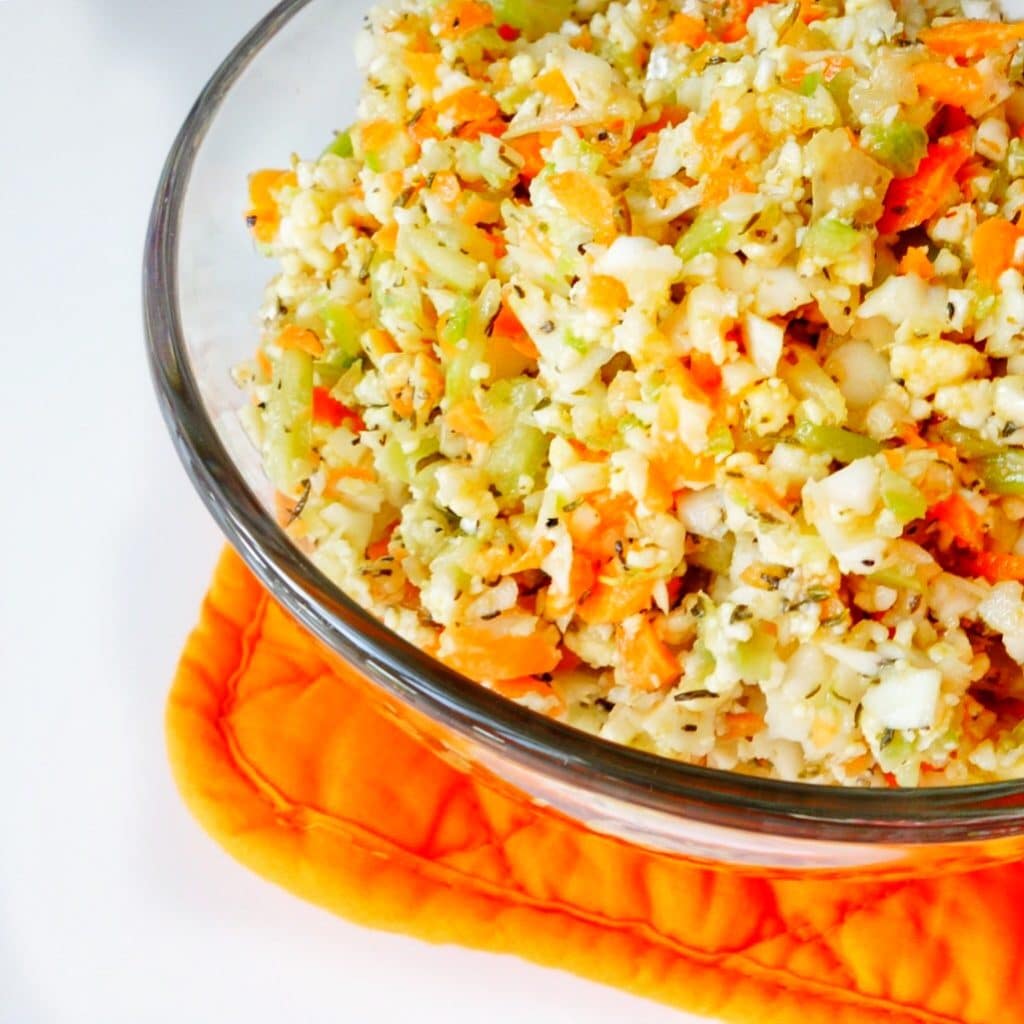 This salad from PlantYou is packed with healthy ingredients, but it's also another one that can be customized to your liking. It gets protein from the tempeh bacon, but you could always use tofu or even legumes.