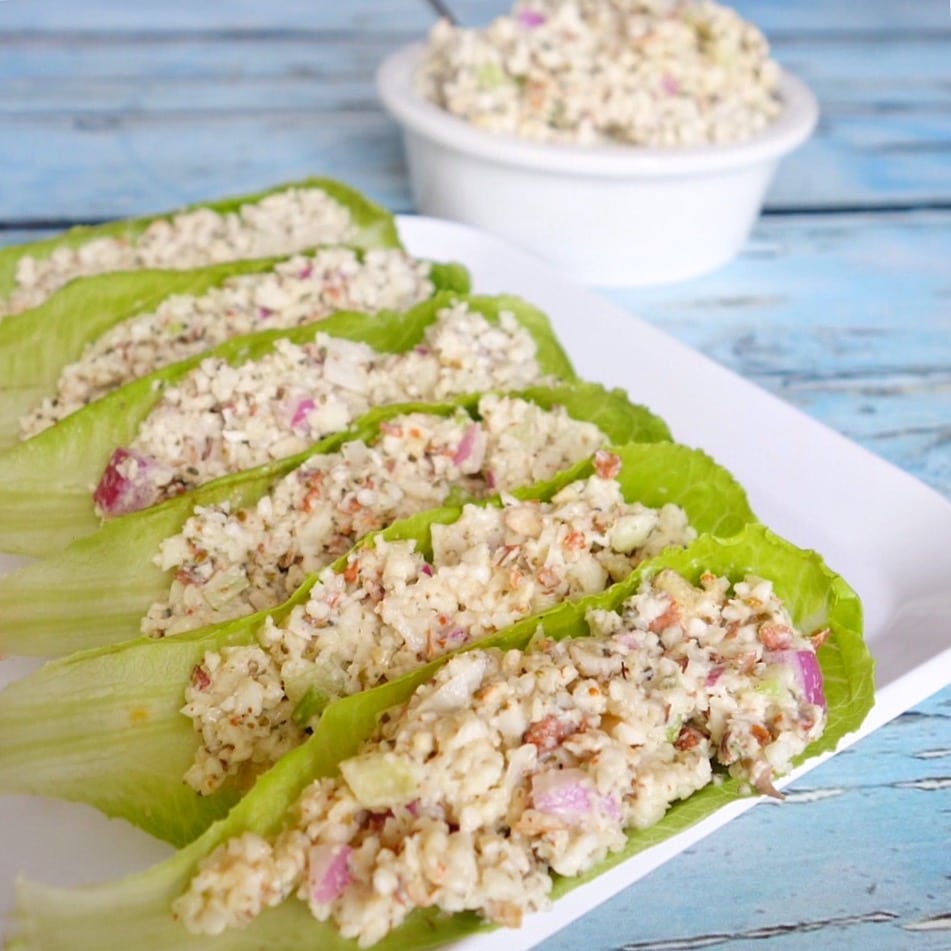 I'm so excited to share this recipe because I've been working on a vegan friendly tuna for a while. I've finally got it down with this cauliflower, almond mixture that I call Cauli-Tuna.
This recipe is not only full of flavor, but it's dairy-free and packed with important nutrients for optimal health.
Before eating a plant-based diet, tuna was my go-to lunch. I thought I was eating healthy and would have it 3-4 days a week.
How I wasn't aware of all the mercury, I'm not sure, but when I found out the bad stuff that comes from consuming eating tuna, I immediately stopped.
You don't have to worry about any of that stuff in this Cauliflower  Salad. It only contains real food and it's so simple to make.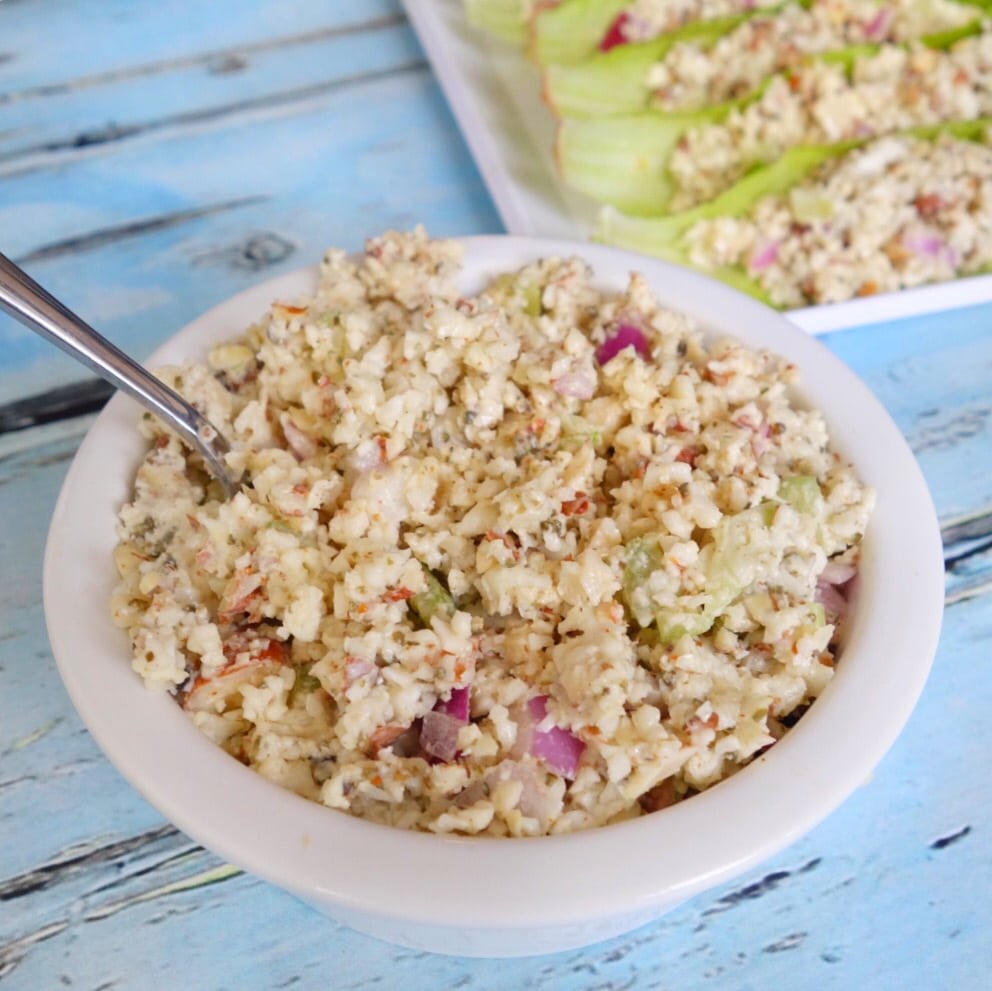 My favorite way to eat this cauliflower salad is on lettuce leaves, but it's also good on a salad, with crackers or however you prefer.  This seasoning is what gives it the "sea-y" flavor, but you can also use a chopped  Nori sheet.
I used vegan mayo and the rest of the ingredients one would mix with regular tuna, like onion and celery. This can be made this with any favorite tuna salad ingredients you prefer.
To make this oil-free, you can used mashed avocado instead of mayo. Note the color will be green if you use avocado.
I used almonds, but any nut should work if you happen to have an allergy. Sunflower seeds could be another good alternative if you have nut allergy.
I haven't tried that, but it sounds like it would be tasty too. This vegan "tuna" is also great to serve at a party or gathering. The recipe can easily be doubled, tripled and so on.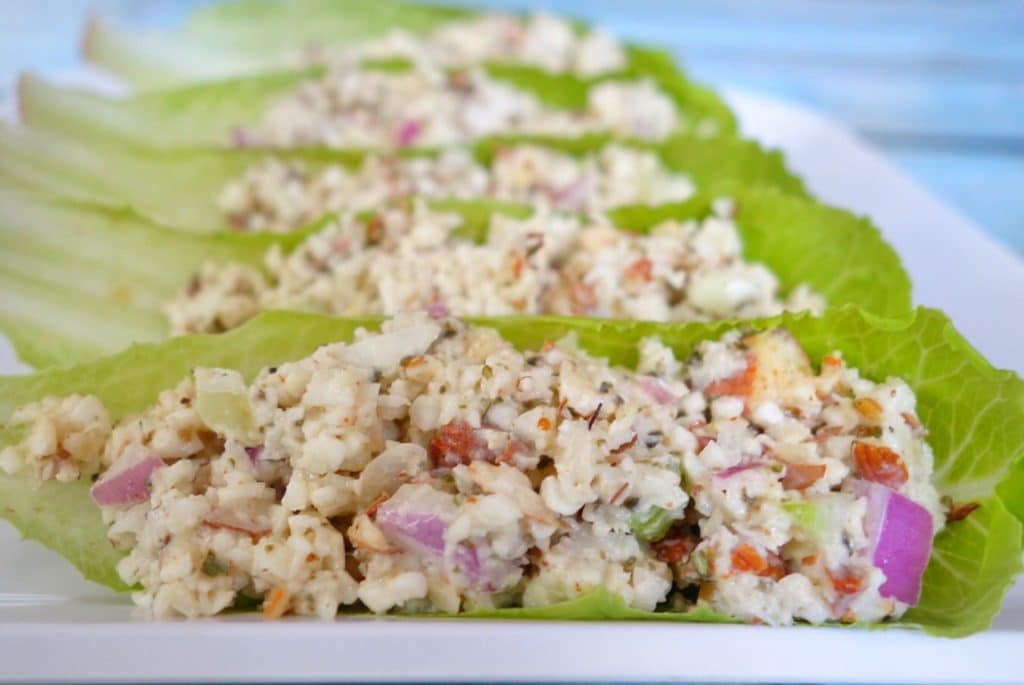 This is a favorite in our house because not only does it taste amazing, it's easy to make and contains crucial nutrients for optimal health.
Cauliflower is a cruciferous vegetable, which have shown to stop all types of cancer cells from growing, boosts the immune system and more. Almonds (nuts in general) are great for improving cholesterol, reducing risk of heart disease and more.
Sea vegetables like Nori
also come with health benefits. Fill up on this cancer-fighting dish and your body and health will thank you!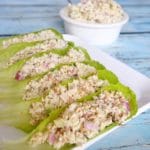 Print
Cauliflower Tuna Salad
This recipe only makes enough for one or two people. If you'd like a large serving, double or triple the ingredients. Great for a quick healthy lunch. Please use all organic ingredients when possible!
Ingredients
1/4

cup

Almonds

1/2

cup

Cauliflower

1/4

cup

Onion

(chopped)

1/4

cup

Celery

(chopped)

1/8

tsp

Garlic Powder

1/4

tsp

Dijon Mustard

2-3

tsp

Vegan Mayo

(see notes for alternative to keep oil-free)

1/2 - 1

tbsp

Sea Kelp Seasoning

(measure depending on how "sea-y" you want it to taste)

1/4

tsp

Dill

(optional)

1/4-1/2

tsp

Salt

(use as desired)
Instructions
In a food processor, pulse almonds and cauliflower until they are finely chopped. About the texture of cauliflower rice. Transfer the mixture to a large bowl and mix in the rest of the ingredients.

Taste and make sure it's to your liking! You can adjust the seasonings if needed, you might want more Vegan Mayo, Dijon, or nori seasoning, etc

Serve on lettuce leaves, salad or bread of choice. Store in the fridge for up to 3 days.
Notes
This recipe is for one, but you can easily double it using more of the ingredients. 
If you don't have the sea kelp seasoning, you could also use 1 tsp of a nori sheet, chopped. 
To keep make this oil-free, use mashed avocado instead of mayo. The color will change. 
BENEFITS OF THIS RECIPE:
Helps prevent cancer cell tumors from growing
Assists in lowering cholesterol
Keeps the heart functioning healthy