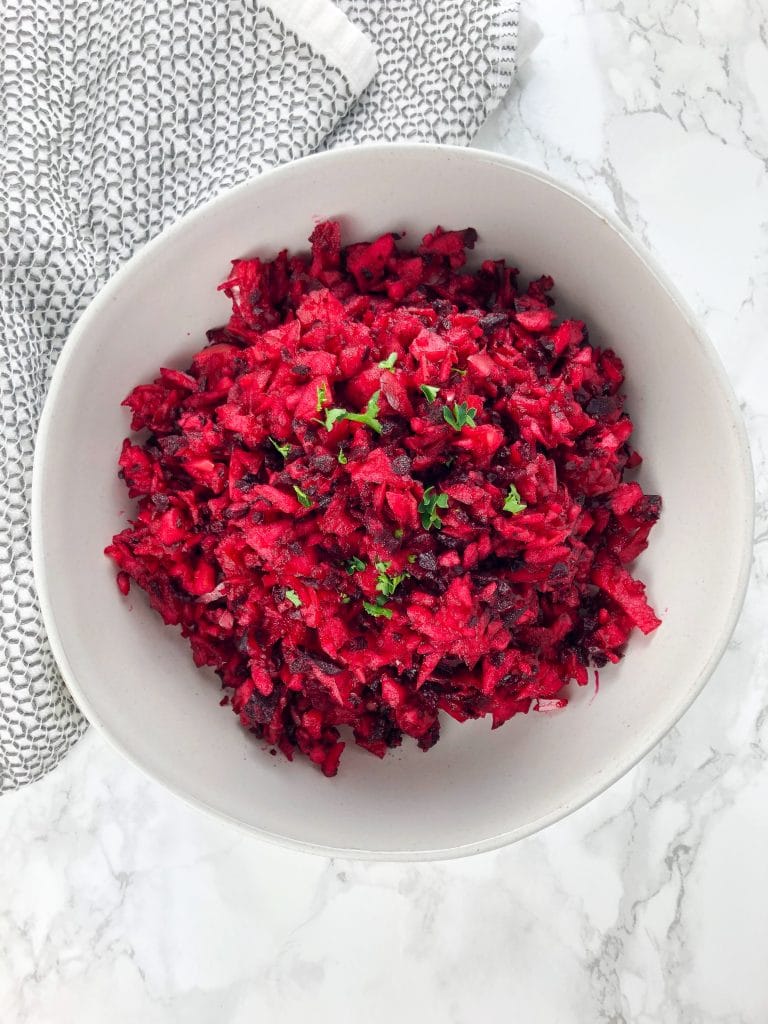 This beet salad is the simplest beet recipe I've ever made. It's quick, easy, not messy and tastes delicious!
I was surprised by the lack of beet flavor in this salad.
It tastes more like apples than anything else, which is a good thing for anyone who doesn't like beets.
You just need 4 ingredients and you'll be eating beets in no time!
One of my goals for this year is to eat more of a variety of vegetables.
I eat a lot of vegetables every day, but it's usually a lot of the same things.
The reason we should eat a variety is because all fruits and vegetables contain different vitamins, minerals and antioxidants that our bodies need to prevent illnesses.
Why We Should Eat More Beets
I recently saw a study on beets and the effects they have on our brain health.
Literally within minutes after eating beets our brain has better cognitive function.
That's why it has become my goal to eat more beets.
I love a good beet juice or a beet salad when I'm eating out, but before this recipe I had only cooked with beets one other time about three years ago!
They can be messy and stain your fingers, hard to cut and I have found it was hard to get a good flavor with them until now!
This beet and apple salad could not be easier, more flavorful and, if you're careful, your fingers won't get stained from the beet's vibrant pink color.
All you need is four ingredients and a food processor or grater, and this salad can come together in about 10 minutes!
This makes a beautiful side dish, appetizer or even on it's own.
It's a family friendly recipe that can help turn beet haters into lovers. Even my almost 2 year old loved this salad.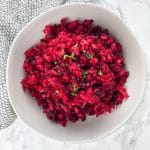 Print
4 Ingredient Raw Beet Salad
This 4-Ingredient beet salad is the simplest beet recipe. It's quick, easy, not messy and tastes delicious! Vegan, gluten-free and refined sugar-free. Buy organic when possible!
Ingredients
1

Red Beet

2-3

Apples

(I used Honeycrisp, any kind will work. The more apples the sweeter it will be.)

1/2

Lemon

(just the juice)

2

tsp

Olive Oil

Salt

(as desired)
Instructions
Wash and peel your beet. Wash the apples. I did not peel the apples I used, but you can if you'd like. Then, cut the beet and the apples into fourths and place in the food processor. Pulse until you get a shredded

Transfer the beets and apples to a large bowl. Add the juice of the lemon, olive oil and salt (if using) to the bowl and mix well. Let sit for 5-10 minutes to allow the flavors to absorb. Taste it and adjust any of the seasonings. Serve as is or on a bed of lettuce. Store in the refrigerator in an air-tight container for 2-3 days.
Notes
If you do not have a food processor, you can use a grater.
If you don't want to risk your fingers getting stained, make sure to wear gloves.