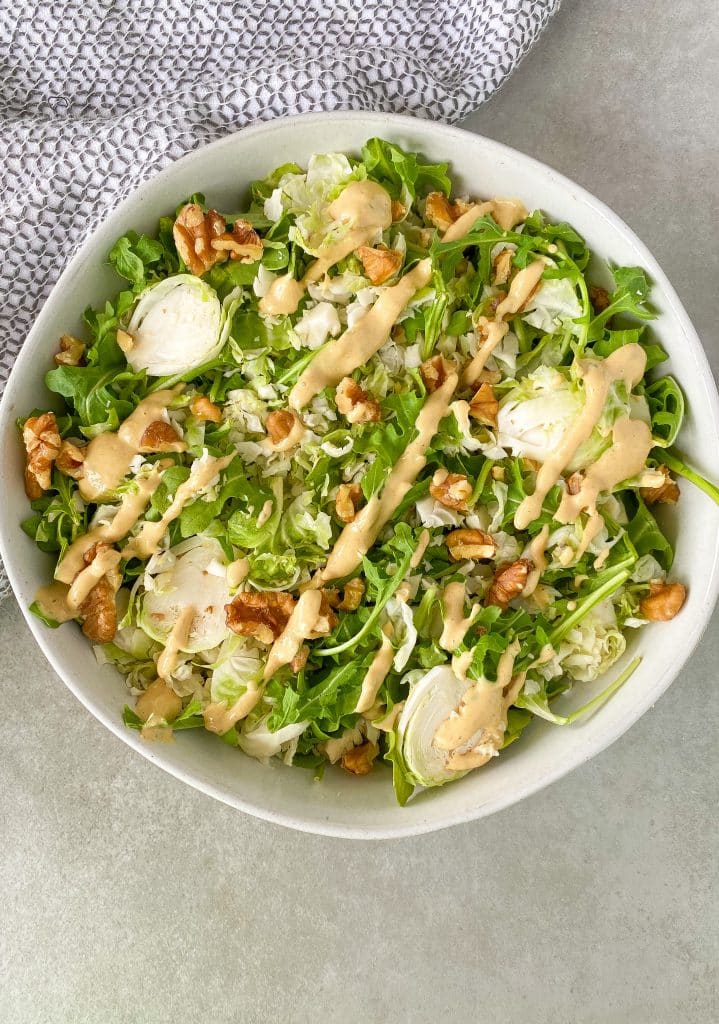 This simple salad is completely raw and packed with health benefits! Prepare it in under 20 minutes – including the 5 ingredient dressing.
The combination of the arugula + Brussels sprouts + this dressing is so flavorful, it makes me want to eat this salad again and again!
I bet it'll even impress the green haters. Some might think ew, Brussels sprouts, but I believe if you don't like them it's because you haven't had them prepared right!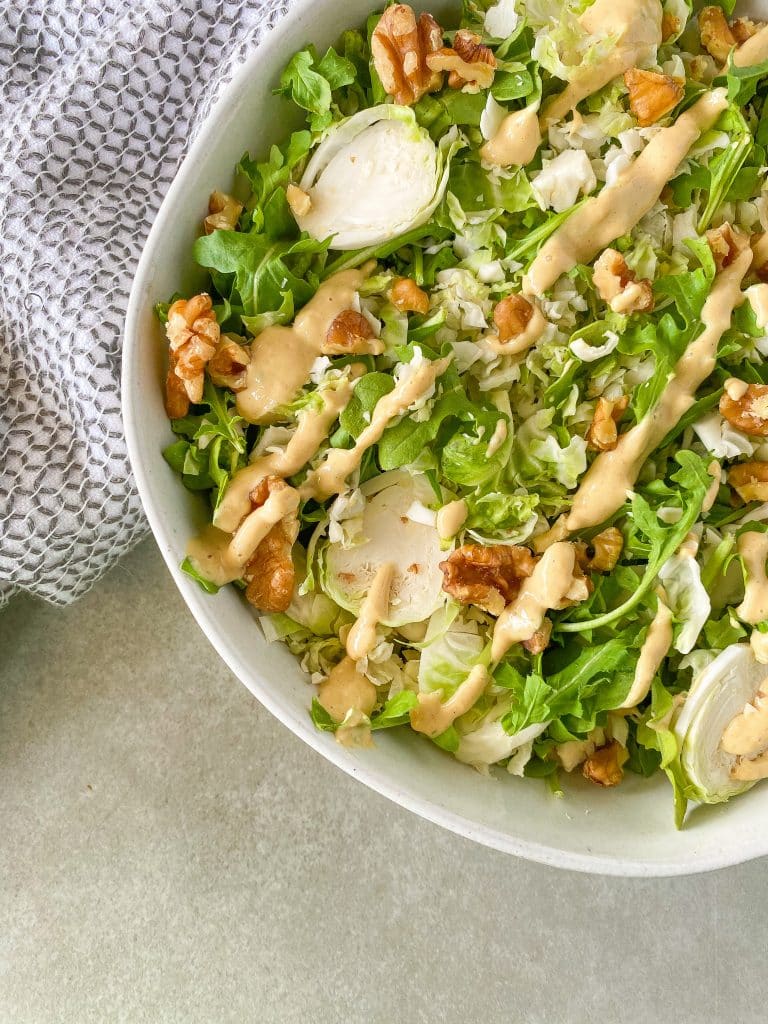 I was never a huge fan of Brussels Sprouts until I had them fried! Now those are delicious, but not the healthiest way to eat them.
Luckily, I've come up with some other yummy ways to eat them like these
Sweet Roasted Brussels Sprouts
, and even turned them into
chips
. But to get all the benefits from these anti-cancer powerhouses, you'll need to eat them raw.
This one is completely oil-free with simple ingredients so you'll see it doesn't take a lot to make a good salad dressing.
If you do buy dressing from the store, don't forget to READ the ingredients. I recommend reading the ingredients for everything you buy. If you can't pronounce it or don't know what it is – why eat it!?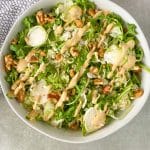 Print
Arugula and Brussels Sprout Salad + Oil-Free Dressing
This healthy salad is packed of anti-cancer and anti-inflammatory properties. Your body will benefit from every single ingredient in this salad.
Ingredients
Salad
5

oz

Arugula

1

pound

Brussels Sprouts

1/3

cup

Walnuts

(or other nut like walnuts. You can also omit)
Oil-Free Tahini Mustard Dressing
Instructions
First make the dressing by combining all the ingredients in a bowl and mix together until it is completely blended. Taste the dressing and adjust the seasoning if needed.


Wash and chop the ends off the Brussels sprouts. Then cut them in half. Add the brussels sprouts to a food processor and pulse until they are chopped up. You want it to have a "crunchy" texture so don't over process it. Roughly chop the walnuts with a knife.

Put the Brussel sprout, nut and arugula in a large bowl. Pour the dressing on top and toss together covering all the salad. Taste again to see if you want to adjust any of the ingredients. Serve immediately and enjoy!