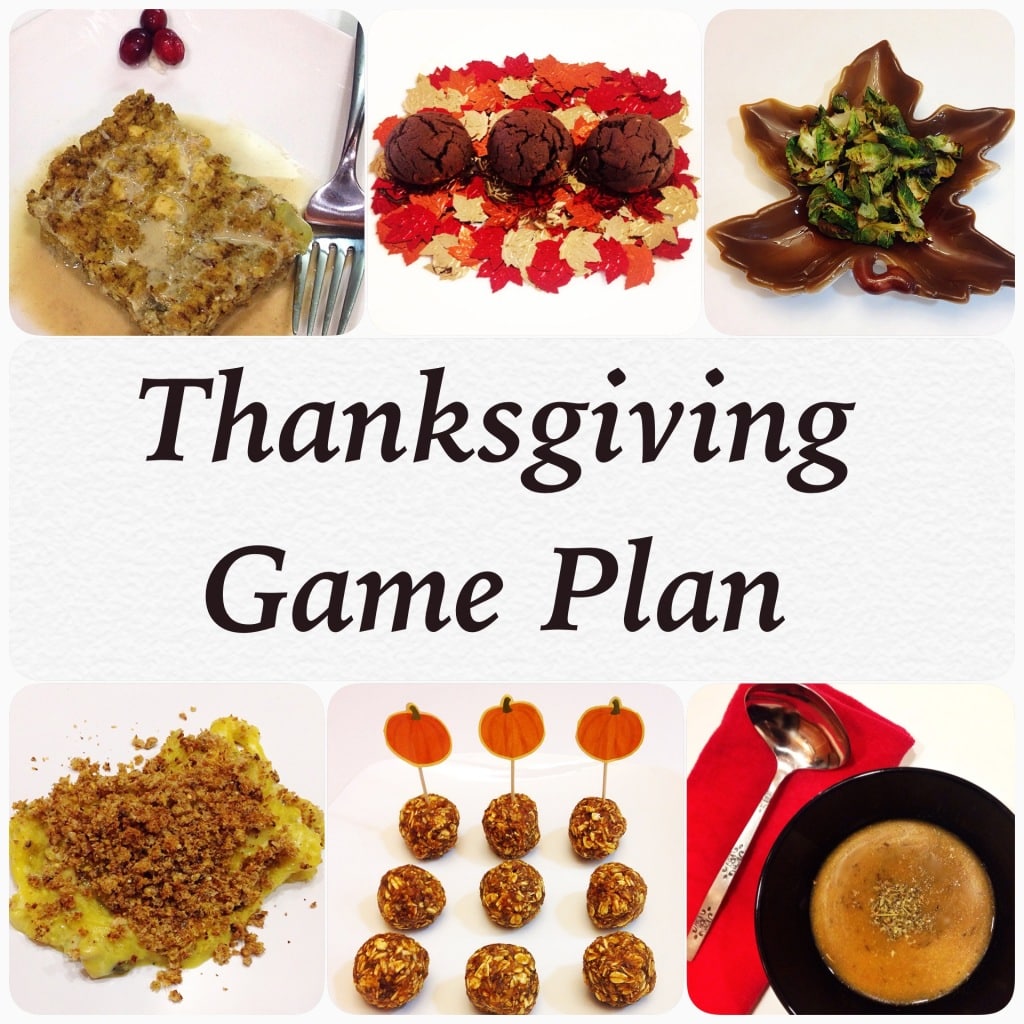 This Thanksgiving it will be just my dad and me. He is now vegetarian as I'm helping him phase into a completely plant-based lifestyle like myself. I love to get up in the morning and watch the Macy's Day Parade! First I make an easy, but satisfying breakfast like my Chocolate Cherry Protein smoothie or Almond Butter & Banana Oats. I want something that will hold me over for the big meal later in the day. 
Since it will be just us two this year and I will be doing the majority of the cooking, I've decided I'm going to cook one thing starting on Monday that will hold over until Thursday. This way I won't have to do a ton of cooking on Thanksgiving Day. Dishes like my Spaghetti Squash Casserole can be made on Tuesday and a dessert on Wednesday, but my Honey Balsamic Brussels Sprouts will need to be made on Thursday.
I know some people don't like to eat leftovers, but I've actually found a lot of my recipes are better the next day. My mother remembers her mom's homemade pasta sauce was always better later in the week after being kept in the freezer.
So on Thanksgiving Day, I will re-heat dishes from the days before and whip up the ones that I need to prepare that day. This way I'll be able to enjoy more of the day outside of the kitchen rather than in it. I think we can all admit cooking/baking 4-5 dishes in one day can be tiring. My one piece of advice to everyone is to prep ahead of time as much as possible! Especially if you're doing it all yourself. Here is what my schedule will look like.
Monday ~ Pumpkin Energy Balls – I'll double this batch. Great for snacks during the week. Also can be used for a light dessert on Thanksgiving
Tuesday ~ Cooking Spaghetti Squash for "Cheesy" Spaghetti Squash Casserole
Wednesday ~ Cooking the Cornbread for Tofu Stuffing, Chocolate Protein Cake Bites, and Complete Squash Casserole 
Thanksgiving Day ~ White Bean Basil Salad, Honey Roasted Brussels sprouts, Complete the Tofu Stuffing, and The Easiest Vegan Gravy Then for an after dinner pick me up I'll be whipping up some Pumpkin Chai Lattes to go with dessert!
Do you have a Thanksgiving Game Plan? I would love to hear it and please share any tips you use when planning/cooking a big meal! I hope you all have a wonderful Thanksgiving! Don't forget to show thanks to all of those around you! 🙂