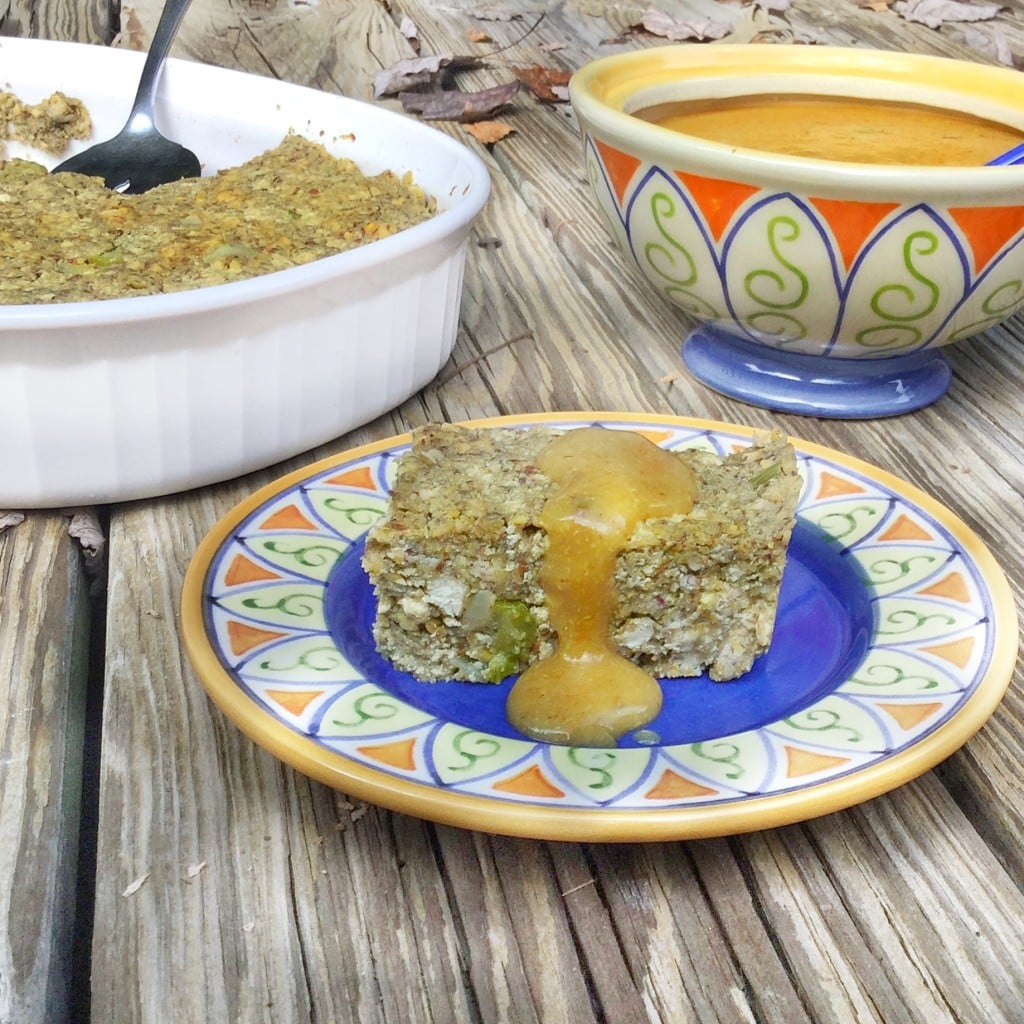 I've been testing a lot of recipes for Thanksgiving this past week. Since it's my first all-vegan Thanksgiving dinner I wanted to make sure everything tasted great and get the recipes out to all of you in enough time. I've already posted other holiday recipes I will be making and have more coming out this week. 
In the past, my favorite dish at Thanksgiving was my grandmother's Chicken & Dressing. Some people call it stuffing (people in the South call it dressing since it's not actually stuffed in the turkey). I wanted to recreate that dish "vegan-style" for this year's meal.
My grandmother's recipe usually fed 8 to 10 people. I won't need that much so I cut the recipe in half. Feel free to double it if you need more. I used half of this vegan cornbread recipe in this instead of making traditional cornbread. You can always make that a day ahead to cut out some of the work.
Gravy is what makes this stuffing dish even more delicious so I suggest you make it too! I love mixing the two together on my plate.  So I came up with The Easiest Vegan Gravy recipe. It takes less than 10 minutes to make… Seriously!
Living a plant-based lifestyle doesn't mean you can't enjoy all the delicious foods around the holidays. You just have to find ways to tweak the recipes or someone who will do it for you – like myself! I've come to find when you change the recipes to be vegan they actually taste just as good, if not better and keep you feeling good! This will be the main dish at my Thanksgiving this year and I can't wait to share it with friends and family.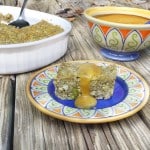 Print
Vegan Thanksgiving Dressing
This dish is a healthified and veganized version of my Grandmother's chicken and dressing recipe. It serves a smaller crowd but can easily be doubled if you're planning to serve more. Taste testing is encouraged before you put in oven to make sure the seasoning is to your liking. Please use all organic ingredients when possible!
Ingredients
1

(14 oz)

Firm Tofu

1/2

cup

Celery

chopped

1/2

cup

White Onion

chopped

3

Flax Eggs

1 tbsp flax mean + 3 tbsp water = 1 flax egg

1/2

cup

Vegetable Broth

2

tbsp

Sage

adjustable to your taste preference

1

tsp

Salt

1/2

tsp

Pepper

1/2

recipe

Vegan Cornbread
Instructions
This step can be done a day ahead if needed. Make half of this vegan cornbread recipe. Cut all the ingredients in half unless you're doubling this vegan dressing.

Next press the tofu by wrapping the tofu block in dishcloths and set heavy books on top for 15-20 min. This helps get all the water out of it.

Preheat oven to 350 F. Make your flax eggs in another bowl and set aside. Drain and rinse off your tofu and set it on a towel or plate and set aside until ready to use. 

Sauté onions and celery for about 5 - 8 mins. In a large bowl break up the cornbread into crumble pieces. Add in celery, onion, flax eggs, sage, salt and pepper.

Then crumble the tofu in the bowl and add 1/2 cup of vegetable broth. Mix it all together with your hands. Everything should be mixed together well. You might need more vegetable broth as the mixture should be soggy and moist so judge accordingly. This is so it wont come out dry after baking. Once the moisture is right, add in the rest of the tofu and mix again with hands.

After it's all mixed together you can taste to see if you want to add more seasonings like sage, salt or pepper. Pour mix in a 9x9 pan lined with parchment paper. Pat down making sure it's all even. Bake in oven for 30-35 min. The top should be a little brown. You can also fork check it to make sure it's firm. Allow it to cool for a few minutes before serving. We love eating it with this gravy!