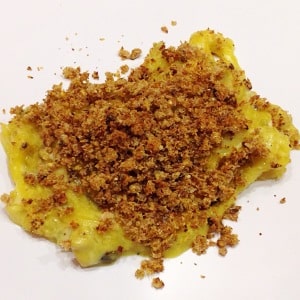 Mac and Cheese was another favorite dish of mine on Thanksgiving when I was growing up. This year I decided to make something that will satisfy the "cheesy" craving, but has way more nutritional value (and no dairy, of course). I present to you the Spaghetti Squash "Cheesy" Mushroom Casserole! Another great dish I'm adding to my holiday eats. Tomorrow I will post my Thanksgiving Game Plan with cooking schedule. 
I don't know about you, but I prefer to get my vitamins from food instead of supplements. By using spaghetti squash (instead of noodles) you're getting a wide variety of essential vitamins and minerals plus fiber!  Squash has lots of vitamin C, which is great for this time of year when colds and the flu are going around. You'll get B vitamins(good for energy and relieving stress) from the nutritional yeast that gives it a cheesy flavor. The turmeric boosts its bright color. It also adds healing powers helping with aches and pains plus fighting inflammation and cancer.
This casserole will be a great replacement for Mac and Cheese this year because it's SO good. Now if I had Sun Cafe catering, I would definitely have their Mac and Cheese.
This would have been great with cashew cheese, but when you're in a time crunch I'm glad I have Daiya Cheese to fall back on. It's a vegan dish (like all my recipes), but you can make it vegetarian by using regular cheese and yogurt. If you don't like mushrooms feel free to leave them out and just make a cheesy casserole.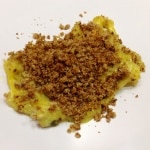 Print
"CHEESY" SPAGHETTI SQUASH CASSEROLE
Please use all organic ingredients when possible!
Ingredients
3

cups

cooked Spaghetti Squash

About 1 medium Spaghetti Squash

1/2

yellow onion

chopped

6-10

Mushrooms

chopped (you can add more or less if you'd like)

1

small container

6oz So Delicious Cultured Almond Milk, Plain "Yogurt"

1/3

cup

Daiya Shredded Mozzarella Cheese

or other vegan cheese

1/2

tbsp

Nutritional Yeast

1/2

tsp

Salt

1/4

tsp

Pepper

1/4

tsp

Turmeric

2

Garlic Cloves

minced

***BREAD CRUMBS***

2

pieces

of Ezekiel Bread

or whatever bread preferred

1

tbsp

Nutritional Yeast

1/8

tsp

Salt

1/2

tsp

Garlic Powder
Instructions
Preheat oven to 375

In a skillet sauté the Onions, Garlic and Mushrooms for 5 - min. Use splashes of water to keep them from sticking

In a large bowl mix together the Onions, Garlic, Mushrooms, Cheese, Yogurt, Nutritional Yeast, Turmeric, Salt and Pepper

Add the Spaghetti Squash in the bowl mixing everything together

Then put the mixture in a 9x9 pan lined with parchment paper

Place all ingredients for Bread Crumbs in food processor and pulse until bread is chopped up fine and mixed well with other ingredients

Spread breadcrumbs on top of squash mixture

Place in oven and cook for about 30 min. It should be somewhat crispy on top.

Enjoy!