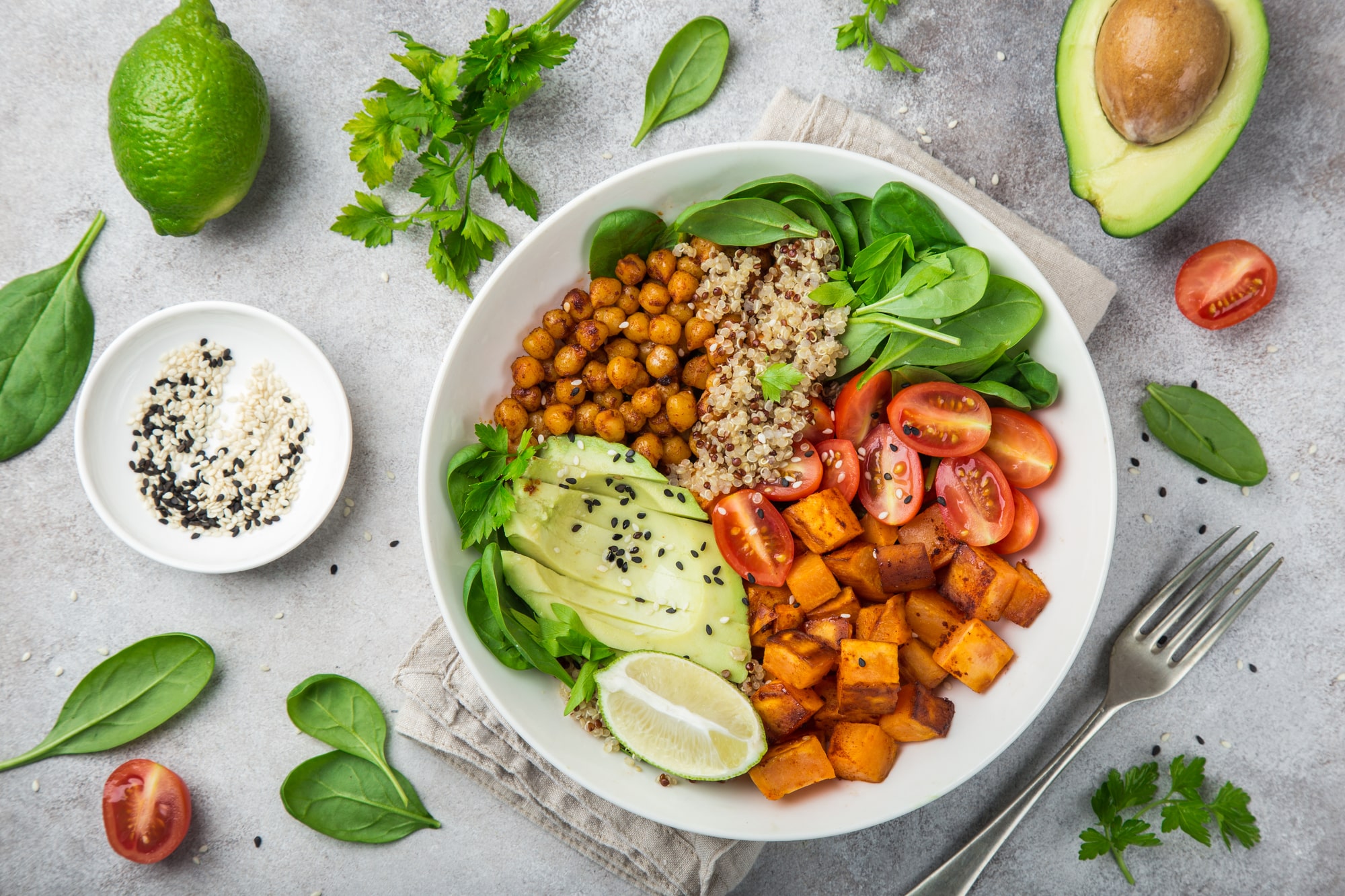 We're in the middle of Coronavirus right now. With so much uncertainty ahead, one thing I'm doing is making the most of the food I have on hand.
One of my easy go-to meals is a buddha bowl. The thing I love about these bowls are they have no rules!
The term Buddha bowl has come to mean a bowl that's filled with veggies, grains, beans, and more to YOUR liking!
Ingredients for in the bowl
I always like to have whole grains like quinoa, farro, brown rice, millet, rice noodles,  etc.
Leafy greens and a variety of roasted or air-fried vegetables like sweet potato, peppers, onions, Brussels sprouts, broccoli and more! I could go on forever about veggies. Use whichever ones you like best!
Beans – garbanzo beans, black beans, edamame, lentils, navy beans, kidney beans  or even lentil pasta!
And, if I'm wanting a little more plant protein, I'll add things like this baked tofu or tempeh.
Lastly, I always make sure to have a good fat so that my body absorbs all the nutrients from everything else in the bowl.
Think good fat from things like avocado, tahini, nut butter, sauces/dressings or even hummus.
I believe the number one key to make a bowl good is having a sauce or dressing!
Here's four of my favorite sauces/dressing/hummus to mix in
1. Creamy Garlic Sauce
What you'll need:
1/4 tsp Salt (optional)
Get the full recipe here
2. Balsamic Infused Hummus
What you'll need:
1 can Garbanzo beans (13 or 15 oz)
3-4 tbsp Balsamic Vinegar (Depending on how strong you want it, I made it with 4)
2 Garlic Cloves
1 tsp Tamari (Amino Acids work too)
3 tsp Lemon Juice
1/2 tbsp Tahini
2 tbsp Water
Get the full recipe here
3. Dijon Tahini Dressing
Whisk all the ingredients together in a bowl until smooth and creamy.
4. Caesar Dressing
What you'll need:
Get the full recipe here
4. Tahini Thai Sauce
What you'll need:
Get the full recipe here
If you have a favorite item you love to have in bowls, leave it the comments below! I'm always looking for new things to try out. Get more dressing and sauce ideas here.