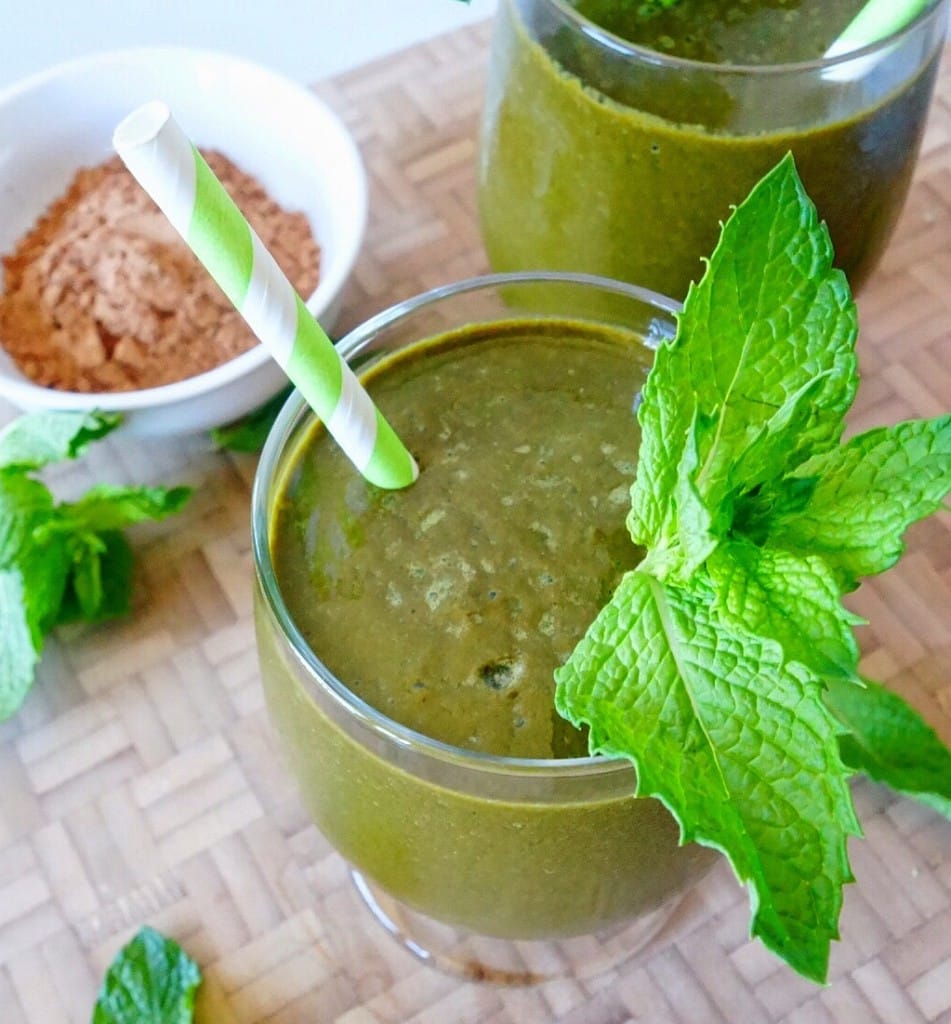 Think thin mint cookies, but creamy, cold and doesn't give you a sugar rush afterwards. This healthy Mint Chocolate Smoothie will leave you feeling fantastic after you drink it. It also contains minimal whole food ingredients so you don't need a special syrup or anything like that to make it. It's an easy recipe.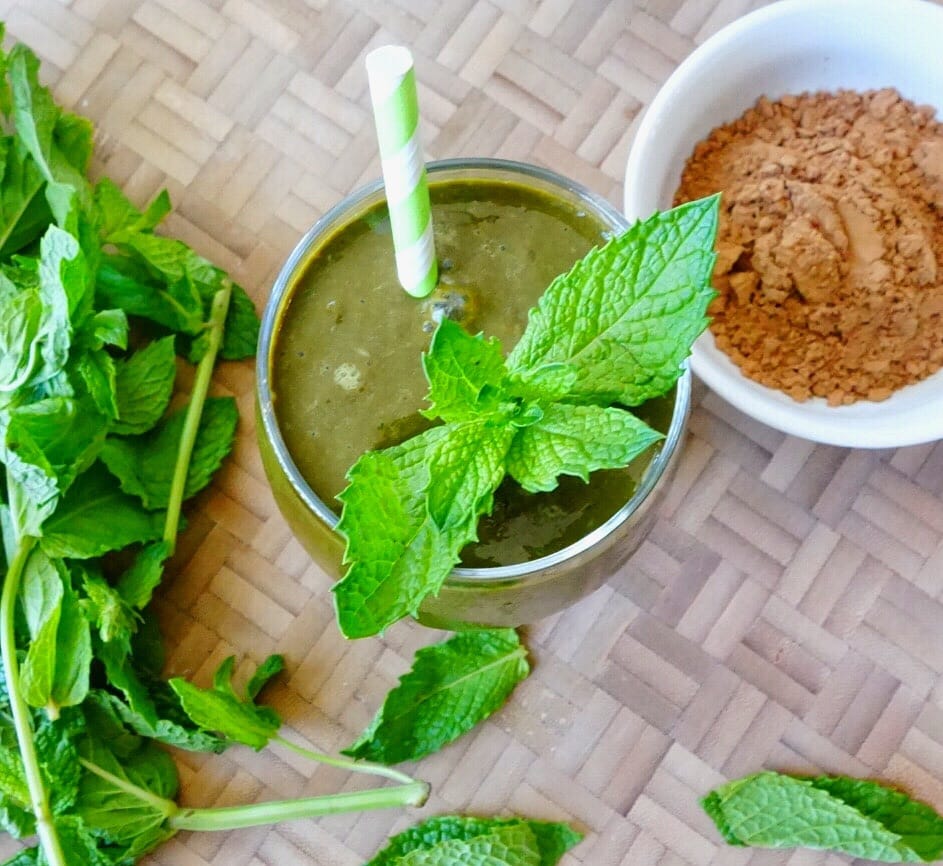 As I've mentioned before, starting your day with a smoothie can be a game changer for how you feel. This is another healthy smoothie recipe that not only gives you a boost in energy, but it also makes you happy through the day! The cacao
in it is proven to improve your mood and when you're drinking something this delicious, it's hard to be grumpy. It makes this smoothie rich in chocolate so if you want more of a minty flavor, add a little less cacao and a little more mint.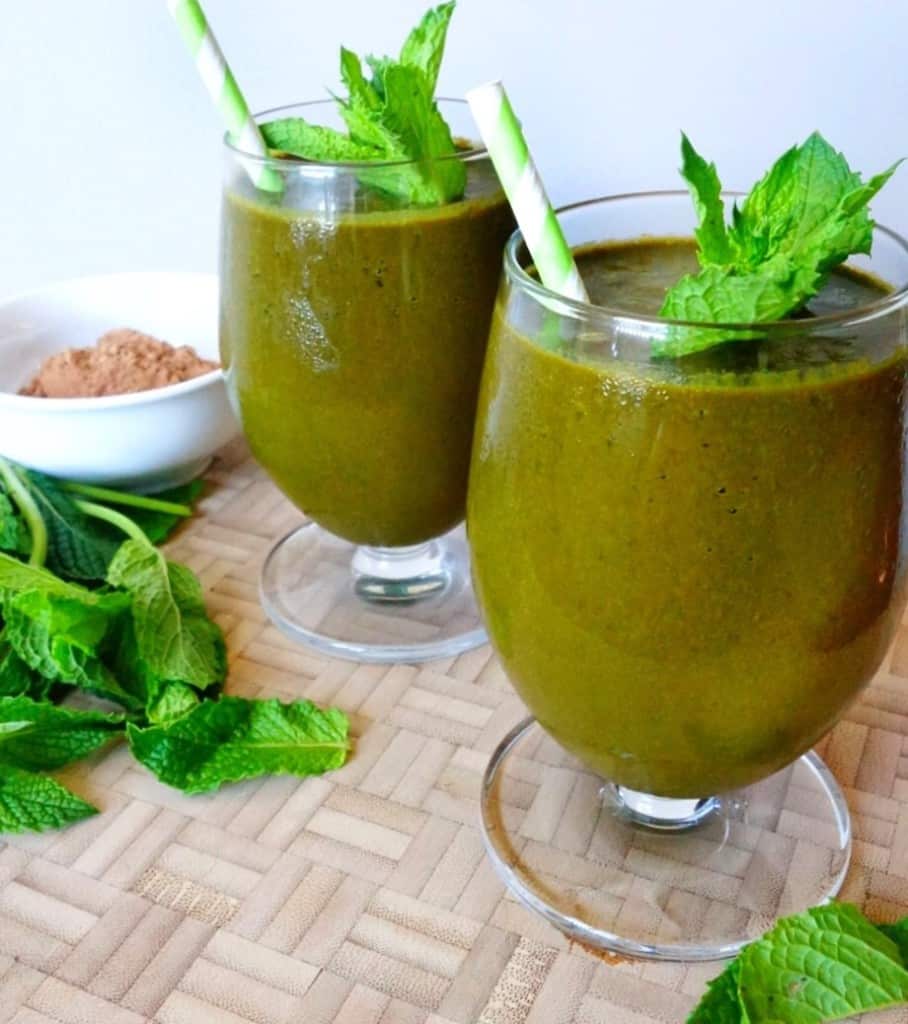 I wanted this to be a simple recipe so all I added was mint leaves to bring the minty flavor. I like to pick up a bundle of this fresh herb at the Farmers Market, but mint is an easy plant to grow so that's another option. I had one for a few months, but since I go back and fourth to NYC a lot, it didn't survive. I'm planning on getting another one soon, just so I always have mint on hand for this smoothie!
The avocado is what makes it creamy like a milkshake and provides the good fats so your body will absorb the most nutrients possible. You can't even taste it, but if for some reason avocados don't work well with you, try subbing it for cashews. Soak them beforehand, especially if you don't have a high speed blender. Almond butter is another healthy fat you could try, but it might change the flavor unlike the cashews.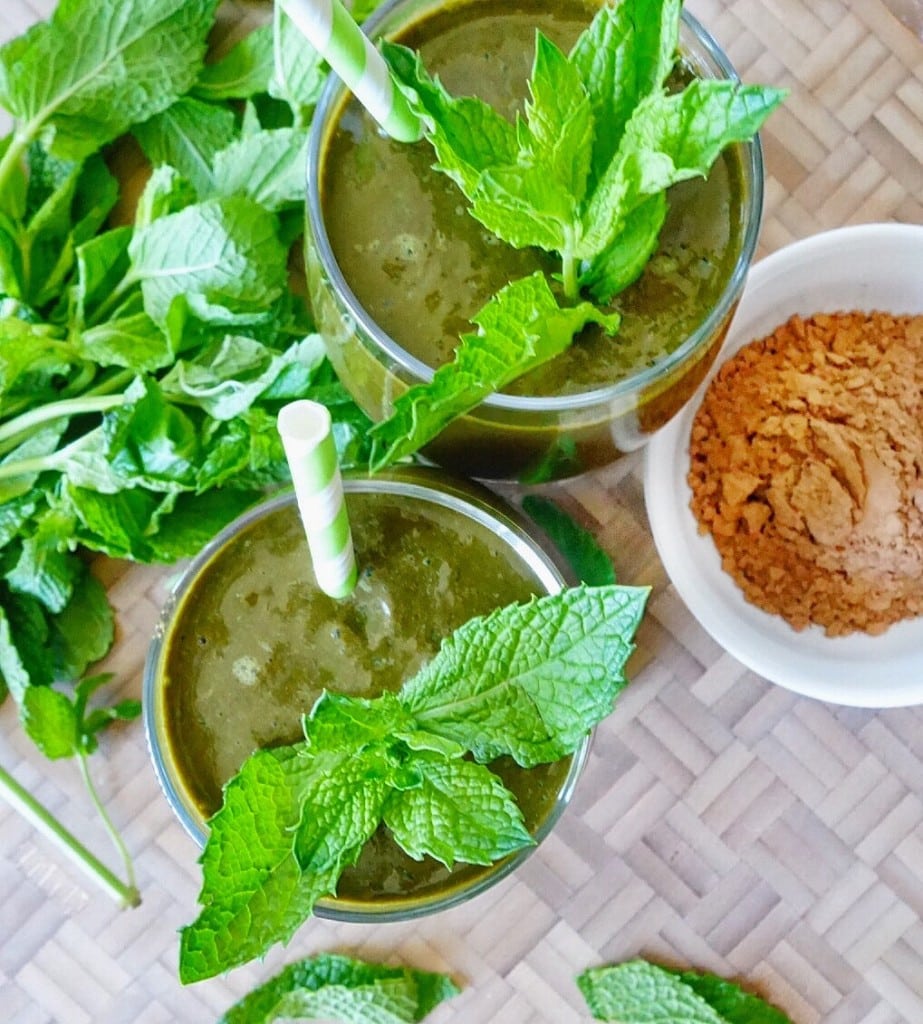 The only thing that sweetens this smoothie is dates
, but you could also add in banana if you prefer. I love having dates in my smoothies as they've been shown to be one of the most nutritious foods ever. They're also a great source of antioxidants so like the cacao, they'll improve your mood. If you'd like a banana then you can use fewer dates, but the flavor will change somewhat.
Lastly, I like to add ice to give it more of an icy thickness, especially on a hot day! This healthy Mint Chocolate Smoothie is not just a good breakfast replacement, but dessert, snack… practically anytime of the day! Be sure to taste before you pour to adjust it to your palate's liking.
For some of my other favorite smoothie recipes, check out this one, this one and this one!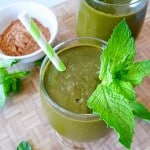 Print
HEALTHY MINT CHOCOLATE SMOOTHIE
Please use all organic ingredients when possible!
Ingredients
1

cup

Non-dairy milk or water

1

large handful Spinach

1

large handful fresh Mint Leaves

3-4

tbsp

Cacao Powder

depending on richness you prefer

5-7

Dates

depending on size

1/4

Avocado

Ice cubes
Instructions
First blend all the ingredients except ice

Then blend 6-7 ice cubes for a more 'icy' texture. Add more or less ice for preferred consistency.

Be sure to taste before you pour & adjust seasonings and sweetness if desired
BENEFITS OF THIS RECIPE: 
Improves mood and energy levels 
Helps detox the body of free radicals and toxins 
Aides in proper digestion
Contains anti-aging and anti-cancer properties