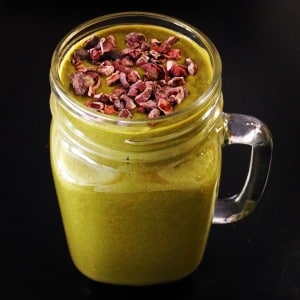 When you start your mornings off with a green smoothie you will notice a huge increase in the amount of energy you have! I never thought I would stop drinking my morning cup of coffee until I started drinking green smoothies. I feel better all around plus have more energy.  When you start your day with greens it nourishes your body providing the energy you need. You can add different Superfoods for even more of a boost. Give it a try… I think you'll be surprised how good you feel.
Check out more energy boosting recipes here!
This is a good smoothie to start with if you're a newbie to green smoothies because it tastes like chocolate from the cacao! It's packed with antioxidants, cancer fighting properties and it's a great stress reliever too.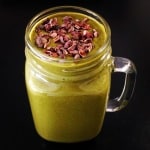 Print
Energizing Green Cacao Smoothie
Please use all organic ingredients when possible!
Ingredients
Large handful of Spinach

1

Cup

Unsweetened Almond Milk or other Nut Milk

1

Frozen Banana

1/4

Avocado

4

tsp

Cacao Powder

1

tsp

Maca Powder

3-4

Dates

pitted

Small handful of goji berries

optional

Chia seeds and Flaxseed meal

optional
Instructions
Blend spinach and almond milk together first

Add the rest of the ingredients and blend together

Add ice cubes if desired. I usually add 4-5

*Tip: If you don't have Dates or Goji Berries you can use a tablespoon of maple syrup to sweeten. Or any other sweetener you prefer*
BENEFITS OF THIS RECIPE:
Filled w stress relief foods and fiber
Packed with antioxidants and cancer fighting properties
Vitamins and Minerals from plants that nourish your body & strengthen bones
Will keep you glowing inside and out with anti-aging properties