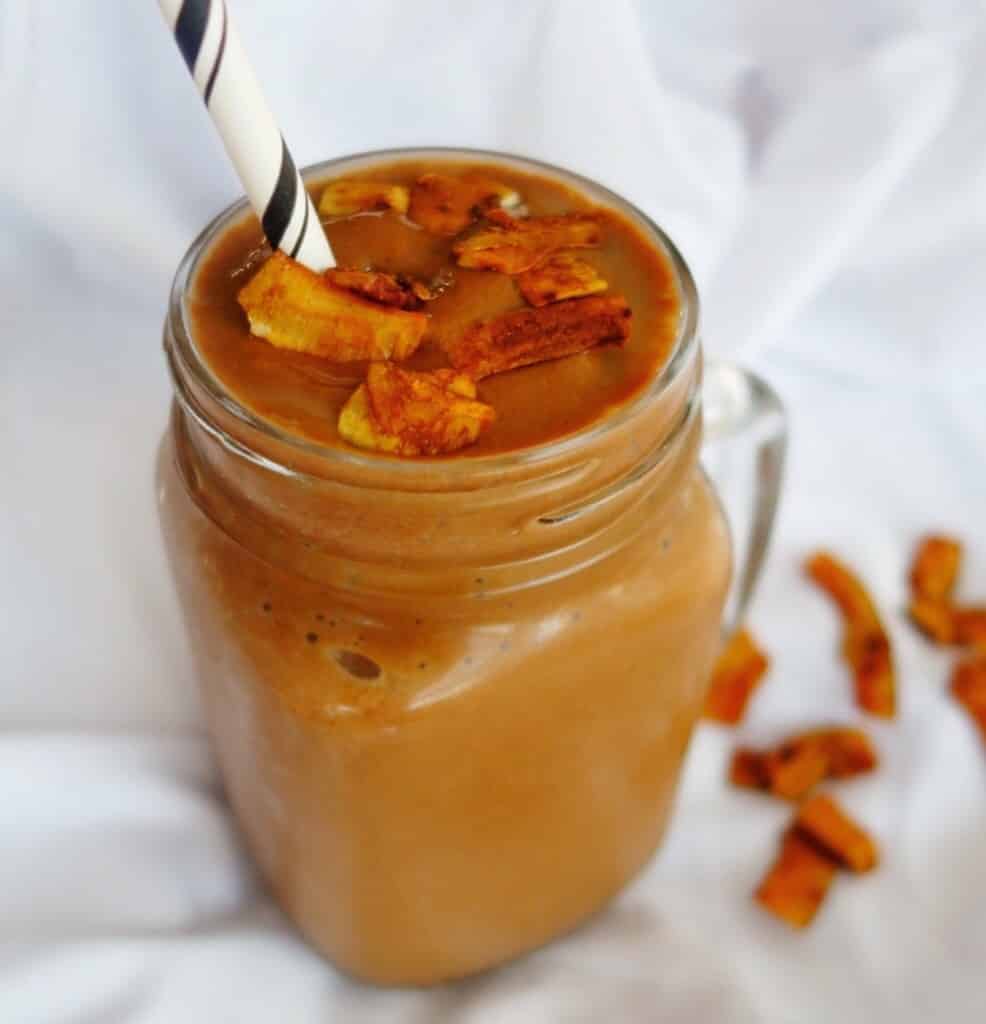 As I've mentioned before, I don't drink coffee in the morning anymore because I replaced it with these, which give me a bigger boost of energy. I still like to drink it just not like I use to… I  loved drinking the speciality drinks like frappuccinos and lattes until I found that they contain toxic caramel coloring and other terrible ingredients.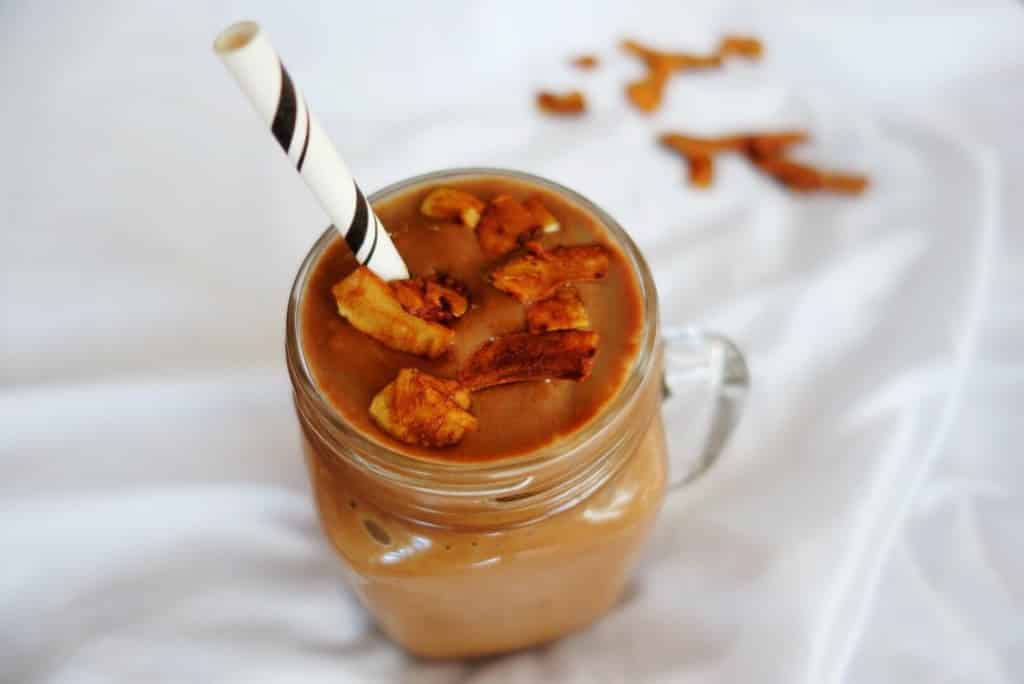 I've come up with a recipe that tastes very similar to a frappuccinos, but it's actually good for you.  Just like I did with my latte recipes. This will take you less time than driving out to get one.  With this recipe, you don't even have to brew a cup of coffee or fire up the espresso machine!  It's a special ingredient that gives it the deliciously unique coffee flavor.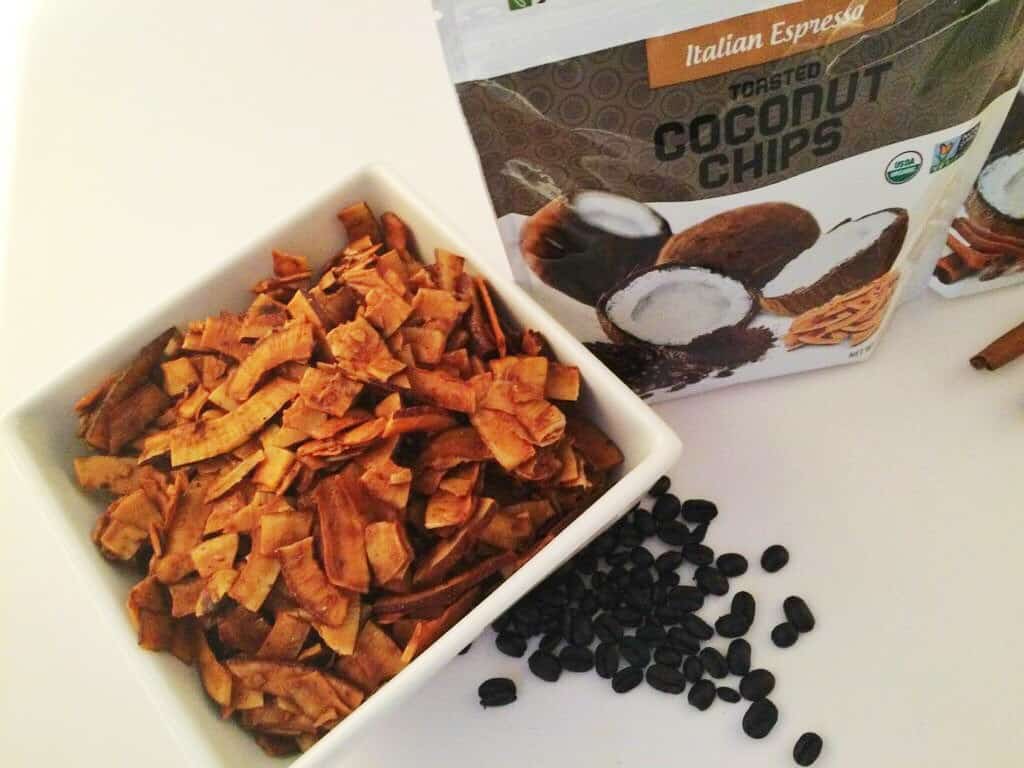 My special ingredient is Made in Nature's Italian Espresso Toasted Coconut Chips! This is my latest and greatest find!  It's one of those snacks you start to eat, then have to force yourself to put the bag away because you don't want to stop. They have an intensely real espresso flavor that is oh so good. Plus they're organic with no processed sugar!
I decided to blend some up to create a delicious chilled coffee beverage that your body can process and benefit from.  It came out better than I expected. You can even add greens like spinach or kale to boost the nutritional benefits even more without changing the taste. You might need to add a little extra coconut chips or sweetener, but that's it. Like I always say – taste before you pour in case you need to adjust any of the seasonings.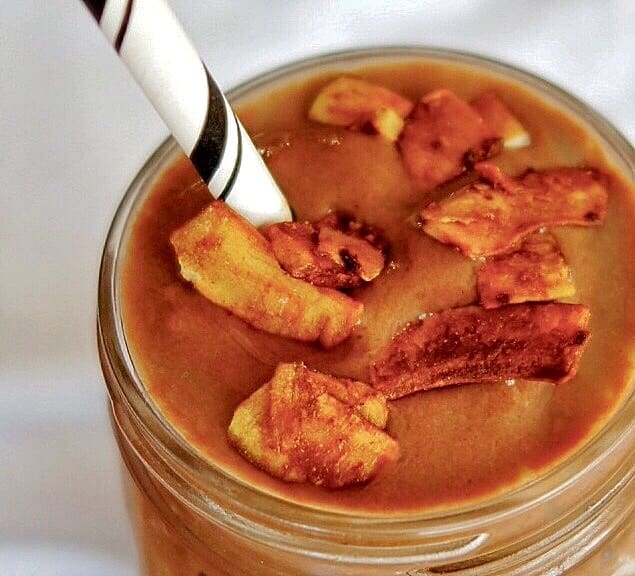 Even if you're not a big coconut fan I still think you'll like these. I'm not a huge fan of coconut and I think these are ridiculously good.  Also the variety of flavors they come in (yes, I've had them all) over power any coconut flavor in a yummy way!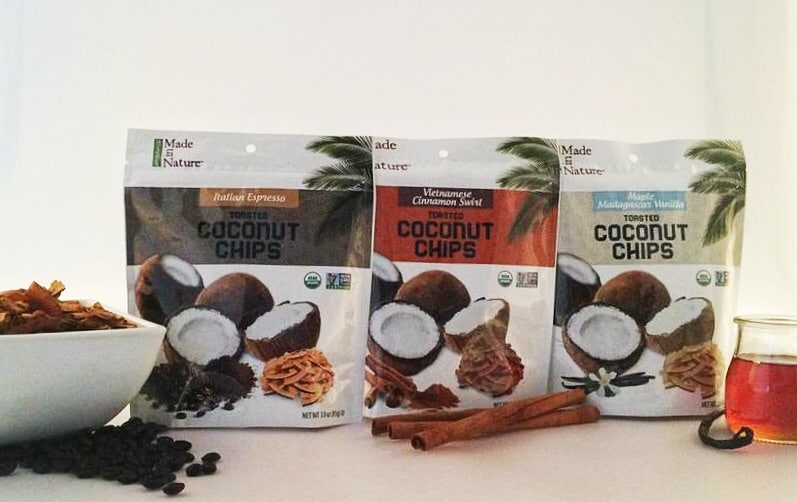 Giveaway is now over! Keep checking back for more!
Made in Nature and I will be giving away these coconut chips plus blenders so you can enjoy this recipe & more! The giveaway starts this Tuesday, March 21st. Be sure to follow us both on Instagram and Facebook to see how to win!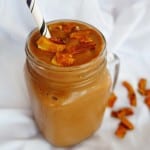 Print
MOCHA ESPRESSO SMOOTHIE
Please use all organic ingredients when possible!
Ingredients
1

cup

Nut Milk

1/4 - 1/2

cup

Made In Nature Espresso Coconut Chips

depending on desired coffee level - you can also sub 1/4 cup of chilled espresso or coffee

1/4

Avocado

5-7

Dates

depending on size

1 1/2

tbsp

Cacao Powder

1

tsp

Vanilla Extract

Dash of Cinnamon

Other Sweetener like Honey or Maple Syrup

optional

Ice
Instructions
FIrst blend all the ingredients except ice

Then blend 6-7 ice cubes for a more 'icy' texture. This makes it more like a "frappuccino"

Add more or less ice for preferred consistency. Be sure to taste before you pour & adjust seasonings and sweetness if desired

**NOTE*** If you do not have coconut chips you can sub for 1/4 cup of chilled espresso or coffee.
BENEFITS OF THIS RECIPE
Low Glycemic so it will not spike blood sugar levels
Contains essential vitamins and minerals for optimal health
Antioxidants and Anti-aging properties 
Helps boost your mood and energy levels 
Great Source of Fiber which helps keep you full and regulated 
*This is a sponsored post written and created by me, in partnership with Made In Nature.  All opinions here are my own.