Ginger root is known for its immense health benefits. It's starting to be called a staple in the medicine cabinet. 
It is commonly used as a remedy for nausea, dizziness, vomiting, and stomach problems like gas, bloating and diarrhea.
Ginger also helps the body detox by stimulating digestion. It is said to help eliminate waste and toxins from the colon and liver.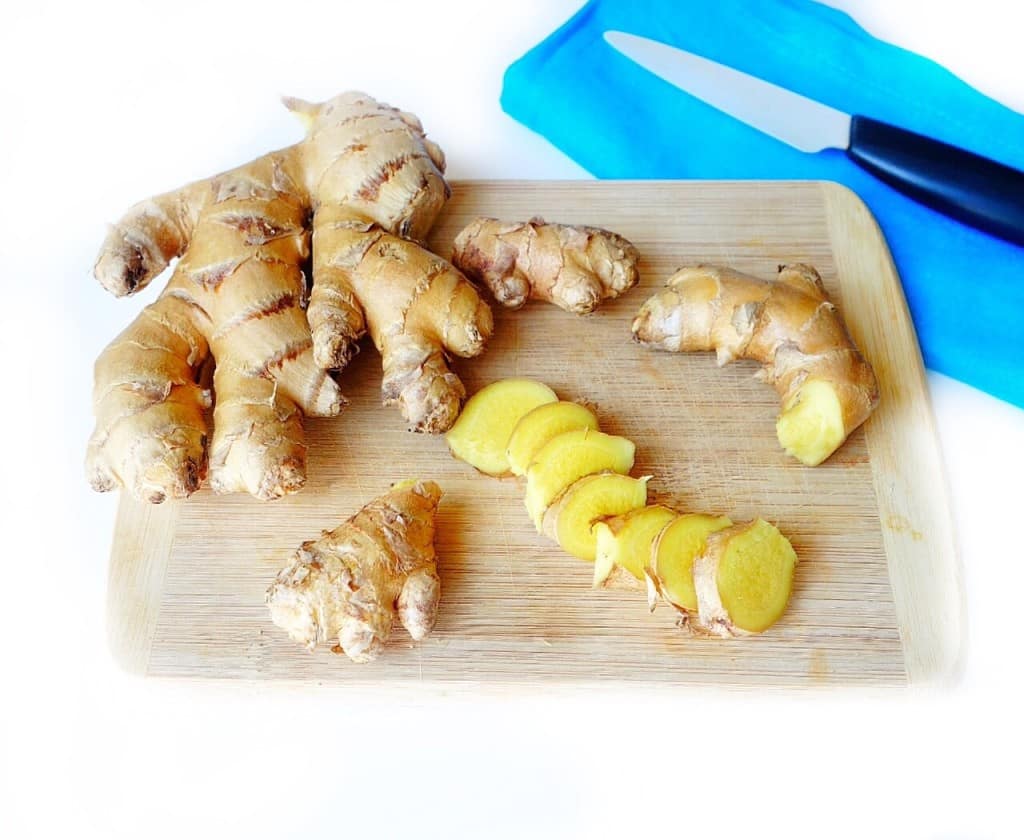 Ginger root contains magnesium and zinc, both of which regulate blood flow, so it is also good for menstrual cramps!
Pregnant women benefit from it too, as it helps curb morning sickness.
Drinking ginger tea regularly has shown to help improve metabolism and reduce junk food cravings, so it is also effective for weight loss and controlling blood sugar.
But most of all, ginger root has been proven to slow down the growth of cancer cells, including skin, lung, colon, ovarian, prostate and breast cancer.
Aside from being a powerful anti-inflammatory herb, ginger is also delicious when added in soup, salad, smoothies and more.  
This is my favorite smoothie to use it in.
It can be used powdered, dried, juiced, but of course, fresh ginger root is best. 
Ginger Tea
To make homemade ginger tea, put a 3 oz piece of ginger in a tea cup, pour 6-8 oz of boiling water over it and let it steep. Add in things like lemon, dairy-free milk or sweetener of choice. Adjust to taste.
Don't forget to buy organic ginger root when possible!
It's best to also buy it local, if it is available in your area at a Farmer's Market.
How To Store
I like to wash and cut mine into 1 inch pieces and store in the freezer. They will also store in the fridge from 3 weeks to a month.
If it feels lighter or has wrinkled skin, it's possible that it has dried up.
More Benefits of Ginger Root:
Helps treat the common cold

Eases muscle pain

Provides relief from asthma, cough and bronchitis

Fights off infections and boosts the immune system


Improves appetite

Prevents bloating

Keeps your heart healthy
How do you like to use ginger? Leave your favorite ways in the comments below!