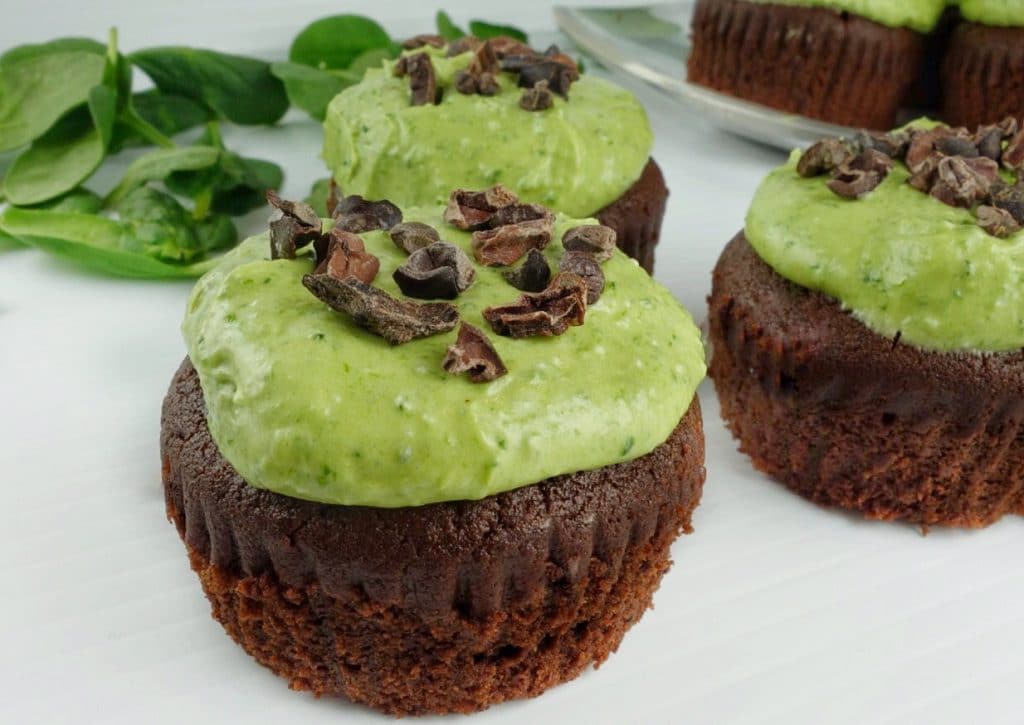 Who says you can't have your cake and eat it too when you're trying to live a healthier lifestyle? These grain-free cupcakes are made with low glycemic sugar, quinoa flour and pure cacao powder making it a healthy cupcake, but no one will know it! Plus they have a beautiful green, dye-free icing perfect for the holidays.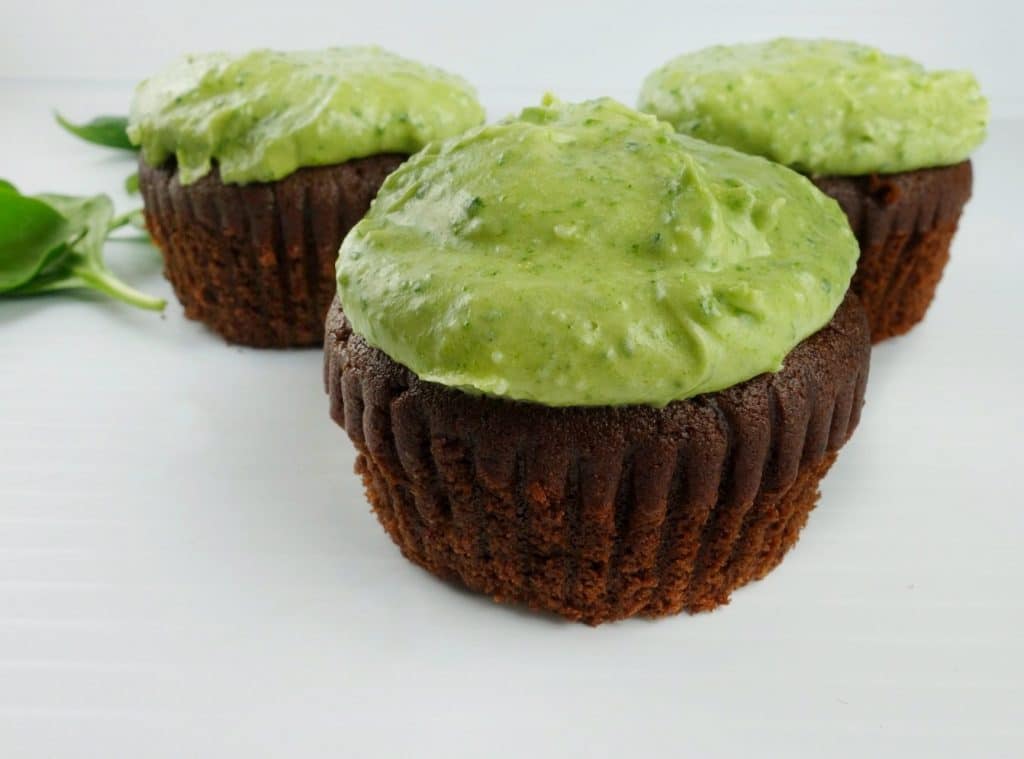 If you haven't used quinoa flour before, it's a lot like regular flour except it's made from ground up quinoa. You might be thinking "isn't quinoa a grain", but no, technically it is a seed.  Quinoa flour has a nutty flavor to it, but it's not too over powering. My husband had no idea I didn't use normal flour when he first tasted these cupcakes.
Quinoa is a complete protein, which means that it has all nine essential amino acids that the human body needs.  Besides being loaded with protein, it also contains B and E vitamins, calcium, magnesium and iron.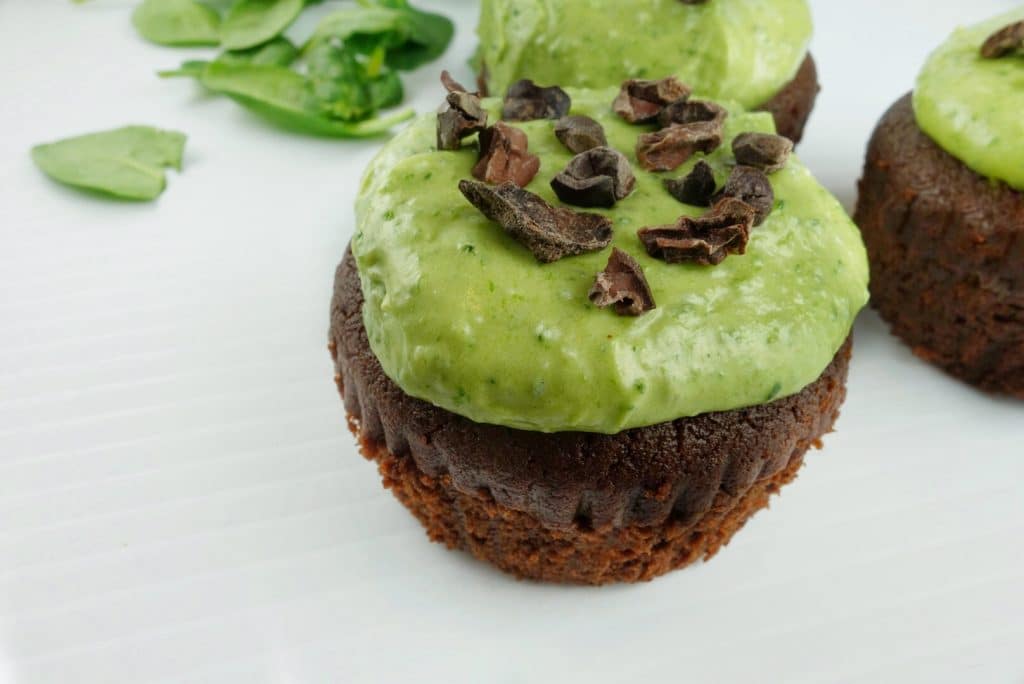 I'm not a fan of artificial food dyes because of the toxic effect it can have on our bodies, especially children, so I like to provide you with dye-free alternatives. To achieve this pretty, green color I threw a handful of spinach in the food processor with icing and blended it all together.
You can make this icing from scratch for a healthy alternative to regular icing.  I've used this store-bought icing, which has better ingredients than most store-bought icings.
This color can also be achieved by juicing spinach and mixing the juice with icing like I've shown before. The first way is definitely a simpler version plus you get all the benefits from the spinach. And don't worry, neither way makes the icing taste like spinach. No one will know what's in it!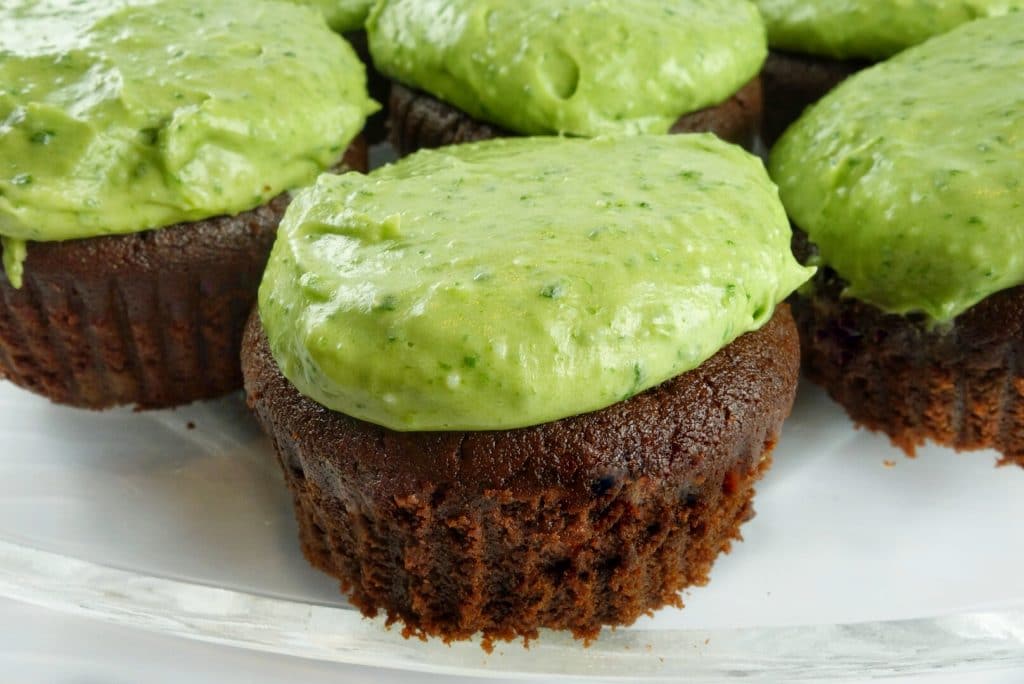 Even though these are healthy, they're moist, rich and you won't feel the guilt that comes with a regular cupcake! That's one of the best parts about eating them. My husband, who is a dessert fanatic, will even vouch for them. He actually requests these over regular cake for celebrations now. I mean come on,  cupcakes that are grain-free, gluten-free, vegan and they don't contain any refined sugar…that's reason enough to try them out! If you don't have a problem with gluten or grains, these cupcakes are delicious too!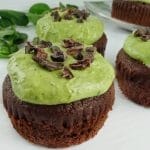 Print
Festive Grain-Free Cupcakes
The icing instructions are in the blog post. Please Use All Organic Ingredients When Possible!
Instructions
Preheat oven to 350 F degrees. Mix together almond milk and apple cider vinegar and let sit while you get everything else ready. In a large mixing bowl, add butter, sugar and vanilla and mix together with beaters until it's whipped.

In another large bowl mix flour, cacao powder, baking powder, baking soda and salt together. Add the milk and apple cider vinegar mixture to the butter and beat until partially mixed.

Then, slowly add the dry ingredients to wet while beating together. Keep mixing together until everything is combined with no clumps. Line muffin tin with cupcake holders and evenly divide batter filling ½ - ¾ full.

Bake for 20-25 minutes. Use the toothpick method to make sure they're done. Let cool before frosting.
Notes
Gluten-free all purpose flour also works for this recipe. If you're not gluten-free, spelt flour or an all purpose flour will work for these cupcakes.