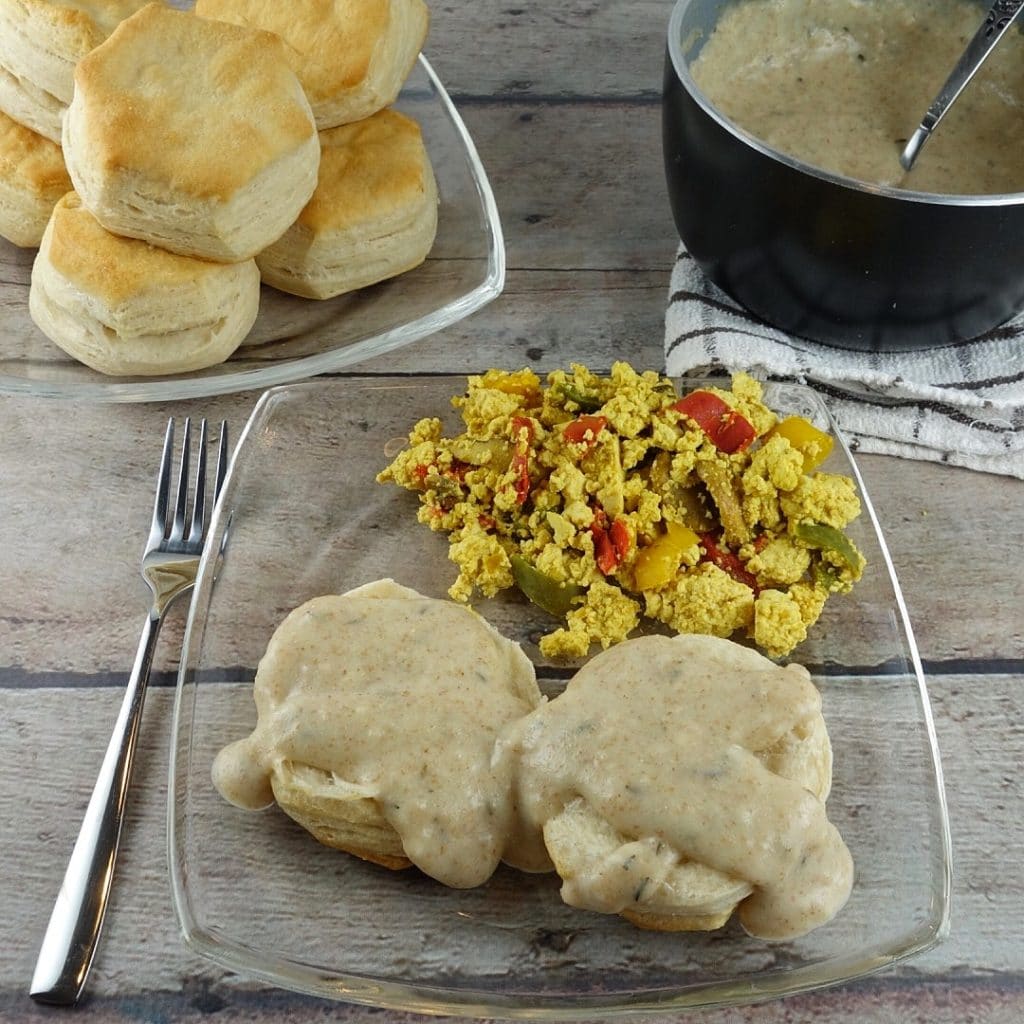 Growing up in the south, biscuits and gravy was a staple weekend breakfast for my family. It was one of my favorites, but definitely not the healthiest thing to eat. I've recreated that gravy goodness from scratch using a few, simple clean ingredients. You just need some almond milk (or other non-dairy milk), flour and a few seasonings. It's oil-free and can be made gluten-free as well. Pair it with your favorite biscuits and you'll have one delicious breakfast in less than 20 minutes!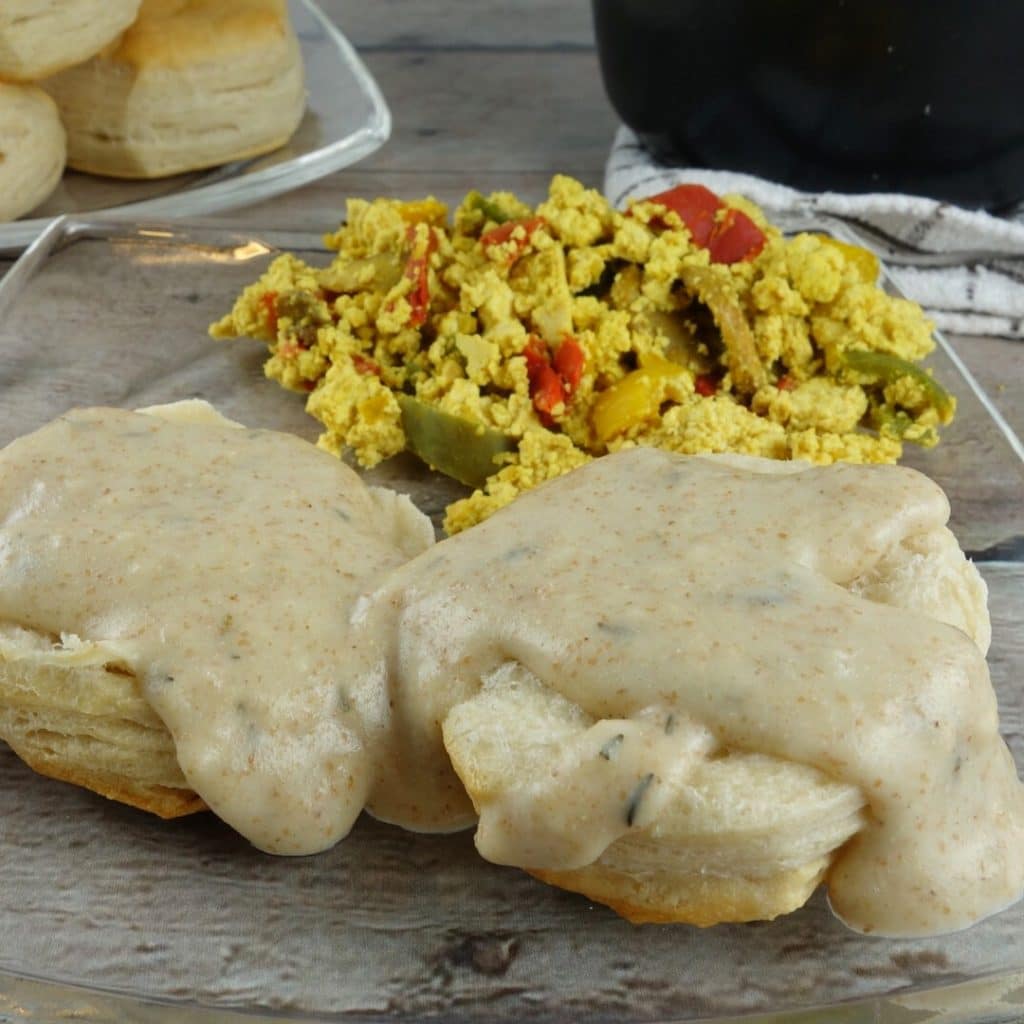 I like to try to cut out gluten when I can, as I've found when I don't have it, my skin seems to be clearer. For this gravy, you can either use a gluten-free flour like an all-purpose gluten-free flour or quinoa flour, but if you have no problem with it then spelt or wheat flour will work just fine. When testing this recipe I did try almond flour and that did not work at all.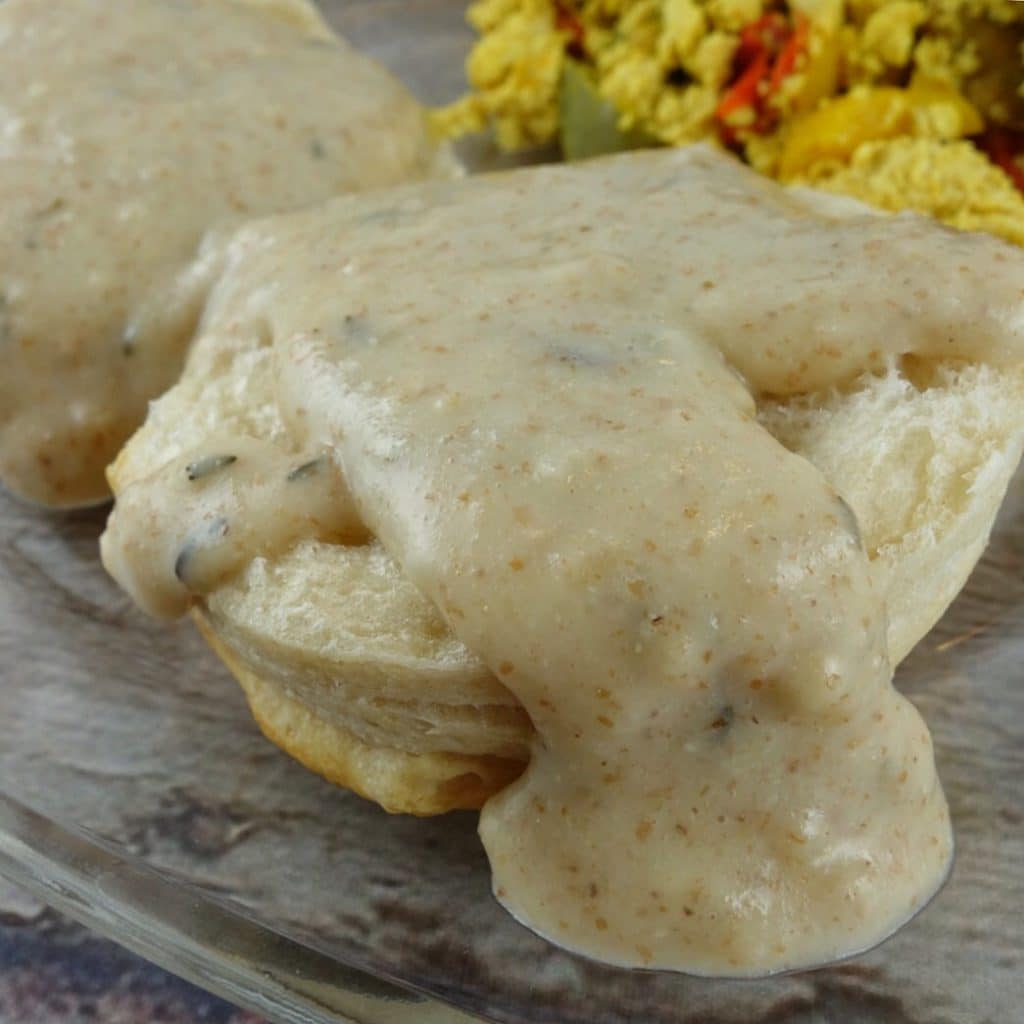 There's a few options for the biscuits. You can use your favorite brand from the grocery. If I want to keep things really heathy, I like using Ezekiel English muffins. Those will keep this recipe completely plant-based too. You could also make your own. I haven't made these biscuits, but it looks like a pretty good recipe. Here's a gluten-free one that looks good too. I personally wouldn't do the egg wash on it, but that's optional anyway on that one.
I'm usually a smoothie or oatmeal breakfast girl, but now that I have a healthier version of biscuits and gravy to eat, I know it will be happening much more often in my house – plus the hubs is a big fan of this as well.  It's great to pair this dish with a vegan scramble and latte too, making a perfect breakfast spread for the holiday season.
Print
Plant-Based Biscuits and Gravy
Please use all organic ingredients when possible!
Instructions
First get your favorite biscuits ready as the gravy takes about 10 minutes to prepare.

In a pot, add milk and then flour continually stirring/whisking until it dissolves.

Turn heat up to bring to boil. Add the rest of the ingredients and stir it all together.

Once it's boiling, reduce heat. Continue to stir for another couple of minutes until it's thick.

Taste before serving to see if you need to adjust any ingredients.

Serve hot over biscuits.

***Check blog post for tips and gluten-free options***