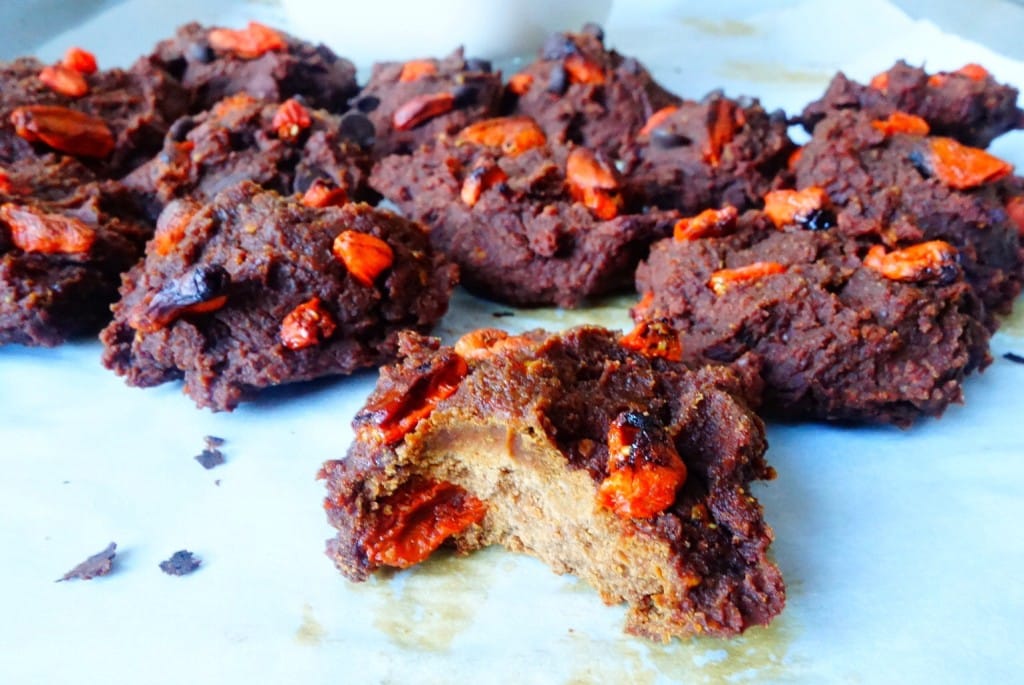 Looking for a new cookie recipe to leave out for Santa?  These Chocolate Goji Berry Cookies won't just make your taste buds happy, but provide lots of health benefits like a big boost in energy and antioxidants. Besides that, the next best thing is there are no refined sugars in this recipe so you can enjoy them without any guilt. You only need 7 ingredients to whip up a batch. Even if you didnt want to bake them – the batter makes a great dipping dessert!
These cookies are the chocolate brother to my Goji Berry Cookies that I made last year. It's almost the same recipe except here I've added cacao and a little more sweetness. Cacao is chocolate in it's rawest form so you need the extra sweetening to balance it out. You can use dates, goji berries, maple syrup or this goji berry date paste sweetener to make these cookies tasty!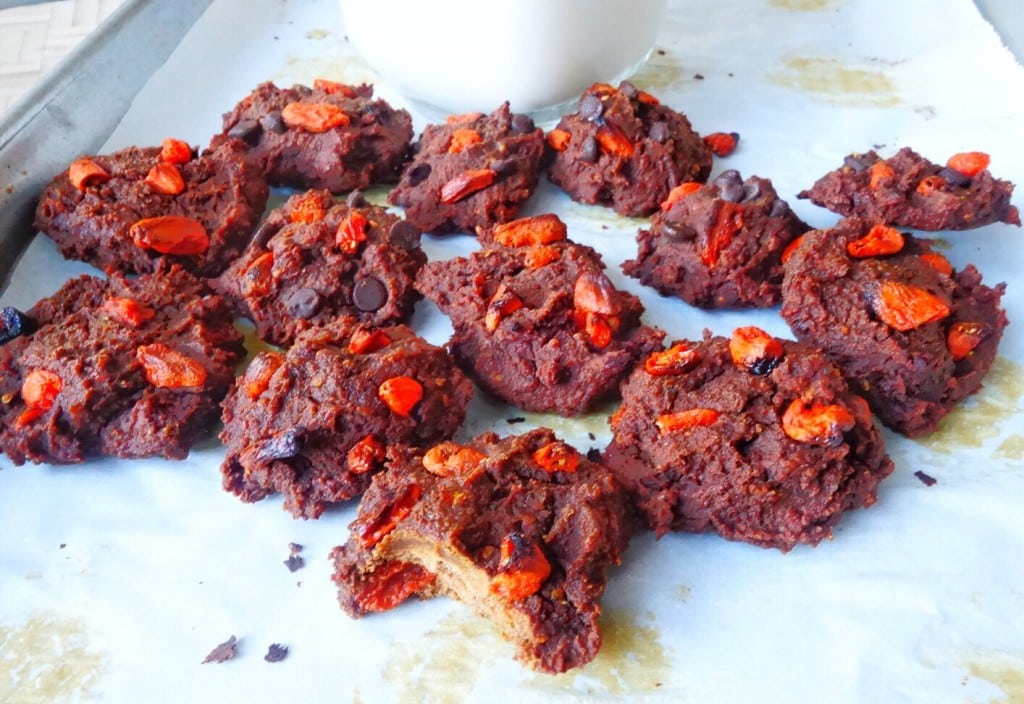 Chocolate Goji Berry Cookies make a great edible gift for friends and family or just to have around this holiday season to enjoy without worry of expanding the waist line. They're perfect for a big family with mixed food allergies as these are gluten-free, dairy-free and refined sugar-free! If you have a nut allergy, sunflower seed butter would work in place of almond butter.
Tip:  I suggest storing them in the freezer or fridge once they've cooled enough to transfer them to an airtight container. They're so much better when you serve them cold. Something about the freezer enhances the flavor!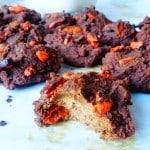 Print
CHOCOLATE GOJI BERRY COOKIES
Please use all organic ingredients when possible!
Instructions
Preheat oven to 350.

If you're not using date paste - first put dates and 1/4 cup of goji berries in water to soak while you get everything else ready.

Add garbanzo beans in food processor and pulse a few times to break them up.

Then add the dates and goji berries (not the water but save it) and the rest of the ingredients (except the toppings) and blend

If it's not creamy enough add a few tablespoon of the water the Goji's were soaking in and blend again. I had to add in a couple of tablespoons to my batch. You want the consistency to be similar to cookie dough. Also make sure to taste it. If you'd like it sweeter add in some maple syrup, more dates or goji berries. Because the cacao is bitter you might need more sweetener than usual. Just taste it.

Place batter in a bowl and mix in toppings.

Scoop out small spoonfuls and place on baking sheet lined with parchment paper

Bake for about 20 min. Let them cool and then store in the freezer. You can keep them in the fridge, but something about putting them in the freezer makes them taste even better!

I serve mine after I've put them in the freezer for at least 30 min. It enhances the flavor. Enjoy!
Benefits of this recipe: 
Low Glycemic – It won't spike your blood sugar!  
Loads of fiber from the beans and dates
Boosts your energy and antioxidants levels – see why it's so important
Full of protein from the beans and almond butter
Good source of vitamins A, C, E. Plus calcium, iron & zinc