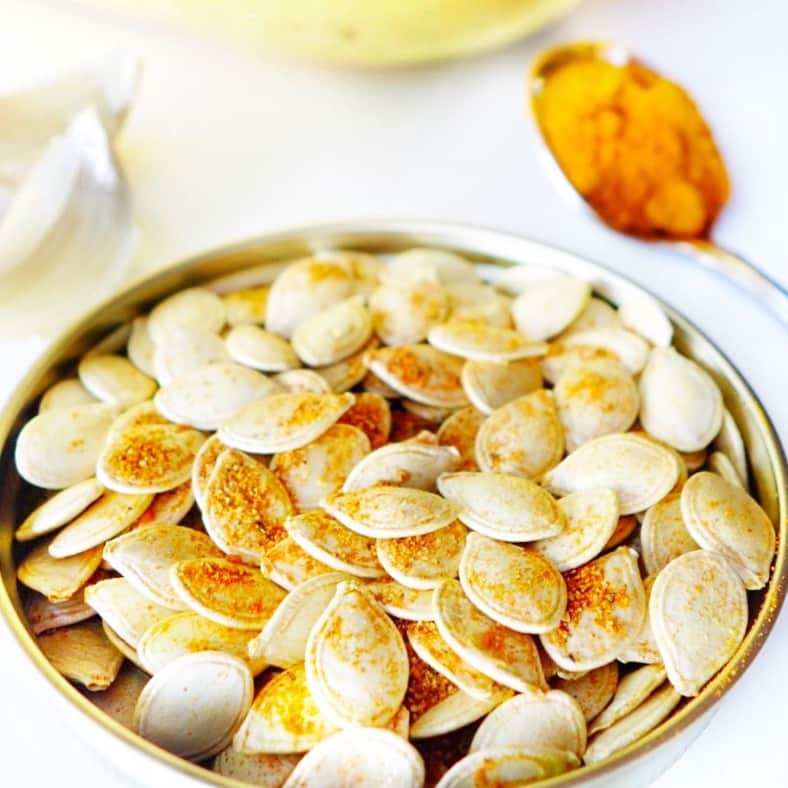 If you're carving pumpkins this week, don't throw out the seeds! I've got a tasty way you can use them – make pepitas! The beautiful leaves changing colors is not the only reason to love the fall season, but also the produce that changes with it. Right now squash is one of the most popular "in season" vegetables. I use a lot of spaghetti squashes for casseroles this time of year. Like pumpkins, you can find the same nutritious seeds in squash to make these scrumptious roasted seeds.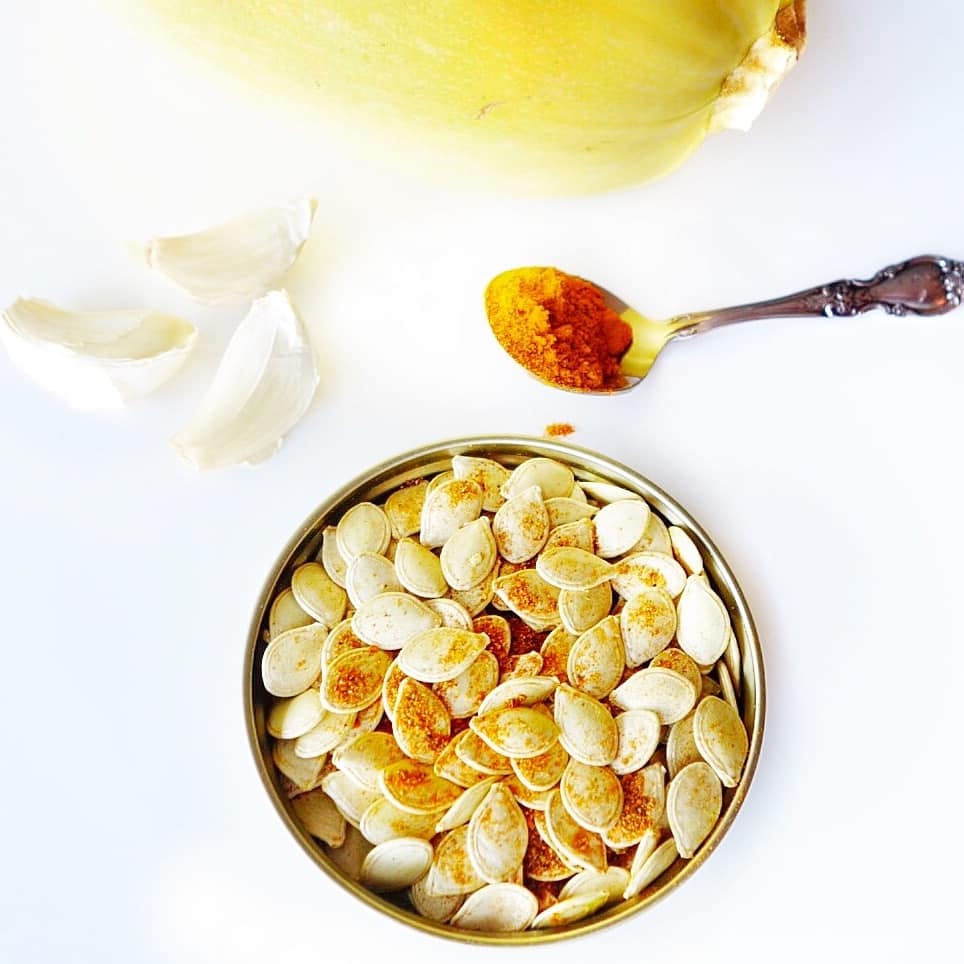 I didn't realize until last year how tasty the seeds are until I made these roasted squash seeds. This year I've been experimenting with more flavors and this anti-inflammatory recipe is probably my favorite so far. You only need three ingredients besides the seeds; turmeric, garlic powder and pepper. I also added a little sea salt – so technically four, but you get the jest of how easy this is and minimal ingredients required. You can really flavor them any way you'd like…
Adding turmeric in your daily diet has shown to drastically reduce your risk of all sorts of diseases. It's also one of the best things to help reduce inflammation in the body. You must mix it with black pepper, which helps your body get the maximum benefits from the pretty orange powder. It's similar to adding healthy fats to veggies – our bodies absorb them better when combined.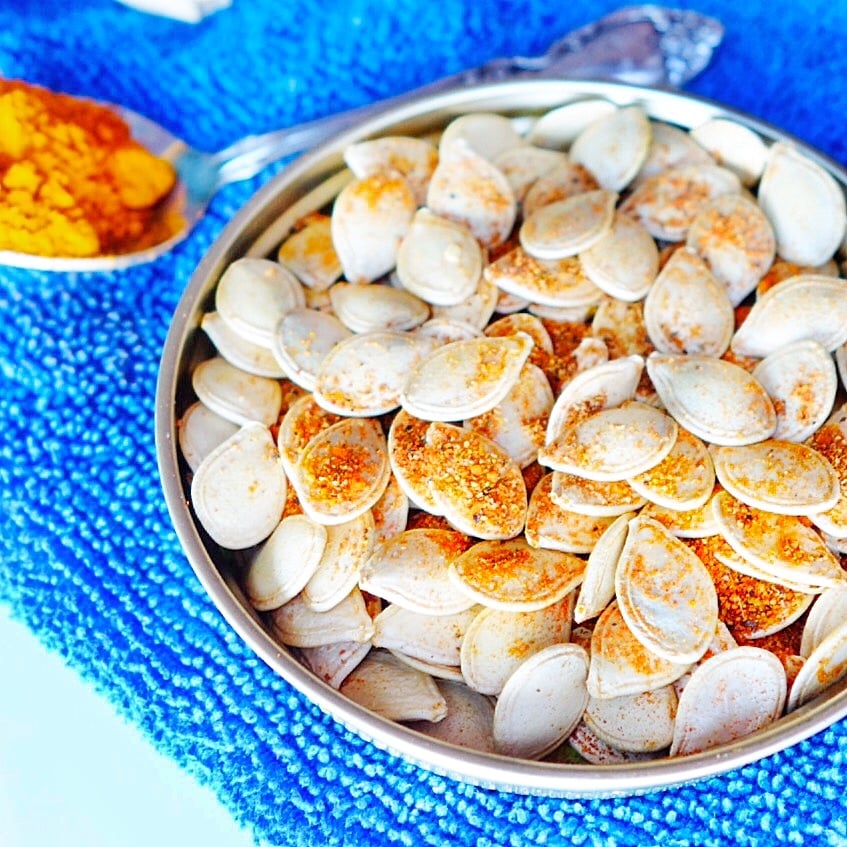 This recipe will work with any squash or pumpkin seeds. Honestly, they taste a lot like popcorn so with the combination of these seasonings, it's more like garlicky popcorn. The turmeric isn't the only thing with major benefits – the seeds themselves contain a host of them. Pumpkin and squash seeds are a great source of essential vitamins and minerals like zinc and vitamins E and K. They have shown to improve your mood, keep bones healthy and even boosts sex hormones.
Roasted seeds are great to use in oatmeal, salads, homemade trail mix or even just eating them alone. Make sure to store them in an air-tight container. They should keep for at least a week.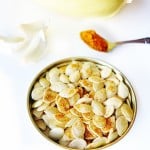 Print
Anti-Inflammatory Squash Seeds
Please use all organic ingredients when possible!!
Ingredients
Seeds

scoop from a fresh squash or pumpkin

1/2

tsp

Garlic

1/4

tsp

Turmeric Powder

1/8

tsp

Black Pepper

Salt to taste
Instructions
Preheat oven to 275.

Make sure to rinse off and dry seeds well (This doesn't have to be done, but insures to get off all the stringy things).

Add the seeds and all the seasonings to a bag - then shake well. Get all the seeds coated well. You can add a little oil if you prefer.

Spread seeds on baking sheet that is lined with parchment paper. .

Bake for 20-25 min. Test one before taking them out. If it tastes like crunchy popcorn - they're done!
More benefits of this recipe include:
Assists in improving skin complexion to keep you glowing
Helps with arthritis by reducing stiffness, pain and swelling
Great source of protein and fiber which helps keep you fuller longer
Works to lower cholesterol