Winter is officially here and you might have noticed a difference in your skin… The cooler weather can cause it to dry out even more.
This homemade hydrating lotion is made with just a few simple ingredients and it'll save you money!
If you're needing a last minute gift for any reason, this makes a good one because we all need lotion… and it takes less than 30 minutes to whip up.
HOMEMADE VS STORE-BOUGHT
I like making my own lotion because most store-bought ones have chemicals like parabens, synthetic fragrances and other additives and preservatives that can really effect our health.
These chemicals have been linked to hormone disruption, inflammatory issues and even cancer.
There are some good companies out there like Dr. Bronner who make lotions with better ingredients, but they can be a little pricey.
By making your own lotion you'll know exactly what's going in it and it doesn't cost a lot of money!
For this lotion all you'll need is:
Shea Butter
JoJoba Oil (or other moisturizing oil like coconut oil or almond oil)
Essential oil (for smell, optional)
I like using jojoba oil because it's a lighter moisturizing oil so I don't feel super greasy afterwards. It also has a lot of good benefits like, it contains antioxidants that actually help your skin fight oxidative stress caused by every day exposure to toxins and other pollutants. Oxidative stress can cause wrinkles and fine lines so this a good natural remedy for them.
If you're pregnant and would like to use essential oils, be sure to check to make sure they're safe for pregnancy. For an unscented lotion just leave them out.
I store my lotion in a glass mason jar. I don't recommend using plastic as it can leach harmful chemicals into the lotion.
This lotion will last up to 6 months.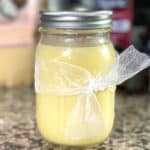 Print
DIY HYDRATING LOTION
Making your own lotion is not only better for your health, but it will save you money! This one only requires 3 simple ingredients and can be made in less than 30 minutes!
Instructions
In a double boiler, melt the shea butter over medium heat. If using coconut oil or another solid oil you will need to add it too. Once it's melted, turn off the heat and let it cool for about 10 minutes. Stir in the other oils and essential oils. Then pour it in a glass mason jar. Place in the fridge to allow it to completely cool and harden up. Then it can be stored at room temperature. It is a thicker lotion and will last up to 6 months.  
Notes
Note: if you're pregnant be sure to check to make sure the essential oils you use are safe for pregnancy. You can also just leave them out for a fragrance-free lotion.