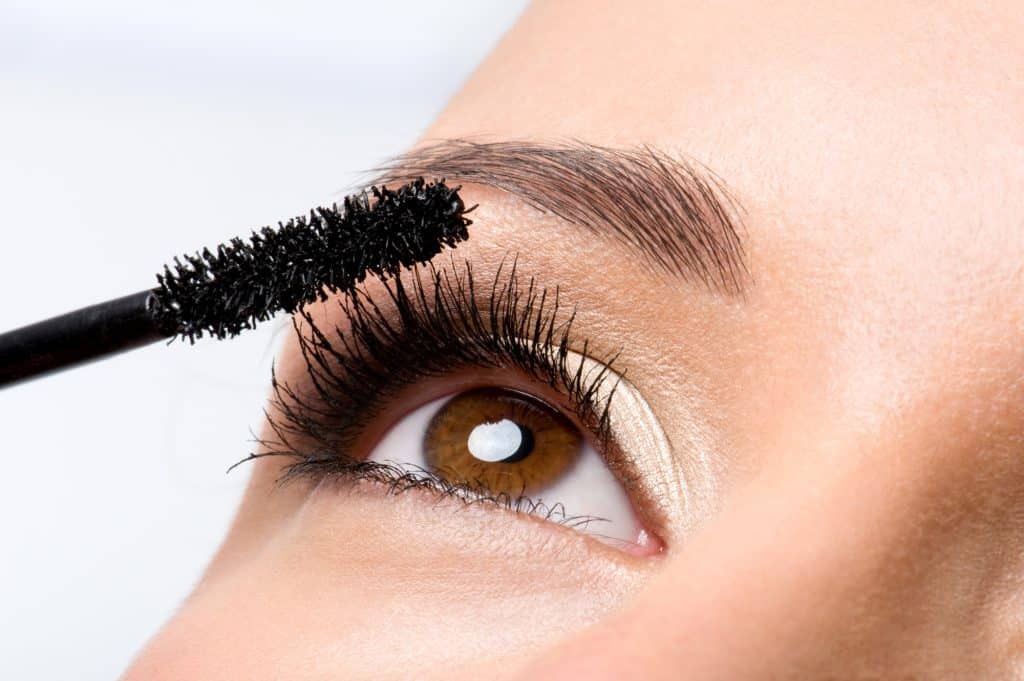 Mascara, it's something almost everyone has in their makeup bag. It's said to be the second most used beauty product behind lipstick!
I definitely use mascara more than lipstick so I want to know what's in it, especially if I'm putting it on my body almost every single day.
But not all mascaras are created equal. Some have ingredients that shouldn't be on our eyes!
Mainstream mascaras can have things like aluminum powder, mercury compounds and even formaldehyde!
More on that below, but first let's start with some of my favorite non-toxic options.
Non-Toxic Mascara Options
All of these mascaras have good ratings (2 and under) according to the Environmental Working Group.
Pacifica Dream Big Lash Extending – If you're looking for volume, this is a good option. I did have to put on a couple of coats and it seemed to do better when I let it dry for a minute before applying the next coat.
ILIA – Now this one is not vegan, and I didn't realize that until after I bought it. It does have beeswax in it, but other than that it's  clean and cruelty-free. It does a great job of volumizing and lengthening. I was really impressed.
Eco Bella Flower Color – If lengthening is what you want, this is a great non-toxic option. I also love that this one is under $20, so it's a good deal for the price! Again, applying a couple of coats is necessary.
100% Pure Mascara  This is one of the cleanest mascaras on the market, making it a good option for people with sensitive eyes. The only thing I didn't like about it is it smears easily.
Mineral Fusion Waterproof Mascara – Looking for waterproof? This one by Mineral Fusion will do the trick without all the junk! This one has a big thick wand and, just like some of the others, it needs a few coats.
Ingredients to look out for:
Formaldehyde
Formaldehyde is a known carcinogen (a cancer causing agent) but it's still put in cosmetics. The FDA does not restrict how much the makeup industry uses. Formaldehyde is used as a preservative, but there's safer options such as sodium benzoate.
The product might not say "formaldehyde" on the ingredient list, but if you want to avoid it look out for these chemicals as well:
DMDM hydantoin
Imidazolidinyl urea
Diazolidinyl urea
Quaternium-15
Bronopol (2-bromo-2-nitropropane-1,3-diol )
5-Bromo-5-nitro-1,3-dioxane
Hydroxymethylglycinate
Thimerosal aka Mercury Compounds
Yes, that's right, MERCURY! This is something I don't want on my eyes as it's been linked to respiratory toxicity, brain and kidney damage. Mercury has even shown to disrupt the brain of developing fetuses in pregnant women who are exposed to it.
The FDA states that any cosmetic product that contains more than trace amounts of mercury are in violation of the Federal Food Drug and Cosmetic Act and subject to legal action, but this rule is exempt when it comes to products used around the eye… yeah, I don't understand why they would allow it around the eye. Very strange, but I'm NOT going to risk it.
Aluminum Powder
Aluminum Powder is used as a colorant in Mascara. According to the FDA this is not allowed in lip products so why should it be allowed in eye products?! Aluminum has been linked to neurological risks and possibly cancer.
It's hard to get away from aluminum, it leaches from canned foods, beverages and cookware. It's said we consume 7-9 mg a day from food so making a switch in mascara can reduce the amount of aluminum in the body.
It's hard to eliminate all chemicals from our life, but I try my best to avoid things that are hazardous to my health and switching my cosmetics to cleaner ones is an easy way to avoid these chemicals.