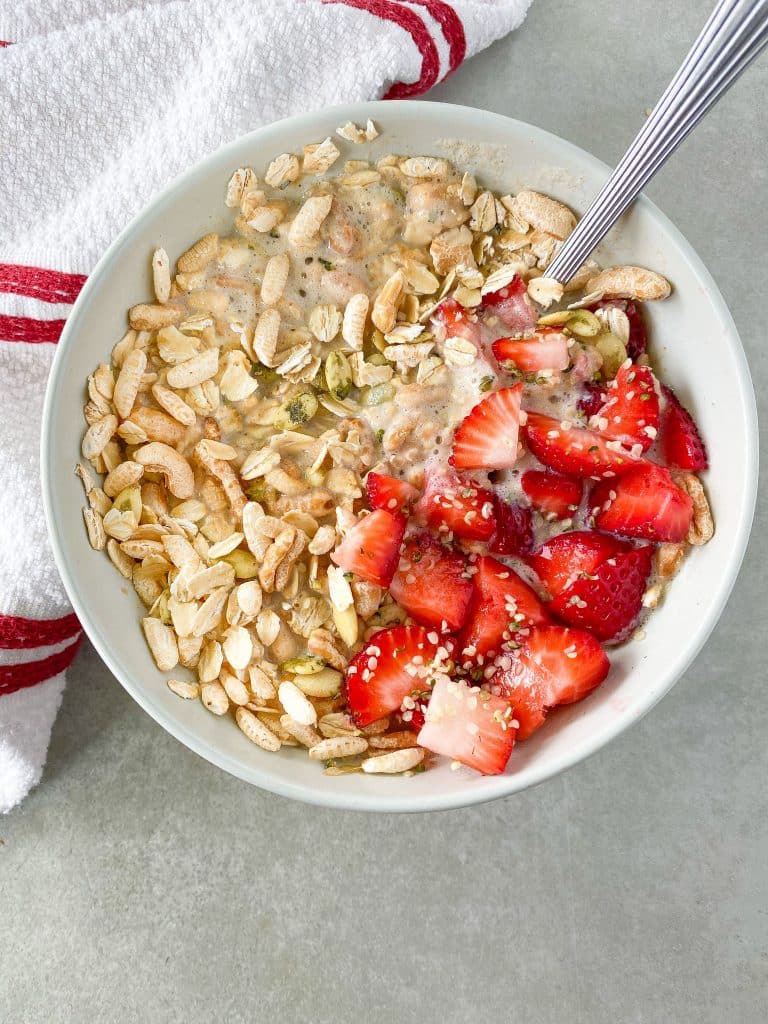 This healthy, plant-based cereal is made with 4 ingredients, high in protein, no refined sugars and can be made gluten-free!
Cereal is such a nostalgic breakfast option for me. Unfortunately, the mainstream cereal has artificial dyes, preservatives, refined sugars and other chemicals that aren't good for our health – especially children!
When I started eating cleaner I swapped my cereal for oatmeal, which I love, but lately I've really been craving some cereal.
There's a few clean cereals on the market but still nothing that I'd be okay eating on the regular.
I'm all for splurging every now and then, but something that I'm going to eat weekly needs to be clean!
So that's how I came up with this homemade, plant-based cereal.
INGREDIENTS
Kamut
Kamut is an ancient grain from Egypt that hasn't been overly processed like a lot of wheat products we know. It actually has more health benefits and is better for us than most whole grains because of this reason.
Kamut does have gluten, but has shown to not affect some people with sensitivities because, again, it's not overly processed. * I am not saying that you should eat this if you have a gluten sensitivity or celiac disease. I am a little sensitive to gluten and this does not bother me. 
Kamut is high in plant protein and fiber and gives a good crunch. I found it in the cereal aisle at my Whole Foods.
Brown Rice Crips
Let me just say, there's a lot of brown rice crisps cereals out there and a lot of them have added sugar, so it's important to read the ingredients. Nature's Path Organic is the only brand I could find where the only ingredient was brown rice. It didn't come in a regular box either. It was actually just the plastic bag on the bottom shelf. Kamut was the same way.
If you are gluten-free and don't want to risk using the Kamut you can just double the brown rice crisp for this recipe.
Rolled Oats
Oats is one of the best things we can have for breakfast! It can be eaten without cooking it, which I find most people are surprised to hear. Think about overnight oats. They're just soaking overnight, not getting cooked. It's perfectly fine to eat oatmeal uncooked. It's one of our favorite things along with date milk (recipe below).
Oats have shown to help lower cholesterol, promote weight-loss and lower blood sugar. If you're gluten-free, make sure to get GF rolled oats for this recipe.
Pumpkin Seeds
Pumpkin seeds also give the cereal a good crunch. You could sub it for sliced almonds, walnuts or another nut/seed you like. I used raw, unsalted pumpkin.
Pumpkin seeds add more minerals and healthy fat to this cereal. I also like the crunch it gives it as well. I'm all about the crunch!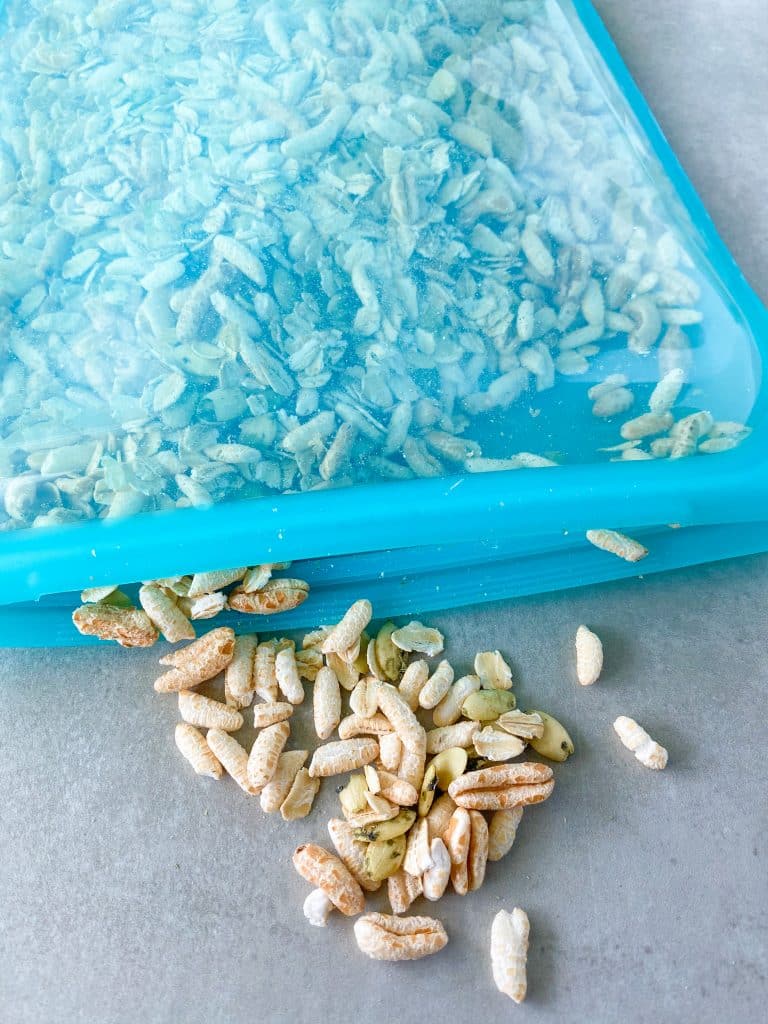 Sweetener for the cereal
There's no sugar at all in this cereal so, if you're used to regular cereal it might not taste that good if you just pour some plant-based milk over it.
What I like to do is make date milk by blending 2-3 dates per 1 cup of milk. This gives the cereal a good sweet taste using the healthiest sweetener – dates! You could also just add a little maple syrup or date syrup after you pour your cereal.
Feel free to add dried fruit like raisins or chopped dates to the mixture for a little more sweetness.
I usually add lots of berries to my bowl, which also gives it more sweetness and health benefits!
Storage
I store this cereal in my large stasher bag. These are such a better alternative to plastic bags which aren't good for our health or the environment. It can also be stored in a glass container with an air-tight lid.
If you make it, I'd love to see or hear! Leave a comment and rating below or tag me on social @megunprocessed.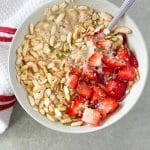 Print
Homemade Plant-Based Cereal
This healthy, plant-based cereal is made with 4 ingredients, high in protein, no refined sugars and can be made gluten-free! Please use organic ingredeints when possible
Ingredients
Cereal
2

cups

Rolled Oats

1½

cups

Kamut

1½

cups

Brown Rice Cereal

¾

cup

Pumpkin Seeds

(could also use nuts like sliced almonds or walnuts)

¼

cup

Raisins or Dates

(chopped, optional)
Instructions
Cereal
Add all the ingredients to a bowl and mix together. Add to a bowl and pour date milk on top. Top with berries and/or hemp seeds for extra protein. Store either in an air-tight bag like this or a glass container with an air-tight lid.
Sweet Date Milk
Add the ingredients to the blender and blend until the dates are dissolved into the milk. If you have hard dates and don't have a high speed blender, soak the dates in warm water for 30 minutes before blending. This recipe can easily be doubled, tripled, etc. I usually use one cup per bowl of cereal.