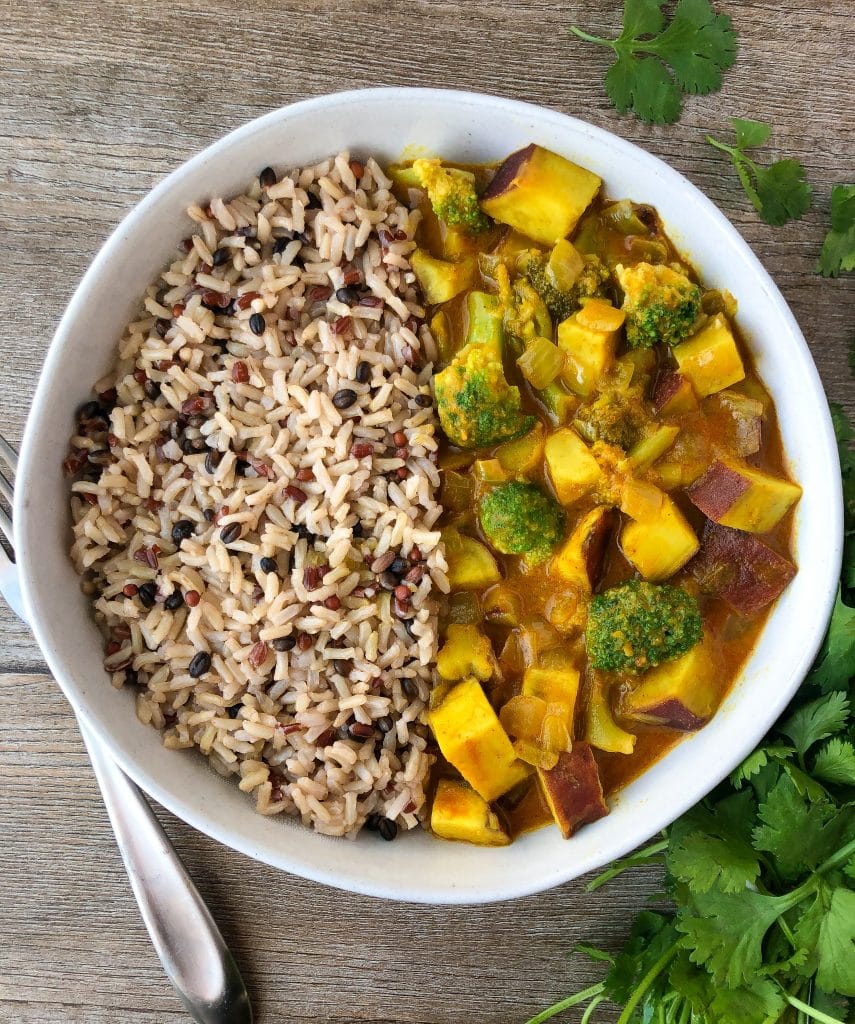 You know the way to not get bored of vegetables? It's pretty simple – just cook and season them differently!
That's exactly what curry does. It takes veggies to a whole new flavor level, am I right?
I was never a big curry person until I met my husband. He's a die-hard curry fan so I knew I was going to have to learn to make it.
Now I make this Sweet Potato Curry all the time!
I love it because it's a flavorful dish that can pack in nutrition.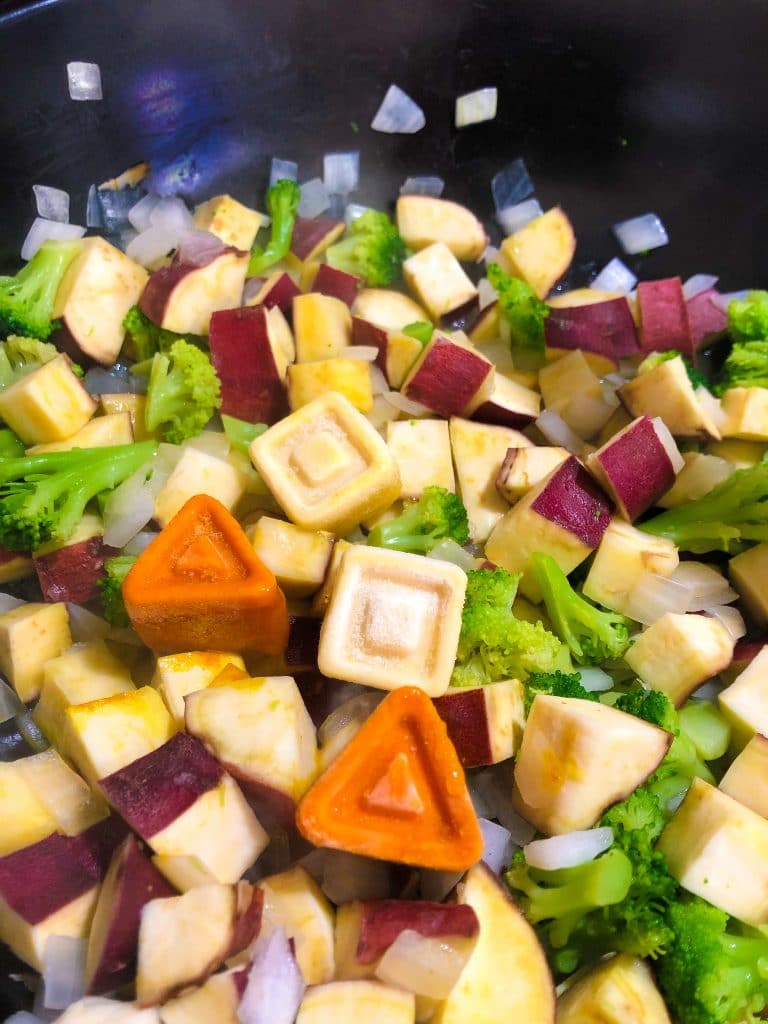 Herbs and spices are loaded with antioxidants.
Two of the most beneficial spices are in this dish – turmeric and ginger.
They're both filled with anti-inflammatory properties.
I was so excited when I found out about Kovi Kai Ginger and Turmeric cubes because it makes using these spices even easier!
They're cold-pressed ginger and turmeric juice cubes that store in your freezer, and can easily be popped into dishes, or even smoothies!
If you can't get the cubes in time, I do have in the notes measurements for using fresh or powdered spices as well.
This curry has a little bit of prep time with the chopping, but if you chop your veggies the night before or morning of things will go a lot quicker.
Also, feel free to switch up the veggies or add in tofu or chickpeas for extra protein.
And if you don't eat it all, don't worry because it makes great leftovers too!
This recipe was made in partnership with Kovi Kai.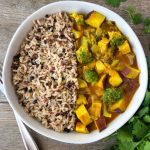 Print
Sweet Potato Curry
This oil-free curry is packed with flavor and nutrients. This vegetables combo makes a hearty meal, but they can be swapped for ones you like best. You can also add tofu or chickpeas for extra protein. Please use organic ingredients when possible!
Instructions
Get your rice or quinoa cooking first! Then, heat a large, deep skillet or wok over medium heat, add a splash of oil or water for sautéing. Add the onions and sauté for about 2 minutes. Next, toss in the sweet potatoes and broccoli, sauté for another 5 minutes. If using water to sauté, you will need to add more splashes to keep things from sticking.

Add the tumeric cubes, ginger cubes, curry paste, curry powder and salt. Stir until everything is combined. Pour in the coconut milk and stir again. Allow it to heat up and start to bubble. Then, turn the heat down to low and allow it to simmer for 20 minutes. Check the potatoes with a fork just to make sure you don't need to cook it a little longer. Serve with rice or quinoa, top with cilantro and or cashew cream.
Notes
If you would like a thinner curry add 1/2 - 1 cup vegetable broth or water. 
If you don't have the Kovi Kai cubes you can use 1/2 tsp of turmeric powder and 1/2 tsp ginger powder. You can also mince 1 inch pieces of fresh turmeric and ginger powder.