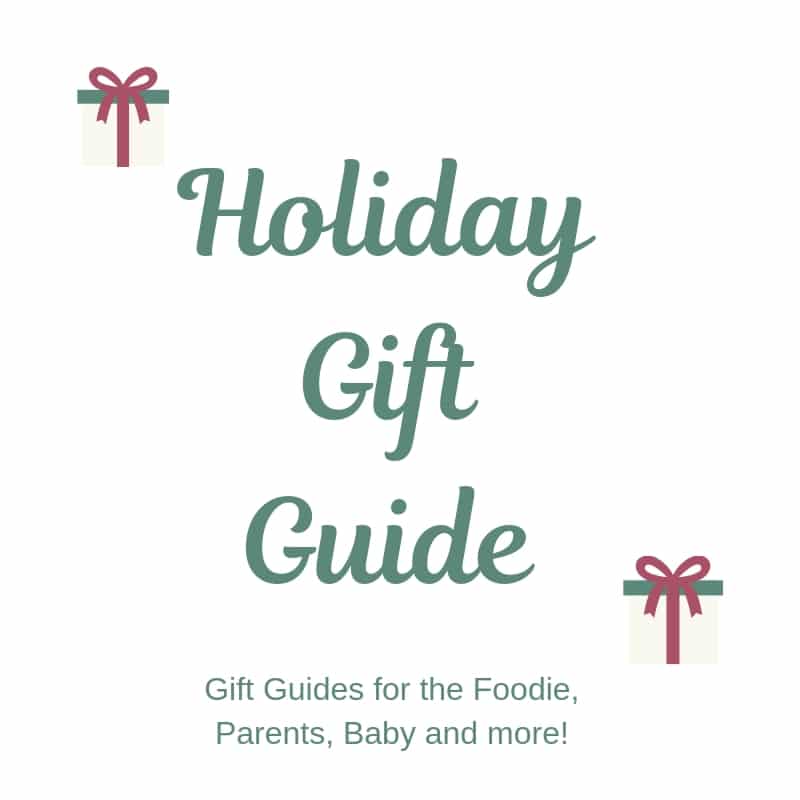 It's officially the holiday season, and gift shopping has begun!
I find gift guides helpful for me when I'm doing some online shopping so I thought I'd share some ideas with you.
I've broken it down into categories from gifts for in the kitchen, to parents and foodies.
I also got some of my favorite companies to give a discount code for you for your purchases, because who couldn't use a deal this time of year!

Frother Set – Anyone that's a fan of a creamy latte or a frothy drink will love this frother set. It's easy to use and makes you feel like you're a true barista. We use ours every weekend, which saves us from spending money at coffee shops.
Vitamix  – If someone you know is into making smoothies, homemade dressings, or plant-based milk, a vitamix will be a perfect gift! They are expensive, but totally worth it in my opinion. If you want to save a little money, buy a refurbished one. My mom has had a refurbished one for years and no problems with it.
Glass Straws – I've been using glass straws for a few years now, and I absolutely love them. Not only are they less toxic, but they are eco-friendly and help to reduce waste.
Immersion Blender – For someone that likes making soups, this blender will be their best friend! It can be used for other things like mashed potatoes, salsa or anything that needs to be pureed. It's great for someone that doesn't have a huge kitchen as it's small and can be stored easily.
Chemex Glass Coffee Maker – This Chemex pour over coffee maker makes coffee taste so much better! Not only is it less toxic because there's no plastic pieces to heat up and leak chemicals, but it's easy to clean.  The coffee can even be covered and stored to reheat later without losing any flavor.
Instant Pot – This electric pressure cooker speeds up the cooking time by 2-6 times. The machine combines the features of a Pressure Cooker, Slow Cooker, Rice Cooker, Sauté, Steamer, and Warmer. I have the 6 quart pot, which is plenty big for my family of 3, but if you need something bigger it also comes in 8 quart.
Non Toxic Pans – You might be surprised to know that most pots and pans have a chemical coating that leaches into the food when you cook it. Xtrema pots and pans are 100% ceramic and completely free of  chemicals. They have a lot of sizes and options ranging in price so be sure to look at their other options besides the one I linked here.

Smoothie Pouch – Smoothies are one of the easiest ways to get a bunch of nutrition into little ones. My son loves using this smoothie pouch, and I love it too. It allows him to easily drink smoothies and I don't have to worry about any spills.
Avanchy Baby Dishware – Avanchy is my favorite dishware to use for my son because it's sustainable dishware made from organic bamboo with a silicon suction bottom. For little eaters these suction bottoms are a lifesaver. My son still loves to try to throw his plate and this prevents it. The spoons and forks are also great in helping new eaters be independent at the table. Use code MEG-FRIENDS15 for 15% off your order plus free shipping! 
Busy Bug Book – A cute book that comes with a wind-up lady bug that makes her way through the pages and allows young readers to follow along. My son has this book and it keeps him entertained for a good amount of time.
Inglesina Table Chair – This highchair attaches directly to the table or counter. I love it because it keeps my son close to us when eating, it saves space in our kitchen and it's portable! It can easily be taken out to eat or on trips in the little bag it comes in.
Hope and Henry Clothing – I recently found this clothing line on Amazon and absolutely love it! The clothes are not only stylish, but well made from organic cotton. The company sets high standards to be eco-friendly as well. Their items range from baby to toddler to little boy and girl.  They are also perfect for a special occasion or family pictures.
Baby's First Friend – These lovey stuffed animals are made of organic cotton and perfect for little ones to snuggle at night. My son has the dog and absolutely loves him!

Green Sprouts Sippy Cup – I loved using this cup for my son because it's glass on the inside and plastic on the out, which protects it from breaking. My son has thrown and dropped this cup many times and it's still intact.  The water in this cup only touches the glass and silicon lid, which is good since plastic has shown to disrupt hormones, even in babies.

Fuego Box – This is a present for all the hot sauce lovers, including my husband. Fuego Box is a monthly subscription box of different hot sauces. You can customize how often you want to receive a box or just buy an individual box. Use code MEG at checkout and get your first box for free!
EverlyWell – This company offers over 30+ at home test kits to help find out what's going on inside your body. From food sensitivities, to hormone imbalance, to men's health, there's a test for everyone. It's a great way to have some insight into your body and getting to optimal health.
Green Chef Meal Delivery – This meal box delivery service sends you three meals with all the organic ingredients and easy instructions to prepare. You can customize it to your diet needs, and the food tastes like something you would order at a restaurant! Use my link to get a FREE box of meals for you or one of your friends!
Thrive Market – From healthy food items to non toxic home and beauty products, this online store offers an array of healthy items for a discount price. I order the majority of household products and foods from this place. I've compared the items to my local grocery store, and I save anywhere from $1 to $5 off each item. Use my link and get 25% off your first order! Put a care package together for someone you love or order some items for yourself!
Need even more ideas?
Tile Finder – I am one of those people that loses my keys all the time! This Tile finder has been a lifesaver! It not only can find your keys, but your phone and anything else you attach it to. It's small and slender so I don't even realize it's on my keys.
How Not To Die –  In this book, Dr. Michael Greger has complied hundreds of scientific nutritional studies that show exactly what foods are good for our bodies and what foods can lead to disease. It is a great read especially if you want to live a healthier life and use food as a preventative. Dr. Greger is a wealth of information and the doctor behind nutritionfacts.org.
Blue Light Glasses – If you know someone who looks at a screen a lot, these glasses could benefit them. They are designed to block the blue light that puts strain on our eyes and helps us from sleeping well at night.
The Conscious Parent – Oprah has called Dr. Shefali Tsabary the best child psychologist she ever interviewed in her entire career. This book offers a parenting approach that combines western and modern practices. This book has been a tremendous help for me and touched on things I would have never thought about!
The Vaccine-Friendly Plan – This is NOT a book that pushes vaccines or that's completely against them. This well known pediatrician lays out the pros and cons of different vaccines and gives a guide to raising children in all stages before adulthood. It's such a great resource from a doctor that has been in practice for years.
Merry Christmas and Happy Holidays! 🎄
This blog post contains amazon associate links. That means if you buy something I earn tiny percentage from your purchase, which helps keep this site going.