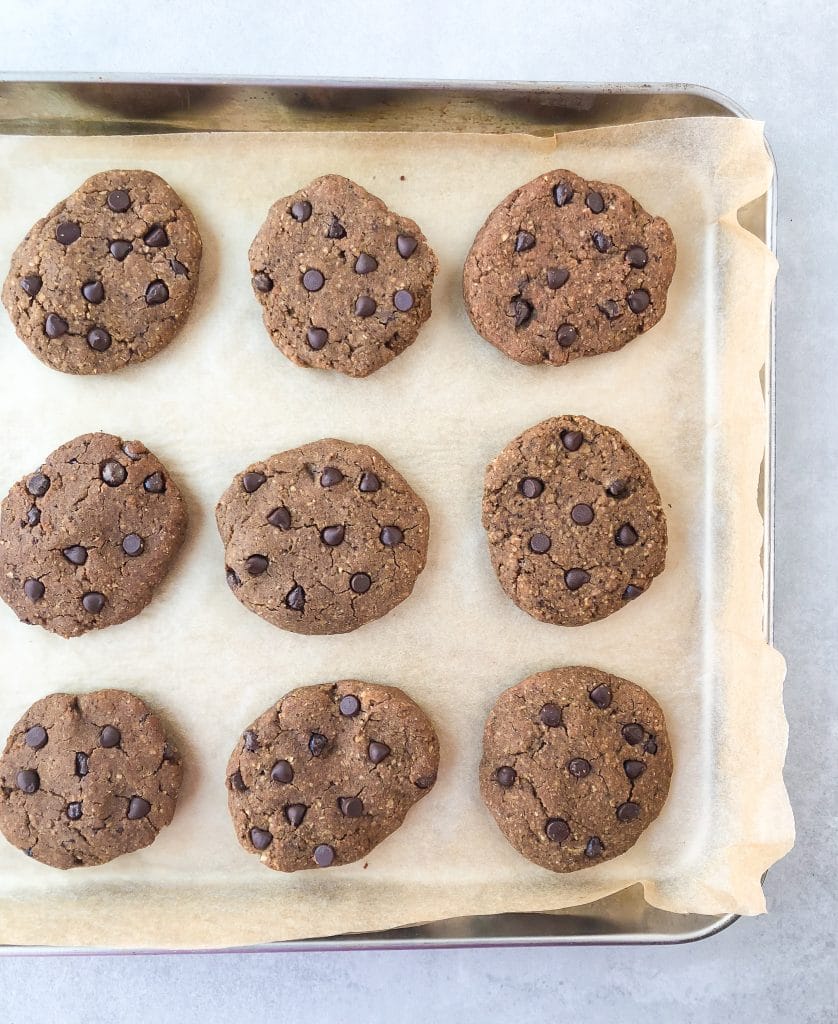 These cookies are flourless, oil-free and free of refined sugar. They can easily be made gluten-free as well. They're so easy to make, they'll become your new go-to treat. 
I'm always making healthy desserts because I both have big sweet tooth. This year I've really gotten into baking with date sugar as it's just dried dates grounded into sugar.
I use dates as my main sweetener because of all their health benefits. They also don't raise your blood sugar like other forms of sugar.
If you want to keep this recipe completely free of all sugars, use cacao nibs instead of chocolate chips.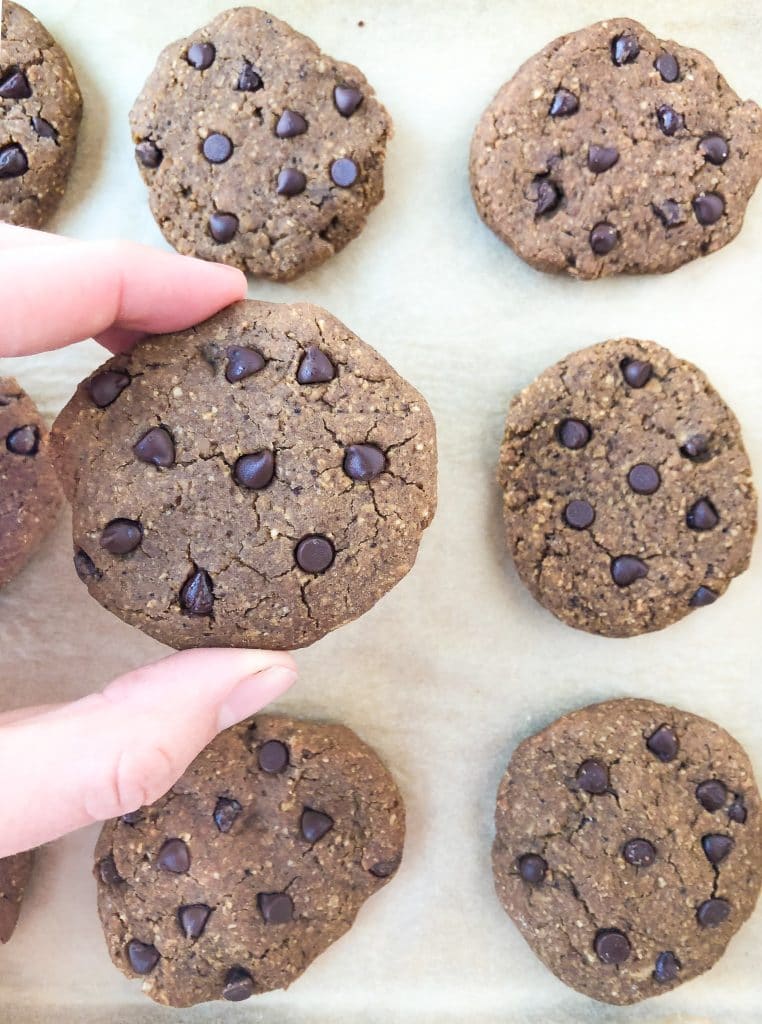 These healthy cookies are darker in color compared to other chocolate chip cookies because of the date sugar. When I asked on my Instagram stories if the color matters, the majority voted no! Trust me, the taste is not compromised.
The batter for this recipe is from these cookies that I wanted to update. I use garbanzo beans (chickpeas) as the base instead of flour.
Don't worry, the beans cannot be detected, just like in these bean brownies.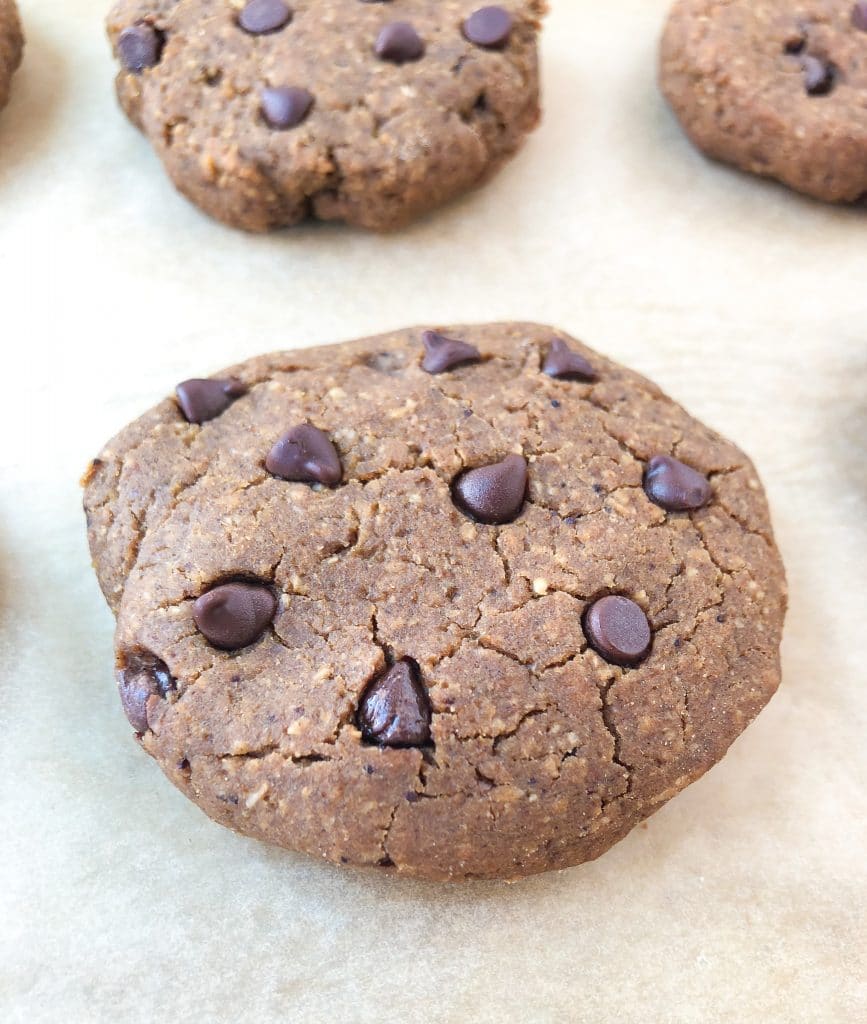 I added in homemade oat flour to give the cookies more of a firmness. Oat flour is SO simple to make at home, and it's cheaper too!
To make it, just blend up oats in a food processor. I do this first when making this cookie recipe. Then you just add all the other ingredients to the food processor and blend more.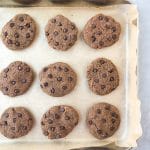 Print
Flourless Oil-Free Chocolate Chip Cookies
Please use all organic ingredients when possible!
Instructions
Preheat oven to 350F and line a baking sheet with parchment paper.

First, process the oats in the food processor until it turns into flour. Then add the beans and blend again. Add all the other ingredients except chocolate chips, and blend until smooth in creamy.

Pulse the chocolate chips in the food processor to mix into the dough. You can also just stir them in.

With a spoon, place the batter on the baking sheet. You don't have to worry about them being really spaced apart as these do not spread very much when baking.

Bake for 18 - 20 minutes. Let cool before serving. Store them in the fridge in an airtight container or the freezer. They will last a week in the fridge, and much longer in the freezer.
Notes
You can also use 1 heaping cup of dates instead of date sugar if you prefer. The cookies will be more gooey, and I recommend storing those in the freezer.
If using dates sugar: they can be stored in the fridge for up to a week.
*To keep the cookies completely free of all sugars, use cacao nibs instead of chocolate chips.