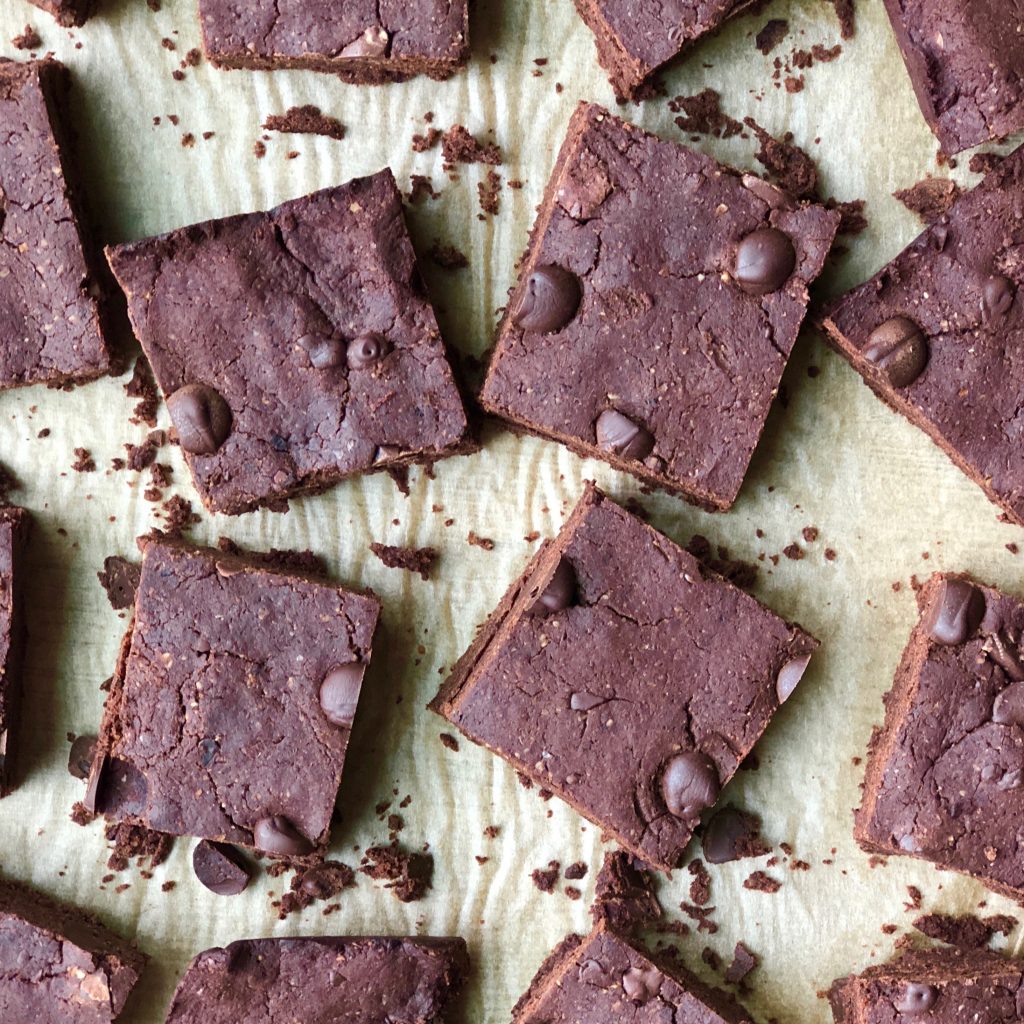 Black Bean Brownies are a big trend (and rightfully so), but these brownies can be made with ANY bean, and they're just as good! They can be naturally sweetened, and they're automatically gluten-free.  If you've never had flourless brownies made from beans, let me tell you, these do NOT taste like beans. I repeat, they do NOT taste like beans! They're a guilt-free sweet treat that will have people grabbing for seconds.
I've been wanting to give these Black Lentil Brownies an update, plus my husband kept asking for brownies so I decided to get to it. We stay stocked up with beans and lentils, but the day I went to make these we only had kidney beans.  They turned out delicious, so I thought I'd try this recipe out on a few other beans, and I'm happy to report they all work.  Black beans, garbanzo beans, black lentils, and kidney beans.  The texture of the batter was slightly different, but not enough to write about.  I think the black bean and black lentil are my favorites, but they are all good! So grab whatever beans you have on hand.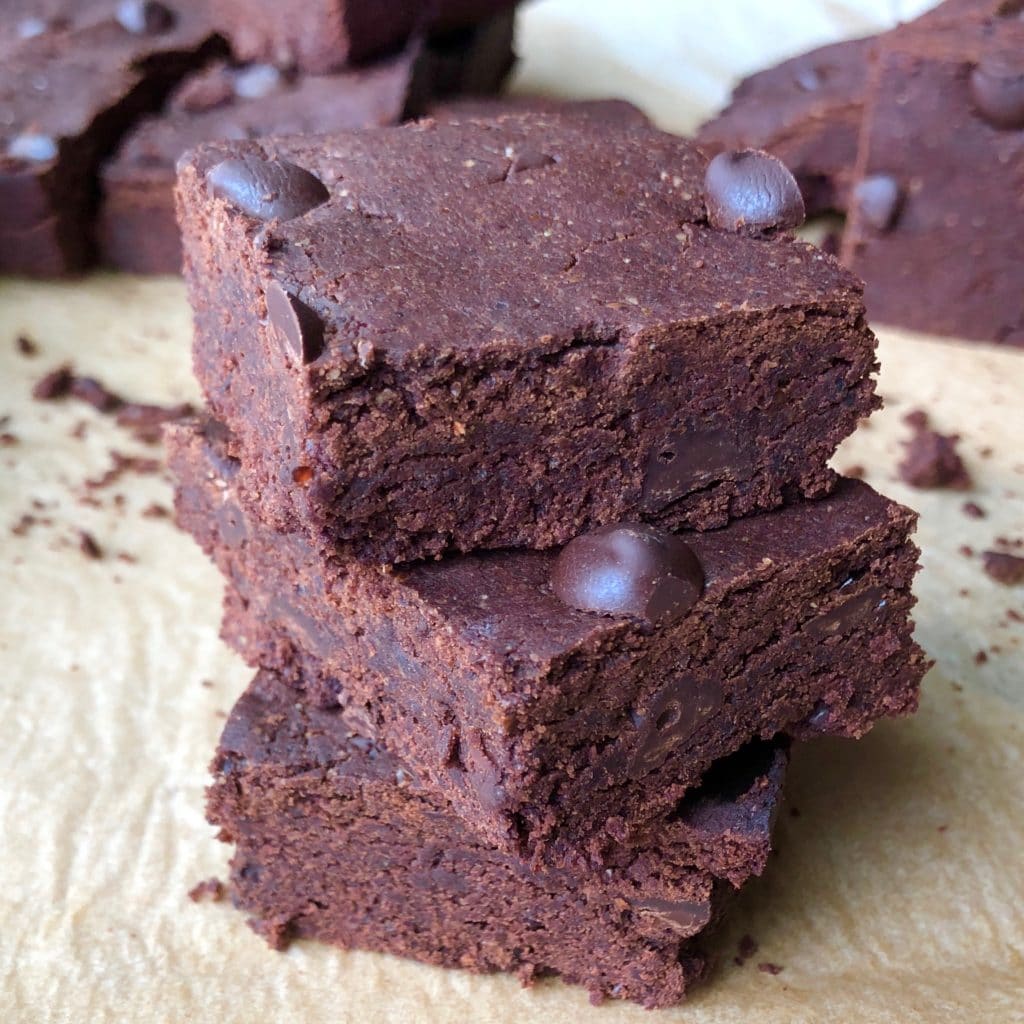 There's a couple of options on how to sweeten these brownies. I prefer the brownies using date sugar, but you can also use whole dates. I'm all about sweetening things with dates because they're one of the healthiest things we can eat. Lately, I've really become a big fan of date sugar for baked goods. Date sugar is just ground up dried dates. When using whole dates, the brownies definitely came out much more fudgy and gooey. If you're going to sweeten this way, make sure the dates are soft. Soaking them in warm water beforehand can help loosen them up.  I use about 12-14 dates for one batch.
When using date sugar, the texture is a more moist firmness. I actually find it to be the perfect balance. That's why date sugar is my choice for this recipe. Coconut sugar will work too. I also pulse a few vegan dark chocolate chips in to add a little more sweetness and chocolate. To keep the brownies sugar-free (only natural sugar from the dates), try cacao nibs instead of the chips, or just leave them out all together.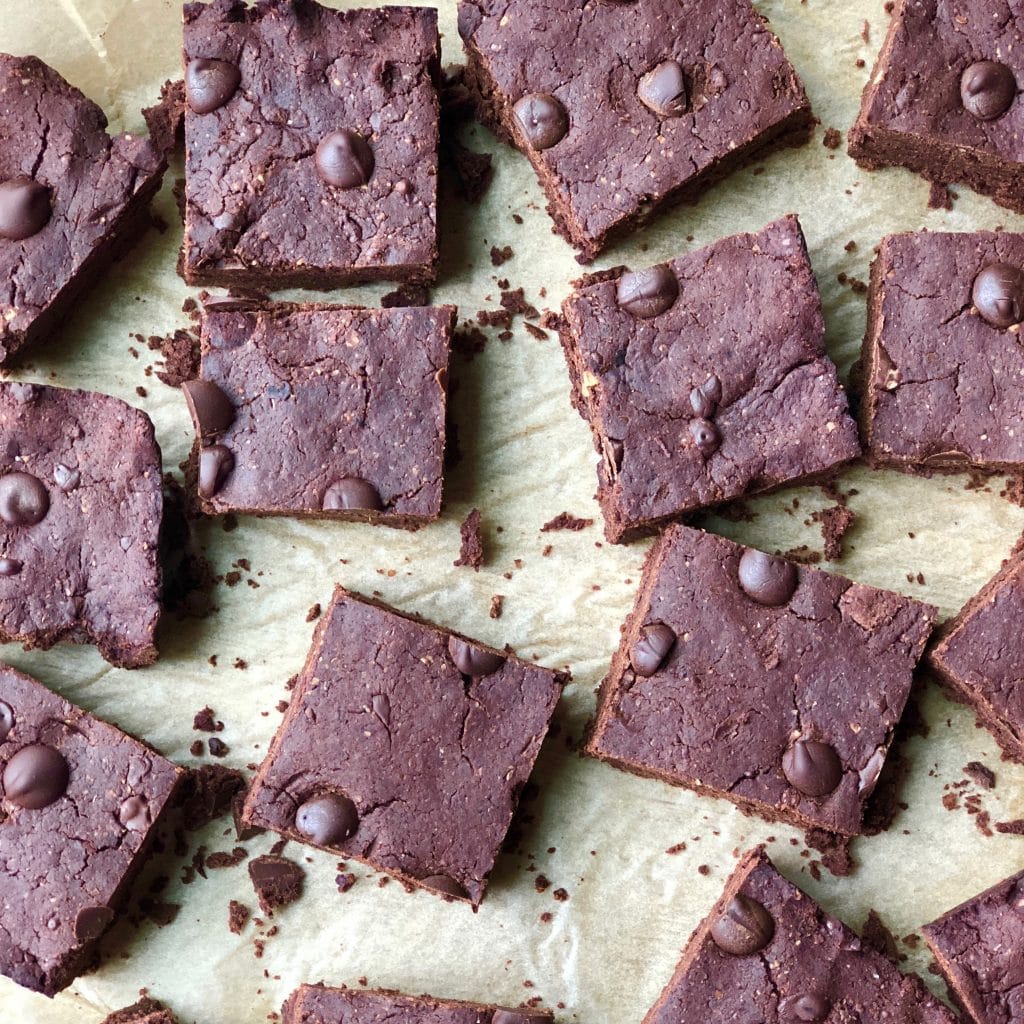 The other ingredient that can be substituted is the nut butter. You can use any nut butter you prefer. When using peanut butter, you will get more of a chocolate peanut butter taste. I actually prefer cashew butter in the brownies. Almond butter is another good choice too. For a nut-free option, try sunflower seed butter. I think tahini would work as well. If you try one of these substitutions let me know in the comments below.
These brownies store well in the fridge from 5-7 days, but if you're household is like mine, they might not even last that long.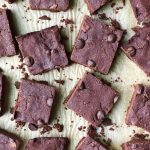 Print
Any Bean Vegan Brownies
Read the blog post for info on beans, nut butters and sweeteners that can be used in this recipe. Please use all organic ingredients when possible.
Instructions
Drain and rinse beans. Place them in the food processor and blend until they've all broken up.

Add the date sugar, cacao powder, nut butter, ground flax, vanilla and blend that together.

Then add in the vinegar and baking soda, blend until everything is combined really well.

Lastly, add in the dark chocolate chip and just pulse until they've mixed around.

Line a 9x9 pan with parchment paper. Pour the brownie mix in. This brownie mix is thick and sticks together. You will need to use your hands or another sheet of parchment paper to flatten it out in the pan.

Place brownies in the oven and cook for 30 minutes. Allow them to cool before serving. Store in an air-tight container for 5-7 days.
Notes
If you want more of a fudgey brownie then add 1/8th to 1/4th cup of water. The batter will be more liquid-y