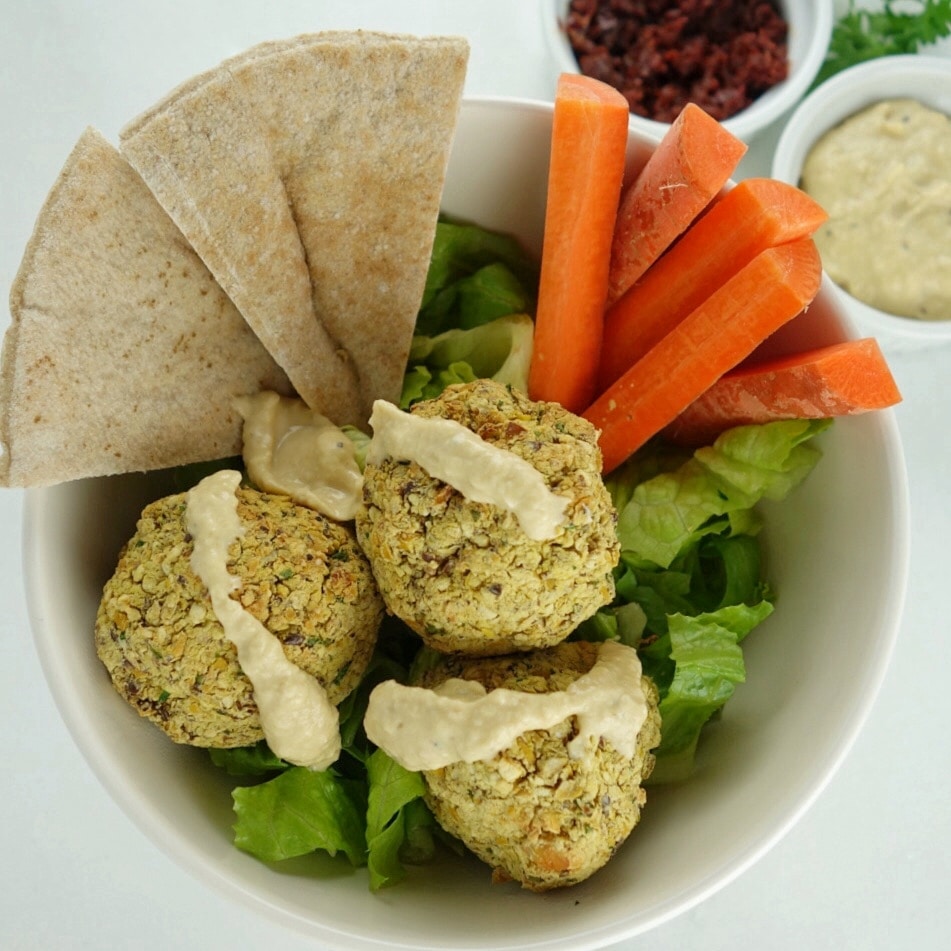 Healthy, oil-free, baked falafel balls are so easy to make with minimal ingredients. They're delicious in a pita, on top of a salad or just by themselves dipped in hummus or another dip you prefer. Falafels are great for parties since they can be an easy finger food too. They'll also fill you up with nourishing plant protein. I've made them in the oven and air fryer and both are super simple. I explain both below.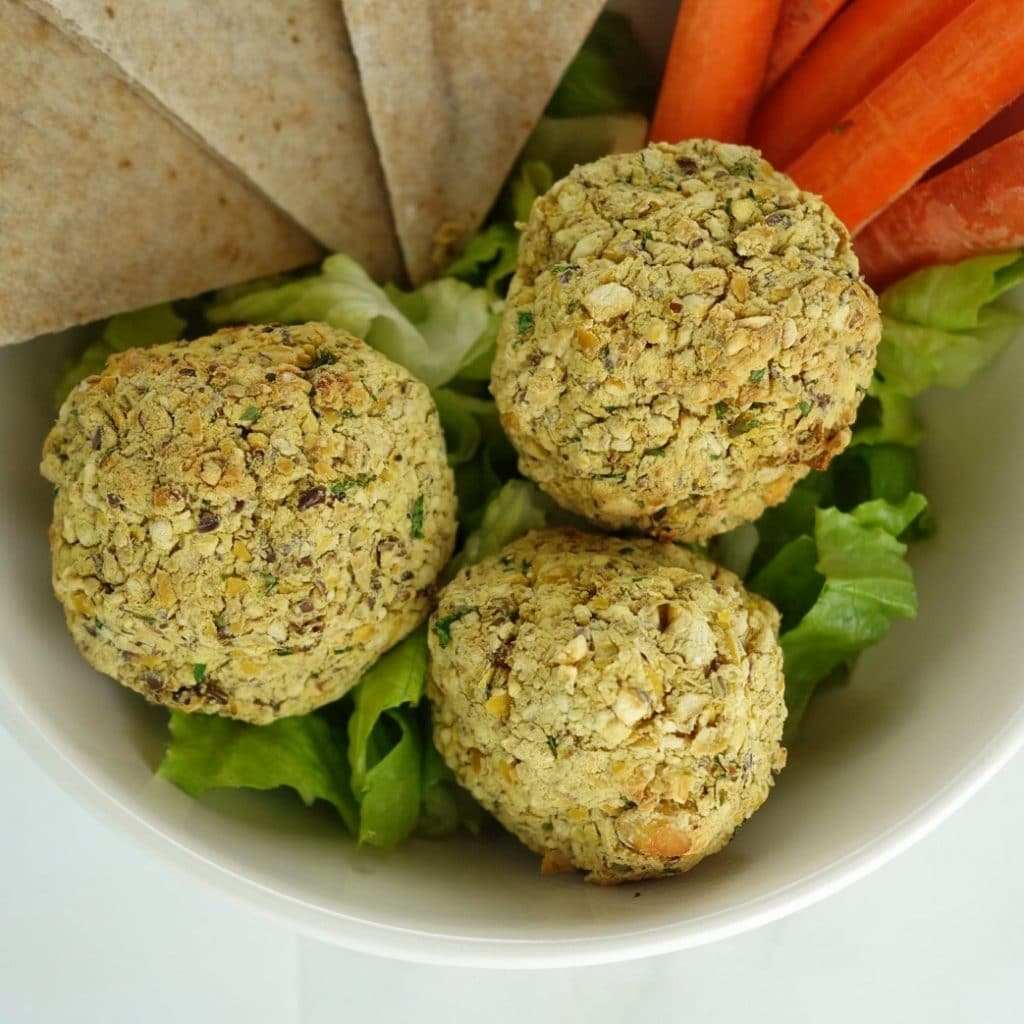 Falafels are usually deep fried in oil and, while those are good, I try to keep the fried food to a minimum around here as it's not the best for our health. Plus, I find that things are so much easier to make when you bake them. For this recipe all you have to do is combine everything in a food processor, ball up the dough, and bake! It's pretty simple, and if you need more than 6-8 falafels the recipe can easily be doubled.
If you have an air fryer it takes even less time than the oven. For the air fryer – place the balls in at 350 for about 5-10 minutes. Then, open the fryer, turn them over and cook for another 5-10 minutes.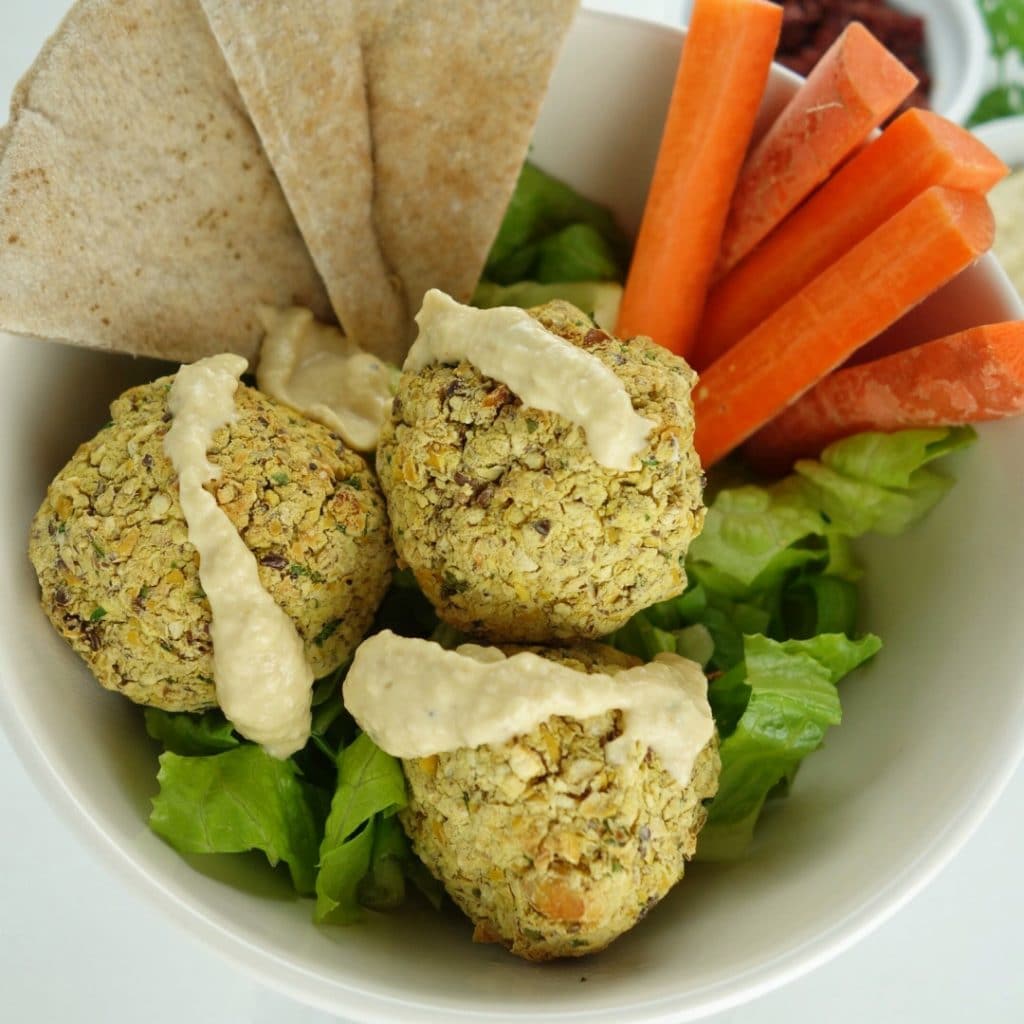 I love making these often because it is another way to eat beans. I'm a big advocate of eating beans every day since studies have shown they can expand your longevity. Beans also help the body detox by moving things out, if you know what  I mean! :)
They're also great for helping to reduce inflammation and diabetes. This is a great recipe to try on bean haters because most people won't have any idea what they're eating. I highly suggest trying either this hummus or this one to dip them in. Falafels are meant to be somewhat dry so dipping sauce is essential.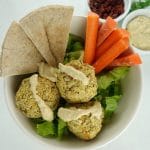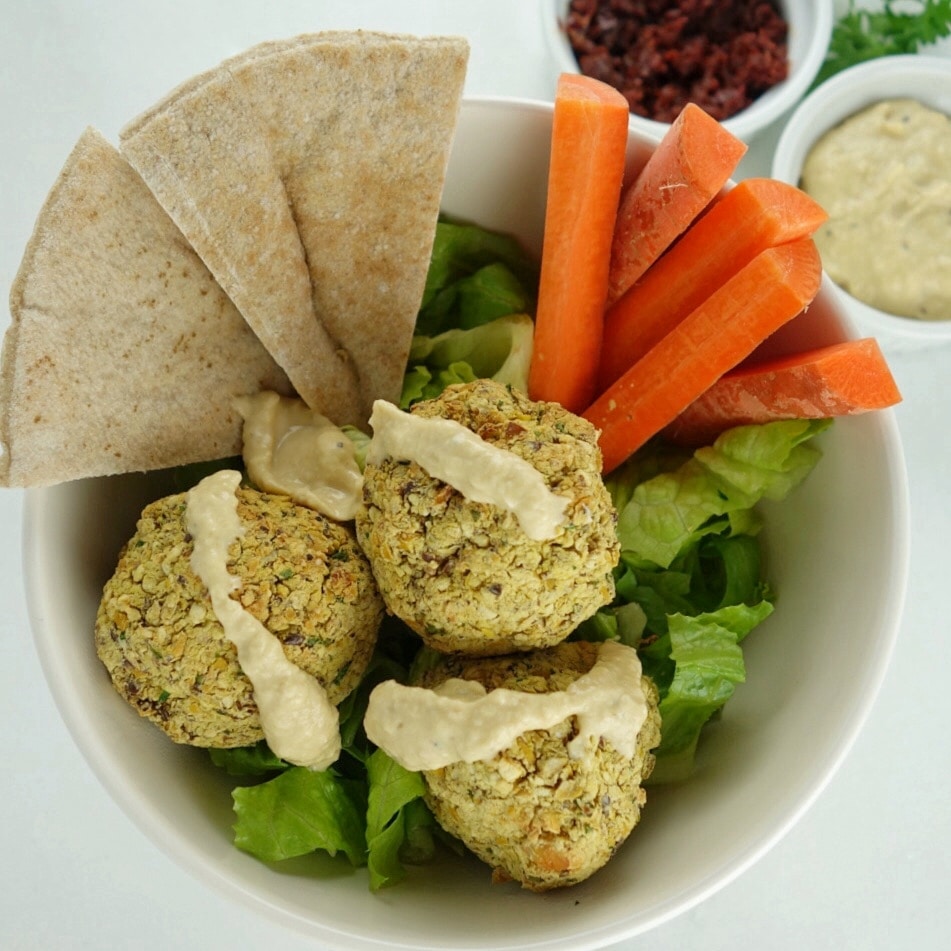 Print
Healthy Baked Falafels
Please Use All Organic Ingredients When Possible!
Ingredients
2

cups

Garbanzo Beans

2

tbsp

Cilantro

chopped

2

tbsp

Parsley

chopped

3

Garlic Cloves

chopped

1

heaping tsp Cumin

1

heaping tsp Oregano

2

tbsp

Lemon Juice

2

tbsp

Ground Flaxseed
Instructions
Preheat oven to 375

Pulse the Garbanzo Beans in a food processor a few times until they are broken down pretty well.

Add in all the other ingredients, except Ground Flaxseed, and pulse again, mixing everything together

Put the mixture in a bowl and stir in Ground Flaxseed.

Scoop mixture with a large spoon and form balls with your hands. *I usually get 6-8 balls from this dough, so if you need more make sure to double recipe!*

Place balls on baking sheet lined with parchment paper

Bake for 40 min (check the texture and if you want them crunchier you could leave in for another 5 min)

Let cool for 5 - 10 min. Serve and Enjoy!

AIR FRYER INSTRUCTIONS

Place the balls in at 350 for about 5-10 minutes. (depending on crunchiness)

Then turn them over and cook for another 5-10 minutes until they are the texture you desire.