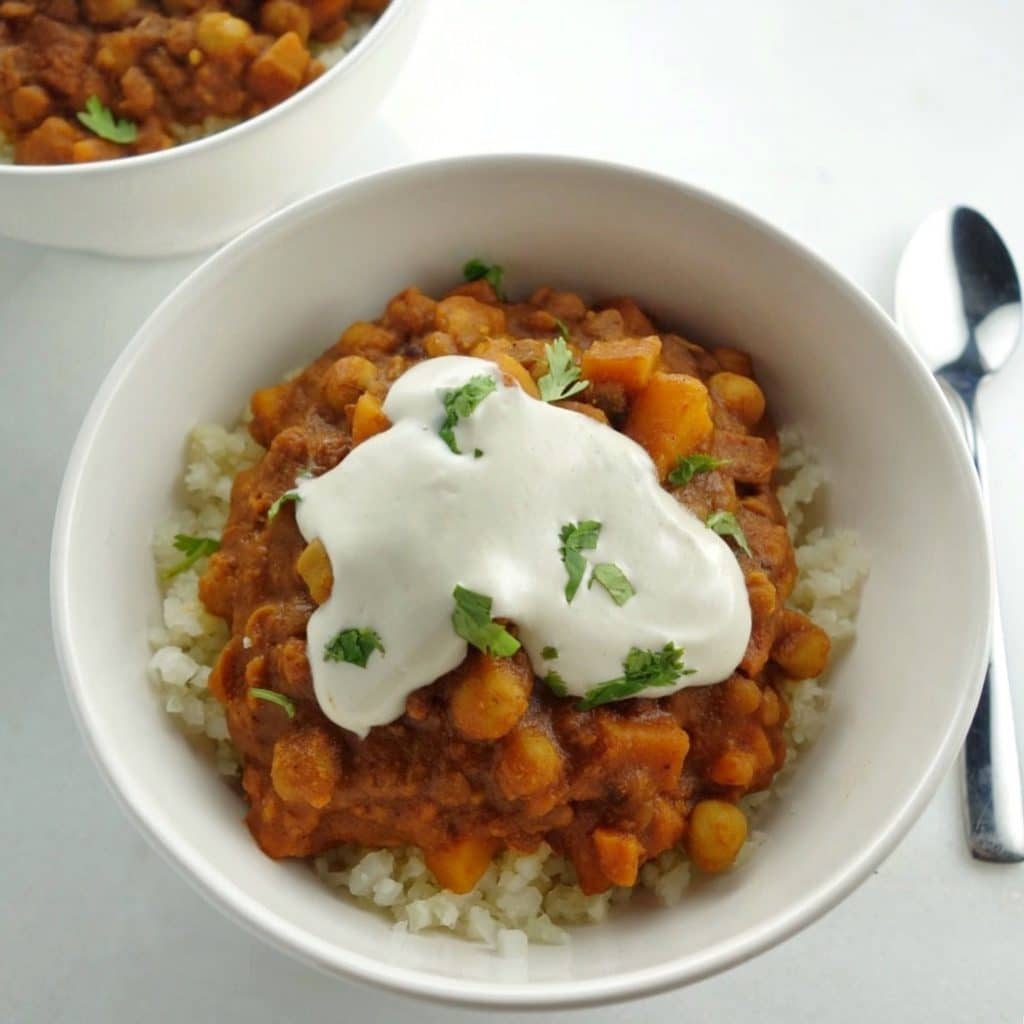 If you've got a crazy schedule and find it hard to make time to cook, this recipe is for you. It only takes 10 minutes to prepare and the rest of the cook time is a breeze. This Chickpea Curry recipe is filling, full of flavor and packed with plant-based protein. It will leave you wanting to make it again and again!
Most of the time when I cook I'm testing out my new recipes or coming up with random ways to use whatever I have available, but I don't always make my own recipe. I do try out other people's recipes that look delicious to me. Today I wanted to share one of those recipes today as it's become a reoccurring dish in my house.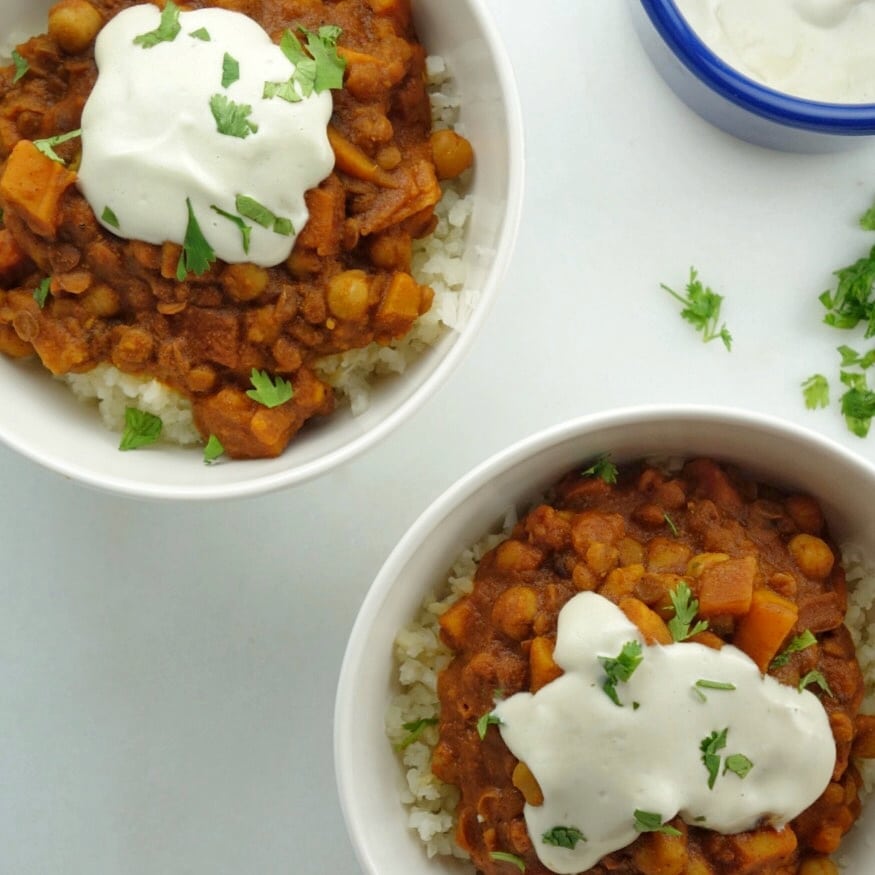 I've never been a big curry fan, but my husband is so when we were dating he kept asking me for a "clean" curry recipe. Since I had never made curry I had no idea where to start to even try to come up with such a thing. Luckily there's quite a few "clean" curry recipes already out there. After searching, and trying, searching, and trying, we finally found one that we both love so much we make it A LOT!
It's the Crock-Pot Slow Cooker Chickpea Curry from the Lemon Bowl recipe blog. One of my favorite things about it is that I can just throw everything in the crock pot, let it cook and it's good to go. Simple and easy. But it's also so hearty and delicious!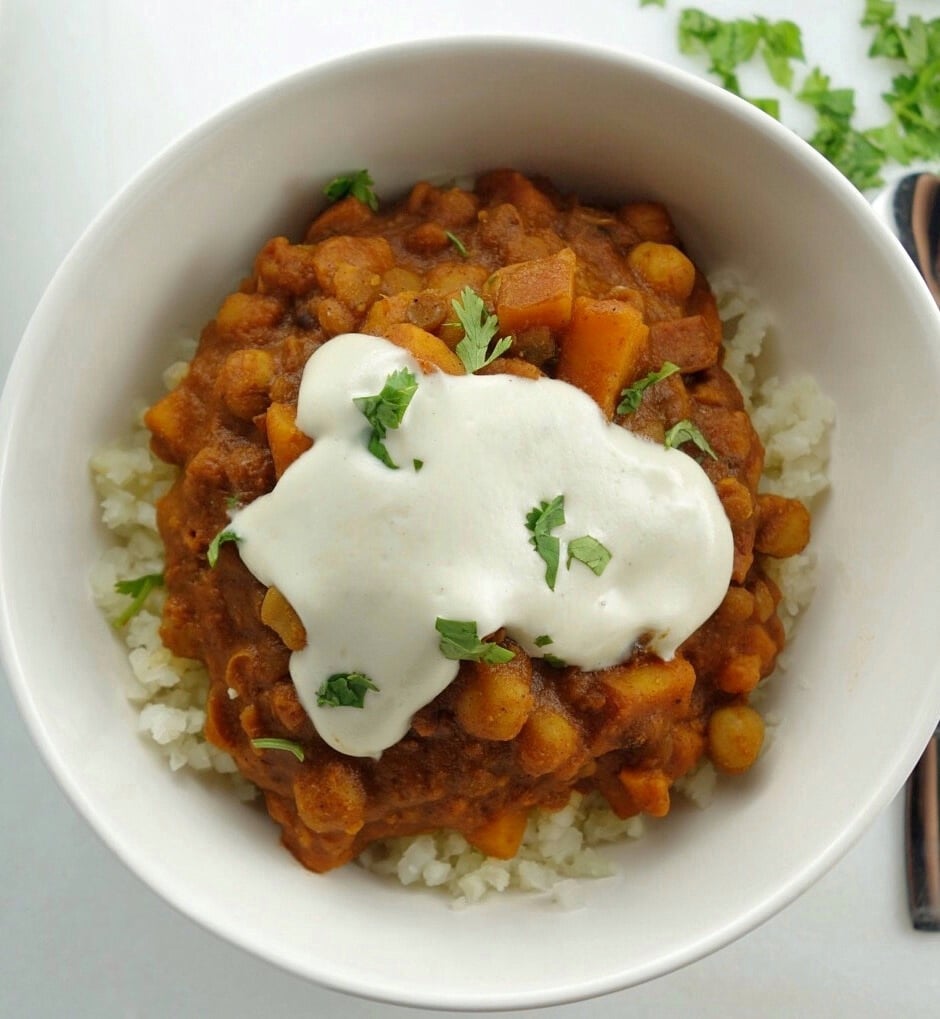 A lot of people like to use rice with curry so I made cauliflower rice and it pairs with the chickpea curry so well. If you've never made cauliflower rice, follow this recipe and just leave out the seasonings. The curry packs a little heat so if you're not keen on spicy I would eliminate the cayenne pepper. I highly recommend you have cilantro to top it with because it's so good, but you don't necessarily need the pomegranates or yogurt. I like to top ours with cashew sour cream as it does help to cut the heat.
If you're weary about making curry or intimidated by it – try out this recipe. It doesn't take a lot of time so it's great for a weeknight dinner. It also stores and freezes well for leftovers.
Recipe here
SaveSave
SaveSave
SaveSave
SaveSave