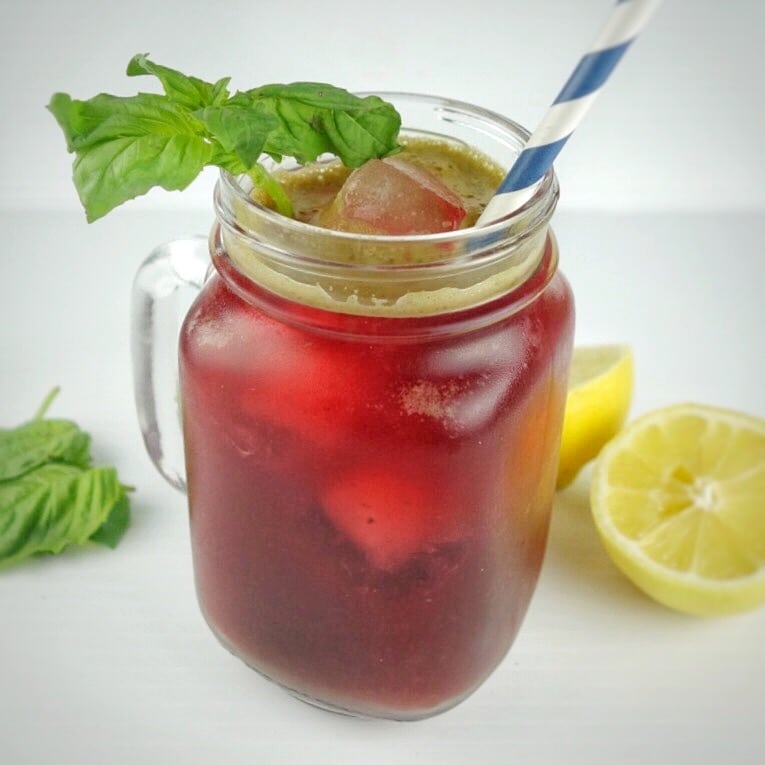 Did you know hibiscus tea actually has more antioxidants than green tea? Well it does, and honestly it tastes a lot better too. This Basil Hibiscus Lemonade makes it even tastier, plus adds even more health benefits. One study showed that two strong cups of hibiscus tea each day lowered blood pressure better than a leading drug.
I am not the biggest fan of drinking just straight hot tea. I like to have a little sweetness and flavor added to it. And who is fond of drinking hot drinks in the summer time? That's why I'm loving this hibiscus lemonade so much. It's perfect because it keeps you cool, hydrated and it's packed with antioxidants and detoxing properties. It tastes a lot better than those flavored water recipes, and it's so much better for you than any lemonade you will find in the store.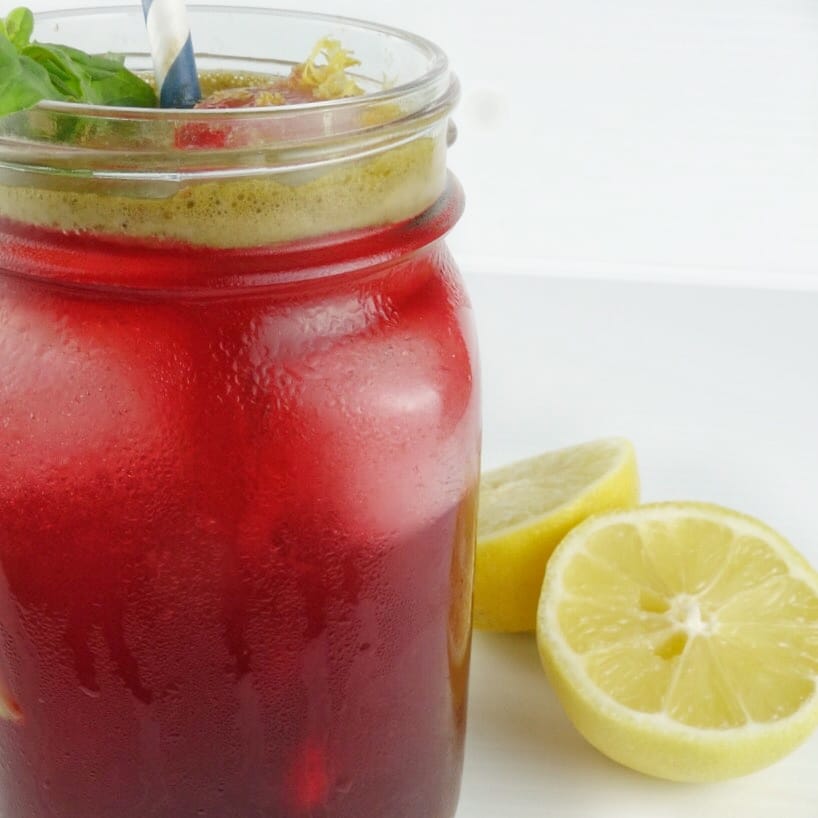 It is so easy to make. Just brew three cups of hot water and steep 3 bags of hibiscus tea. Once it's cooled a little bit, combine the tea, lemon juice, basil and sweetener of choice in a blender and blend. Date sugar or coconut sugar are good options. You can even just blend dates in it. I like serving it over ice with a little lemon zest on top. It can be stored in the fridge up to three days. It might get a little foamy after blending but it quickly settles out. I prefer using this hibiscus tea.
Its bright red color makes it fun to serve at parties. People will be drinking something great for their health and not even realize it because it tastes so good. This recipe can easily be doubled or tripled.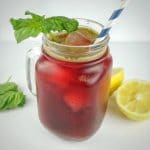 Print
Basil Hibiscus Lemonade
Please Use All Organic Ingredients When Possible!
Ingredients
3

cups

Water

3

tea bags

Hibiscus Tea

1/4

cup

Basil

(packed)

3

tbsp

Date Sugar

(coconut sugar or sweetener of choice; you can also use 3-5 dates)

1

Lemon

(just the juice)

Lemon Zest

(optional for topping)
Instructions
Boil three cups of water to add to three bags of hibiscus tea and steep. Once it's cooled, combine the tea, basil, sweetener and lemon juice in a blender and blend. Taste to see if you need to adjust the sweetness or the lemon/basil flavor. There will be some foam at the top after blending.

Allow that to dissolve then serve over ice. If the lemonade sits too long, there could be some separation because of the basil. Just mix with a spoon or do a quick blend.