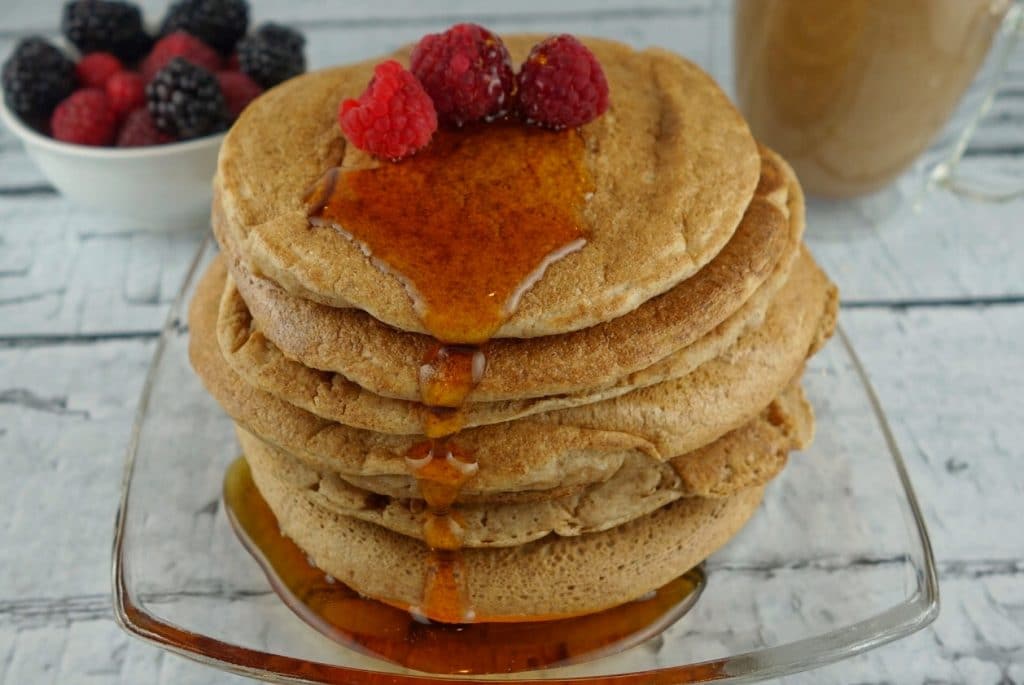 These healthy pancakes have become a weekend staple in my house. Not only are they incredibly easy to make, but they are fluffy and moist. Just look at the pictures of them! I'm wanting a stack as we speak. If you've ever tried to make pancakes without using dairy then you know how difficult it can be. I've tried those healthy two or three ingredient pancakes and they just don't cut it.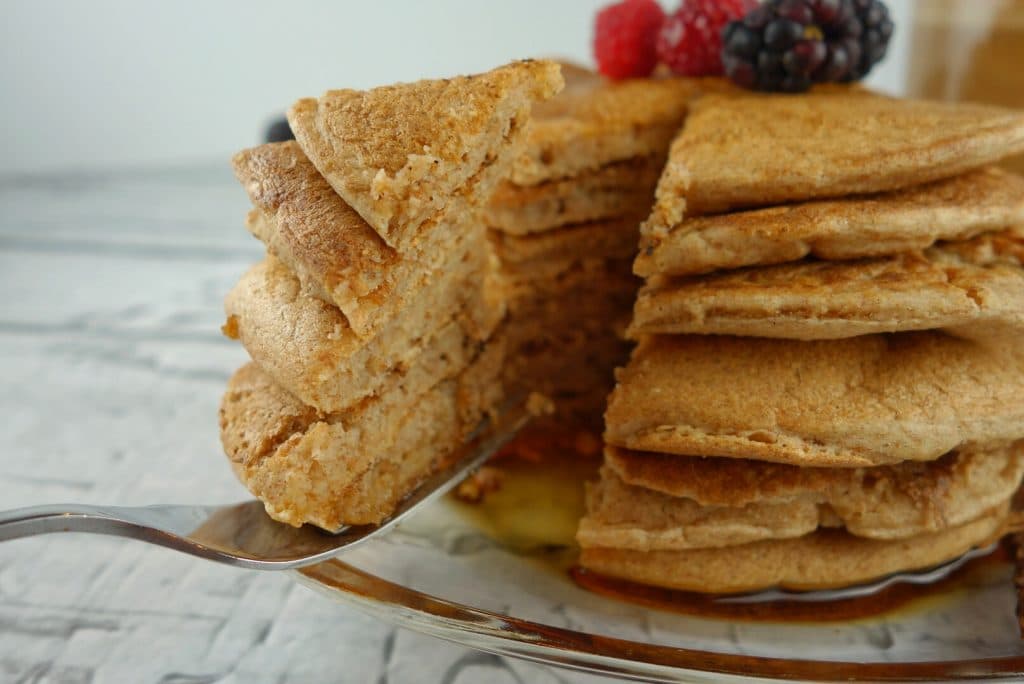 After much trial and error I have the perfect pancake recipe that's healthy, only requires some simple ingredients, and they remind me of the pancakes that I grew up on. When I'm not using a gluten-free flour I usually use spelt flour, which is what I used in these.
Spelt contains more protein, fats and fiber than regular wheat. It's also said that it's good for hormonal regulation, digestive health and cholesterol. It's a good substitute for diabetics too! You don't necessarily have to use spelt for this recipe. Any flours will work, but I recommend something other than bleached white flour to keep it on the healthy side.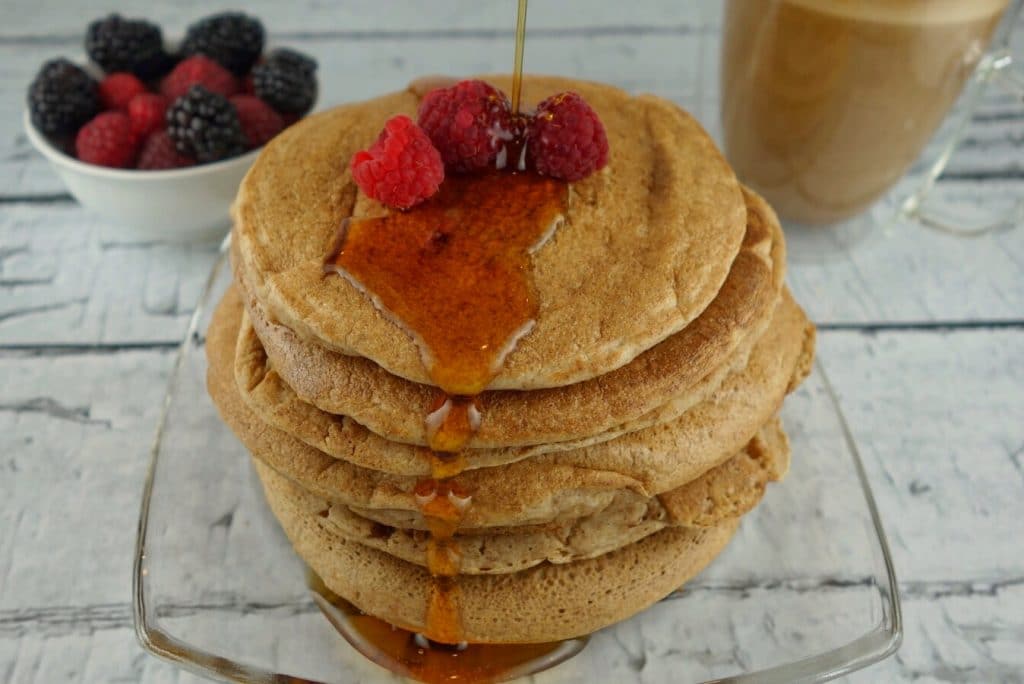 I can't take all the credit for this recipe. Pancakes are my husband's favorite thing to eat for breakfast. I've always loved them too, but usually smoothies and oatmeal have been my go to. But, since I've been pregnant, pancakes have been my weekend desire!
My husband actually found this recipe and decided to tweak it with simpler, healthier ingredients that we actually had on hand, and they turned out to be the yummiest, fluffiest pancakes we've ever had!  So really, I have to give him credit for this.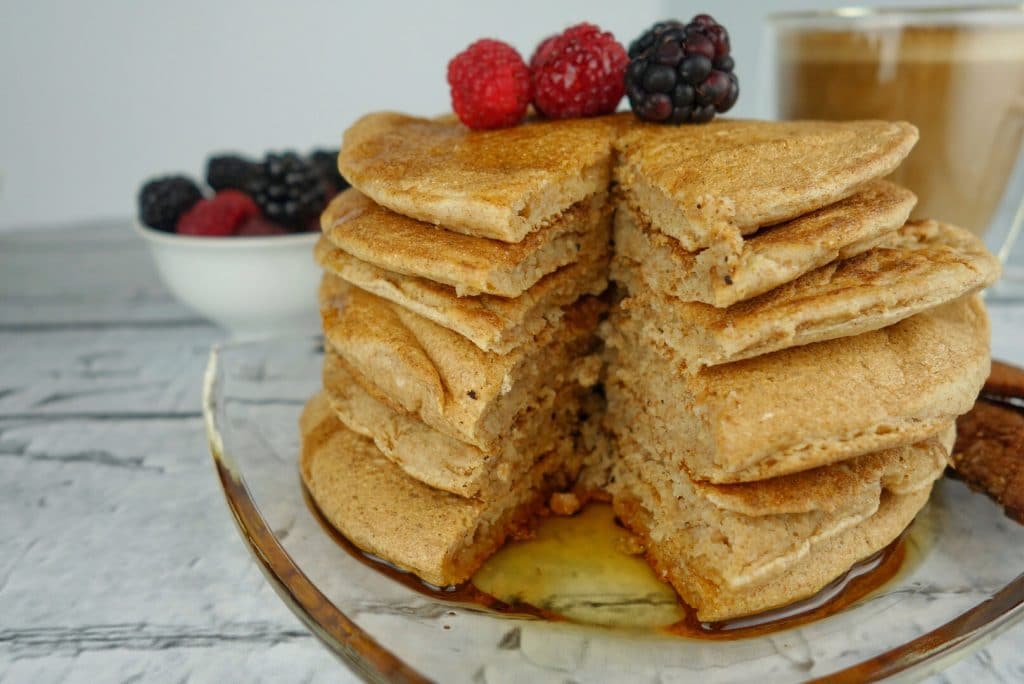 I use pure, organic maple syrup with my pancakes. They pair nicely with berries or other fruit and a side of tempeh bacon. This recipe can easily be doubled to serve more people.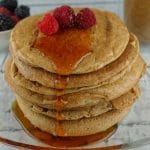 Print
Easy, Fluffy, Vegan Pancakes
Please Use All Organic Ingredients When Possible!
Instructions
First, mix together the almond milk, apple cider vinegar and vanilla together in a small bowl and let it sit.

In another bowl, mix the flour, baking powder, salt and sugar.

Add the wet ingredients to the dry ingredients. Mix it until it's well combined.

Pour batter for each pancake in pan. Try not to pour large amounts. Using less batter will make a fluffier pancake.

Cook until several bubbles start to appear on top of the pancakes. About 2-3 minutes. Flip and cook for another 1-2 minutes on the other side. Repeat until all the pancake batter has been used. Serve warm and enjoy!

NOTE: If you would like to add in toppings do this after you've mixed the wet and dry ingredients together. Easily fold them in.