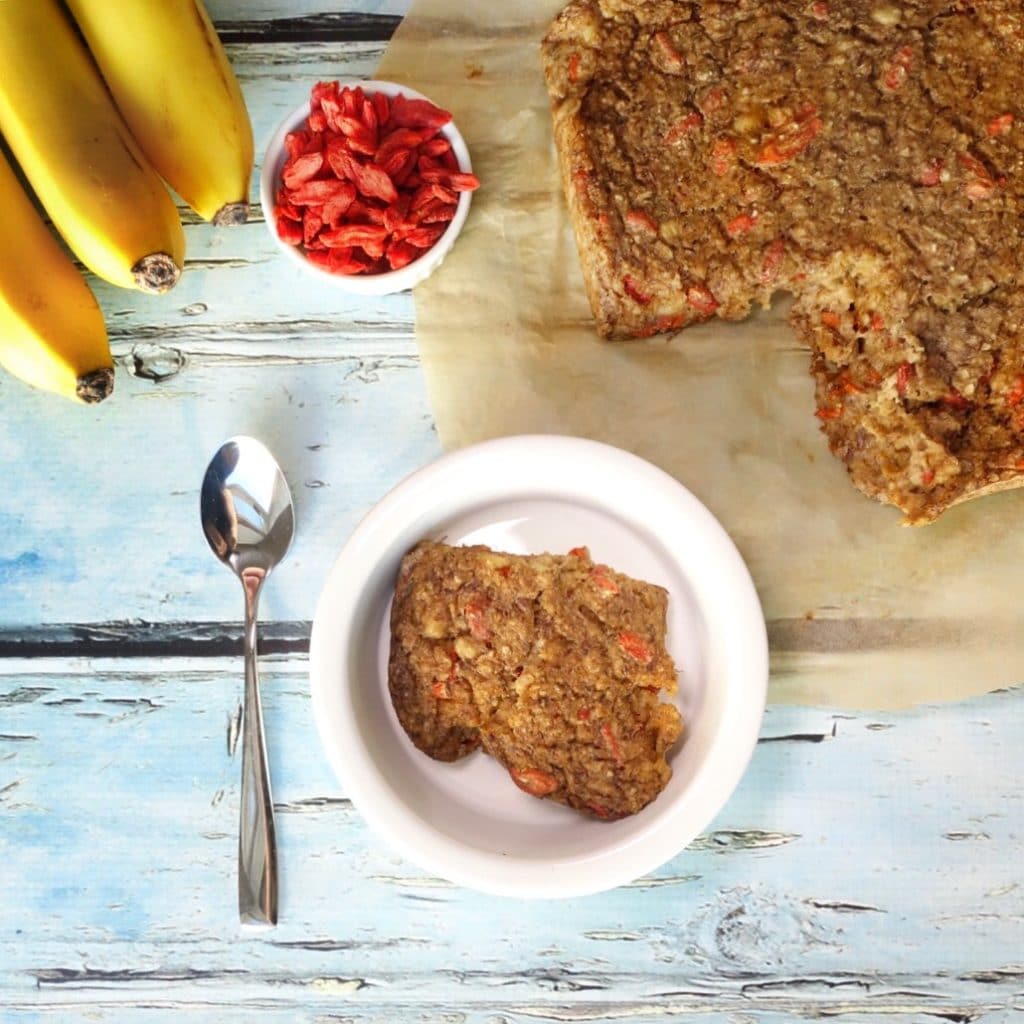 Hello Friends! I'm back after a little blog hiatus, and I've got big news – plus a lot of great recipes to share with you. Before I share my news let me tell you about this pan of Gluten-Free Baked Superfood Oatmeal yumminess. Even if you're not a fan of oatmeal – trust me, you'll want to make it because it doesn't taste like oatmeal at all. It tastes more like banana bread! This isn't that plain, boring oatmeal you might have had as a kid, or the last time someone made it for you.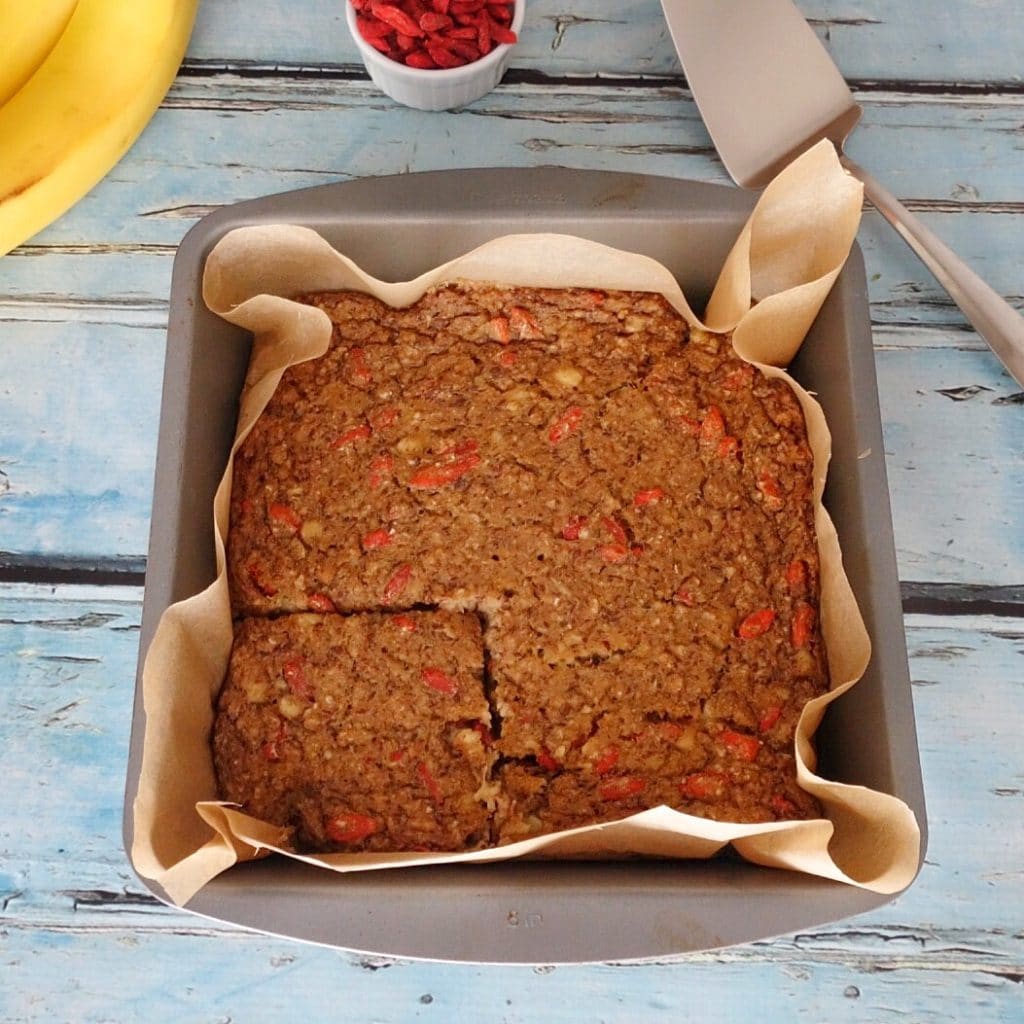 This recipe only requires a few ingredients and is sweetened without using any refined sugars. You can actually customize with any fillings you like, but I picked the superfood goji berries since they contain a wealth of health benefits and I like to get them in whenever possible. Other good options would be – blueberries, cranberries, strawberries. You could even splurge a little and add chocolate chips. I am sure that would be tasty. Really, whatever you have on hand should work.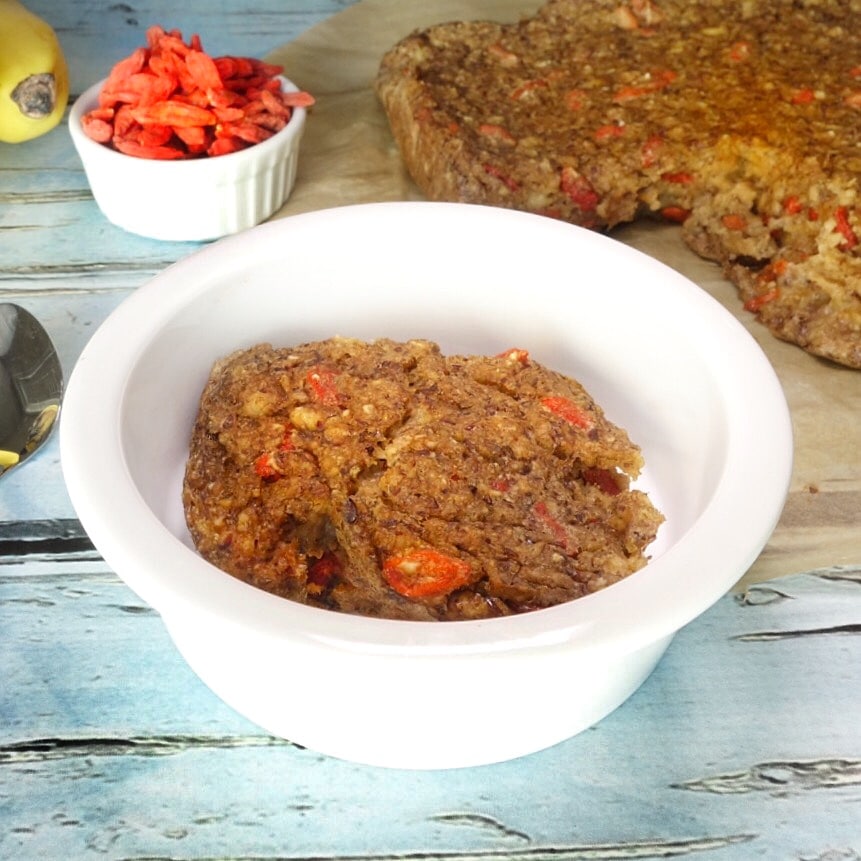 This dish is packed with benefits. Oatmeal is a healthy alternative that has shown to actually help lower cholesterol. It's filled with fiber, which will keep you feeling fuller longer – plus it's been shown to help boost your energy levels. Needless to say, this is a great meal for before or after a workout. Make sure you're using gluten-free oats to keep this recipe gluten-free.
So on to my other news… The reason I've been away for so long is because I got MARRIED! God has blessed me with an incredible husband – who does love all my recipes…including this one! He wasn't a plant-based eater when I met him, but he has gladly changed his ways. Trust me – he wouldn't eat it if he didn't like it. We've moved to a new place and we're finally getting settled. I've got other good news about my diagnosis that I will be sharing in upcoming posts so stay tuned!
Print
Gluten-Free Baked Superfood Oatmeal
Please use all organic ingredients when possible!!
Ingredients
1 1/3

cup

Gluten-Free Oats

1 1/2

cup

Almond Milk

or other plant-based milk

3

tbsp

Ground Flaxseed Meal

2

Bananas

the riper, the better

1

tsp

Vanilla Extract

1

tsp

Cinnamon

1/2

tsp

Baking Soda

1/2

cup

Goji Berries

or any other toppings you'd like in it

OPTIONAL: For an even sweeter taste mix in 1-2 tablespoons of maple syrup

coconut sugar or honey. You could also add an extra banana to keep the dish naturally sweetened.
Instructions
Preheat oven to 375 F degrees.

In a large mixing bowl combine the oats, milk and ground flaxseed meal. Allow it to soak for at least 10 minutes while you get the rest of the ingredients ready.

In a smaller bowl, mash the bananas and mix in the vanilla extract.

Then add the banana mash mix plus the cinnamon and baking soda to the oat mixture. Stir everything together.

Next, mix in the goji berries or other toppings you prefer.

Line a 9x9 baking sheet with parchment paper and pour mixture in it.

Bake for 30 minutes. Make sure to check it with a toothpick. Allow to cool for at least 10 minutes before you serve.