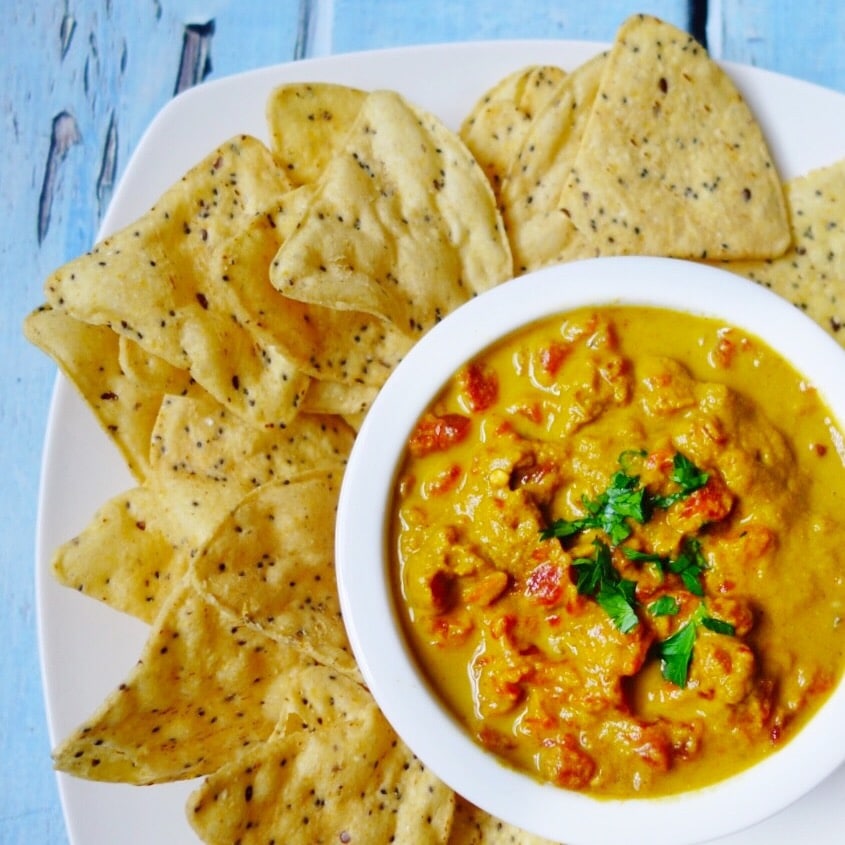 You guys, this "cheese" dip is a game changer.
It's dairy-free, nut-free, soy-free, sugar-free and gluten-free, which makes this an allergen free dip, and it's oh so good!
There are no fake cheeses or cashews involved.
You're going to be shocked when I tell you what the main ingredient is in this healthified dip.
I will give you a hint – it is a vegetable.
This entire bowl of queso has less than 200 calories!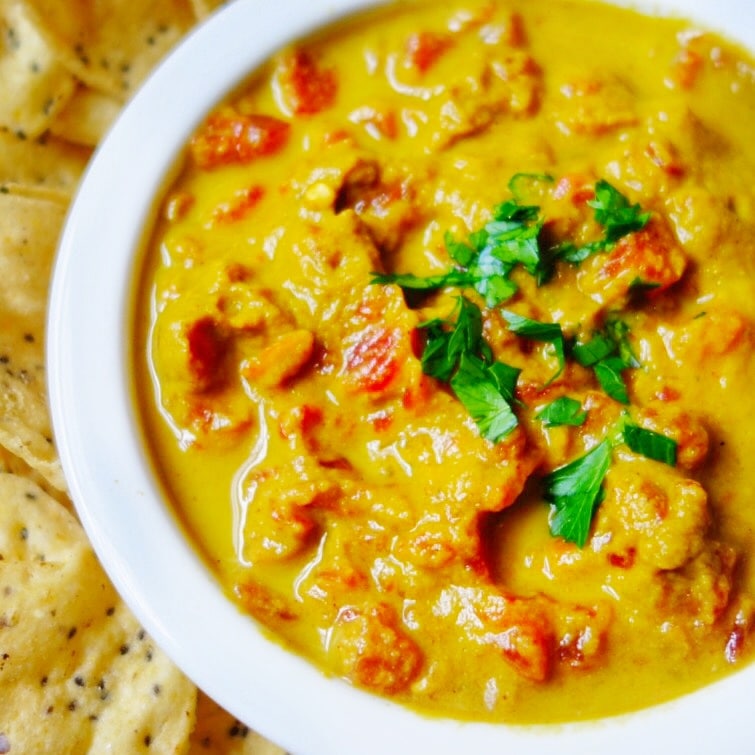 The most common type of plant-based cheese dip is cashew cheese dip.
Even though that's a much healthier alternative than the processed cheese dip, it can be pricey because of the cashews.
Plus you wouldn't want to eat it all in one sitting.
But, if you happen to eat this allergen-free recipe in an entire sitting, it's okay because you're basically just eating half of an eggplant!
That's right, this cheese dip is made from eggplant and you'd never even know it.
You might be thinking – how did one think to do that? Well, I can't take the credit for it.
The genius that is the Minimalist Baker came up with that brilliant idea. I made a few tweaks to it, making it with fewer ingredients and less steps.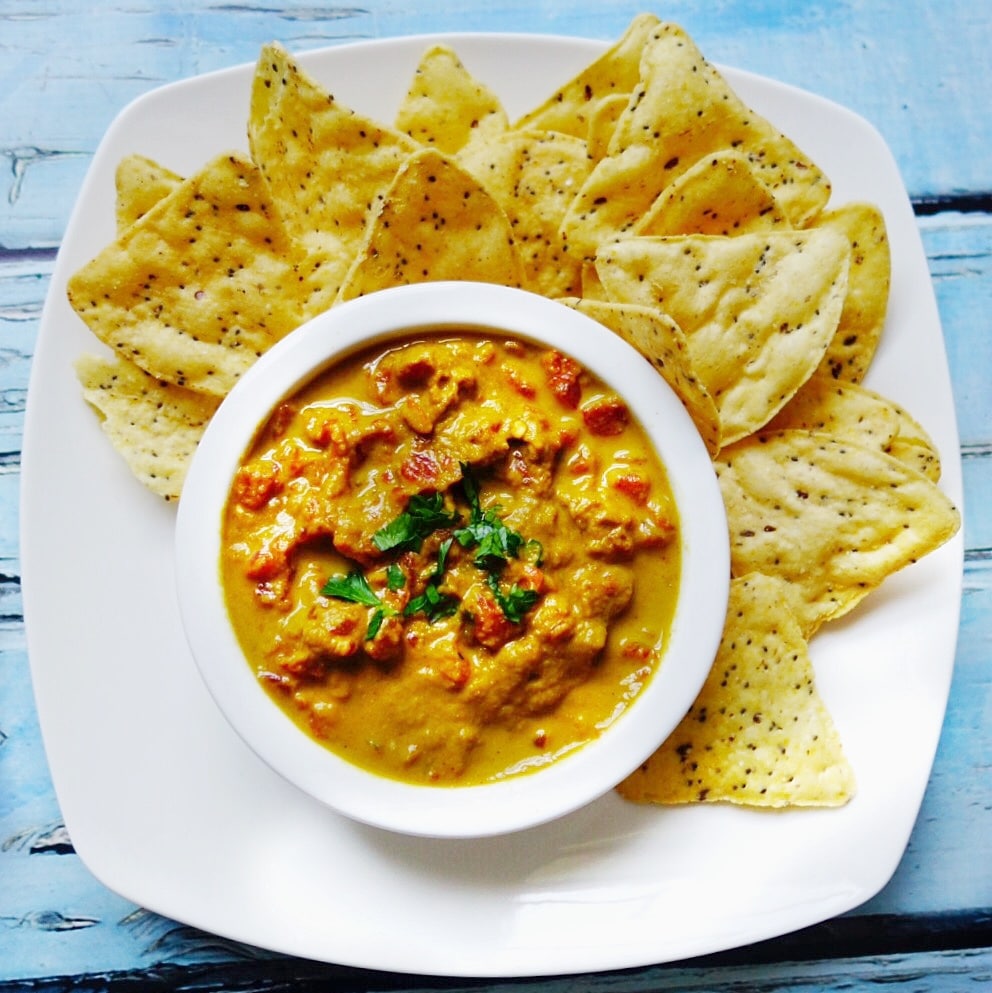 If you're a cheese dip fan, I highly suggest you get the ingredients to make this one ASAP.
It's a completely guilt-free cheese dip that feels indulgent while keeping it healthy.
Try serving it at a barbecue or gathering with friends and don't tell them what's in it.
See if they can guess they're actually eating eggplant.
It's perfect to serve at a Cinco De Mayo party in a few weeks.
Enjoy!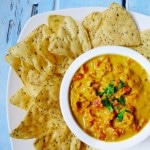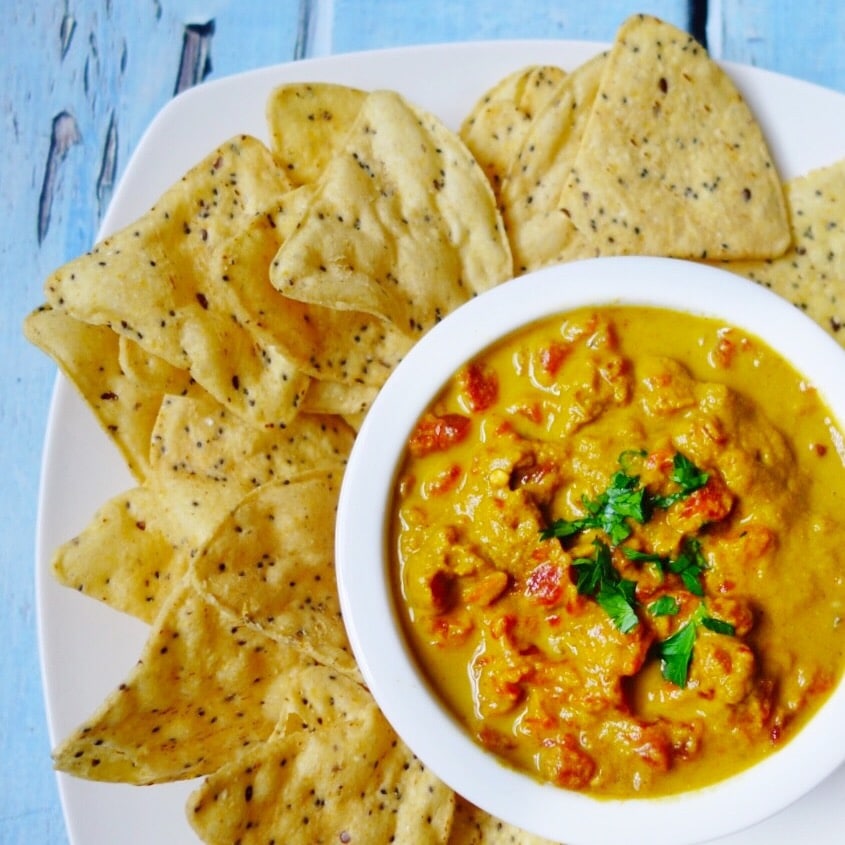 Print
Nut-Free Vegan Queso
Please use all organic ingredients when possible!
Ingredients
1/2

medium Eggplant

sliced to rounds (about 1/4-inch thick, about 7-10 rounds)

1

10 oz can Diced Tomato and Pepper mix, drained and SAVE THE JUICE from the can for blending (or something similar - I like using the 365 Organic tomatoes, jalapeño, cilantro mix at Whole Foods)

1

small Garlic Clove

4-5

tbsp

Nutritional Yeast

see instructions

1

tsp

Cumin

1

tsp

Chili Powder

1/4

tsp

Turmeric

Salt and Pepper to taste
Instructions
First slice your eggplant rounds. Place on a baking sheet lined with parchment paper and sprinkle them with salt. Let set for about 10 minutes and then wipe the salt and moisture off with a towel.

Preheat oven to high broil. Place baking sheet on top rack and broil for about 5 minutes on each side. Flip the eggplant rounds halfway through and be sure to keep an eye on them so they don't burn. They should be tender and a little brown. Remove from oven.

Place the cooked rounds in a pot or glass bowl and place lid on top. This is to let the eggplant steam for a few minutes. On the original recipe she wraps them in foil. I prefer the glass bowl with lid.

After steaming the eggplant skin should peel away. If not, cut off the skin on all the rounds. You should have enough eggplant to fill about 1 cup.

Then put eggplant in a blender with just the JUICE of the tomato/pepper mix, cumin, chili powder 3 tbsp nutritional yeast and garlic blend on high until smooth and creamy. Taste and adjust seasonings as needed. You might want to add salt and pepper or more nutritional yeast for a cheesier flavor.

NOTE: If it needs to be thicker you can add corn starch or even a little flour. To thin, add a little water or unsweetened almond milk.

Transfer to a small pan and stir in the tomato/pepper mix. Warm over medium heat for about 5 minutes. It should thicken here as well.

Pour in bowl and top with cilantro for garnishing. Serve with chips, veggies, tacos or whatever you like.

NOTE: The dip will start to change colors a little when it sits out for a while. It doesn't change the taste, but if serving to friends it's best when fresh.
Benefits of this Recipe:
Full of fiber that will keep the digestive track healthy.
Assists in lowering cholesterol and blood sugar.
Great source of B vitamins and other essential minerals.
Contains less calories and fat than regular cheese dip.