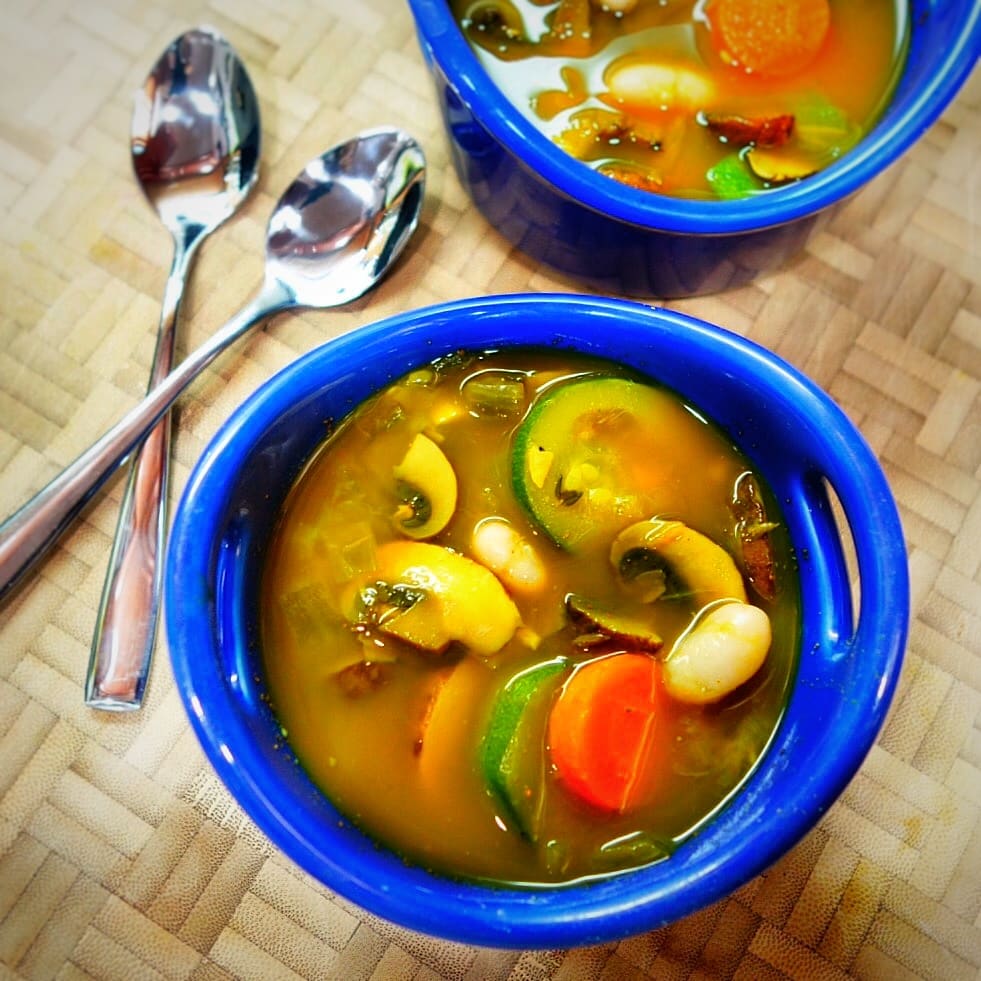 This soup is very similar to recipes people call "everything, but the kitchen sink" because it consists of whatever produce you have left in your kitchen.  I'm calling it Kitchen Dump Soup because I just dumped everything in a pot and cooked it. It's that easy! You don't need any fancy ingredients and you can customize it to whatever is in your kitchen. This recipe can also be used as a guide for you when it comes to making homemade soup. You only really need three things:
Liquid base (I prefer veggie broth, but even just water and oil would work)
Seasonings
Vegetables
It's a great way to eat up produce that's on it's final days in the fridge or the rest of the can of beans that you opened two days ago. You don't need a blender for this type of soup. If you'd like a creamier soup, then add a handful of cashews or avocado and blend it in a blender.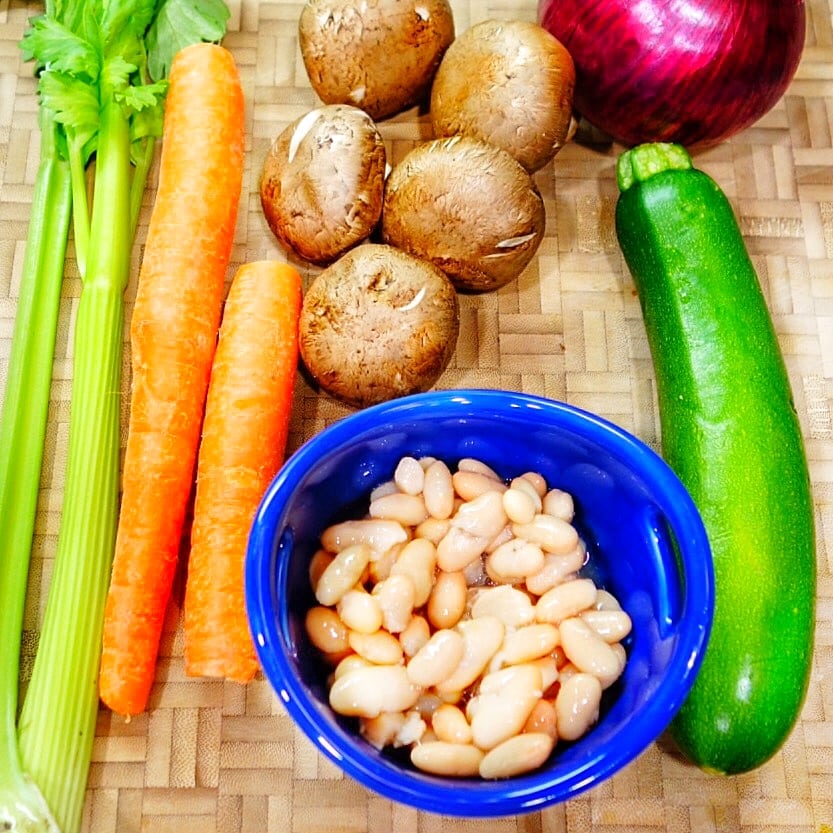 This version is literally what I had on hand that night, which included an onion, carrots, mushrooms, zucchini and white beans that needed to be eaten up. Nutritional yeast and oregano are two seasonings I love adding in soups. This combo gives it a great flavor plus they're both packed with antioxidants and essential vitamins and minerals.  I do wish I would have added some avocado on top…. That would have been a nice addition. Next time! Remember adding in good fats helps your body absorb more of the nutrients from fruits and vegetables.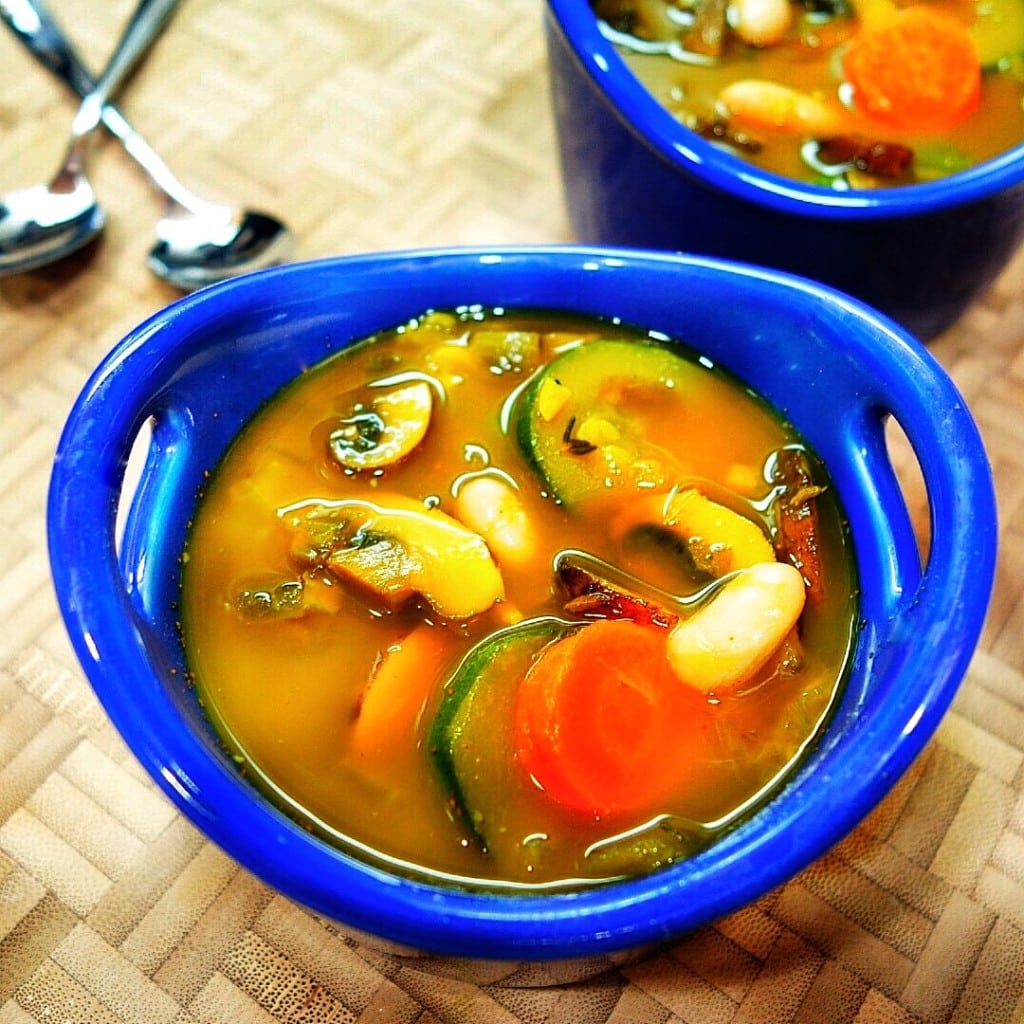 I'm sorry I didn't get this up sooner for those that were in the first, big winter storm of the season on the East Coast. Soup is the perfect thing to make when you can't go out or didn't stock up and just have a bunch of random things in the fridge.
What do you like to add in soups? I'd love to hear your favorite combination in the comments below!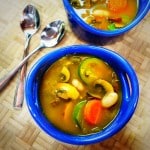 Print
Kitchen Dump Soup
Please use all organic ingredients when possible!
Instructions
In a large pot sauté the onion and garlic for about 5 minutes.

Then add in other chopped vegetables to sauté for another 5-7 minutes. Whatever produce you need to use up in your fridge will work. I used one zucchini, five mushrooms, two carrots and three stalks of celery.

Next stir in the seasonings and vegetable broth. You can change up the herbs and seasonings if you'd like, too. Get creative with it. Be sure to stir it well.

Bring vegetable broth to boil and then reduce to simmer.

Taste the soup to make sure you don't need to adjust any of your seasonings. When you have the flavor just right, serve and enjoy!
Benefits of this recipe:
Assists in weight loss by being low in calorie and filling!
Good source of essential vitamins and minerals plus antioxidants
Contains a lot of fiber for good digestion
It has anti-cancer properties and will boost your immune system