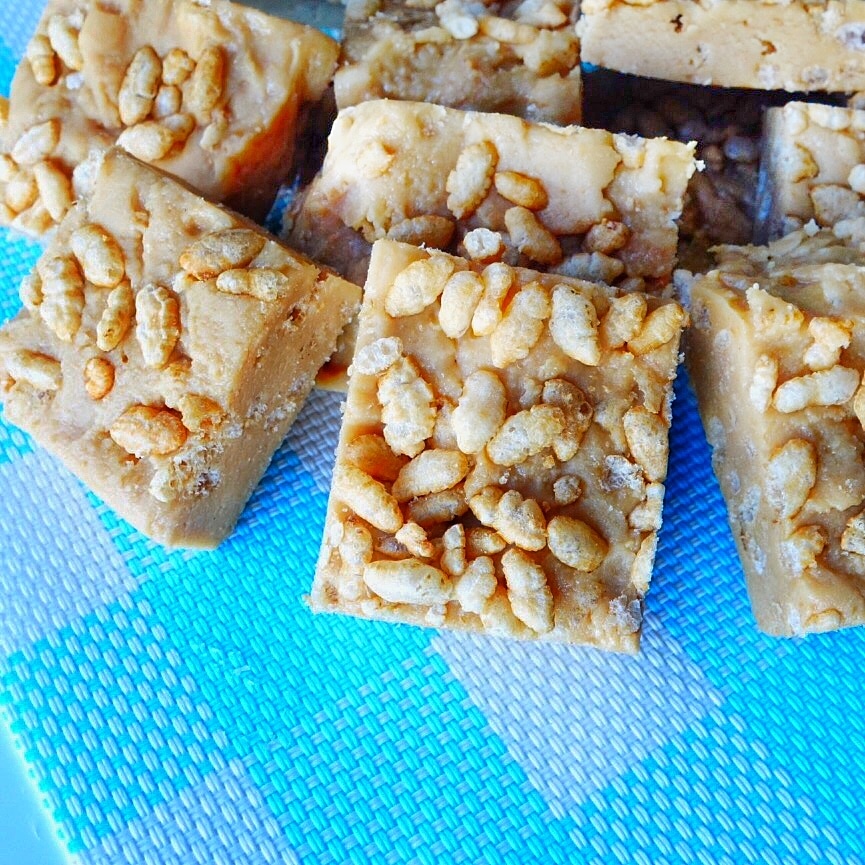 Have you ever had those days where you just wished you had something healthy, but sweet in the house? After searching through the cabinets you realize, you got nothing. Well, this Cashew Freezer Fudge Crunch is an easy recipe to keep on hand the next time your sweet tooth strikes. You only need four ingredients to make it – cashew butter, maple syrup or honey, coconut oil and brown rice crips.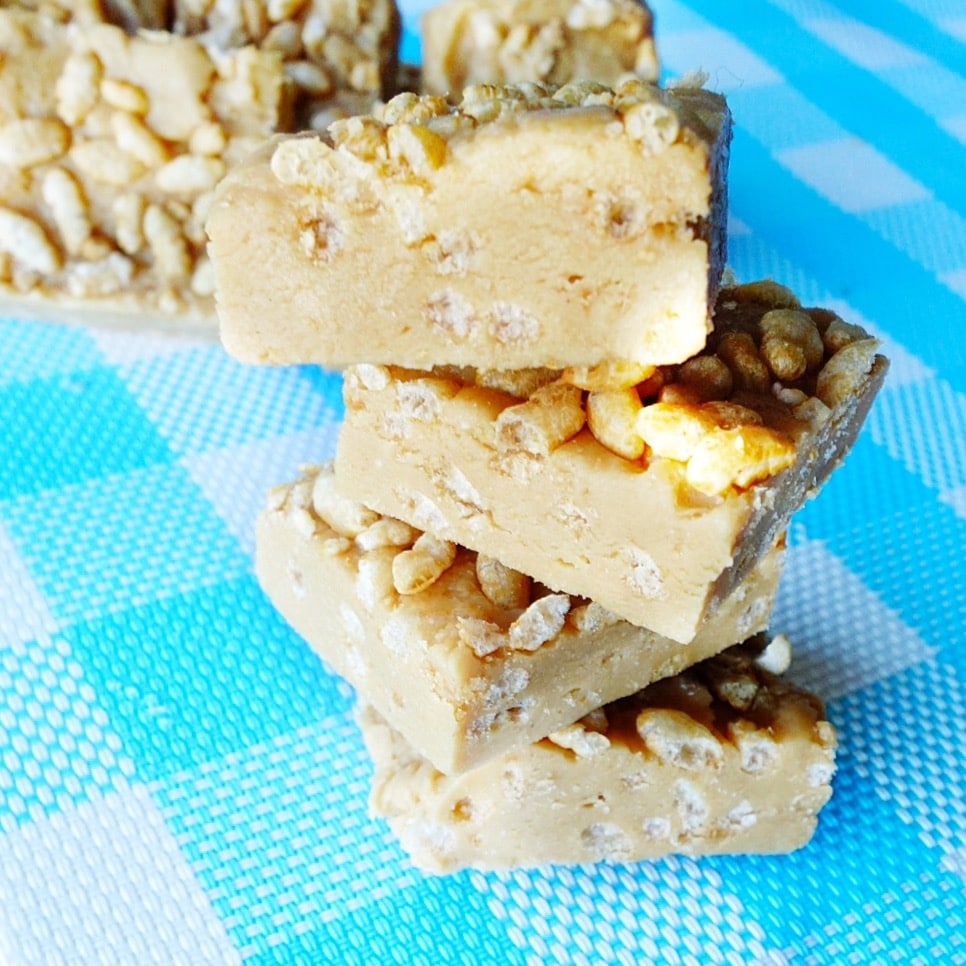 This is one of my new favorite desserts because it's creamy, sweet and delicious. If you've had freezer fudge before you know how good it is and I have to say this is probably my favorite one by far. The brown rice crisps, which are similar to rice krispies, but without the chemicals and preservatives, gives it a nice crunch. I like using Whole Foods 365 brand.
I do believe the type of cashew butter you use plays a major role. They'll all turn out good no matter which one you use, but I love using Artisana Organics brand because it's creamy and uses only raw, organic cashews. I've tried a few brands and there is a big difference in taste. Just look at the labels. It should be made of just cashews. There is no need for anything else. You could also make your own if you're feeling adventurous. I was not paid or sponsored by Artisana Organics – it's just simply my favorite.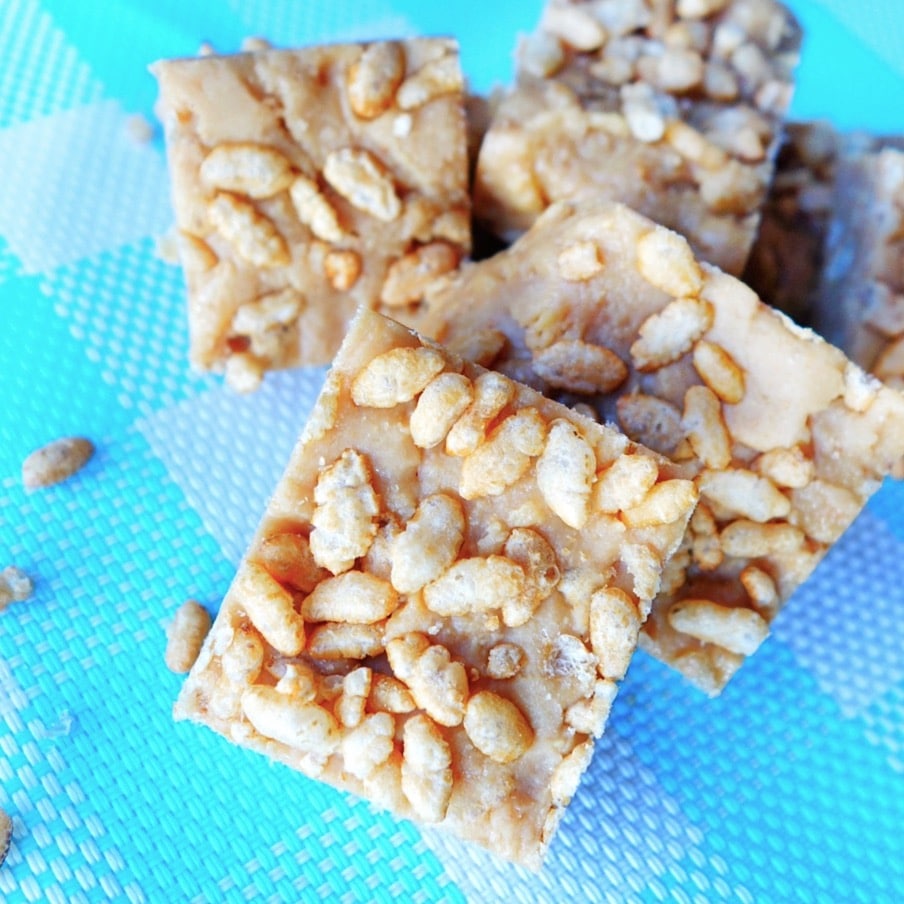 If your cashew butter is harder, it might not spread as easy. You can see in this one below I was able to make it in a square block without using a pan or container at all. I just shaped it with my hands. Also it doesn't have to be perfect!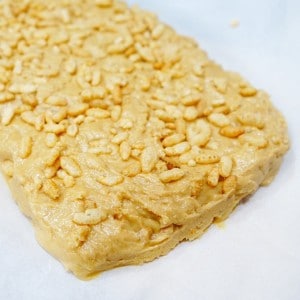 This is a much healthier alternative than anything that comes in a package. Just look at the health benefits from it under the recipe. These aren't meant to be left sitting out long. They will start to melt so be sure to serve them from the freezer right before they'll be eaten.
Here are more no-bake desserts!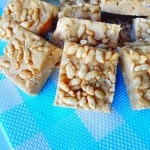 Print
Cashew Fudge Crunch
Please use all organic ingredients when possible!
Ingredients
1

cup

Cashew Butter

2

tbsp

Honey or Maple Syrup

2

tbsp

Coconut Oil

melted

1

cup

Brown Rice Crisp

halved (add more for more crunch)
Instructions
In a large mixing bowl add the cashew butter, honey or maple syrup and melted coconut and mix together.

Add in half of the brown rice crisps mixing everything together.

Pour the mixture into a square pan, or container that's lined with parchment paper. Make sure to smooth with a spatula then top with the rest of the brown rice crisps.

Put in freezer for about an hour. At least until it is solid.

Remove from freezer. Lift the fudge out and then cut into squares.

Put the fudge squares in a sealed container, and store in the freezer!

NOTE: Don't leave them out of the freezer for long. They will melt! Enjoy!
Benefits from this recipe: 
Aides the digestive system  
Contains anti-aging properties 
Assists in improving and keeping optimal bone health 
Lowers risk of cardiovascular and coronary heart diseases
Gives the immune system a boost