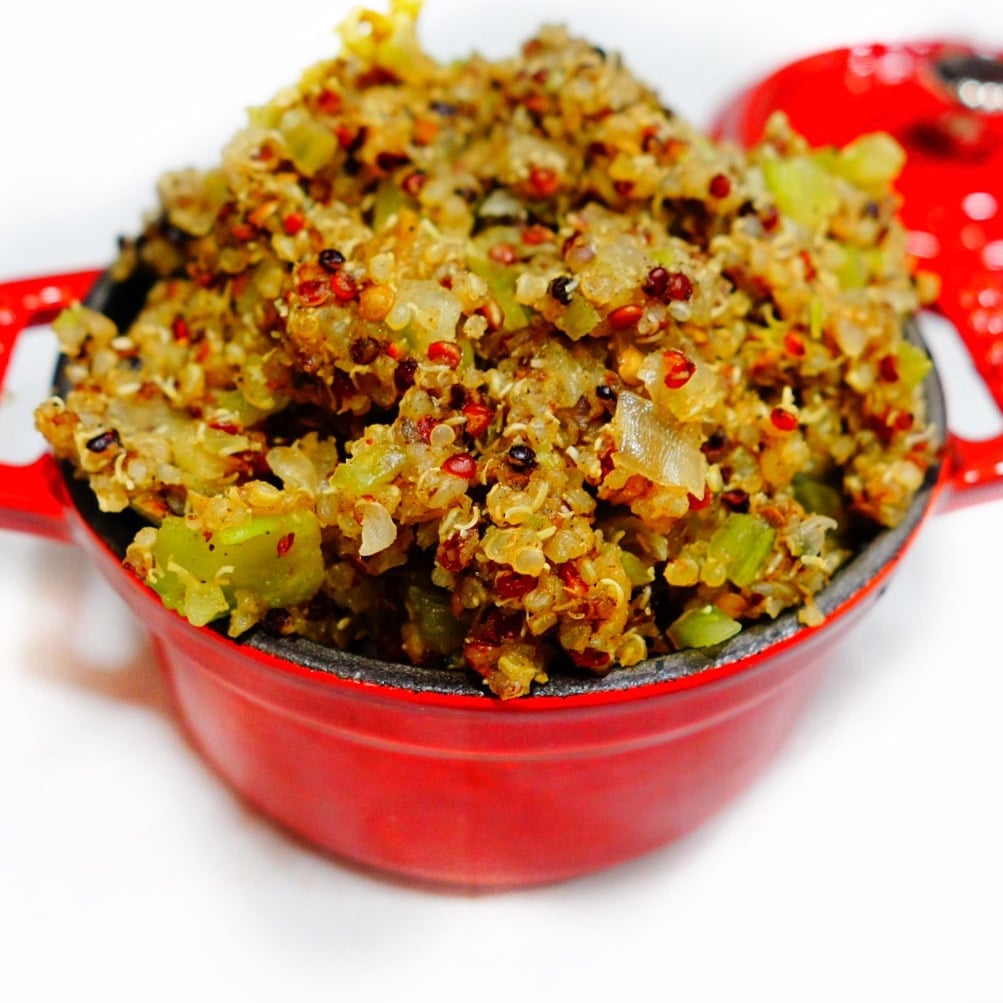 This easy Eggplant Quinoa Stuffing is perfect for a holiday side dish or even just a normal week night dinner with the family.  Unlike traditional stuffing, it will leave you feeling satisfied and it's much lighter on the stomach. No feeling of being weighed down so you'll have more room for other delicious things on the table. It's full of flavor and can be whipped up in about 30 minutes.
There is no baking cornbread or any bread for that matter, which makes this recipe even more simple. This stuffing is full of protein, essential vitamins and minerals and it's gluten-free! It has a similar flavor to my favorite dressing, but you can adjust the seasonings and even add in extra ingredients to suit anyone's palate.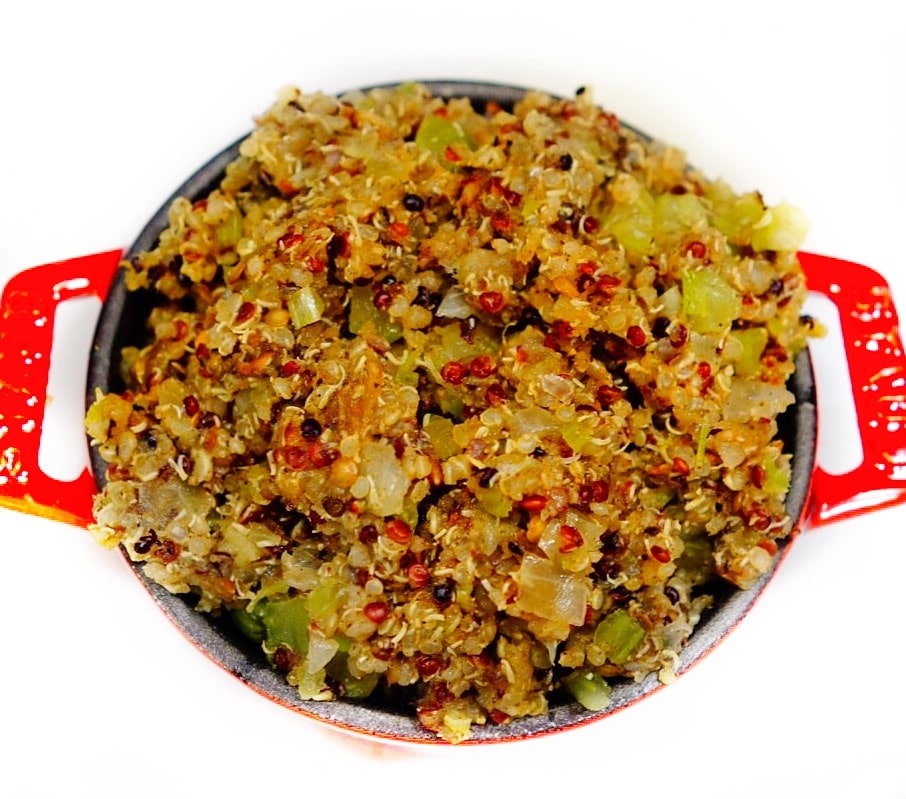 Quinoa stuffing is a way better decision than making the stuffing from the box.  It's an easy recipe for a healthy side dish. Plus have you seen the ingredients in the boxed one?  They contain things like high fructose corn syrup (why do we need that in stuffing?), BHT and many more additives that have been linked to health concerns.  I was raised on that stuff, but so thankful I now have recipes like this one to replace it. Eating this way not only tastes better, but makes one feel better.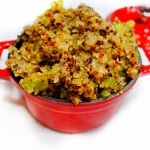 Print
Easy Quinoa Stuffing
Please use all organic ingredients when possible!
Ingredients
1/2

cup

Quinoa

1

cup

Vegetable Broth

(or water)

1

cup

Eggplant

(chopped)(about half of a normal sized eggplant)

1/2

cup

Onions

(chopped)

1/2

cup

Celery

(chopped)

3-4

tsp

Sage

(depending on how sagey you like it)

1/2 - 1

tsp

Salt

(you be the judge)

Pepper

(to taste)
Instructions
Preheat oven to 375

Cut eggplant into cubes (it doesn't have to be perfect because they're going in the food processor).

Line a baking sheet with parchment paper and spread eggplant out to roast for 20 minutes in the oven.

In the meantime, place the quinoa in a small saucepan and cover with the vegetable broth or water. Bring to a boil, then cover, lower the heat, and cook for 15 minutes, until all of the water has been absorbed. Remove from the heat and set aside.

Sautee the onions and celery together for 5 - 8 minutes. I like to use splashes of vegetable broth to keep them from sticking, but you can also use coconut or olive oil.

Then add the cooked quinoa, eggplant, onions, celery and seasonings to your food processor. Pulse only a few times (I did it about 5 times) to mix everything together. You don't want to over pulse and make it turn into a mushy mixture. Pulse quickly just to combine so it still has a "hearty" texture.

Be sure to taste to adjust any of the seasonings. Serve warm and enjoy!
Benefits of this recipe:
It will boost your energy levels.
Assists in helping you fill full and satisfied longer after eating.
Good source of complete protein as it contains all nine essential amino acids.
Contains iron, B-vitamins, magnesium, phosphorus, potassium, calcium, vitamin E and fiber.