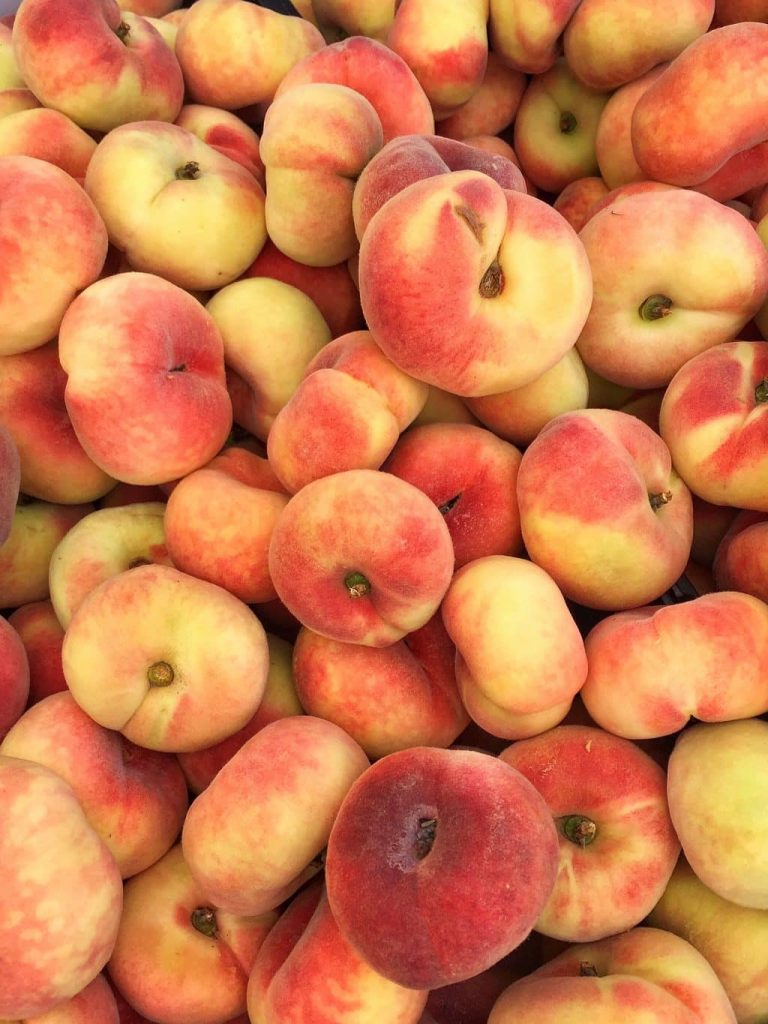 Yes, there is such a thing as a donut peach. Who knew nature could give us natural-looking, healthy donuts? You might not be able to tell in the picture, but they really do look like little donuts.
I'd never heard of these peaches until I spotted them at my Farmer's Market. I had to try one, and let me tell you they're delish! Of course, after loving what I tasted, I had to do research of the history and health benefits. It's definitely a sweet treat we should be consuming more of.
History
Donut peaches, also known as Saturn peach, Jupiter peach, Saucer peach, Chinese peach and Sweet cap, originated in China back in the 19th century. They are classified as a stone fruit, along with cherries, almonds, plums and apricots.
They are usually available around late spring through summer. You can easily notice them at a farmers market for their smaller and flatter shape than the regular peach, with only about 3 to 3 ½ inches size. They are also more fragrant!
On top of that, the donut peach tree is a heavy producer – just one tree produces about twice as many peaches as other peach trees. So it's undoubtedly a gift of nature!
But aside from their amazing physical features, donut peaches are also loaded with essential nutrients that boost your overall health.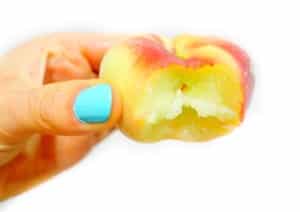 Heath Benefits
Donut peaches fight off free radicals and reduce your risk of cancer, including colorectal and breast cancer – all thanks to their vitamin C and high fiber!
The vitamin C also promotes healthy skin by reducing age-related marks like wrinkles and blemishes, improving your overall skin texture, and protecting your skin from sun damage.
The fiber, potassium and choline content found in all varieties of peaches are known to boost heart health, keeping your blood sugar levels and blood pressure steady.
High potassium intake decreases sodium levels, which cause cardiovascular diseases, in your body. Additionally, its fiber content is responsible for keeping you full and curbing your cravings, so peaches are also good for losing weight.
Donut peaches are a great snack to give kids because, well, they look just like donuts and have a candy-like sweetness! The sugar is natural, so you don't have to worry that you might be giving your kids too much sugar. We NEED the sugar from fruit. If you have fear of fruit sugar, please read this. 
In fact, peaches are diabetic-friendly as one large peach contains 2.6 grams of dietary fiber, which is known to lower blood glucose levels for people with type 1 diabetes and improve blood sugar and insulin levels for people with type 2 diabetes.

How to store, pick and eat them
Ripe peaches will last about one to two days in the fridge. It's also important to not refrigerate them unless they are fully ripe as they will lose their natural flavor. Add them to salads, pies, tarts, ice creams, cakes, muffins and other pastries. You can also grill them, add to salsa, or made into syrups and other drinks.
Again, always choose the organic ones. Pick the ones with bright colors as they are the sweetest. Those with traces of green will ripen in about a day at room temperature.
More health benefits
More benefits of eating peaches include:
Peaches help relieve stress. 

Peaches promote strong bones.
Peaches reduce hair loss

Peaches can calm an upset stomach