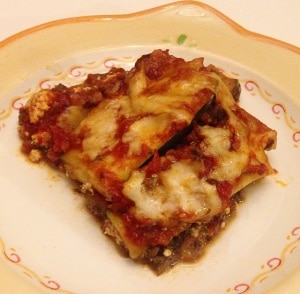 This Eggplant Lasagna is filled with plant-protein making it a hearty and healthy meal. It's meat and dairy-free, but still filled with loads of flavor. Eggplant is a great substitute for noodles and comes with lots of health benefits. They help reduce your risk of cardiovascular disease, they protect cells from damage by free radicals and even help control weight gain.
 I'm part Italian and lasagna has always been one of my favorite dishes so I made sure that this healthy version still had the scrumptiousness of my grandmother's recipe. I used my Tofu Ricotta Cheese recipe in this and made mushroom meat similar to what I used for my No Beef Sloppy Joe's.
This lasagna pairs well with a caesar salad.  My family loves this new way to make an old family favorite.  Another bonus is it doesn't put you into a food coma like a lot of Italian dishes. After this one, you'll be full but still feel great. If you're cooking for only one or two, store the leftovers in the freezer for later!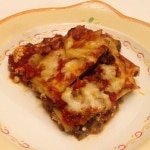 Print
Eggplant Lasagna
This hearty lasanga makes a filling meal! Being Italitan I wanted to keep all the flavors of traditional lasagna, but make it better for your health. Please use all organic ingredients when possible!
Ingredients
1

medium/large

Eggplant

1

pound

Mushrooms

1

(25 oz) Jar

Marinara Sauce

2

Garlic Cloves

(minced)

1/2

Onion

(chopped)

2

tsp

Oregano

1/2

tsp

Cumin

1/2

tsp

Salt

(optional, or less if prefered)

Pepper

to taste

Tofu Ricotta

(or use a store-bought, dairy-free ricotta)

Vegan Mozzarella

(optional)
Instructions
Preheat your oven to 375F. With a mandolin or knife, slice the eggplant lengthwise into thin strips. Salt each side and allow them to sit at least 15 minutes to remove excess water.

Now is a good time to make the Ricotta if you're not using store-bought. After the eggplants have sat with the salt, wipe them off and make sure they are completely dry. I use a clean dish towel for this. Put them on a baking sheet lined with parchment paper and bake them for about 15-20 minutes. They should be turning brown. Remove them from oven and set aside. Don't turn oven off yet, but turn down to 350F.
Mushroom Meat
Pulse mushrooms in a blender or food processor until they're chopped up finely. You can also chop them with a knife - finely. In a medium/large skillet over medium heat, sauté the garlic and chopped onions until onions are translucent. Use splashes of water to keep them from sticking. You can also use a tablespoon of oil.

Then add chopped mushrooms to the skillet. Mix in cumin, oregano and salt and pepper. Sauté everything for another 3-5 minutes. Move the mushroom meat to a strainer and drain any liquid from the pan.
Assemble the lasagna
In a medium size casserole dish, spread a thin layer of marinara sauce on the bottom. Then add a layer of the eggplant, top that with the ricotta, then a thin layer of sauce and then the mushroom meat. Repeat these layers until everything is used up. You want the last layer to be eggplant topped with marinara sauce. You can top that with vegan mozzarella if you like.

Bake in the oven uncovered for 35-40 minutes. Allow to cool for 5-10 minutes before serving. Leftovers keep for 3-4 days. You can freeze individual portions for longer.
BENEFITS OF THIS RECIPE:
Lower in calories, fat and cholesterol than regular lasagne
Full of Fiber, Iron, Calcium, Vitamin D and other important vitamins and minerals for optimal health
Helps reduce blood pressure and stress
Boosts your immune system