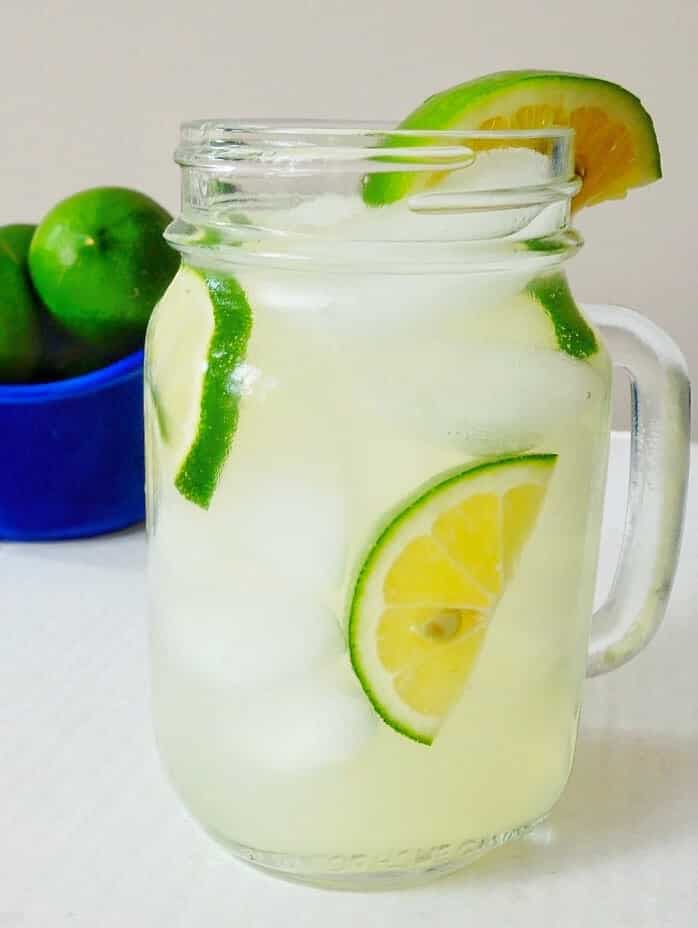 If you like sprite, I've great a tasty, healthier switch for you! First I want to tell you a little about why we should all try to consume more lime juice. It has a variety of health benefits, all thanks to its rich amount of vitamin C and flavonoids! Vitamin C is an essential nutrient for the repair of your body's tissues and bones. Flavonoids, on the other hand, may help prevent various diseases, including heart disease, kidney failure, and cancer.
Lime juice is also high in potassium, which is important for the healthy functioning of your brain and nervous system. Low potassium levels may cause depression, anxiety, forgetfulness, and more. With its high amount of dietary fiber, lime juice is a healthy choice for diabetics as it does not cause a dramatic spike in blood sugar levels. This antioxidant drink also aids digestion and weight loss, promotes healthy bowel movements, as well as provides relief from constipation.
When it comes to skin care, lime juice is one of the bests. It contains anti-aging properties that promotes soft and glowing skin. It is also known as a natural bleaching agent that helps remove dark spots, acnes and blemishes.
If you want to get the most cancer-fighting properties of lime juice, it's best if you drink it fresh. You can buy pre-squeezed lime juice, but make sure to check the ingredients as many contain preservatives. I've found some from health food stores that is organic and only contains lime juice so if you can't do fresh, I recommend this way.
One of my favorite afternoon drinks is lime juice in sparkling water, which I call a Lime Juice Spitzer. It's so simple to make too. Pour a glass of your favorite sparkling water and squeeze one lime in and stir. I like to use a juice press like this
to get the most juice out of my limes. You could also add a healthy sweetener or more lime juice, if you prefer. It's almost like drinking a sprite but without the chemicals and loads of processed sugar. It's definitely a way better substitute to soda. Make the switch and see great things happen to your body!
Other benefits of lime juice include:

Boosts eye health

Aids in reducing arthritis pain
Helps eliminate a fever and cool the body

Fights harmful bacteria in the body

Promotes shiny hair and helps keep away the grays
Helps rid toxins from your kidneys and bladder
Eliminates indigestion and bloating 

Protect against cholera
How do you like to use lime juice? Let me know in the comments below!