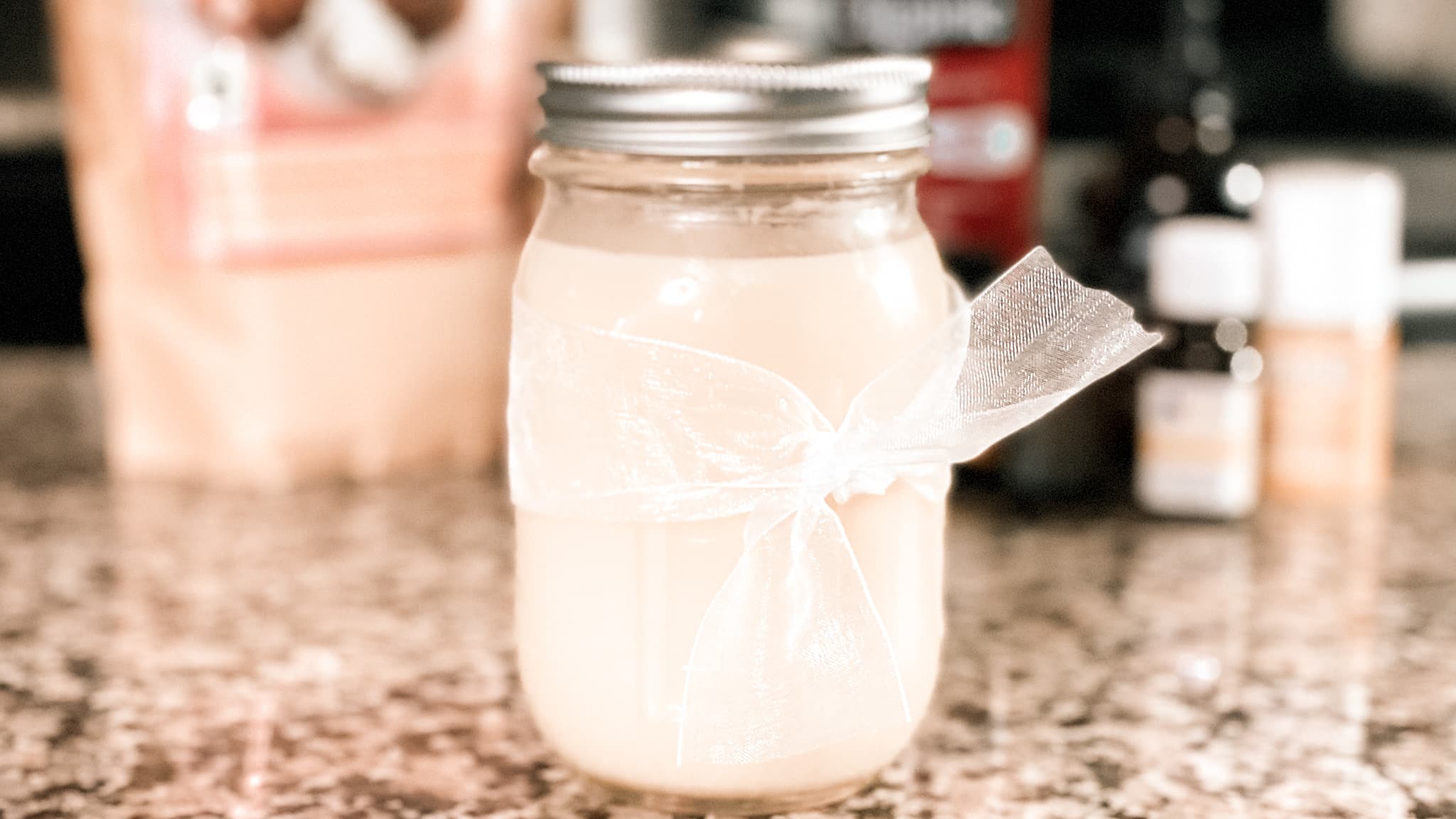 A body butter recipe that is creamy and feels so good when you put it on!
All of the ingredients are very beneficial for the skin. No nasty preservatives or additives that can harm your health.
It'll also save you money and can be made in less than 30 minutes!
This body butter has only 4 ingredients. If you'd like a scent, essential oils can be added which will make it 5 ingredients.
I use this religiously during pregnancy so I go with unscented. Some essential oils aren't safe for pregnancy so be sure to check before adding them if you're expecting.
Making your own body butter is better than store-bought because most have a long list of ingredients with questionable benefits.
Our skin is our largest organ. What we put on it absorbs into our blood stream and body, so I like to know exactly what's going in my beauty products.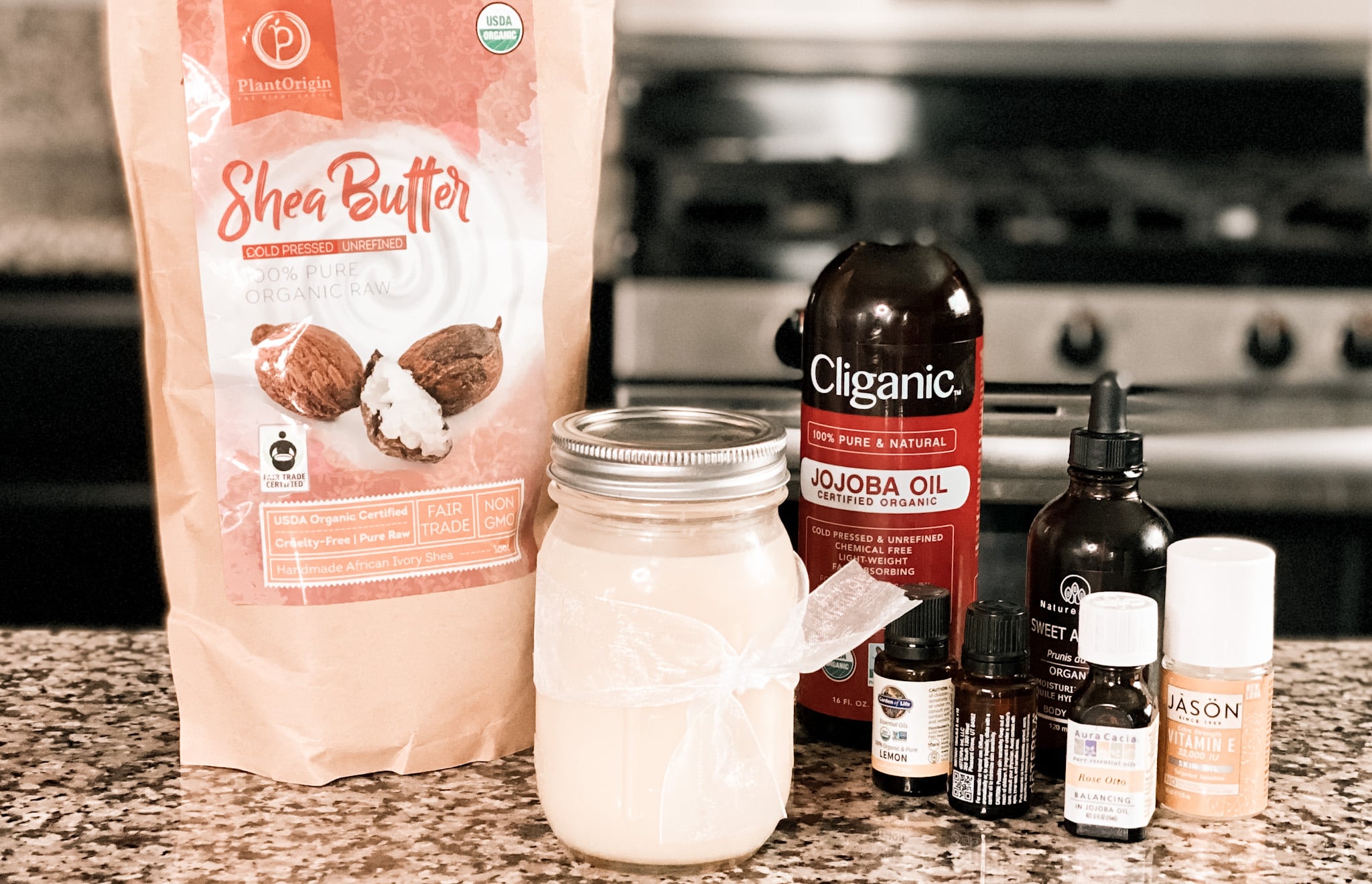 Ingredients
Shea butter is what I use as the base for this body butter. I use organic raw Shea butter, but if you're not a big fan of the smell then you should probably not get it raw. It's very moisturizing, but has also shown to be anti-aging.
Jojoba Oil has shown to help prevent wrinkles and some studies suggest it can actually help produce more collagen.
Sweet Almond Oil is also very moisturizing, like the other two ingredients, but it's shown to help reverse sun damage. It's also anti-inflammatory so it can help with swelling, especially during pregnancy!
Vitamin E has shown to help prevent stretch marks and even lessen stretch marks that are already there.  Sweet almond oil and jojoba oil both naturally have vitamin E in them as well.
Applying
Depending on how cool or hot the room is where the body butter is stored will determine it's consistency.
I put some in my hands and then rub them together to warm up and almost melt the butter, then I rub it on.
It can even be applied right when you're done with a shower before drying. This helps to lock in more moisture when you rub the water in with it. Then just pat dry where it's needed.
If you make it, please rate and let me know how you like it below!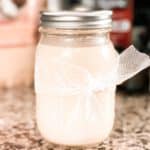 Print
Whipped Body Butter
This lotion is creamy, just like butter! All of the ingredients contain benefits for the skin. No nasty perservatives or additves that can harm your health. It will also save you money and can be made in be made in less than 30 minutes!
Instructions
In a double boiler, melt the shea butter over medium heat. Once it's melted, turn off the heat and let it cool for about 10 minutes. Stir in the jojoba oil, almond oil and vitmain E. If you'd like to add in essential oils for a scent, do that now. If you're pregnant please make sure they're safe to use during pregnancy.

Now put the bowl in the fridge for about an hour. Once it has hardened somewhat (it will still be a little soft) it's time to whip it using a hand mixer. Whip for about 2-3 minutes. Then, using a spatula put the lotion in a larger mason jar to store. It can be stored at room temperature and will last up to 6 months.