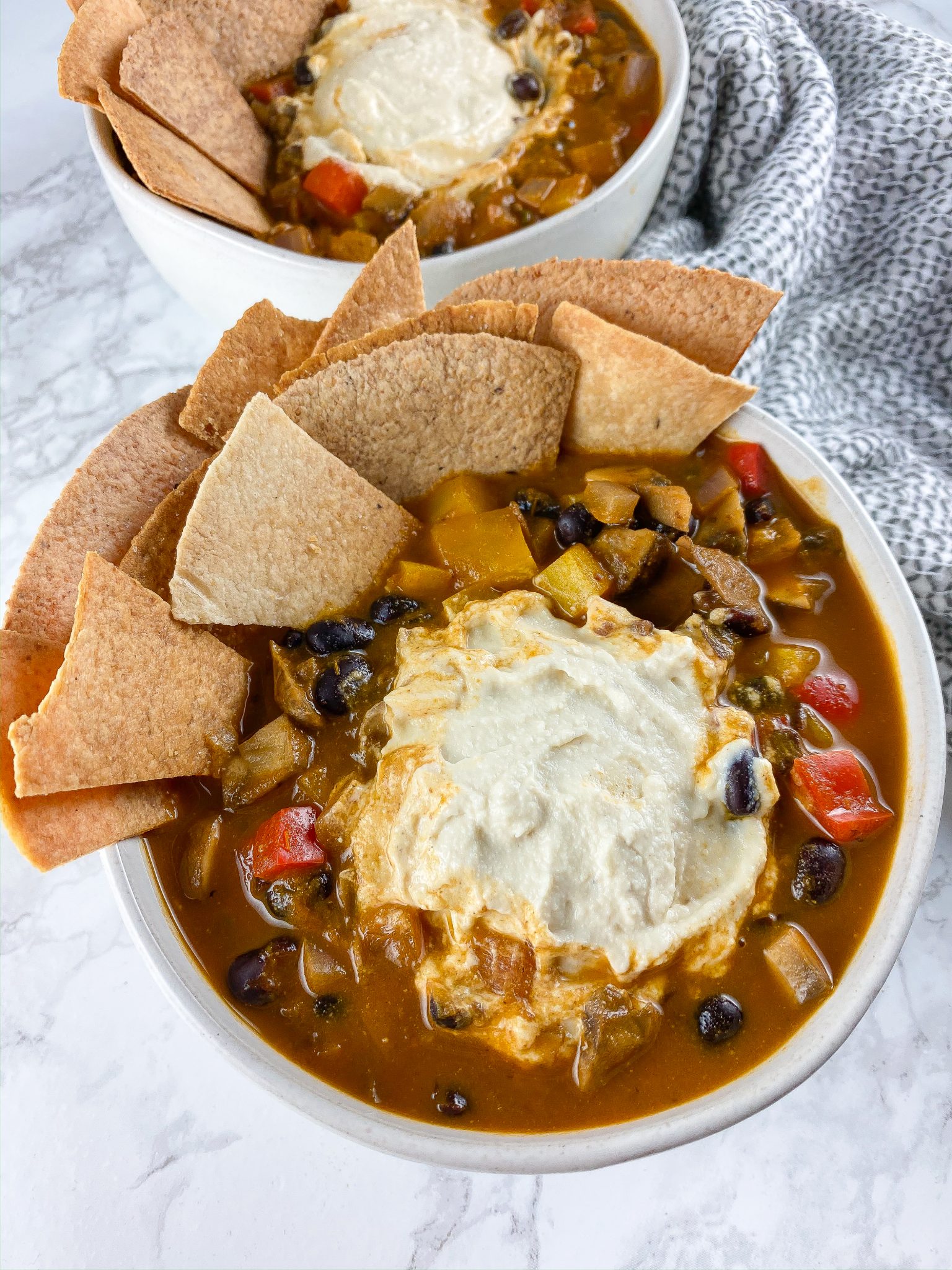 This soup is a cross between tortilla soup and enchilada soup, but since it has tortillas in it, that's the name I went with.
This one's made healthier than most with baked tortillas and plant-based protein.
One of my favorite things to make is soup because they're just so easy!
Not too much prep and, once you get everything in the pot, you're pretty much done.
I've always been a big fan of tortilla soup but most have chicken in them so I swapped that out for one of the cleanest proteins we can have… beans!
Beans are also a great source of folate, fiber, iron, potassium and magnesium. Studies have shown people who eat more beans live longer!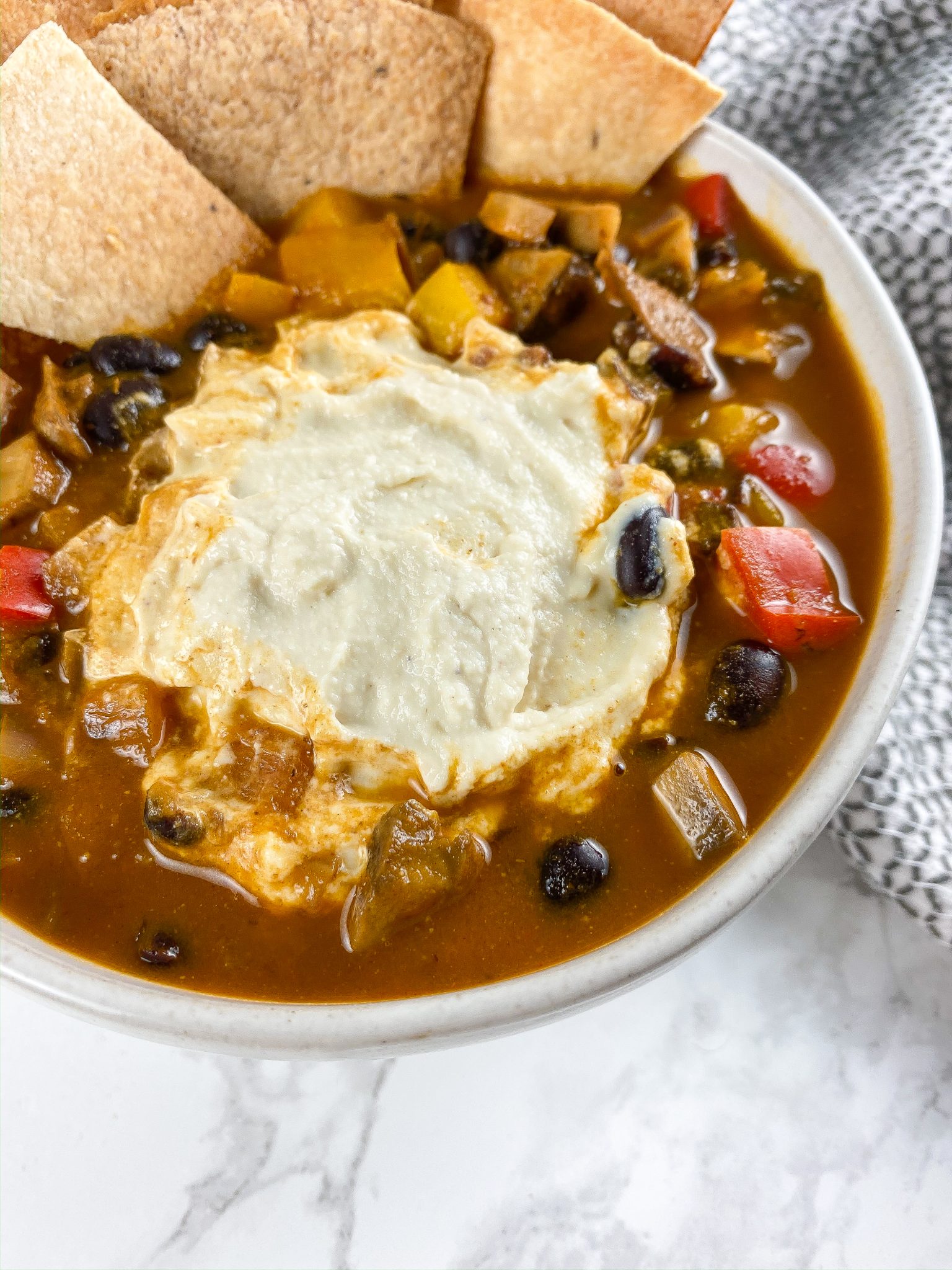 I prefer to use black beans, but white beans, pinto beans or kidney beans would work just as well in this soup.
I'm a big fan of making my own tortilla chips and that's what I added to this soup.
Instead of using fried tortillas, I keep it on the healthier side with baked ones and they taste amazing!
If you watch my InstaStories you know I love them because I make 'em on there a lot.
This will work with any tortilla, but the timing can be different, so watch them when they're baking.
I will either bake extra tortillas or save some for chips on the side!
This cashew sour cream makes it even tastier so I highly recommend adding it on top.
Cilantro also makes a great topping!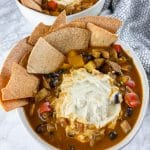 Print
Plant-Based Tortilla Soup
This soup is a cross between tortilla soup and enchilada soup. It's made healthier with baked tortillas and plant-based protein, but still SO much flavor!
Ingredients
2 (15oz)

cans

Black Beans

(drained and rinsed)

1

Onion

(chopped)

2-3

Garlic Cloves

(minced)

8 oz

Mushrooms

(chopped)

1

Red or Yellow Bell Pepper

(chopped, can also use 1/2 of each)

1

jalapeno pepper

(optional, if you don't like a lot of heat)

15

oz

Enchilada Sauce

( I used the red one from Siete Foods )

1.5

cups

Veggie Broth

1

tbsp

Cumin

1/4-1/2

tsp

Salt

(or taste, can also omit)

Pepper

(to taste)

8

Tortillas

(I used Siete Foods gluten-free tortillas)
Instructions
Preheat oven to 350 F. Cut your tortilla into strips (and some into chips, if you'd like) and place them on a baking sheet lined with parchment paper. Sprinkle with a little salt, if desired. Place in the oven and bake anywhere from 10-15 minutes. Depending on your tortilla, you will want to keep an eye on them. I used Siete Foods brand and I usually bake them 11-12 minutes.

Saute the onions and garlic in a large pot over medium heat for about 3-5 minutes until the onions are transluecent. Then add the mushrooms and peppers and saute for another 5 minutes. If you want to add a little heat to this soup then add a chopped jalapeño (seeded) as well. Add in the cumin, black beans, enchilada sauce and vegetable broth and stir everything together.

Reduce heat to a simmer and cook for about 15-20 minutes. You could add in the baked tortilla chips to the big pot but I like to make sure each bowl gets enough so I add them individually to the bowl before adding the soup. Make sure to taste the soup before you serve. Depending on the enchilda sauce used, you might need to adjust the seasonings. Place the soup in the bowls and serve. Top with more baked tortillas or serve on the side, cashew sour cream and cilanto! Store leftovers in the fridge for up to 5 days or freeze for longer.