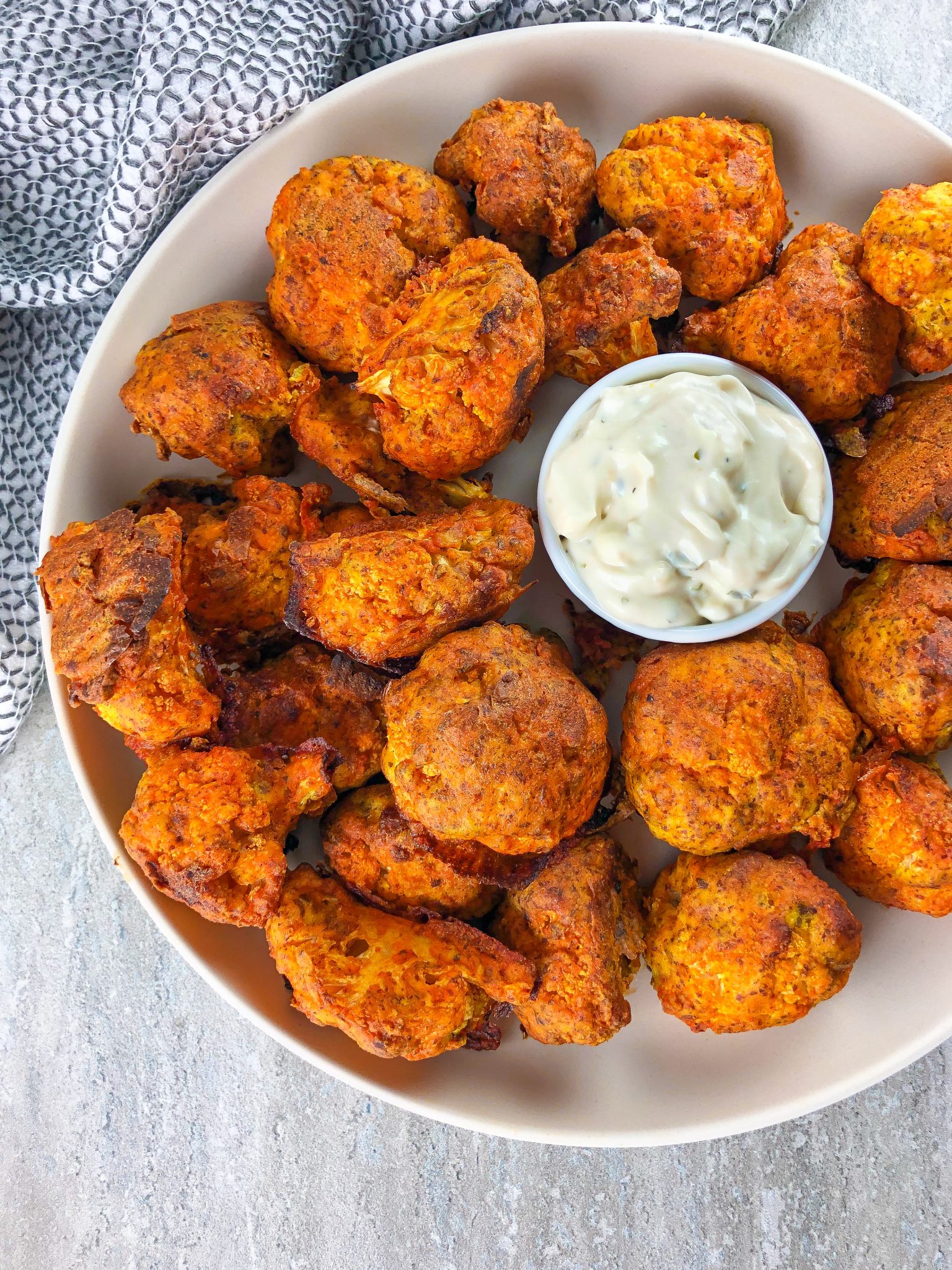 Nobody will miss the chicken with these Baked Cauliflower Buffalo Wings!
One thing Ben (my husband) thought he'd never give up was chicken wings, then he had cauliflower wings and that all changed.
Cauliflower wings are a great alternative to meat as they're packed with health benefits and, overall, MUCH healthier than a chicken wing.
Health Benefits of Cauliflower Wings
Cauliflower is actually one of the best vegetables to help detox the body, removing heavy metals and toxins.
This recipe is one of the tastiest ways to detox, in my opinion!
Cauliflower isn't the only thing that has health benefits in this recipe, so does the batter!
I added in turmeric, which is great for brain health and reducing inflammation.
Soy milk is a great source of protein and has cancer fighting properties. You can use other non-dairy milk if you wish.
And lastly, ground flax, which has also shown to help prevent cancer.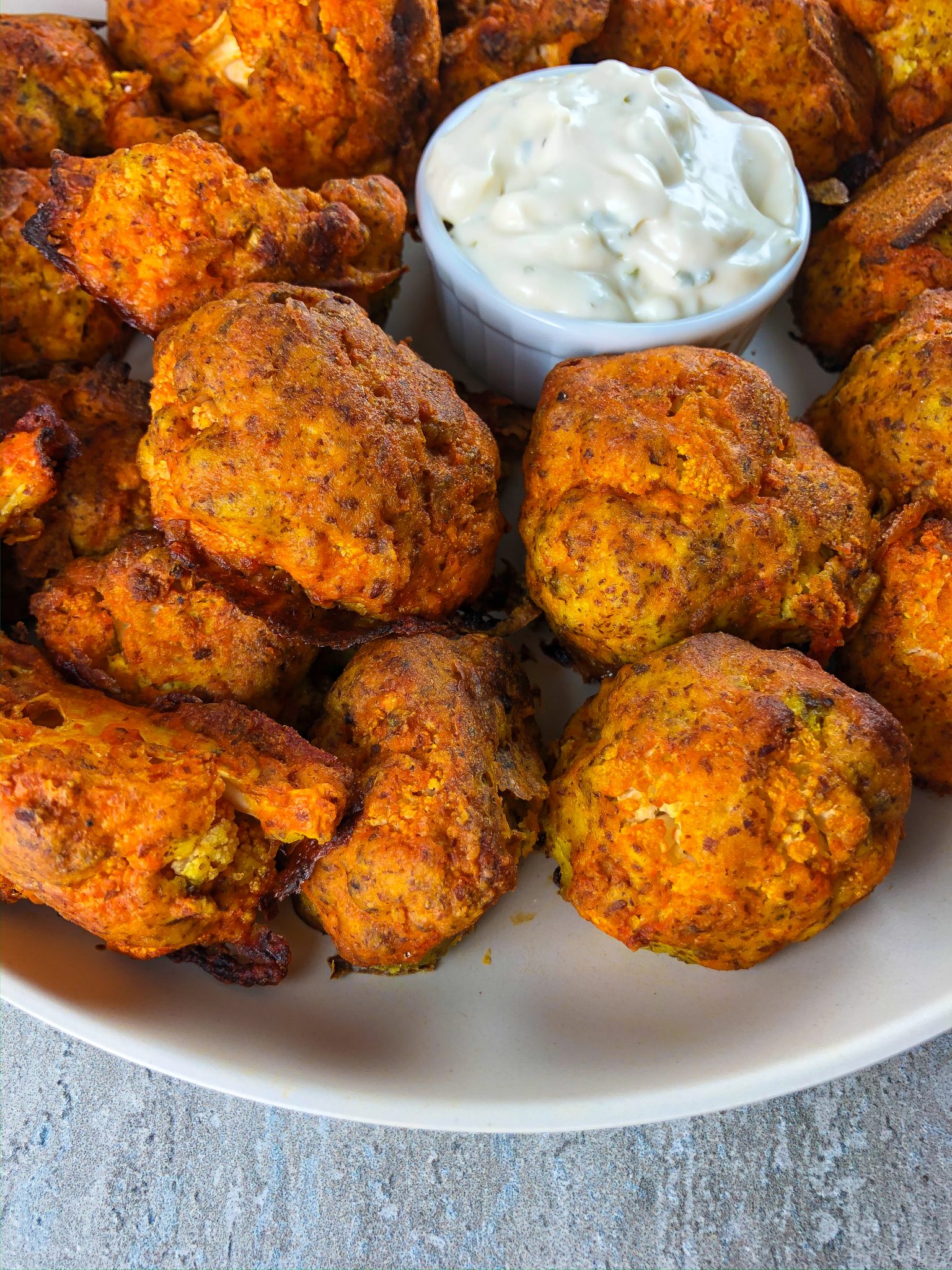 Tips To Make It Crispy
When I posted this in my stories, I got a lot of questions on how to make them crispy. So, here are my top three tips for achieving the crispy texture. Just know that the inside will be softer.
Make sure your cauliflower is  fresh. Older cauliflowers will be softer on the inside due to increased water content. So if you've had a head of cauliflower sitting in your fridge for a minute you might not want to use it for this recipe. Make some cauliflower rice or tacos instead!
After you dip the florets in the batter, make sure to shake off any excess batter before placing it on the baking sheet. You want it coated, not drenched in it.
When you're baking them in the oven, if they aren't looking crispy enough to you, let them bake longer. I like to see some burnt spots start to pop up. Just keep an eye on them because you don't want the whole thing to burn.
These healthy cauliflower wings will impress your guests at a party, game day or just eat them on your own!
I make them for dinner often and even add them on salads for a hearty buffalo cauliflower salad.
I'm still working on a good ranch dipping sauce.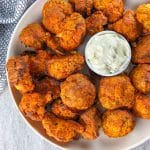 Print
Baked Cauliflower Buffalo Wings (Oil-free and Gluten-free)
Tell your meat-loving friends they won't miss the chicken with these Baked Cauliflower Buffalo Wings! They're a great alternative to meat as they're packed with health benefits and, overall, a MUCH healthier option. Read the blog post for tips on how to get them crispy.
Instructions
Preheat oven to 425 F. Line a baking sheet with parchment paper. Cut your cauliflower into florets. I like cutting from the bottom as I've found this is easiest to get the florets. If a floret is pretty large, cut it in half. Next, mix all the ingredients for the batter in a bowl. Dip the florets in the batter. Shake them off to remove any excess batter. Place on baking sheet one by one.

Put the baking sheet in the oven for 15 minutes. When that's done, flip the florets over and bake for another 15 minutes. Remove them from the oven and either brush on the buffalo sauce or add a few florets to a bowl and coat with buffalo sauce. You don't want to add all of them at once because you want to keep the crispy layer on.

Place them back on the baking sheet and bake them for another 20 minutes. If you'd like them crispier, leave them in for longer. I like to see the florets get darker, with few burnt spots, but you have to keep an eye on them to make sure they don't completely burn. Serve immediately when they're done cooking. If desired, add more buffalo sauce by brushing or drizzling it on.
Notes
If you're not gluten-free you can sub almond flour for all-purpose or whole wheat flour.