Before peach season is over you MUST make these Grilled Peach Crostinis.
It's such an easy appetizer or finger food to whip up, and they literally explode with flavor in your mouth.
My mouth is watering right now just thinking of them!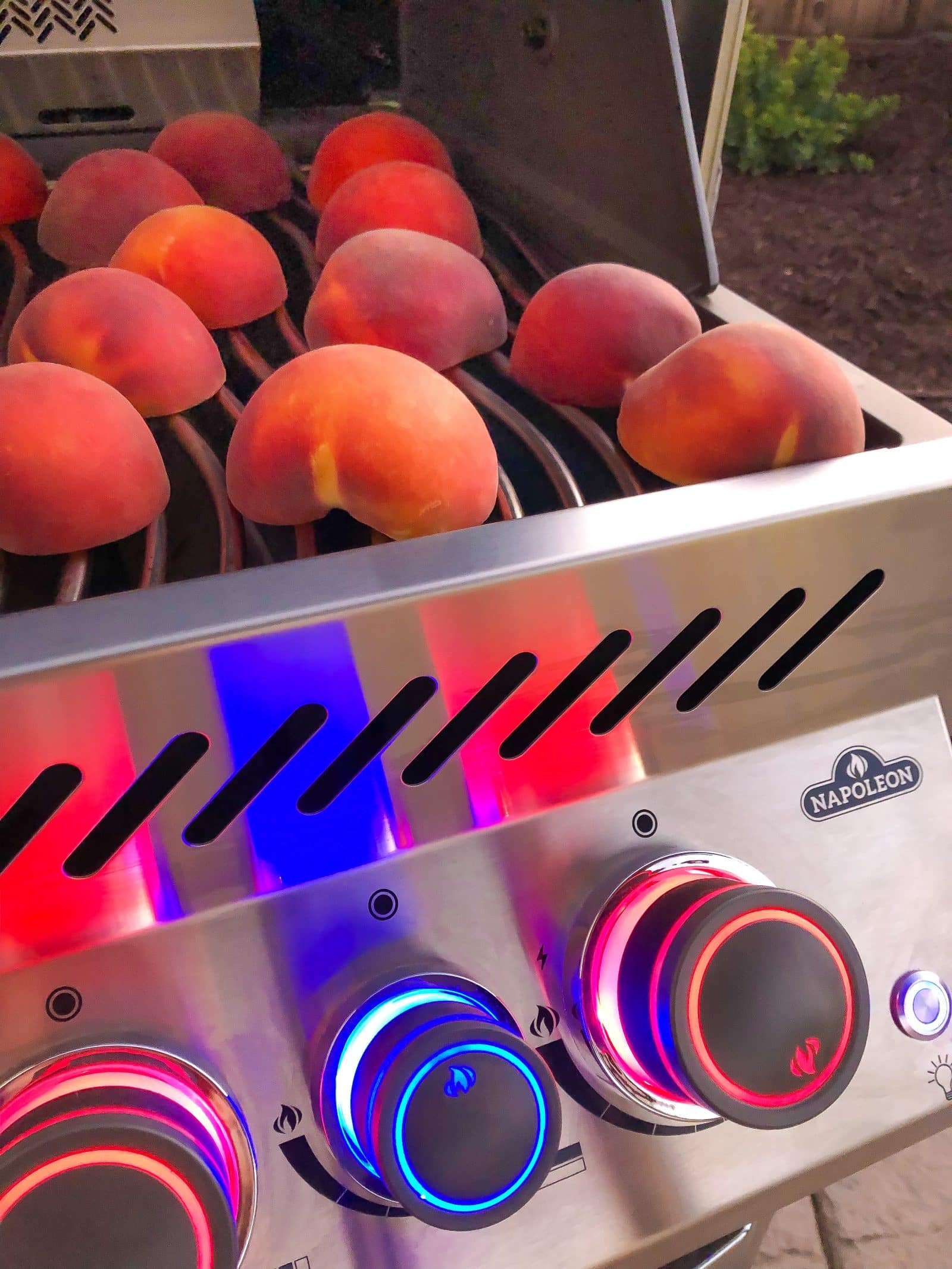 Grilling
They're great for a party or just an excuse to use the grill – because you don't have to just cook meat on grills.
I've partnered with Napoleon Grills, and I have to say, I didn't realize I was going to love this grill so much!
Grilled fruits and vegetables are one of my favorite things.
It's a great way to switch up how you eat them, and it brings a whole different flavor.
You can see more about Napoleon Grills on my Instagram.
Crostini aren't known to be the healthiest thing to eat, but luckily with healthier options nowadays, I was able to make these good for your taste buds and your body!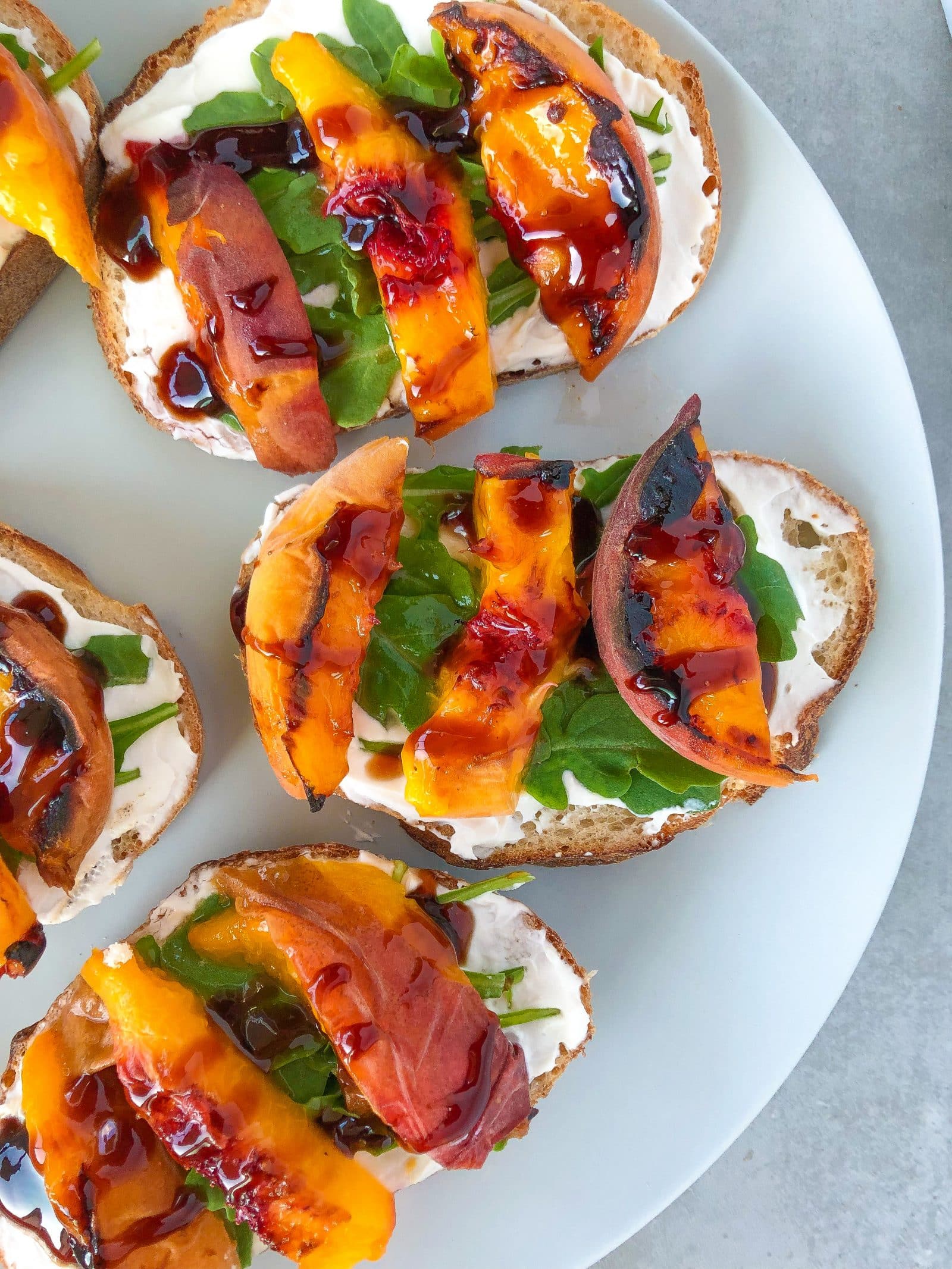 The Ingredients
Peaches are full of good nutrients. See some of their health benefits here.
I used bread from the farmers market, which is made with less ingredients than most store-bought breads so our bodies processes it much differently.
As I always say, check the ingredients on everything! Usually local bakers use cleaner ingredients.
Thank the Lord for dairy-free cream cheese! Thankfully there's a lot of options for dairy-free cream cheese that you can buy now. I've listed the one I use in the recipe.
You can also make it yourself… just google "dairy-free cream cheese recipe" and you should be able to find one. Remember. the ingredients in this shouldn't be much.
Of course I added leafy greens to this as it's one of the best foods we should eat every day.
Arugula is in the cruciferous vegetable family, same as Kale, so you're getting all those cancer and disease fighting benefit!
Then, I topped with a balsamic reduction, which you can easily make yourself (recipe below) or buy it pre-made from the grocery store.
All in all, this is a delicious way to enjoy peaches, and a great way to use a grill without cooking meat.
I'm curious, what's your favorite thing to cook on the grill besides meat?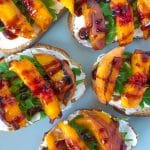 Print
Grilled Peach Crostini with Arugula and Balsamic Reduction
Before peach season is over you MUST make Grilled Peach Crostini! It's such an easy appetizer to whip up, and they literally explode with flavor in your mouth. Customize this recipe to the amount you're serving!
Ingredients
Peaches

Bread

(Baguette or something similar. Also a fan of sourdough!)

Dairy-free Cream Cheese

(I used Kite Hill)

Arugula

(or other leafy greens)

2

cups

Balsamic Vinegar

(or pre-made balsamic reduction)
Instructions
Note: I didn't add amounts to the peaches, bread and cream cheese because you can make as many as you'd like! Light a gas grill to medium heat. Cut the peaches in half and take out the pit. Option: you can brush the peaches with a healthier oil like avocado oil or olive oil, but you don't have to if you'd like to keep it oil free.

Grill the peaches flat side down until they're tender and you can see grill marks - about 5 minutes. You can flip them and grill on the skin side if you like. This side only needs a couple of minutes. Take the peaches off the grill and set aside until they've cooled enough to slice. If you would like your bread toasted do that now! I do like it a little toasted, but either way is good.

Start to build the crostini by slicing your bread and spreading cream cheese on each slice. Then, add the arugula and top with the sliced peaches. Lastly, drizzle the balsamic reduction over each slice. Serve immediately and enjoy!
Balsamic Reduction
Add 2 cups of balsamic vinegar to a pot over medium heat and bring to a boil. Once the vinegar is boiling, give it a stir. Keep an eye on it, stirring occasionally until it starts to thicken up. Once it starts to thicken up, turn the heat down to low. Once it's to your desired consistency, remove from heat. If you heat too long, it will become too thick to drizzle.
Notes
You can skip the balsamic reduction step if you buy it pre-made at the grocery store. 
I used Kite Hill's plain, dairy-free cream cheese, which is so good in my opinion. Miyokos Creamery is another good brand with dairy-free cream cheese. 
You can use other leafy greens if you're not a fan of arugula. Sprouts would also be good! 
You can use other fruit besides peaches. We are also big fans of using pears!