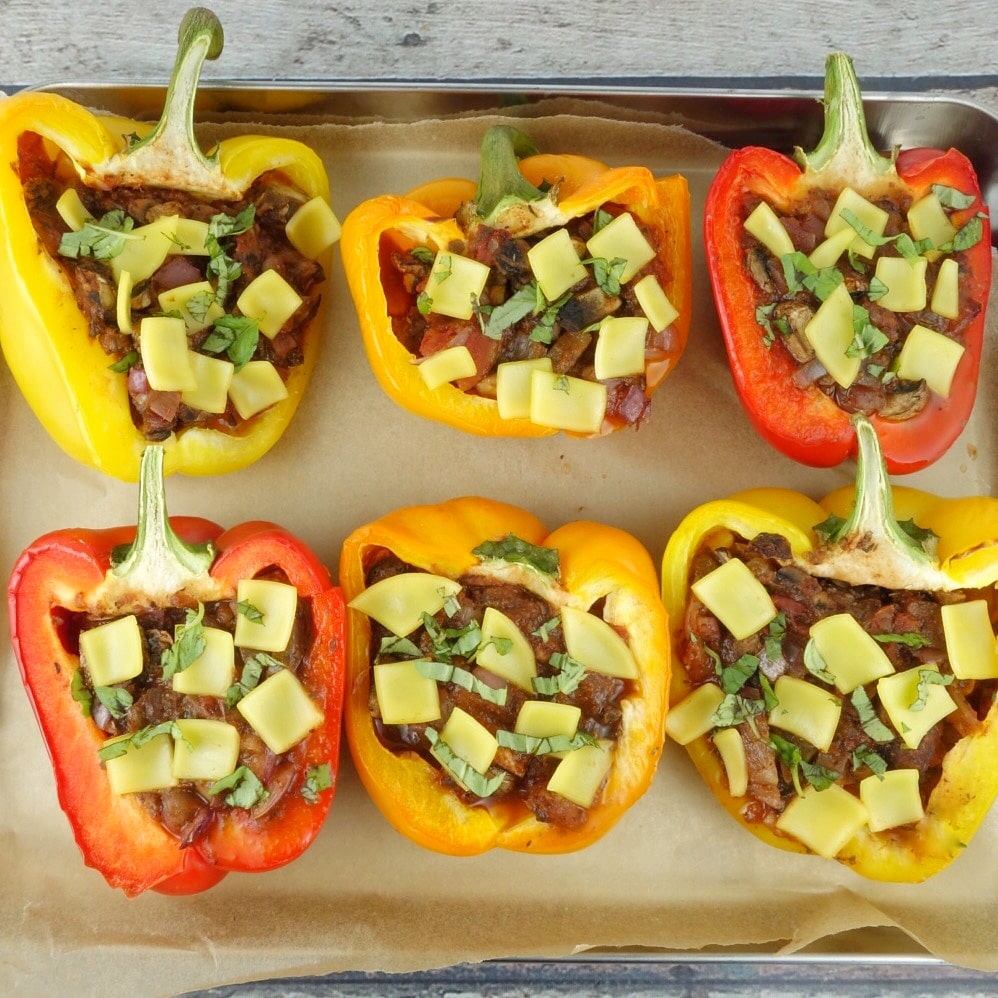 These Stuffed Pizza Peppers put a healthy spin on deep dish pizza. They explode with flavor, while cutting the fat, calories and sodium of a regular slice. You won't have that heavy feeling after you indulge in these peppers, and you won't need a nap!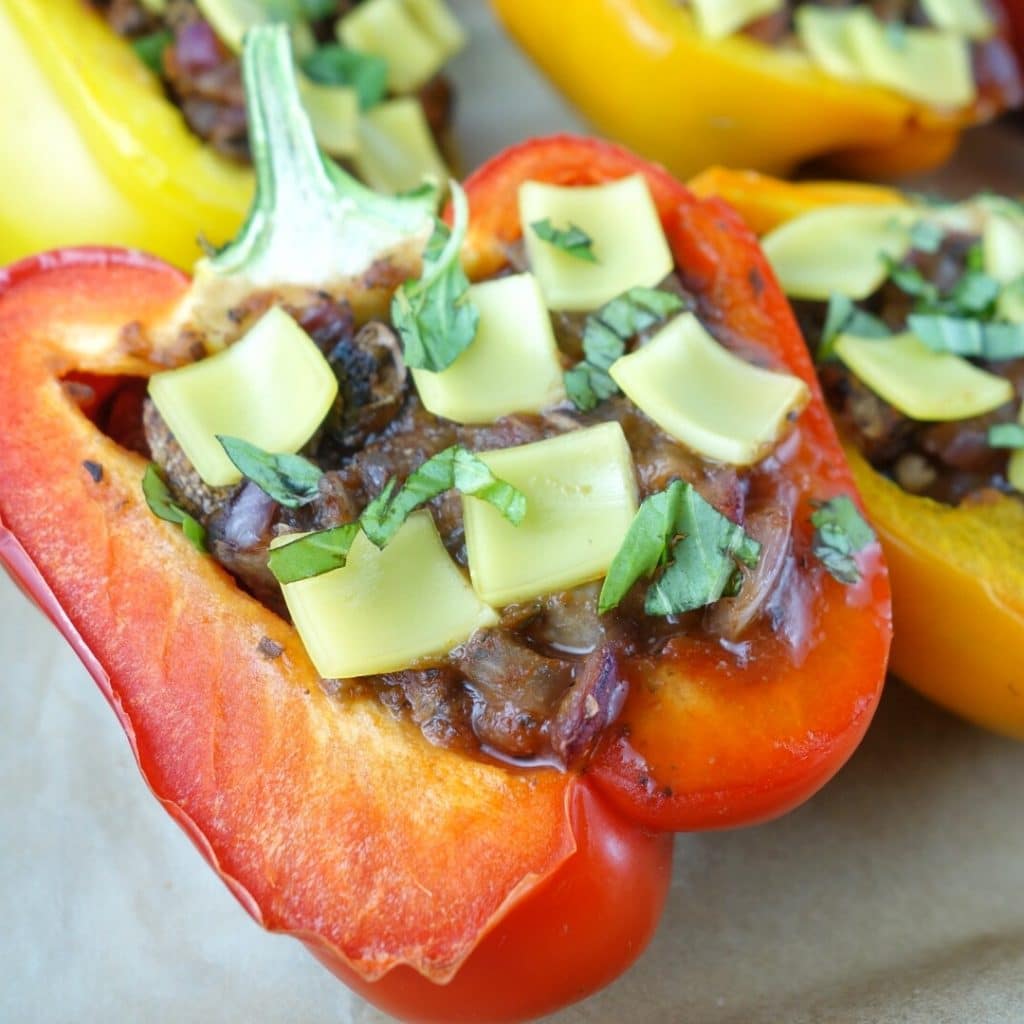 I don't count calories as I find that it's a distraction to eating good, whole, real foods. Plus calories are NOT created equal. But if you want to compare this to a regular slice of pizza – you're going to be eating about 1/4th of the calories so you can go ahead and indulge in two or three of these delicious stuffed peppers.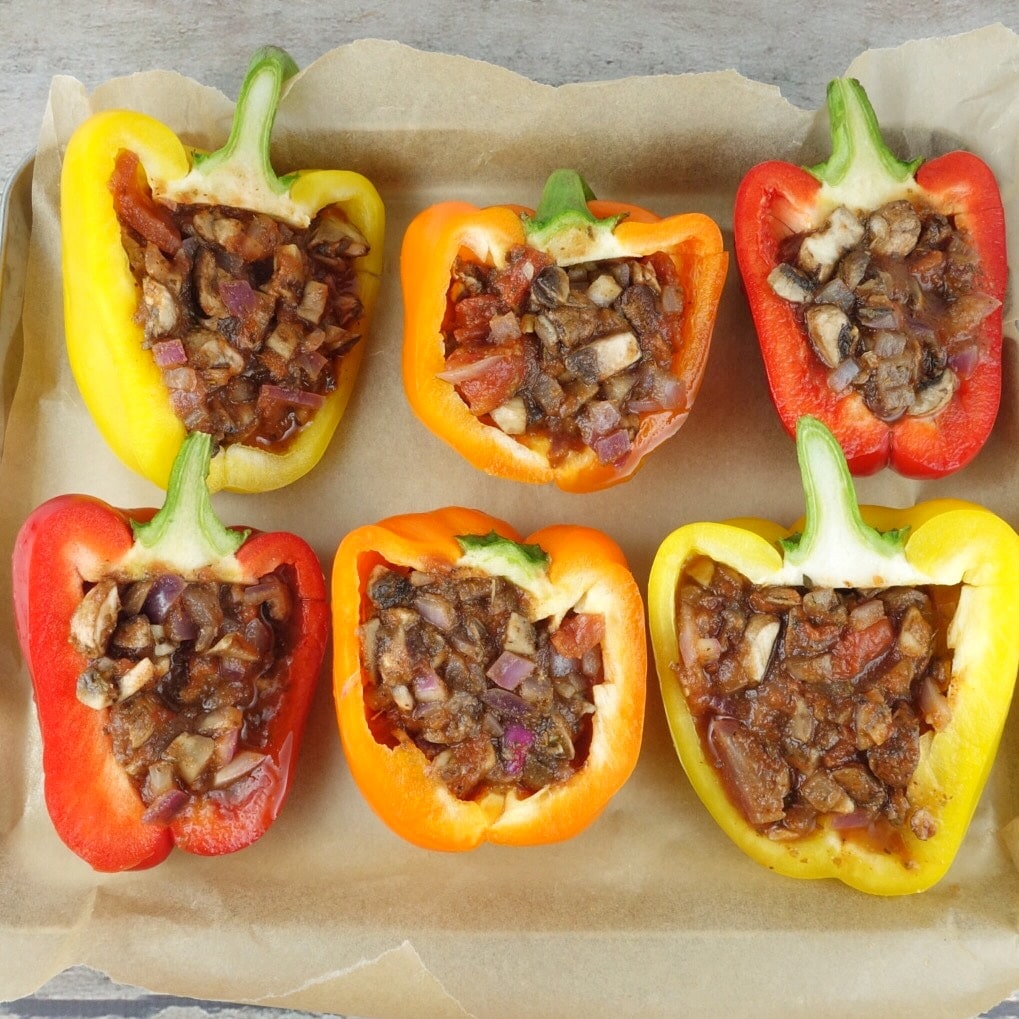 I filled these peppers with a mushroom mixture as I find mushrooms give it a more "meaty" texture, but you could use any vegetables you prefer. Veggies mixed with pizza sauce really disguise the tastes so you'll be able to sneak some vegetables in to veggie haters. If you don't have pizza sauce on hand – you could also use marinara or pasta sauce. I did this, but it did make the mushroom mixture a little watery so pizza sauce is best. I usually don't eat vegan cheese a lot, but the options out there are becoming healthier and tasting a lot better. I did use some to top these. You could also make your own cashew parmesan cheese that's a good healthy option.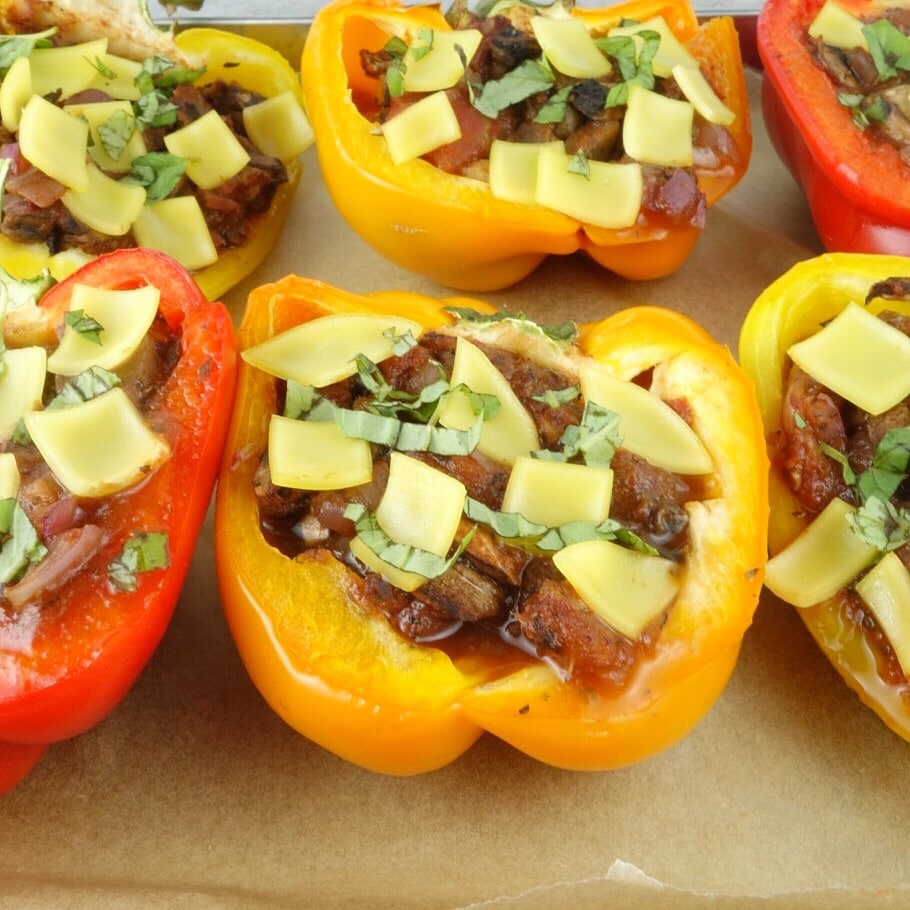 These Stuffed Pizza Peppers don't last long in my house so I've never tried to store them for leftovers. I have eaten them a few hours later and they were still good, but I suggest serving them immediately for best results.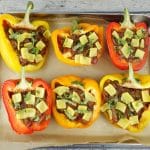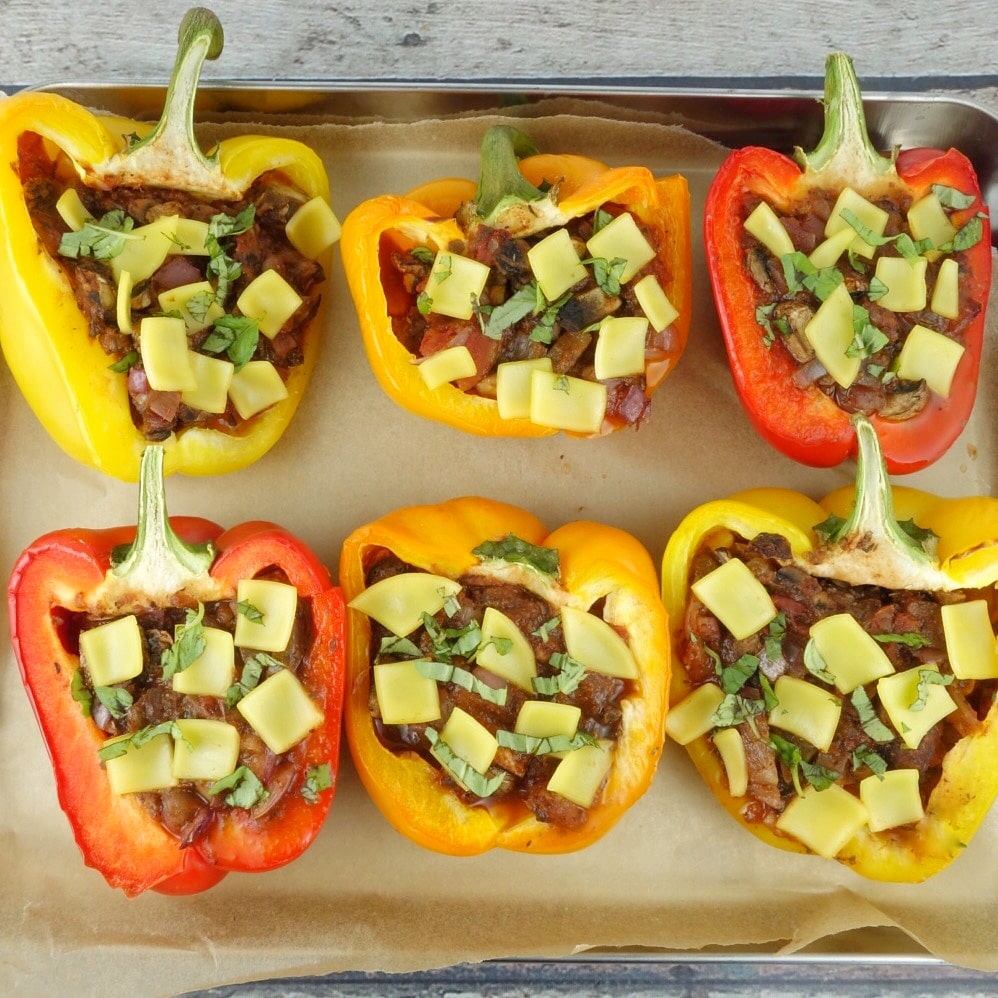 Print
Stuffed Pizza Peppers
Please Use All Organic Ingredients When Possible!
Ingredients
3

Bell Peppers

8

oz

of Mushrooms

(chopped)

1/2

Onion

(chopped (I used red, but any will work))

1 1/2

cups

pizza sauce

(or marina but read blog post)

2

tsp

Oregano

1

tsp

Garlic Powder

1

tsp

Thyme

1/4

tsp

Salt

(or more to taste)
Instructions
Preheat oven to 350 degrees and line a baking sheet with parchment paper. Cut peppers lengthwise and scoop out seeds.

Heat a skillet on medium heat and add in onions, mushrooms, oregano, garlic powder, thyme, salt and pepper. Sauté for 5-7 minutes. I use splashes of water to keep the veggies from sticking instead of adding oil. Then add in the pizza sauce, mixing it all together.


Scoop the mushroom mixture into each pepper on the baking sheet. Place them in the oven for 25 minutes. If you want to add a vegan cheese - take them out, cover with cheese and put back in the oven until it is melted, about 3-4 minutes.

Top with fresh basil or red pepper flakes and serve immediately. These are best enjoyed right away. I've had them a few hours later and they are still good, but the mixture can make the peppers get too soft if it sits too long. I'm not sure how well they would hold up the next day.