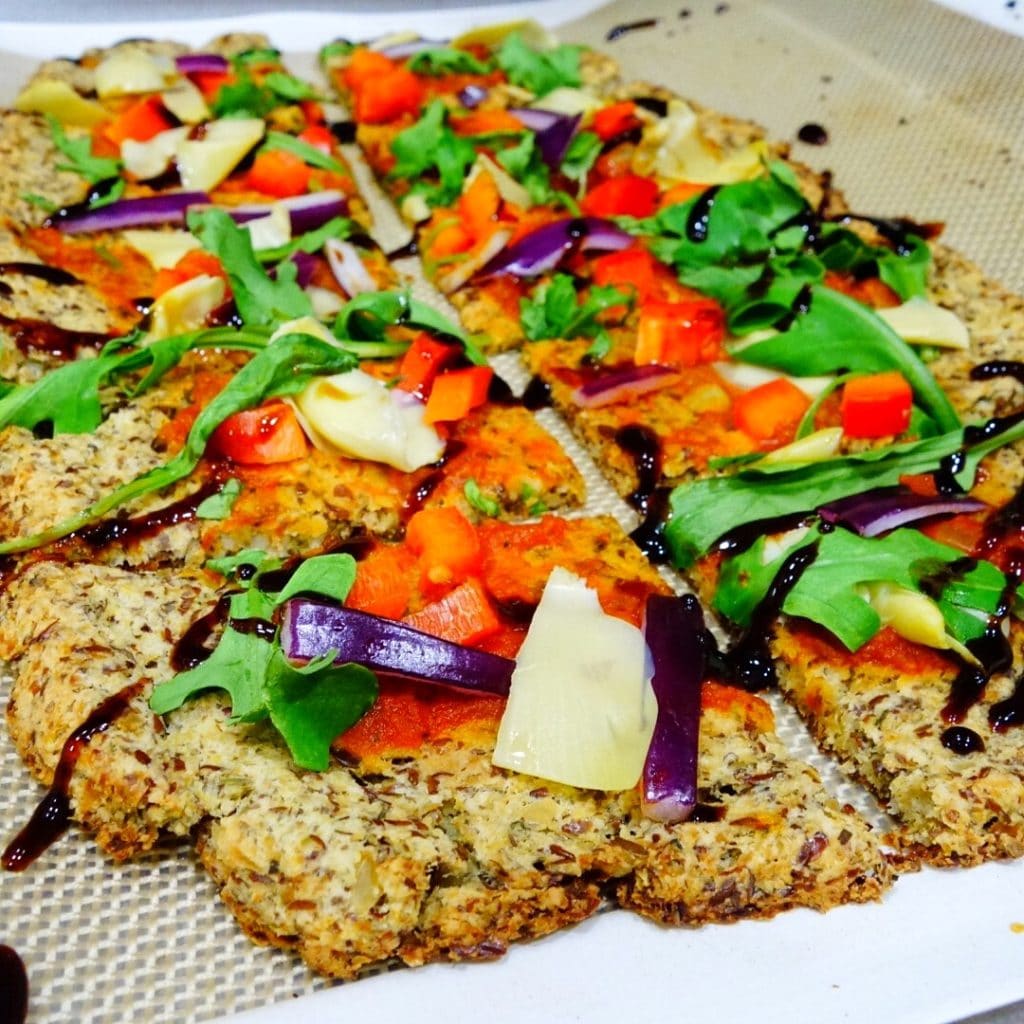 This healthy flatbread will become a favorite in your house. It tastes like you're eating delicious, hearty comfort food, but actually it's a grain-free, dairy-free, vegan pizza crust.  It's so addicting, make sure you have someone there to split it with because it's easy to eat the whole thing in one sitting. That wouldn't be such a bad thing because this entire flatbread has less calories than half of a regular pizza.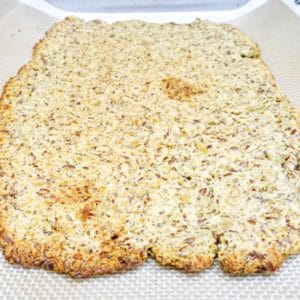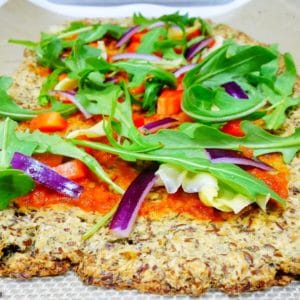 This recipe was inspired by my friend, Megan Gilmore's recipe. I've been obsessed with it since I produced this cooking video with her. I switched up her recipe with some different seasonings and topped it with Arugula and artichoke, which make a perfect pair. What's great about this crust recipe is it can be flavored so many different ways by using different seasonings and toppings. You can also make it a regular round pizza, if you prefer the circle over the rectangle.
This is a great dish if you're gluten-free, and anyone trying to cut back on grains. I decided to cut out grains for the month of March and I've been completely gluten-free since then. I notice a huge difference, especially helping reduce these symptoms. There is research that shows cutting out gluten and grains can help tremendously when battling an autoimmune disease.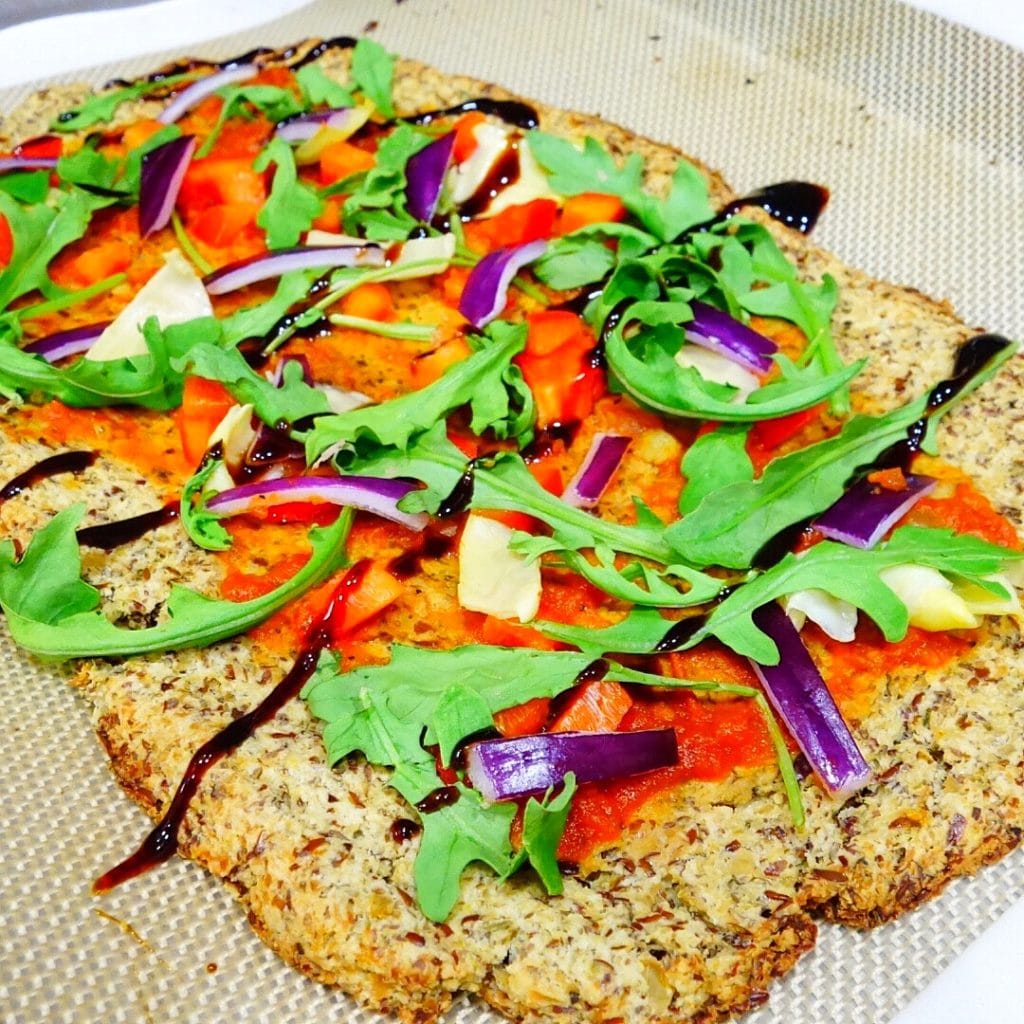 It's a lot easier than it might sound. Nowadays there's so many substitutes and gluten-free products. If you're dealing with any kind of inflammatory issues, I suggest trying a month without gluten, or grains entirely, and see how you feel. Don't forget – just because it's gluten free doesn't mean it's healthy. Remember to check labels. There is such a thing as gluten-free junk.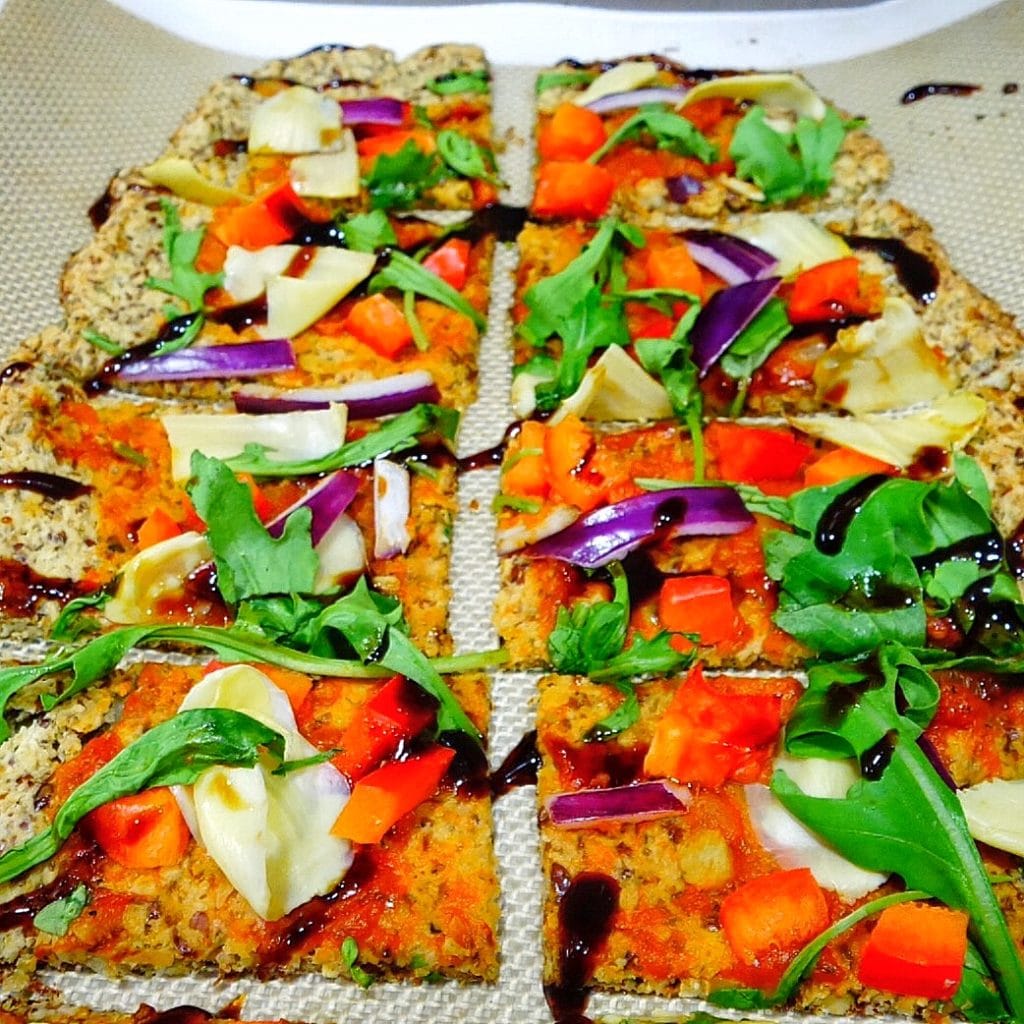 Again, you don't have to use the same toppings on your flatbread as I did mine. This is a delicious combination, but you could also use whatever you have on hand in the fridge. I haven't tried any other greens, but I bet some sautéed kale would be good on it too.  Arugula is by far my favorite greens to use on pizzas, and the balsamic reduction on top is like sweet kisses. Yum!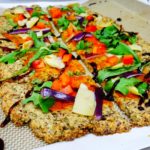 Print
Arugula and Artichoke Grain-Free Vegan Flatbread
Please use all organic ingredients when possible! Recipe adapted from Detoxinista.com
Ingredients
1

pound

frozen cauliflower

1/2

cup

Almond Meal

1/2

tsp

Oregano

1/4

tsp

Basil

1/4

tsp

Thyme

3

Tbsp

Nutritional Yeast

3

Garlic Cloves

minced

2

Tbsp

Flax or Chia + 6 Tbsp Water

1

Tbsp

Flax or Chia

not in water
Instructions
Preheat oven to 400 degrees

Make your flax or chia egg now to give it time to soak and become thick.

Put frozen cauliflower in food processor and pulse it into rice texture.

Then pour out the cauliflower rice on a dish towel, wrap it up and squeeze out all the moisture. *This step is very important because too much moisture will cause the crust to fall apart. The cooking video (see blog post) explains this part well.

Pour the cauliflower in a bowl and mix in the almond meal, flax/chia egg, extra tablespoon of flax/chia, garlic, oregano, basil, thyme (or whatever seasonings you prefer). Stir until everything is mixed together well.

On a baking sheet lined with parchment paper, press the mixture down using your hands to shape it however you prefer. Try to make sure it's all even in thickness.

Place in oven and bake for 30 minutes. Then flip it using another pan with parchment paper or just an extra piece of parchment paper. Put back in oven and bake for another 10 minutes or so. Keep an eye on it as all ovens are different, and you don't want it to burn.

Add your sauce, artichoke, arugula and other toppings and return pizza to the oven. About 5 minutes or until arugula has wilted.