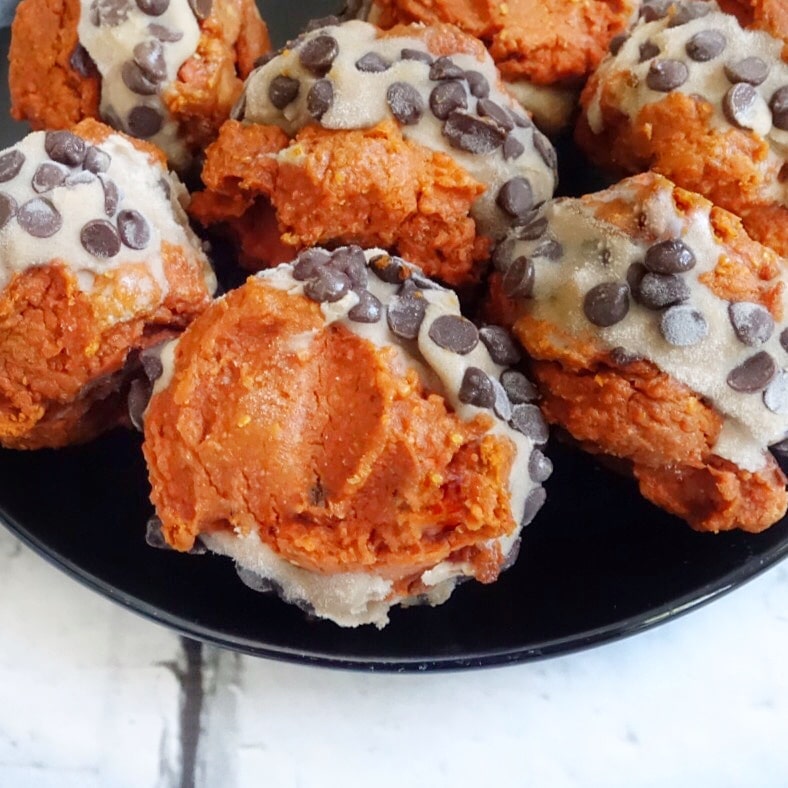 For anyone who thought healthy eating didn't consist of ice cream sandwiches were sadly wrong. These Skinny Ice Cream Cookie Sandwiches make the perfect treat that everyone will enjoy. Not only are they healthy, but they're so simple to make!  This recipe is dairy-free, only uses real whole foods and no added sugar.
Ice cream sandwiches were one of my favorite treats as a kid, but knowing what's all is in them, I haven't had one in years.  It's not just all the empty calories that turned me off, I then noticed the strange ingredients in them. Some cause the store-bought ones to not melt!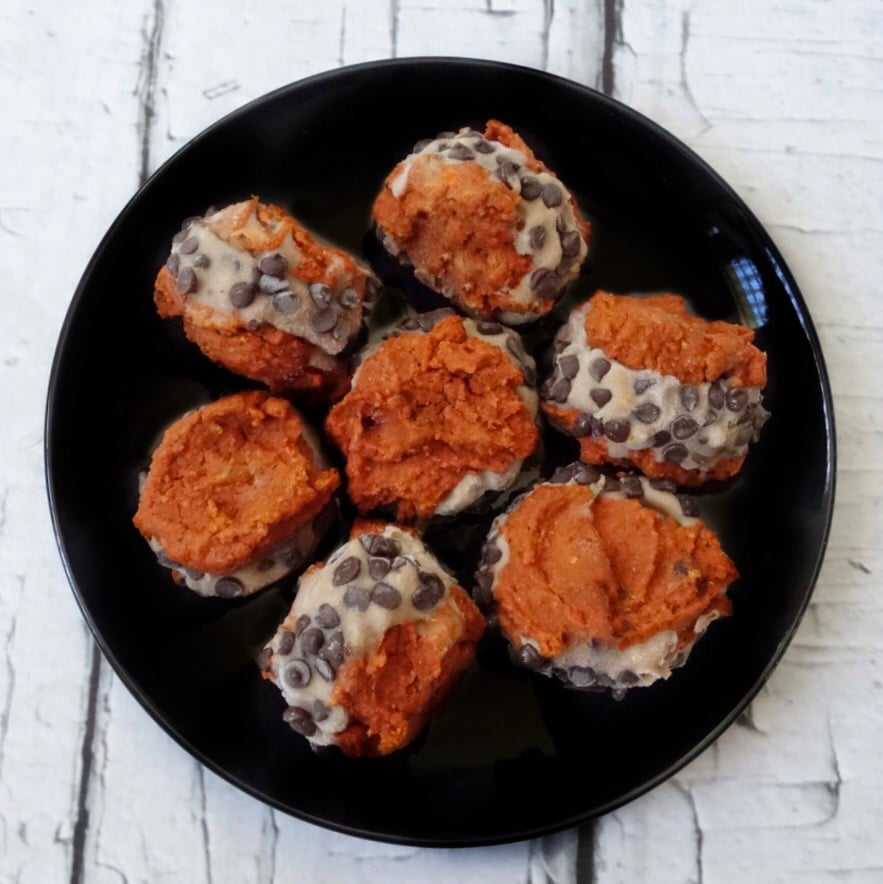 I came up with this idea after I used a Freeze from Pressed Juicery as the filling to make some ice cream cookie sandwiches for friends. I was not paid from Pressed Juicery for this post, but wanted to share because it's a brilliant idea. I can't wait for everyone around the country to be able to experience this frozen pressed juice that's very similar to frozen yogurt, but in the meantime you can make your own healthy ice cream at home with this recipe.
You can use any kind of cookie you'd like. I prefer to use these cookies because they taste so good frozen anyway, and they're a guilt-free cookie. Just like the nice cream, these cookies are only naturally sweetened so there is absolutely nothing but the good kind of sugar from nature.
Okay, so after you have your cookies made, cooled and ready to go, here are the steps. First freeze unpeeled bananas. You can do this up to a few hours or overnight for best results.
Then blend together the frozen bananas and dates. You might need to do a few splashes of almond milk or other non-dairy milk to keep it creamy. You can also add in other ingredients like cherries, cacao or nuts – just make sure to mix the nuts in, not blend if you want to taste the toppings.
Then you'll assemble the sandwich before you freeze the nice cream. This helps it stick to the cookie better. You can dip the sides in chocolate chips or nuts to give it a pretty touch. Freeze them for at least 1-2 hours before serving. Enjoy!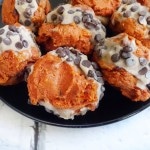 Print
Skinny Ice Cream Cookie Sandwiches
Please use organic ingredients when possible!
Instructions
First freeze your bananas either overnight or for at least 2-3 hours. Make sure to peel them before freezing and either put them in a freeze safe bag or just on a pan lined with parchment paper.

Once bananas are frozen, add all the ingredients (except for cookies and any additional toppings) to a high speed blender or food processor. Blend until smooth and creamy. NOTE: A splash of non-dairy milk might be needed to help it blend better.

Assemble ice cream sandwiches. If you would like chocolate chips on the side, pour them on a plate and dip the sides of the sandwiches in them before freezing. Once you assemble one, immediately put into freezer for at least an hour before serving.

NOTE: A food processor or high speed blender works best. If the nice cream is too creamy, you might need to let it sit in the freezer for 20 minutes or so to firm up just a bit. You don't want it too frozen or too creamy because it will be hard to assemble.
For more guilt-free desserts click here!