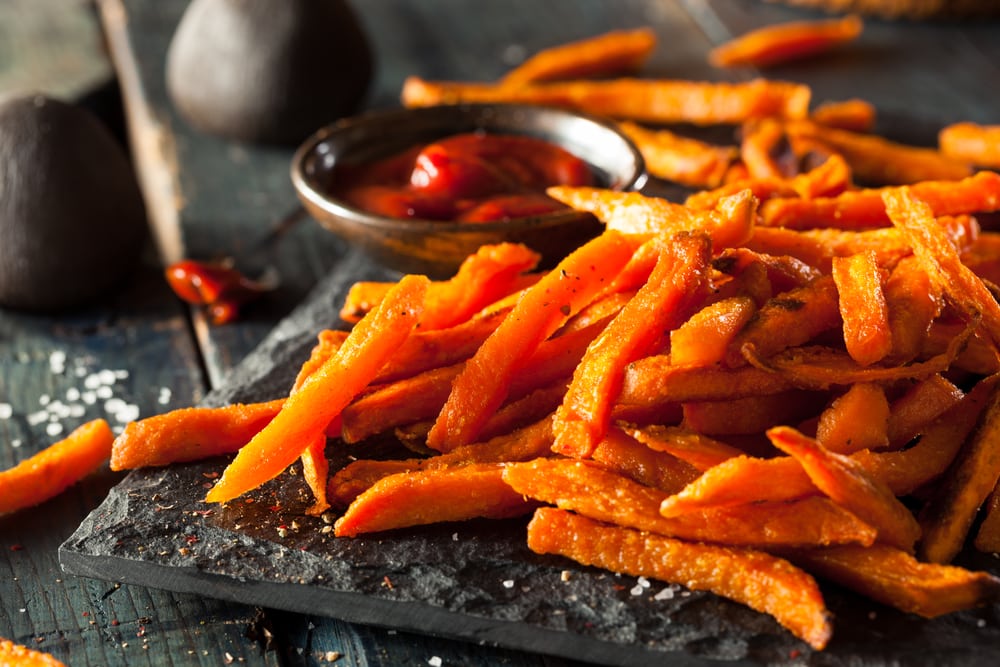 Who doesn't love sweet potato fries? Basically, they're a guilty free french fry. That's if you cook them right, and they come with a lot of health benefits when you do. I've been doing a lot research lately on foods that help balance hormones, and sweet potatoes are one of them. Even more reason to make this easy sweet potato recipe. They're highly recommended, especially for women as they assist in regulating female hormones, and enhance fertility.
Along with my PCOS diagnosis I found out that I'm not ovulating. I don't want to have a baby right now, but possibly in the near future. PCOS is cause for 70% of infertility issues in women who have difficulty ovulating, but when you make the right lifestyle changes and eat the right foods, you can reduce all of the risk factors that come with it. Studies have shown that sweet potatoes can lessen some of the symptoms of PCOS and endometriosis.
For the women out there that are pregnant, sweet potatoes are high in vitamin A, which promotes lactation. The beta-carotene also plays a role in regulating the menstrual cycle. Plus, the complex carbs in them help generate the body's happy hormones called serotonin. 
But wait – there's more! They help keep the skin glowing by eliminating free radical damage, again because of their beta-carotene content.  They also keep acne-causing bacteria away! 
For a little history on these sweet things – they were discovered around 750 BC, and are presently known as one of the oldest foods known to humankind. Here in the US, more than a million are grown every year.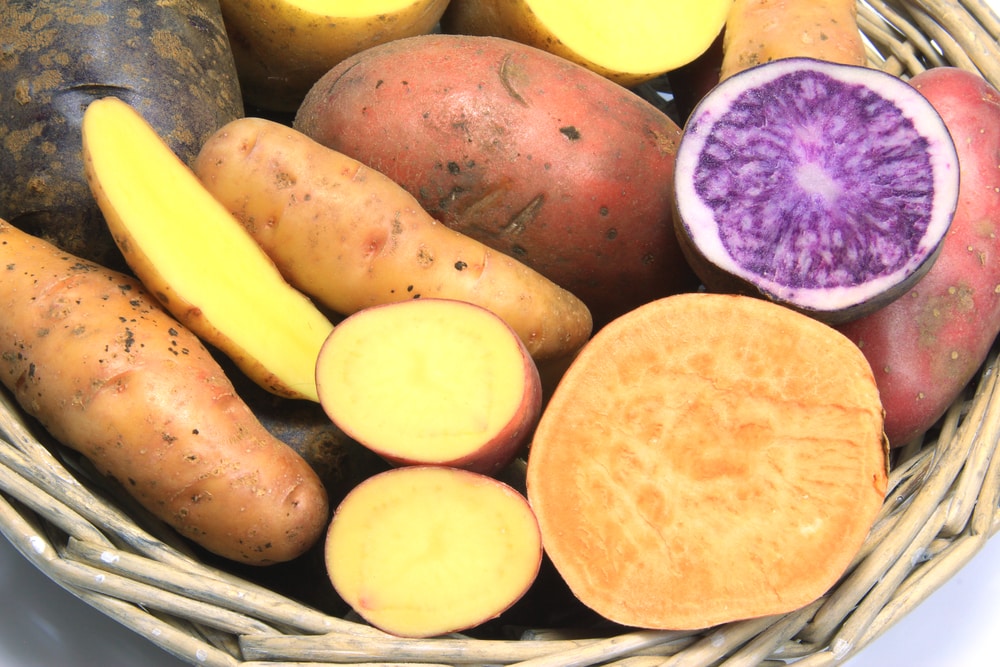 Sweet potatoes are healthier than regular potatoes, as they contain more fiber and vitamin A. There are around 400 varieties, and aside from orange, they come in purple, red, pink, white, violet and yellow color. These lovely colors are not for nothing, they're indicators of their antioxidant levels.
Although they are naturally sweet, they do not cause blood sugar spikes. Amazing, right? They even help in regulating insulin levels. Being an excellent source of fiber, they are known to boost metabolism, so they're great for people who are trying to maintain healthy weight. They also keep you hydrated, even reduce the risk of getting stomach ulcers.
Sweet potatoes are loaded with beta-carotene, iron, phosphorus, vitamins B and C, all of which are known to reduce risk of developing chronic disease including diabetes, heart disease and cancer. They assist in reducing inflammation, and boosting the immune system.
It's always best to buy organic as conventional sweet potatoes have tested positive for 19 different pesticides! You can bake them, boil them, steam them or fry them.  I love using them in no-bake desserts like this one and adding them to salad bowls. The fresh ones can even be eaten raw! Steaming is one of the healthiest ways to prepare them because it maximizes the benefits you get from them, plus it only takes 7 minutes! When storing, make sure that they are placed in a cool and dry place where they can stay fresh for up to 10 days. 
What's your favorite way to prepare them?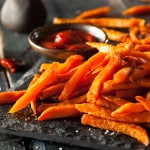 Print
The Benefits of Eating Sweet Potato Fries + Recipe
Please use all organic ingredients when possible!
Instructions
Preheat oven to 400

In a small bowl mix together oil and seasonings.

Cut Sweet Potato in slices and place on baking sheet lined with parchment paper.

Pour the oil mix over the fries and use your hands to make sure they all get some on them.

Bake between 20-30 minutes. They should be a little brown, but depending on the consistency you like will determine how long you keep them in.

Serve warm and enjoy!
Sources:
http://authoritynutrition.com/foods/sweet-potatoes/
http://draxe.com/sweet-potato-nutrition-facts-benefits/
https://www.organicfacts.net/health-benefits/vegetable/health-benefits-of-sweet-potatoes.html
http://foodfacts.mercola.com/sweet-potatoes.html
http://articles.mercola.com/sweet-potato.aspx
http://www.medicalnewstoday.com/articles/281438.php
http://www.whfoods.com/genpage.php?tname=foodspice&dbid=64
https://www.cnyfertility.com/2012/09/sweet-potatotes-nutrition-for-fertility/