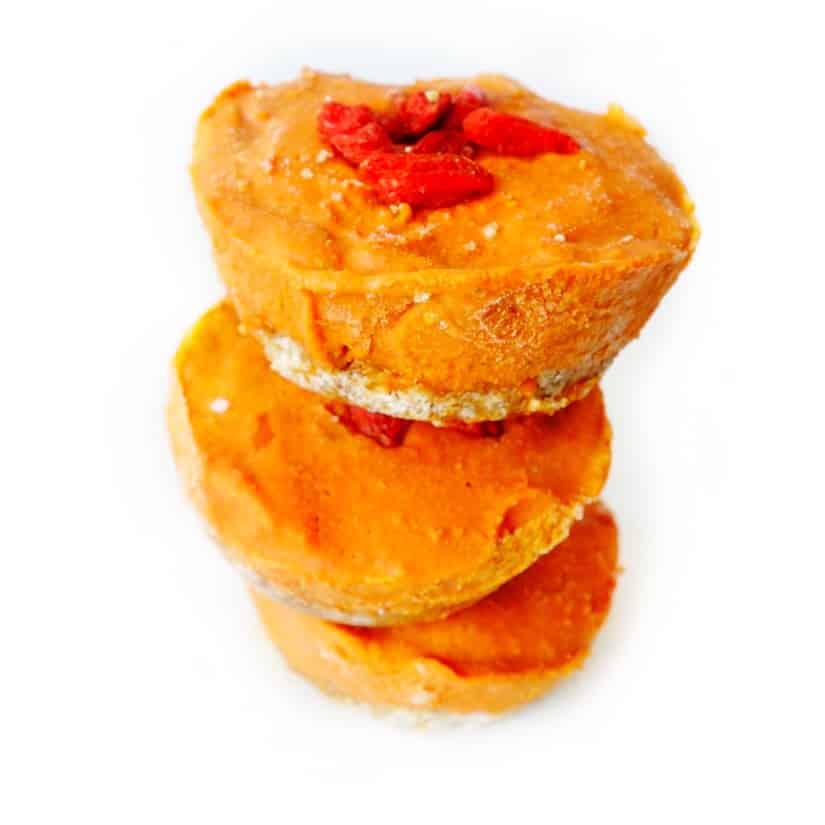 Vegan cheesecake, or as I like to call them freezer cake, is a simple and healthy dessert that people rave about! That's why I love making them year round. My latest version are these Goji Berry Freezer Cakes that are perfect for Halloween because they're orange without any food coloring used! I made a homemade chocolate sauce with just three ingredients (recipe below), which I drizzled over them giving the perfect spooky effect. I didn't think about it until later, but I should have tried to make it look like a spider web. I just got messy with it, but that looks cute, too.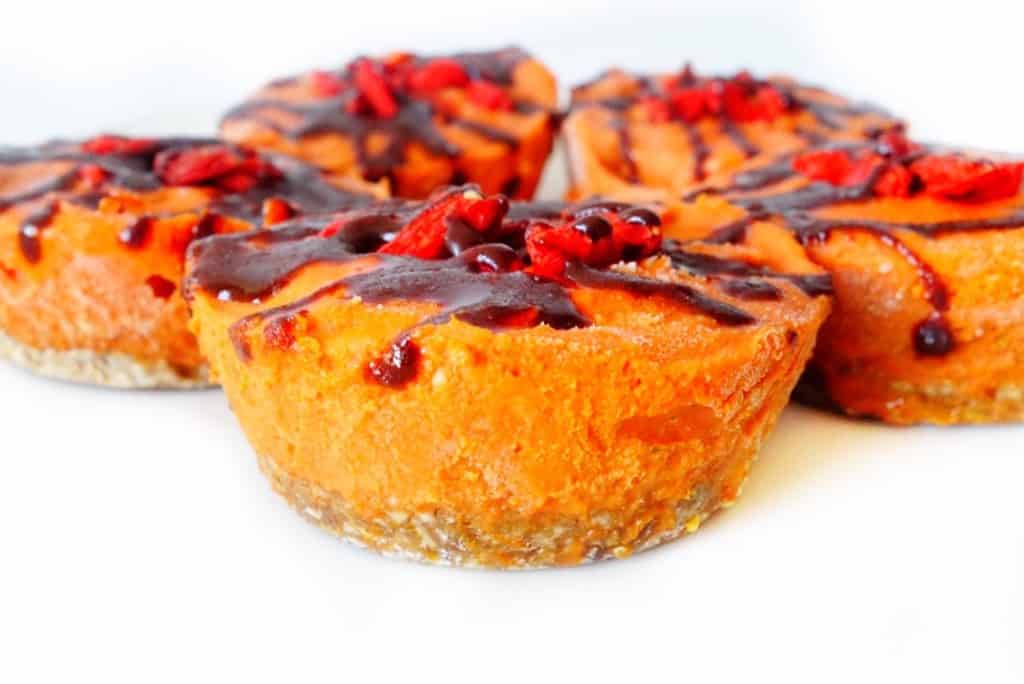 Clearly these aren't for handing out to trick or treaters, but they're great to serve at a halloween party, or any party this holiday season. If you did decide to pass these out at the door – just make sure they're eaten quickly as they will start to melt when they sit out of the freezer. It might be a little weird, but it's better than giving processed candy. Goji berries alone are one of the healthiest fruits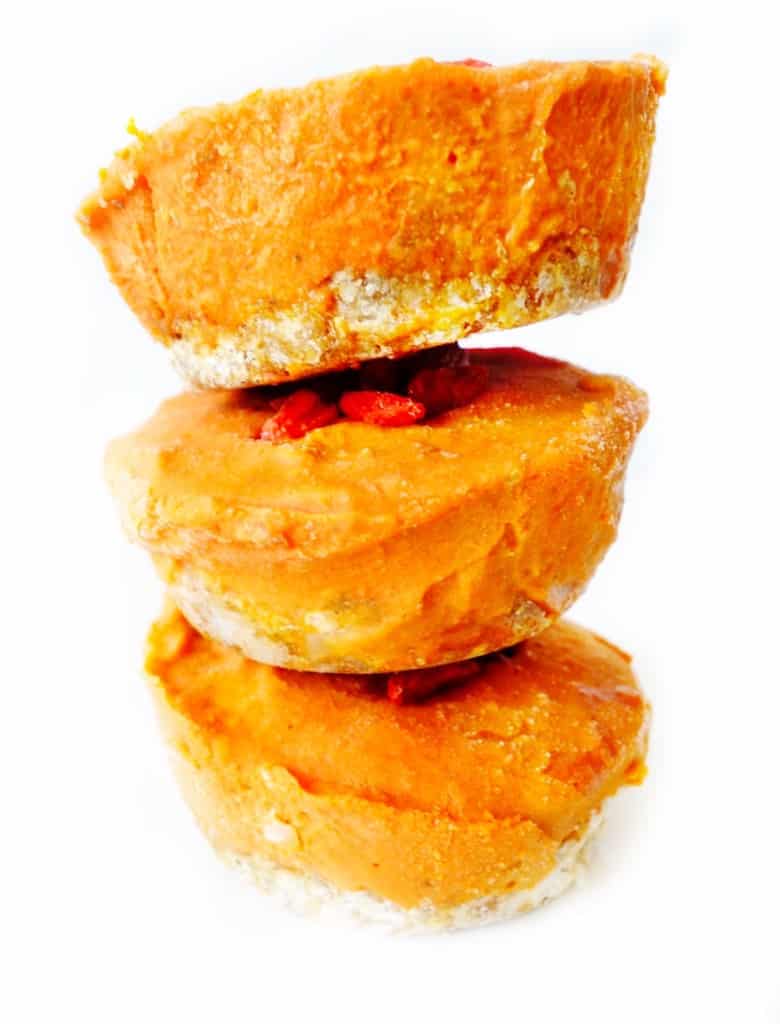 You can make this with a nut-free filling by using organic tofu or make it soy-free by using cashews. Either way works. Same goes with the crust. Here I did an oatmeal crust with almonds, but you could also use the crust recipes from my other freezer cakes.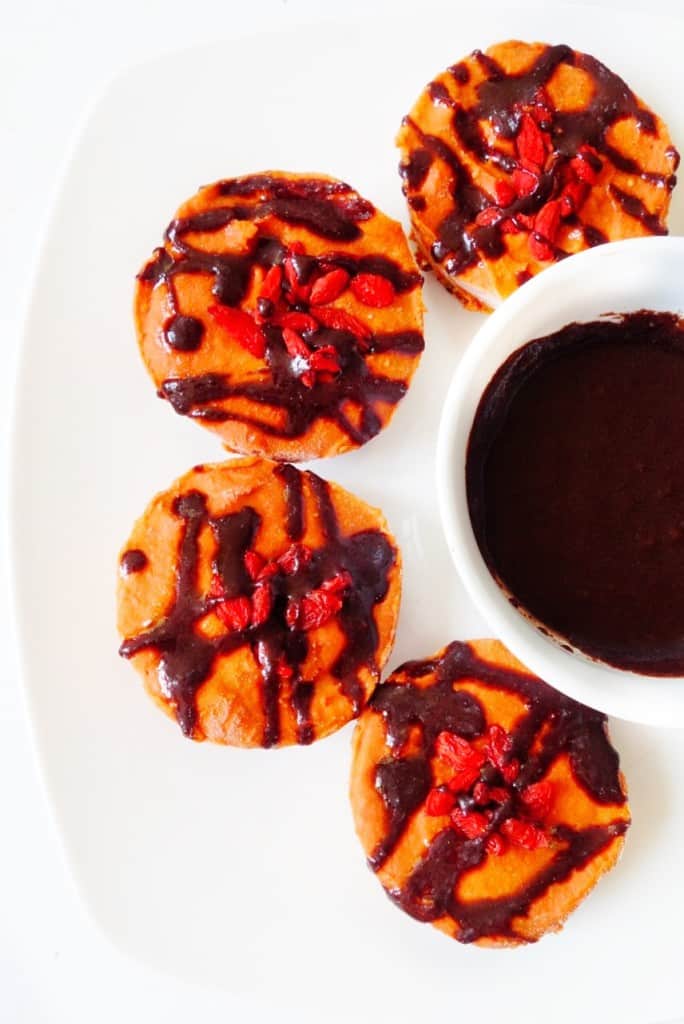 Like all of my desserts, this one is refined sugar-free and also packed full of antioxidants. Dates are full of them and goji berries have one of the highest antioxidant levels among all foods out there. Check out more health benefits below the recipe.
For the chocolate sauce I used a recipe from the Detoxinista. She made these decadent chocolate peanut butter cups in one of her videos that UnProcessed Productions produced.  All you need is cacao, coconut oil and maple syrup. In a small pot on the stove, combine about 1/4 cup of cacao and coconut oil with a couple of tablespoons of maple syrup. Stir over low heat until combined. Let cool for a few minutes. Then top your freezer cakes and place back in the freezer until the chocolate has hardened.
Chocolate chips work as a good substitute (I like the Enjoy Life brand) and less work, but they're also really good without any chocolate at all.  Happy Halloween!!
P.S. I love seeing when you all make my recipes so don't forget to tag me in the pictures of social media!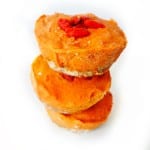 Print
Goji Berry Freezer Cake
Please use all organic ingredients when possible!
Instructions
***CRUST***

Grease muffin pan with a little coconut oil (or other non-stick you prefer).

Blend all the ingredients for the crust in a food processor until they start to form together.

Don't over pulse, but just until everything is mixed well and turns into a dough like texture.

Scoop at least a heaping tbsp of the crust mix into pan and press it down firmly. Make sure it's packed in well.

After crust is in, set in freezer for 5 min or so while you start getting the filling ready.

***FILLING***

NOTE: Make sure to soak the goji berries and dates in warm water for the filling. Also just rinse the food processor out - no need to wash after making the crust.

First add the cashews or tofu and pulse until it's broken up in the food processor.

Add in the rest of the filling ingredients and blend until it's all mixed together.

Be sure to taste it and if you want it sweeter add more dates or maple syrup.

Pour goji berry mix on top of crust.

Tap the pan a few times to make sure there aren't any air bubbles

Put in freezer for 1½ hour - 2 hours

I used a knife around the corners to scoop each out. Put in freezer approved container to store.

Note: If you leave them out they will start to get soft. Take out of freezer only when you're ready to serve
BENEFITS OF THIS RECIPE:
Contains anti-aging properties helping to reduce wrinkles 
Filled with antioxidants and cancer-fighting properties 
Assists in reducing stress levels 
Improves circulation and helps lower cholesterol 
Promotes better bone health