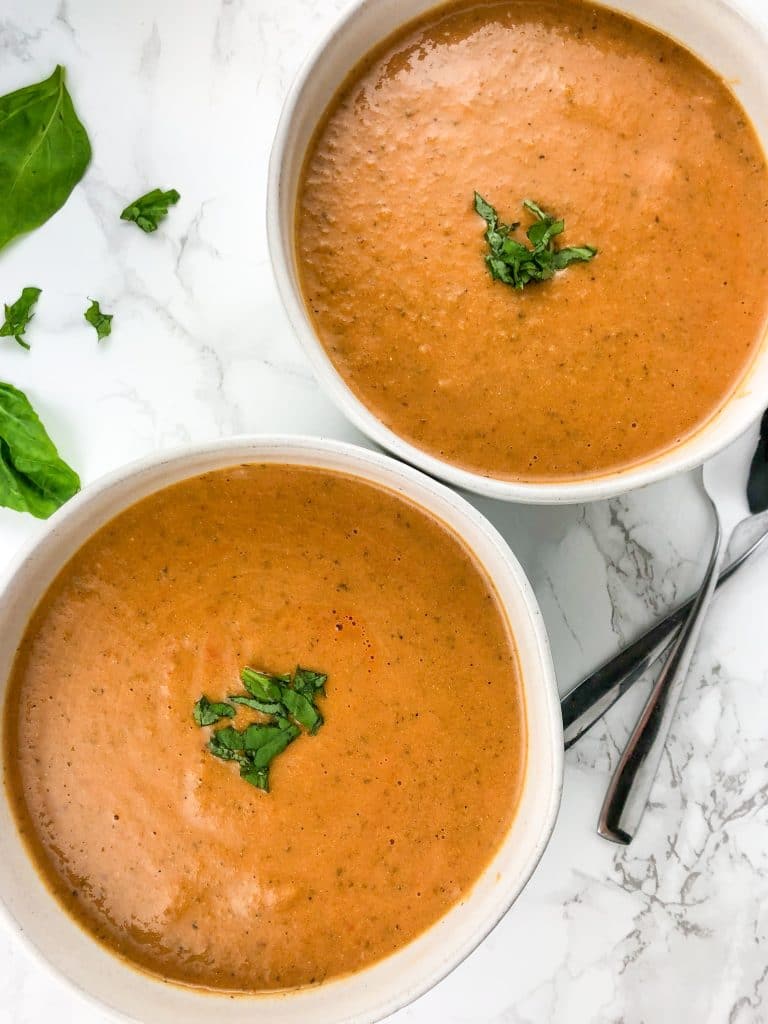 This creamy Tomato Basil Bisque is filling, comforting and guilt-free.
It's a simple, creamy soup recipe that you can feel good about eating.
Filled with healthy ingredients that help your body, not hurt it.
This soup also packs plant-protein thanks to one of the ingredients.
It's also filled with detox properties thanks to the basil, so it helps to cleanse the body as well.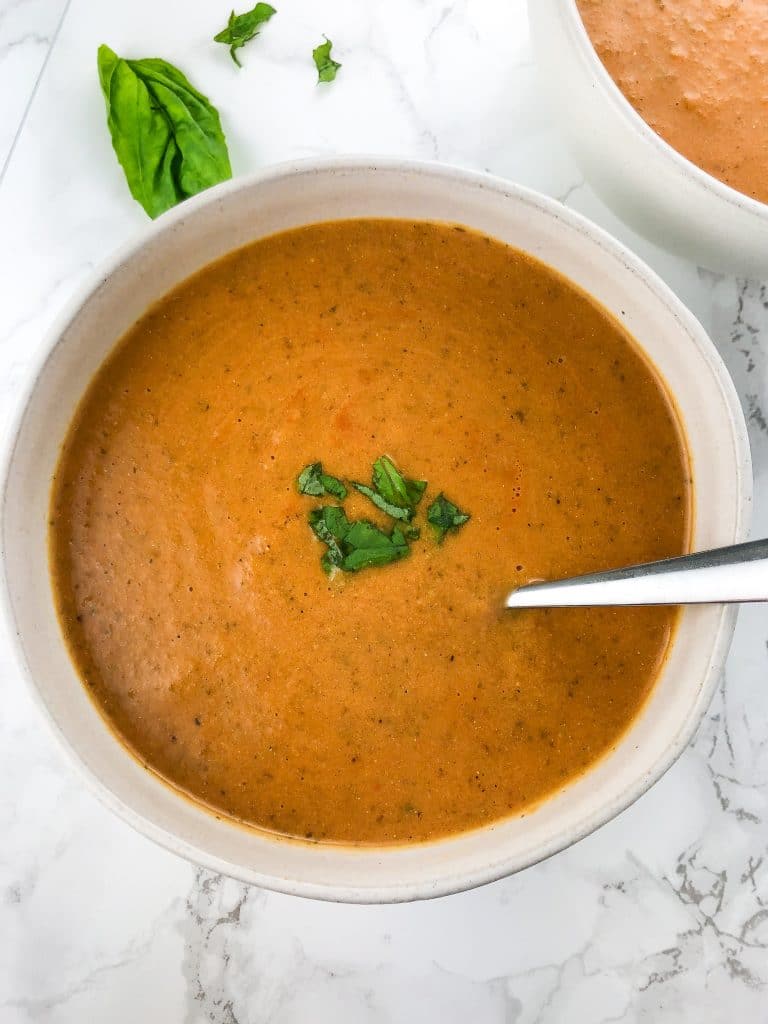 Is Soy okay?
Tofu is the ingredient that makes this soup creamy and ups the protein.
I get asked a lot if tofu or soy is something that is okay to eat it, and the answer is yes!
Studies have shown that soy helps protect against different diseases including cancer.
There are some exceptions. Keep it under 7 servings a day…that's pretty easy to do.
One should consume soy in less processed forms, like edamame, tofu, tempeh or soy milk.
Stay away from heavily processed soys like soy protein concentrates or isolates, and soy junk food.
It is also important to buy organic tofu.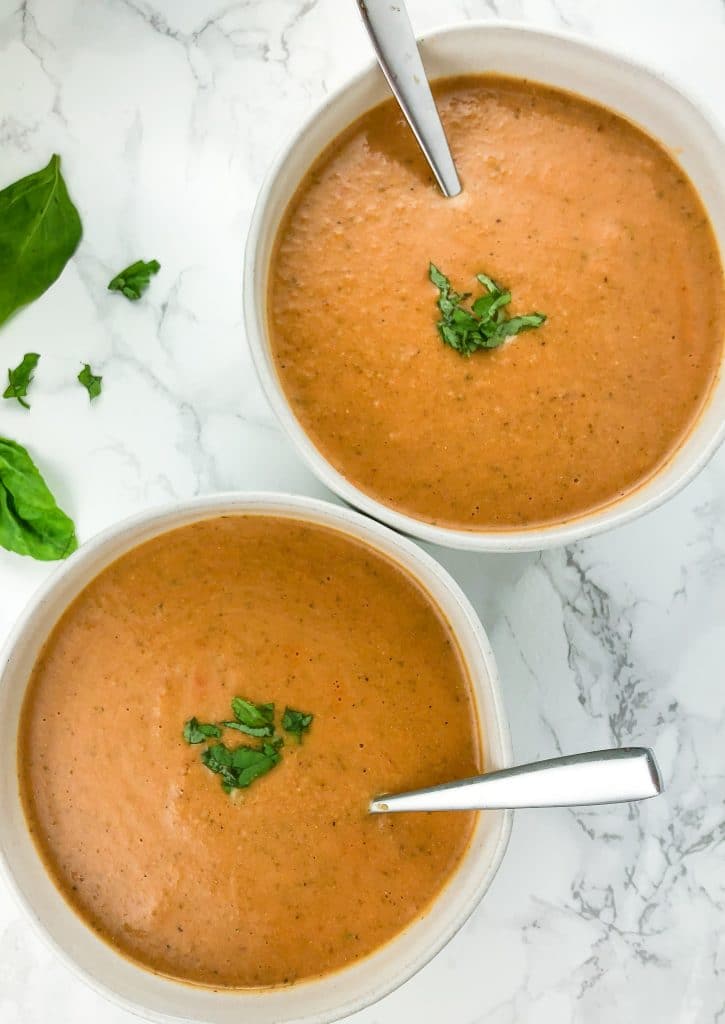 Most tomato basil soups use heavy creams or a lot of dairy, which can weigh you down and mess up your hormones, gut and digestion.
This vegan version is not only a good serving of plant protein, but also filled with antioxidants and anti-inflammatory properties.
It's also a great recipe to use for meal prepping. Store in the fridge for up to 5 days or freeze for longer.
This recipe was inspired by a vegan tomato basil soup from Hugo's, a restaurant in Los Angeles.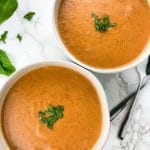 Print
Dairy-Free Tomato Basil Bisque
Please use all organic ingredients when possible!
Ingredients
14

oz

Tofu

(silken/soft tofu works best)

3 (14.5 oz)

cans

Fire Roasted Tomatoes

2

cups

Vegetable Broth

2

cups

Fresh Basil

2

tbsp

Nutritional Yeast

1

tbsp

Oregano

3

Garlic Cloves

(minced)

1/2

Yellow Onion

(chopped)

1/4

Turmeric

(optional for boost in health benefits)

1 - 1 1/2

tsp

Salt
Pepper

(to taste)
Instructions
In a large pot over medium heat, sauté onion and garlic for about 5-7 minutes. I use splashes of water to keep them from sticking. I keep a measureing up of water beside the stove to add in more water as needed. If you're not oil-free feel free to use a tablespoon avocado oil or olive oil.

Add tomatoes, vegetable broth, nutritional yeast, oregano, turmeric, salt, pepper and 1 cup of the basil. Bring to boil, then reduce to simmer for about 5 minutes. Then add in tofu, the other cup of basil and cook on low-medium heat for another 7-10 minutes, stirring frequently. Use an immersion blender (or transfer to blender) to blend everything together.

After it's all blended together, reheat if needed and serve. Store in fridge for up to 5 days or freezer for even longer.