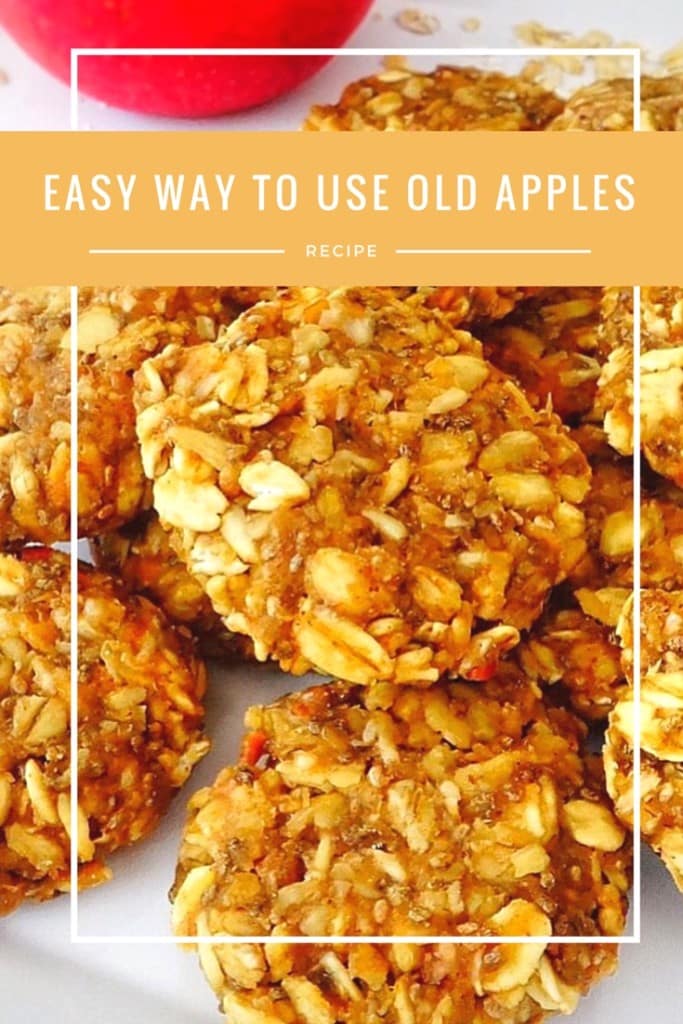 I don't know about you, but I like my apples crisp when eating them right off the core. When I get a batch of extra-soft or older apples, they're not appetizing to me.
I'm not a fan of wasting food (because that's wasting money), so I came up with a way to salvage my fruit… I turned them into Apple Pie Cookies! This recipe is a must-try for a boost in your health and satisfaction for your sweet tooth.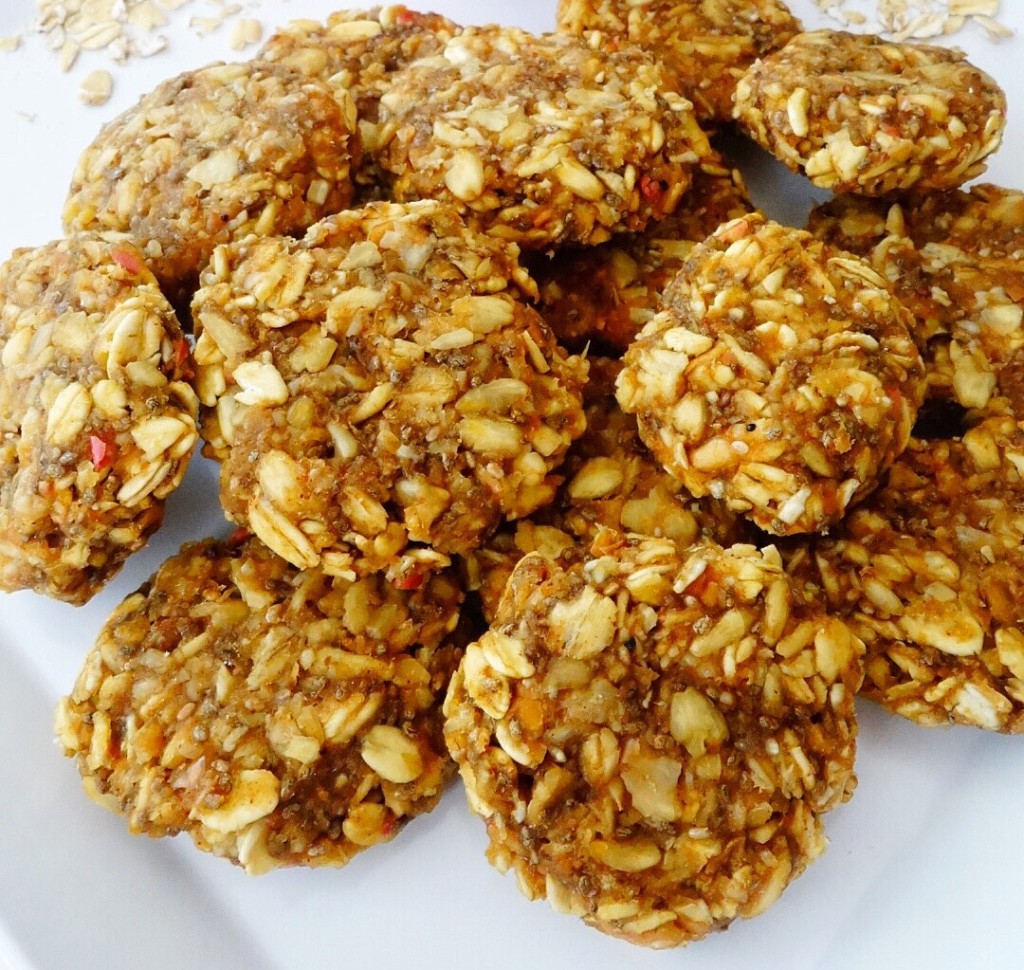 What's great about these cookies is they can be baked in an oven, in a dehydrator or keep them completely raw. They're so easy to make by throwing the ingredients (except for the oats) in a food processor, stir in oats and they're ready. I made mine in the dehydrator, keeping them somewhat raw.
They can be baked in the oven at 350 degrees for about 15 min. Just keep an eye on them until they're baked to the texture you prefer. You might also want to flip them once during that time as well.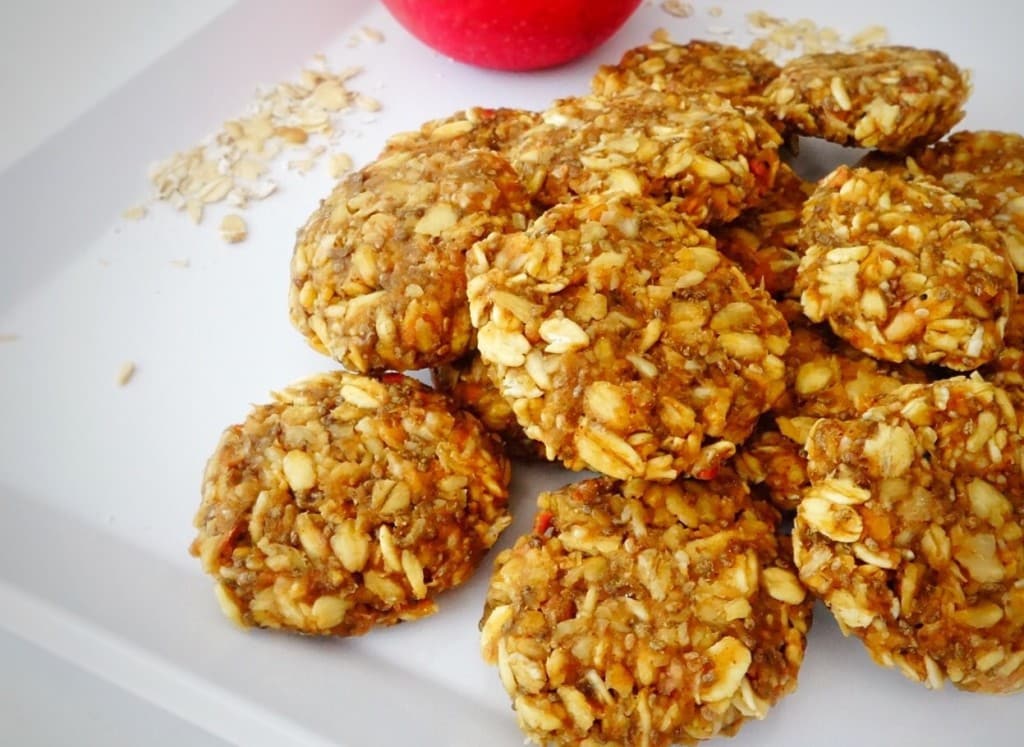 One medium sized apple contains four grams of soluble dietary fiber. It keeps you feeling fuller longer and is extremely important for the digestive system. These cookies are low in calories, zero fat and no cholesterol.
With more than 7,500 varieties in the world, apples have kept their "keep the doctors away" reputation since ancient times. If you are wondering why, it's because they are packed with important antioxidants that eliminate free radicals, boost your immune system, regulate blood sugar, and more.
Apples are also a good source of vitamins A and C, B vitamins, calcium, potassium, and phosphorus that may help reduce your risk of chronic diseases such as cancer, diabetes, and heart diseases.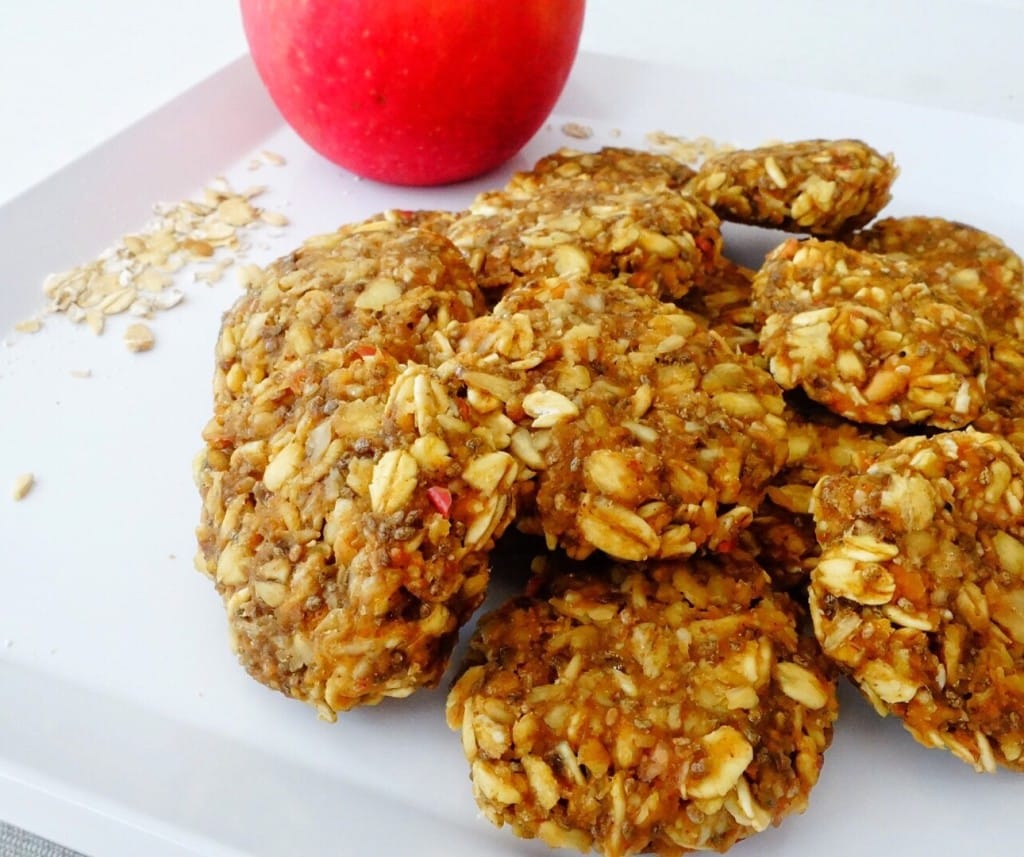 These Apple Pie Cookies are a great substitute for a healthy dessert, snack or even breakfast. They're easy to take on-the-go to keep your blood sugar levels normalized, and keep those "hangry" pains away.
Just remember to always buy organic apples as the non-organic have shown to have a high level of pesticides on them.
Check out my GG cookies for another delciously healthy dessert recipe!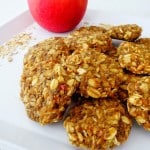 Print
Apple Pie Cookies
Please buy all organic ingredients when possible!
Ingredients
Instructions
First core and slice apples into small chunks. You don't have to peel the apples, but you can if you'd like. I keep the skin on because that's where most of the the health benefits are!

In a food processor add the apples and blend until all pieces are blended up.

Then add chia seeds, dates, cinnamon, ginger and nutmeg to food processor and blend all together.

In a large bowl pour apple mixture in and then stir in oats.

Place mixutre in the refridgerator for at least 30 minutes to an hour.
Oven
On a baking sheet lined with parchment paper, bake cookies for about 15 minutes or until your desired crispness.

Keep in an air tight container for 2-4 days. Keep in the refrigerator for longer.
Dehydrator
I set it at 140, dehydrated for an hour and half on one side and 30 min on the other.

It can be set at whatever temperature you prefer. The lower the temp the longer it will take for them to be crisp Just watch and feel until you get the consistency that you like.

They keep well in the refrigerator for 3-5 days.
Raw
Roll the mixture into balls. Let sit in the fridge for at least an hour before serving.

Keep in fridge for 3-5 days or freezer for even longer.
BENEFITS OF THIS RECIPE:
Helps reduce stress
Aids in weight loss and improved digestion
Boosts immune system, helping keep the doctor away
Contains anti-aging and anti-cancer properties