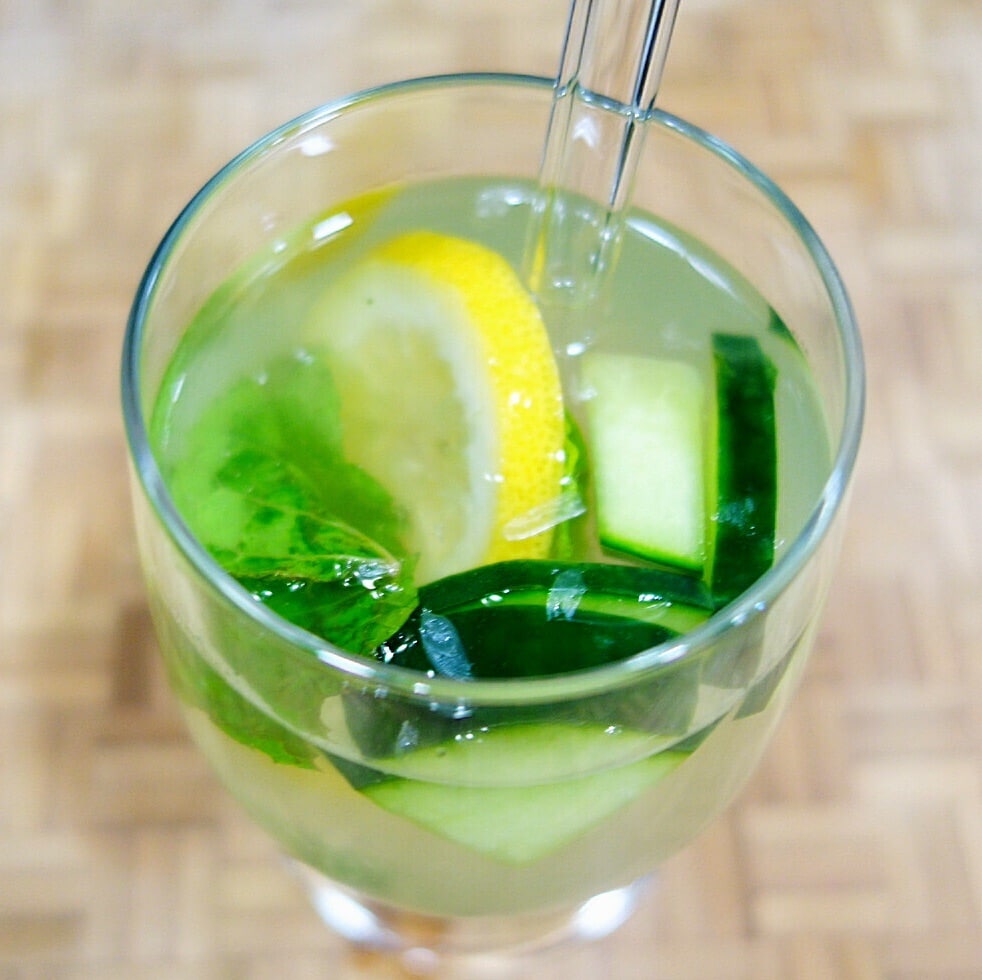 If you're looking for an easy way to help flush or detox your system this Detox Lemonade is the way to do it. It's easy to make a big batch of it and drink on it all week long!  All you need is three ingredients: Mint, Lemons and Cucumbers. They all have loads of detoxifying and anti-cancer properties, plus they taste amazing when you mix them together. I find that homemade lemonade tastes SO much better than the store-bought powders, which are actually not good for us. They're hard for our bodies to digest – especially the "sugar free" lemonades.  This lemonade is the opposite, and it IS good for you. It will help remove harmful toxins and bloating. It will also keep your skin glowing!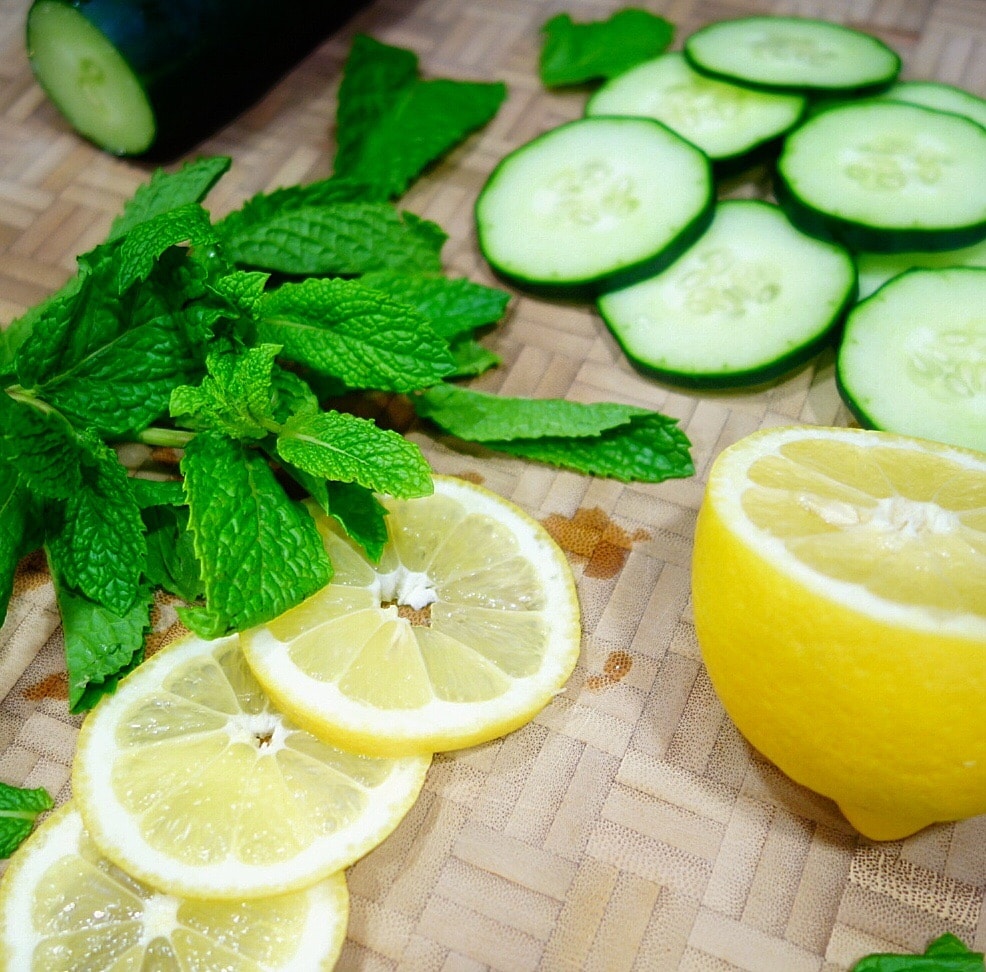 If you would like more of a sweeter lemonade, feel free to add your sweetener of choice to it. I like to use date sugar if I'm wanting it sweet, but coconut sugar or maple syrup would also work.  It's great to serve at parties, or drink it the day after (if it was a wild party!) for some antioxidant-filled hydration!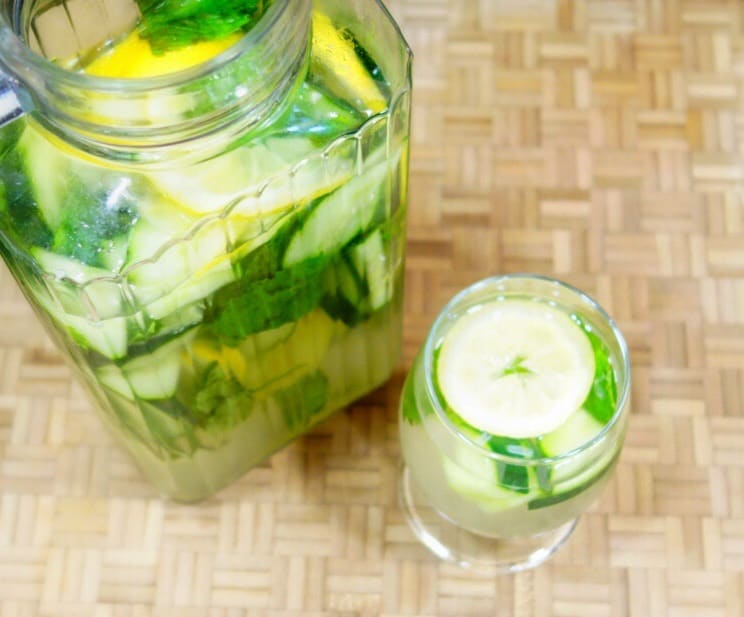 I just returned from two weeks in NYC and now it's time to clean my system so I've got a big batch of this made in the fridge now! I travel to NYC a lot (I lived there for 6 years) and when I'm in my favorite city, that has amazing food, it's not as easy to eat well at every meal. But now that I'm home, it's time to get back on track with some detoxing foods.
I do try my best to eat clean when I'm traveling, but it's not as easy as when I'm home. I make an effort to have at least one (two, if I'm lucky) clean meals each day. One tip I tell people is look for a Whole Foods Market or other healthy grocery store. Most have salad bars that are filled with healthier options and usually cheaper than eating out. Whatever you do, don't beat yourself up if you had some days of not so clean eating. Just get back on track and do it with this delicious lemonade!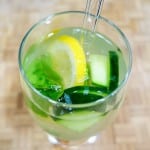 Print
DETOX LEMONADE
Please use all organic ingredients when possible!
Ingredients
1

Cucumber

(small/medium, chopped)

3

Lemons

(plus zest from 1 one lemon)

Handful Mint Leaves

48

ounces

Water

NOTE: I used a 64 ounce pitcher

but with the other ingredients can only fill 48 ounces.
Instructions
Cut cucumber into slices and place in pitcher. Zest one of your lemons and add it to the pitcher. Then squeeze the lemon juice from two of the lemons into the pitcher. Slice the third lemon and put it in as well. Add mint leaves and then fill the pitcher with water.

Let sit in the fridge for at least 30 minutes to a couple of hours so all the flavors will be infused into the water. The longer you let it steep the more flavorful it will be! Enjoy!
BENEFITS OF THIS RECIPE:
Filled with anti-aging properties that will keep you looking young
Flushes out toxins and free radicals that harm the body 
Protects against cancer cells developing 
Boosts your immune system