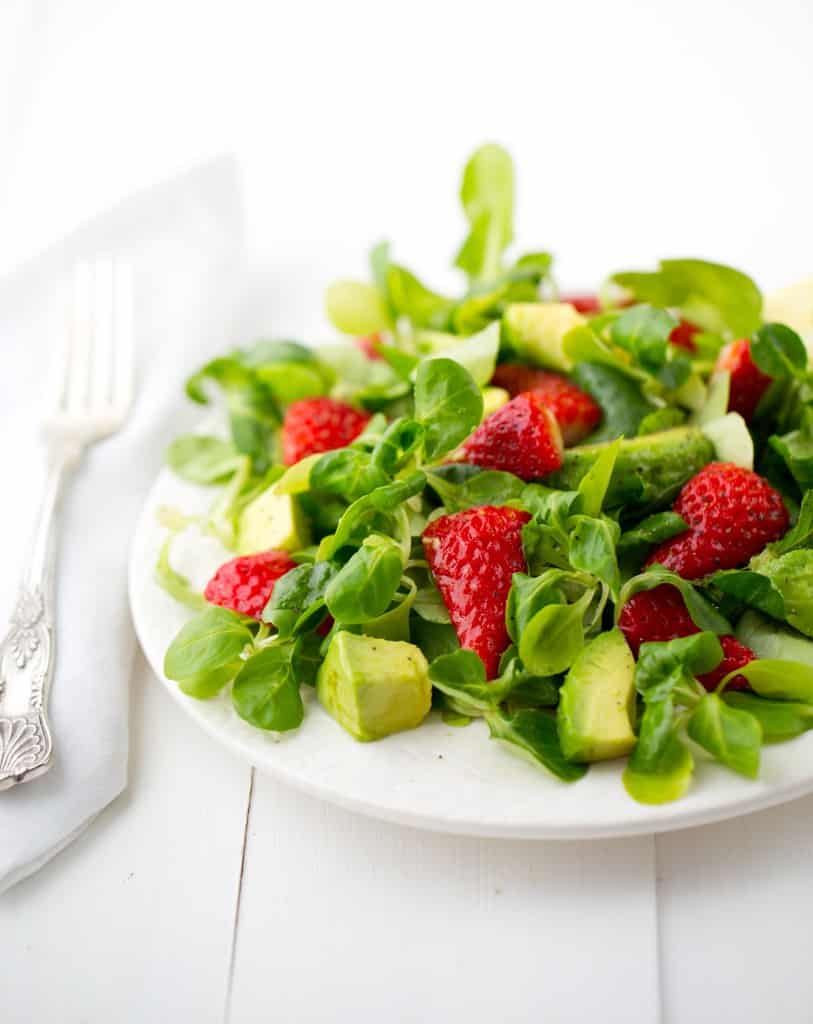 I love eating salads in the summer because they make beating the heat a little easier. With the temperatures on the rise, I foresee this Strawberry Mâche Salad filling my plates a lot in the coming months. It's from the pages of my friend, Kathy Patalsky's new cookbook, Healthy Happy Vegan Kitchen!
If you haven't used mâche lettuce before, this is a great recipe to start. Mâche has loads of vitamin A, which help protect your eyes and skin. It also contains B vitamins that promote a healthy metabolism, immune function and cognitive development.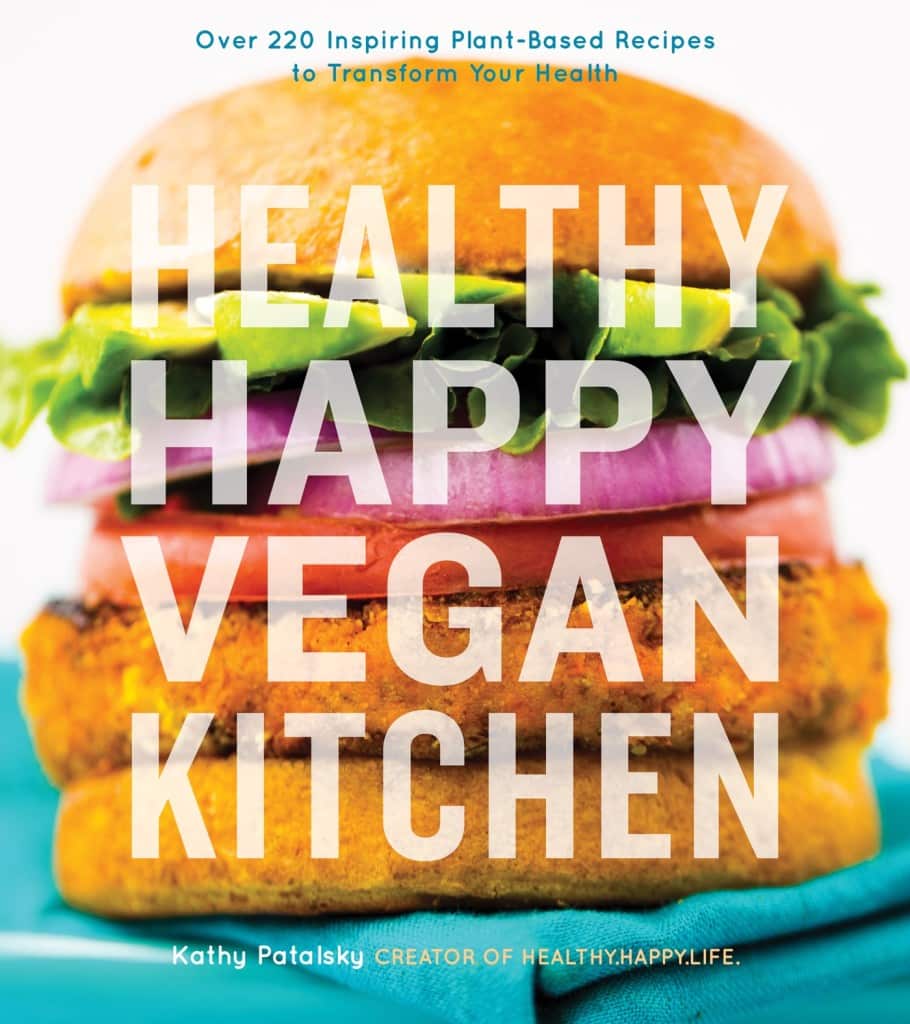 I spent my weekend flipping through this beautiful cookbook. Healthy Happy Vegan Kitchen is filled with countless mouth watering recipes as well as cooking tips, nutritional information and more. I love it so much I'll be giving away a copy!
If you're wanting to get more acquainted with the plant-based diet or looking to expand on recipes, this book is for you. It's literally great for everyone. As Kathy states, it's for "new vegans, savvy long-time vegans, non-vegans, part-time vegans, wannabe vegans, and even "I will never be" vegans. It has recipes that even the meatiest of meat eaters will enjoy!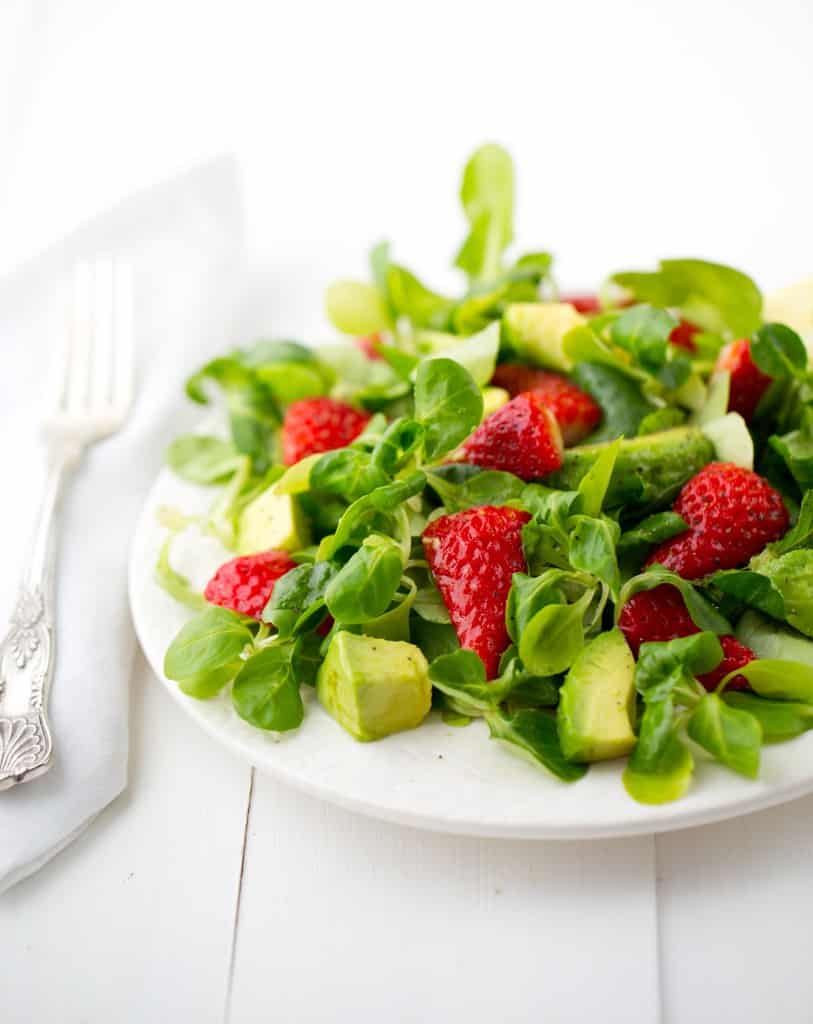 There are many more delicious recipes in Healthy Happy Vegan Kitchen, which comes out April 28th! Get your copy here
.
***CONTEST NOW CLOSED!***
One lucky reader has a chance to win this wonderful cookbook! To enter to win, check out my Facebook page. For a second entry, fill in your name and email at the bottom of this page to be notified of my new recipes and blog posts!
Also, check out Kathy's blog, Healthy Happy Life, where she is giving away over $4,000 in prizes! I hope you enjoy this recipe as much as I did! Summertime screams strawberries and salads to me. See even more benefits from this dish below the recipe.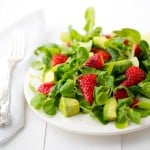 Print
STRAWBERRY MACHE SALAD FROM HAPPY HEALTHY VEGAN KITCHEN
Text excerpted from HEALTHY HAPPY VEGAN KITCHEN, © 2015 by Kathy Patalsky. Photos © Kathy Patalsky.
Ingredients
2

cups

mâche lettuce

1

to 2 tablespoons fresh lemon juice

1

teaspoon

extra-virgin olive oil

1

⁄2 avocado

diced

1

cup

sliced fresh strawberries

1

teaspoon

chopped fresh mint

plus more for garnish

Pinch

of freshly grated lemon zest

2

tablespoons

raw hemp or sunflower seeds

optional

Sea salt and freshly ground black pepper
Instructions
Toss the mâche in 1 tablespoon lemon juice and olive oil. Divide between two serving plates.

Gently toss the avocado with the strawberries, mint, and lemon zest. Arrange over the mâche.

Sprinkle the hemp seeds over the top, if desired, and garnish with mint and additional lemon juice to taste. Season with salt and freshly ground black pepper to taste.
BENEFITS OF THIS RECIPE:
Prevents toxin build-up and bloating
Helps boosts mood and reduce stress
Contains anti-aging and detoxing properties
Assists in keeping the heart healthy
Text excerpted from HEALTHY HAPPY VEGAN KITCHEN, © 2015 by Kathy Patalsky. Photos © Kathy Patalsky.